10 Essential Dog Walking Tips
Walking your dog is necessary for his wellbeing and can slowly blossom into a rewarding experience for you and your pooch and a chance for you to exercise your muscles after a long day at the office. The following tips will help you master the art of dog walking so  you can make the most out of it no matter the season.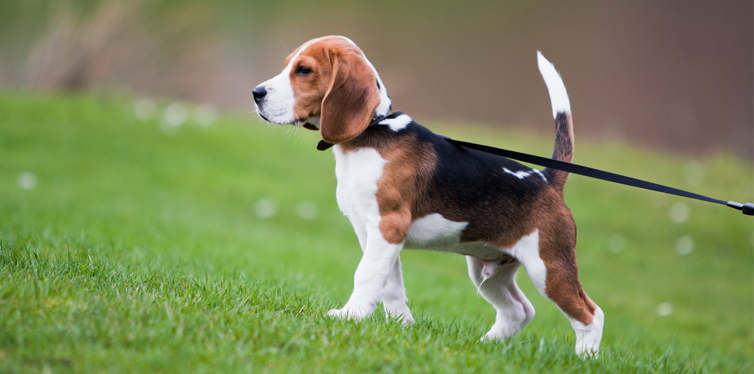 Choose the Right Leash
Walking your dog involves holding his leash for quite some time, so you need to choose a comfortable leash that will help make this activity fun and easy on the hands. Luckily, different leashes exist for different occasions and environments, so for example, retractable leads are more compatible with parks where your pooch can walk a few feet ahead of you and take in his natural surroundings. However, this leash can become a hazard in areas where there are too many pedestrians, bikers or even free roaming dogs on the street. In this type of setting, the long strap might end up tripping someone over or it may turn into a tangled mess and ruin your walk altogether.
Winter needs its very own durable leash that will remain in good condition all season. Nylon leashes are more compatible with this weather and are also available in an array of colors and lengths. However, if you have an enthusiastic and highly energetic pooch on your hands, you can end up becoming the victim of what is known as leash burn. Leash burn occurs when your dog suddenly breaks into a run or pulls on his leash in an attempt to move forward. This sudden movement causes the nylon lead to cut into your hands.
Chain leads are another option for dogs who are in the habit of  turning around and biting or tugging on their leashes. The hard nature of the metal will discourage your pooch from biting into his lead. However, chains are known to be heavy and their weight will only increase with time. They are also tough on the fingers, so they are not for everyone. Leashes made of premium leather can bring both comfort and durability to the table, allowing your pooch to explore his surroundings while  remaining close to you.
Related Posts: Best Dog Leashes and Best Retractable Dog Leashes
Solve the Pulling Problem
Leash pulling is an issue that many people face when walking their dogs. The bigger the dog the harder it is to curb his enthusiasm and this can take its toll on the body and mind, turning a simple walk in the park into a stressful event. Fortunately, this pulling issue can be resolved using certain techniques or by choosing the right time of day to walk your pooch. For example, if small creatures such as frogs and critters are his weakness, then you might want to avoid taking him out during sunset or early in the morning when all kinds of birds and animals wake up and start scurrying around the forest or park. Sometimes, dogs are overwhelmed with sensory input when they are outdoors and this makes them eager to run and explore. Using a head halter can help solve this problem because it allows you to regain control and reduce your dog's pulling strength at the same time.
Beware of Seasonal Hazards
Spring is known for its pleasant weather and blooming flowers but it is also the season where mulch is applied to the soil and insecticides make an appearance in gardens, and other toxic products are used to make plants grow faster. This cocktail of hazards makes it challenging to walk your pooch in areas rich with lawns and herb gardens.  Curious dogs who have an appetite or tendency to munch on flowers and vegetation need to be kept on a short leash during walks. Perfectly manicured lawns are also a hazard to your pooch so it is always better to simply stick to the pavement.
Hazards come in different shapes and sizes, especially if your go-to destination for walks is a nearby forest where creatures such as snakes, bees and scorpions tend to hide in plain sight. Sticking to a familiar trail with less foliage gives you better visibility and less chances of encountering an animal that can put your pooch in danger.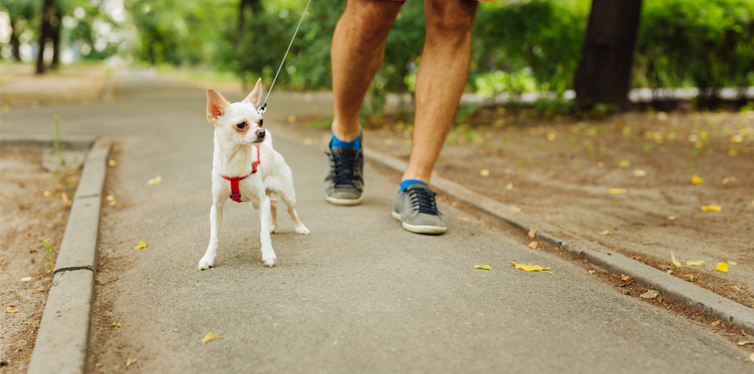 Manners Matter
Maintaining a safe distance from other dogs is highly recommended and this can be achieved by training your dog to behave and sit whenever he wants to greet his canine friends. Jumping on people is also considered undesirable in the dictionary of dog manners, so you need to teach your pooch how to sit on cue before he can socialize with strangers in the park. Greeting his doggie friends eventually becomes his reward in exchange for sitting. Other rewards include giving him a treat for good behavior and having other people feed him treats as well.
Carry Canine Essentials
Warm weather calls for hydration and long walks with your pooch. In order to stay hydrated, you will need to pack enough water in case  your pooch get thirsty during your outing.   You will also need to carry an adequate supply of waste bags to clean up after him. You can pack old grocery bags so you can reuse them instead of opening a brand new packet.
You can take advantage of leisurely walks by bringing your pooch's favorite treats with you and using them to train him during your outing. Regular practice allows your dog to hone his skills and learn  new tricks along the way. Rewarding him with treats also adds a fun element to your walk and allows him to build a positive connection between training and walking.
Related Post: Best Dog Treats and Best Dog Water Bottle
Never Underestimate the Benefits of  Mental Stimulation
Walking gives your pooch a chance to exercise and socialize with other dogs, but there is more to this activity than meets the eye. Being outdoors allows your dog to use his senses to explore his surrounding environment and this keeps him mentally stimulated. Therefore, dog parents are encouraged to give their pets enough time to do some sniffing during their scheduled walks. Choosing a safe area for your pooch to carry out his sniffing is the first thing you need to do in order to keep him away from any toxic flowers or chemicals. Once you have chosen your location, you can let Fido explore his surroundings by extending his leash for a few minutes. Keep an eye on him as he soaks up the smells and sounds of nature around him and do not hesitate to use verbal cues. You can use words such as 'go explore'  before sniffing time and words like 'time to go' whenever you need to leave.
Doing this on a regular basis allows your dog to catalogue the different scents that he encounters during his walks and this helps him keep track of all the changes that occur in his neighborhood. Moreover, the physical act of sniffing all those trees and shrubbery can drain your pooch's energy so he ends up sleeping like a baby right after dinner. According to experts, this additional mental stimulation is incredibly important for his wellbeing and makes walks more enriching to your dog.
Make Sure Your Pooch is Wearing His ID Tags
Missing dog posters and online stories shared by people who lost their dogs make us feel grateful for our own pets who are safe and sound in our homes. It is better to be safe than sorry, and that is why your dog needs to wear some form of identification around his neck. A custom-made collar with your phone number and address printed on it can be a lifesaver. Personalized tags are also recommended and are usually made of stainless steel and inscribed with your details. Always remember to update your tags with your new home address and number, especially if you move to a new city or neighborhood.
Microchips are another solution for pet owners who prefer a digital form of identification. If you are interested in getting your dog microchipped, you can consult your veterinarian and ask him about the procedure. The small chip will hold a permanent record of  your information, allowing anyone with a microchip scanner to find your contact number and get in touch with you if you ever lose track of your dog.  According to a recent study, dogs with microchips have a 51.2% chance of being reunited with their owners. So the next time you take your pooch out for a walk, make sure that he is wearing his updated  ID tags around his neck.
Perform  Pavement Heat Checks in the Summer
Summer is the season where you get to toss a frisbee down the beach for your dog to catch. It is also known for turning pavements into sizzling hot concrete especially during the day. Your summer homework is to test the temperature of the pavement before taking your dog for his scheduled walk. Heat can cause serious injuries to paws and can make walking highly uncomfortable for your beloved pooch. You can easily test the pavement by placing your hand or bare foot on its surface for around five seconds. If your skin becomes painfully hot, then the same thing will happen to your dog.
Related Post: Best Dog Frisbee 
You can win your battle against hot summer days by taking your dog out to the park where he can walk on cool grass. You can also take him to the forest where the trees help maintain the coolness of the earth below. Dog boots are also a great way to combat the heat, so you can buy a pair to see if your pooch will tolerate wearing them during your outing. If you are an early bird, you can take advantage of the cool morning weather and heat free pavements to walk your dog.
Remember to Wear Reflective Gear
Evening walks are ideal for people who have  busy schedules during the day. However, nocturnal outings can be dangerous if you are not equipped with the right shoes and clothes. Reflective gear is essential for any dog parent who enjoys going out at night. Wearing reflective running shoes with a matching sweatshirt will alert drivers to your presence. Buying a reflective collar and leash for your dog is also recommended in order to keep him safe from harm during your evening walks.
Break the Routine Every Once in a While
There is no harm in adding more fun to your walks and this can be achieved by taking your pooch to new places where he can explore a new cocktail of sounds and smells that will help keep him mentally stimulated. For example, you can take him to new dog parks where he can make friends or you can walk over to your friend's house instead of taking a cab. Group walks  also provide a change in routine where your pooch can walk alongside his canine friends.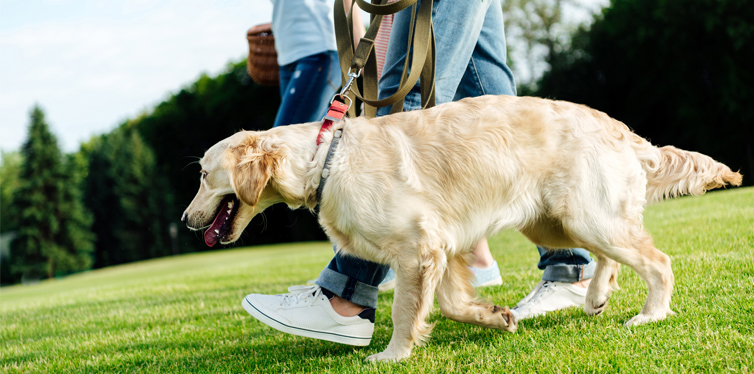 Common Dog Walking Problems
Toys and other chew-worthy items usually end up being damaged beyond recognition by young dogs and teething puppies. This habit goes hand in hand with being a canine but it can become a big problem especially during walks. Some dogs love chewing on their straps and this can easily ruin your favorite go-to lead. The simple act of replacing your leather leash with a sturdy chain can help train your dog not to chew on his lead. You can also try to divert your dog's attention by tossing some hard treats on the ground and instructing him to find them. Focusing on those chewable treats will stop him from biting into his leash.
If your dog suddenly starts barking at pedestrians and other pets during your daily walks then it is best to have him checked out by your vet. Certain illnesses can trigger anxiety in dogs, making them less tolerant to strangers and other animals. Lunging unexpectedly at other canines can also occur after a negative experience or incident involving another dog. Consulting a professional with experience in this type of behavior is highly recommended in such delicate situations.
Sources: