The Best Dog Food for Dobermans in 2022
Last Updated: January 4, 2022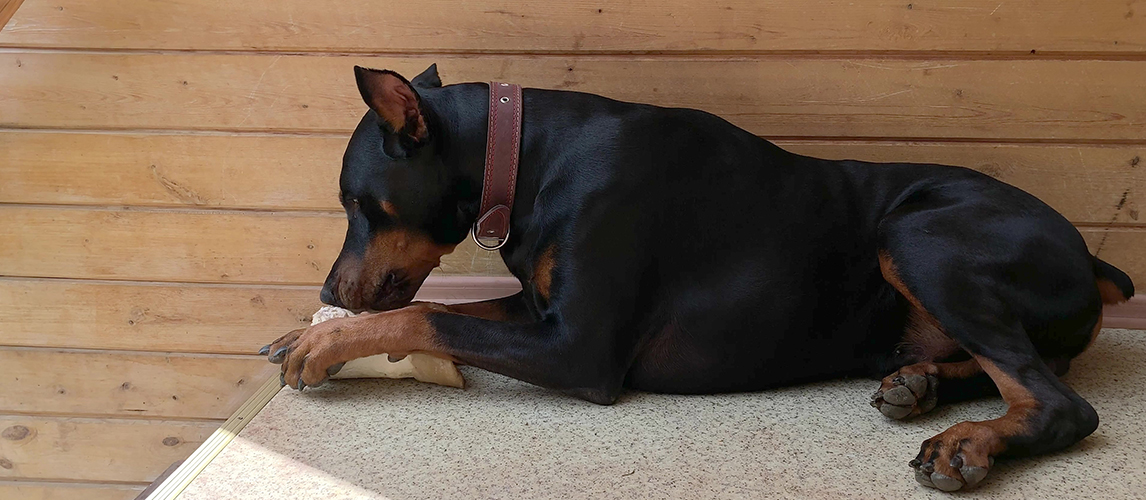 PetSide may earn a small commission from affiliate links in this article.
Learn more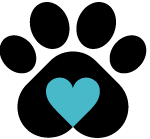 By Petside
Published 12:21 pm
Dobermans are much loved dogs for good reason. Once a dog lover purchases a Doberman, it often means that that is the only breed they will choose for the rest of their lives. Doberman dog owners therefore only ever want to buy the best dog food for Doberman dogs possible. Here, we list some high quality dog food that is suitable for the specific Doberman diet as the breed does have a certain amount of nutritional requirements that need to be met, that only the best food for Doberman dogs will manage. Puppies will also need to have suitable Doberman puppy food that meets their unique needs too.
The Best Dog Food for Doberman
Best Dog Food for Dobermans Buying Guide
What to Look for When Buying Dog Food for Dobermans
Dobermans need a large amount of protein in their diet. Fish and meat are great sources of protein, with fish also being a great place to find additional omega fatty acids. Look for dog foods that list meat as their first ingredient and ensure that it is a real meat - not just a meal. Head over to our review of high protein dog food for more options.
We've been told for so long that fat is bad for us, but not all fats are bad. This is especially true in Dobermans who need good fats to help keep them looking great. Look out for omega fatty acids. These can be found in salmon oil, flaxseed oil and avocados. For a wider selection of choices, check out our salmon oil for dogs guide.
Not all dobermans will have a stomach that agrees with grains, but if they do try to make use of that by finding foods high in whole grains as they're great for digestion being an excellent source of fiber.
Like us, dogs need fruit and vegetables too as a source of fiber, vitamins and minerals. They're also a great source of antioxidants that can help keep your dog healthy and reduce their risk of heart disease, diabetes or cancer as well as just general day to day niggles. Some of the best fruit and veg to keep an eye out for are sweet potatoes, carrots, blueberries and apples.
Related Post: Dog Vitamins
Nutritional Needs of Dobermans
Dobermans have specific nutritional needs, some of which have been alluded to above. The best dog food for Doberman dogs will meet all these needs so look out for the ingredients that contain the following:
Protein is needed to sustain a Doberman's energy and strength. The best Doberman dog food will have protein making up anything from 15 to 30% of its ingredients. The best Doberman puppy dog food will have 22% to 32% of its ingredients being protein based. Be careful not to go over these limits however, as a diet too high in protein can aggravate kidney disease.
Fat is needed in the best dog food for Doberman dogs as it is how this breed, and others, maintain a sleek and shiny fur coat, as well as healthy skin. In particular look for Omega 3 and Omega 6 fatty acids.
Doberman dog food is at its best when it contains complex carbohydrates which helps prevent the onset of of hypoglycemia and hypothyroidism. Excellent complex carbs are whole grains, but slow burning fruits and veggies are suitable too if your dog suffers from an allergy to grains.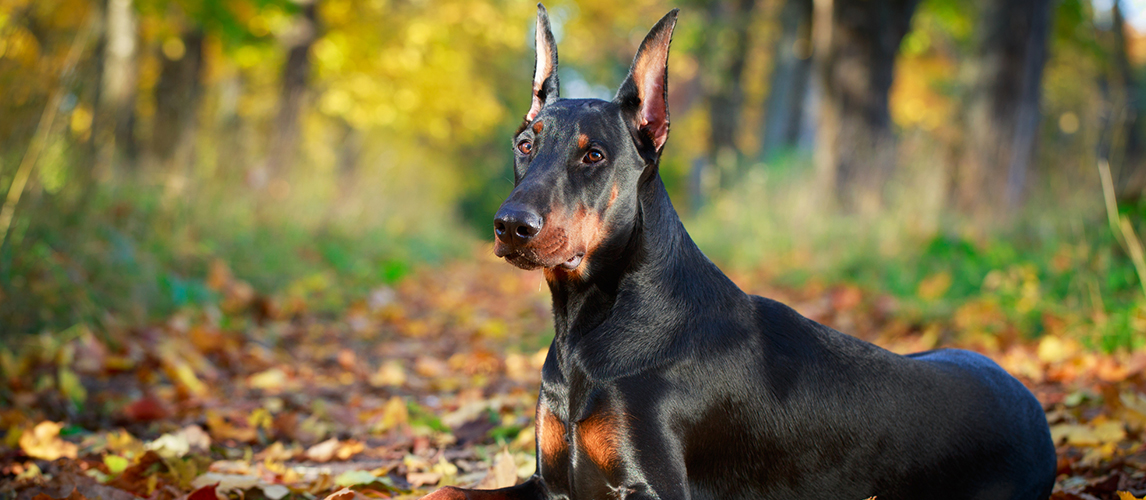 Ingredients to Avoid Feeding Your Doberman
All of the high quality dog food listed above will not contain any of the following ingredients to avoid in a Doberman diet. However, not all dog food manufacturers make Doberman dog food or Doberman puppy food with the best intentions in mind, so still include them. They are:
It's odd to think, but Dobermans despite their size and strength actually have very sensitive stomachs which is why care needs to be taken in the approach to a Doberman diet. Meat by products can be one of the ultimate reasons a dog suffers from an upset stomach as they are not regulated enough to ensure that they are safe to eat. For more options head over to our guide on dog foods for sensitive stomachs.
Obviously, we want our Dobermans only to eat fresh Doberman dog food, so a certain amount of preservatives are needed. However, the best food for Doberman dogs will not contain any artificial preservatives like BHT at all. Nor will it contain Ethoxyquin. Both are known to irritate a sensitive stomach
Artificial flavors and colors
We all like to see our Dobermans gobbling up the dog food that we have left out for them, but that is not to say that artificial flavors should be added to promote this. Given the breed's propensity to allergies, it's best to stay clear of artificial colors and flavors that can irritate a stomach. Check out our guide on the best organic dog food for more info.
Low quality fillers should not have any place in the Doberman diet. The best food for Doberman dogs or the best food for Doberman puppy dogs will contain whole grains, fruits and vegetables while staying well clear of wheat, corn and other glutenous fillers.
Potential Doberman Health Problems
The best dog food for Doberman dogs will help them stay fit and healthy. High quality dog food can really support owners in the prevention of some common potential Doberman health problems like the following:
Bloating - bloating is far more serious than owners give it credit for. It can cause gagging, abdominal pain and excessive slobber.
Kidney disease - Kidney disease stops this important organ from functioning properly. They kidneys are needed to remove toxins from a dog's body that can cause harm in too high doses.
Wobblers syndrome - this is a neurological disorder that can cause neck pain and a weakness of the hind legs. One of is main symptoms is a wobbly walk.
Hypothyroidism - Large dog breeds are susceptible to hypothyroidism, which is not life threatening by can cause dry skin, lethargy and depression.
The best food for Doberman dogs will aid their immune systems so that their risk of developing these conditions is much diminished.
Our Top Pick
Orijen has made a high quality dog food here that is the best food for Doberman puppy dogs that money can buy. It is jam packed full of the vitamins and minerals a young dog needs for a quality Doberman diet, yet it is incredibly tasty too owing to the high amount of protein included. It's freeze dried so has the added benefit of what a raw diet can offer yet has the staying power of a high quality dog food kibble.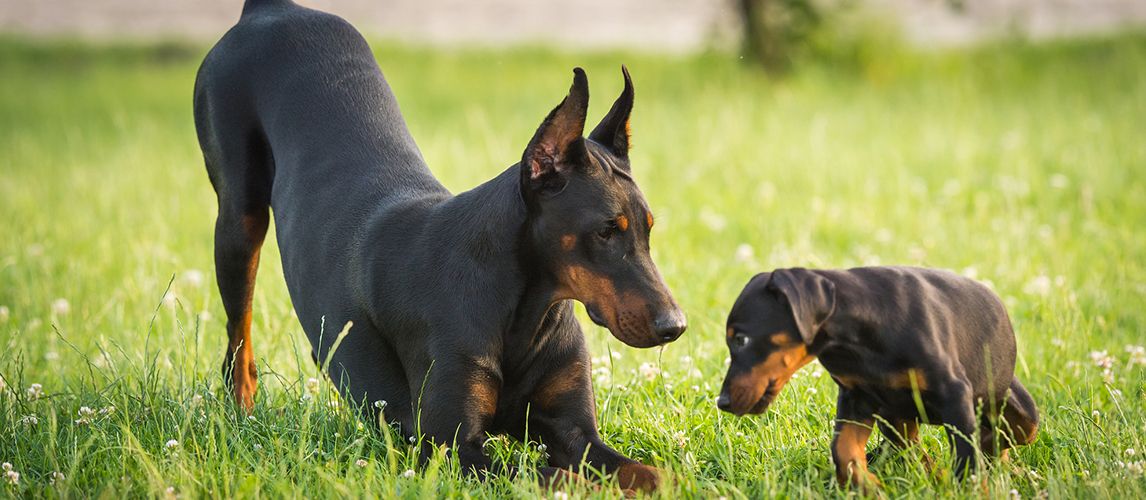 FAQ
Q:

How often should my Doberman eat?

A:

Even the best dog food for Doberman dogs can still cause bloating if not given to them in the correct amounts. It is therefore a good idea to feed your Doberman high quality dog food, little and often. This can mean that owners split their dog's food down into several meals as opposed to one or two.
Q:

How much puppy food should I feed my Doberman puppy?

A:

While Doberman puppy food is a fantastic start to giving your dog the best Doberman diet possible, it is still possible to feed them incorrectly by overfeeding them or underfeeding them. All Doberman puppies need special care and attention. They need to be fed three times a day and the amount needs to change as their age and activity levels increase. For specific weights, ensure that you consult both your chosen Doberman puppy food instructions as well as your vet if you are even the tiniest bit unsure.
You May Also LikeYou May Also Like The Best Dog Food For: