The Best Dog Food for Labs in 2022
Last Updated: January 4, 2022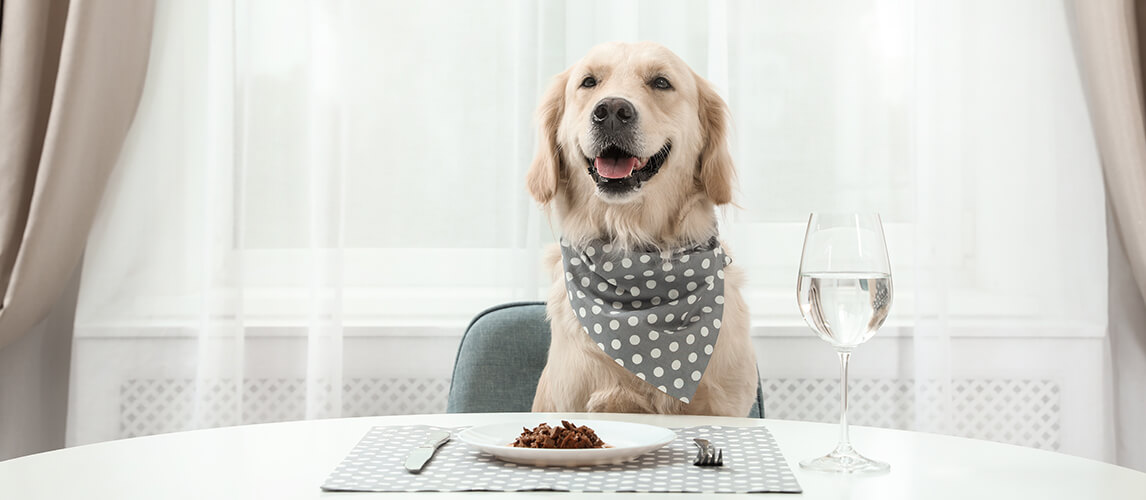 PetSide may earn a small commission from affiliate links in this article.
Learn more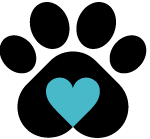 By Petside
Published 09:15 am
Friendly, intelligent, highly energetic and playful, the Labrador Retriever is one of the kindest, most loyal dogs a pet owner could have. As a large breed, high-energy canine, though, a Lab needs plenty of good food to be healthy and happy. And while there isn't a single best food for Labs as every dog is different, it's important to always try to buy quality food that is tailored to your pet's specific needs.
Luckily, finding such food is not that hard as there are many types and brands of dog foods to choose from nowadays. To make things even easier for you, we've reviewed dozens of different pet diets, creating what we believe is a list of the best dog foods for Labradors. We've also put together a comprehensive buying guide, covering all the important info on Lab health and diet, as well as details on how to choose the best dog food for Labs.
The Best Dog Food for Labs
Best Dog Food for Labs Buying Guide & FAQ
Now that you've seen our choices for the best dog foods for Labs, it's time we talk about why we chose these specific recipes. We'll also talk about the ways you yourself can find the right diet for your pet. Now, of course, it's not necessary to delve deep into the specific nutritional needs of Labradors in order to find the right diet for your dog; however, it is necessary to learn the basics of proper canine nutrition. Once you have the basics covered (things you should look for as well as those you should perhaps avoid), it will be easier to tailor the diet to your pooch's specific needs. So, without further ado, let's jump right into it!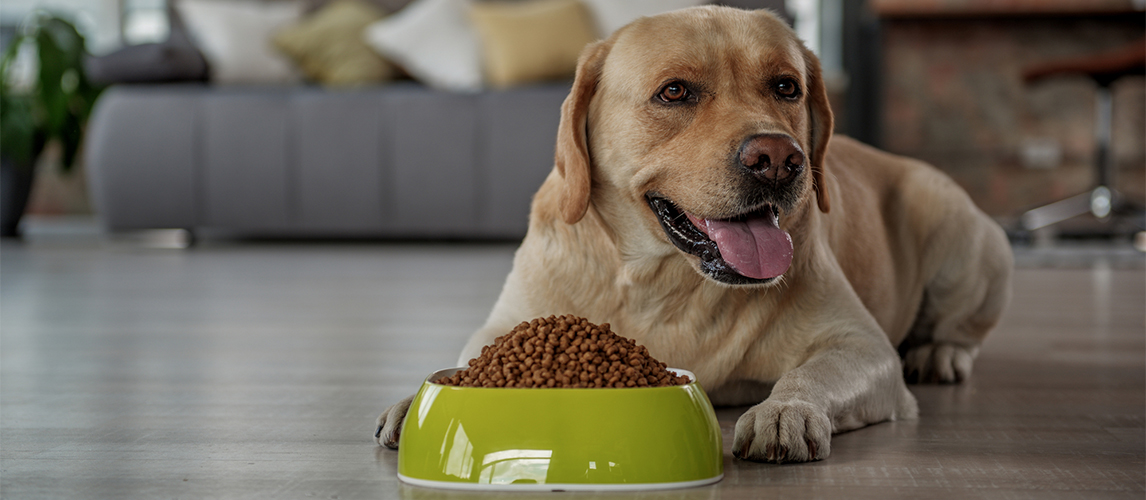 What to Look for When Buying Dog Food for Labs
Finding the best dog food for Labradors is not much different than finding the best dog food in general. All you have to do is look for foods that first and foremost provide complete and balanced nutrition, and recipes that contain the ingredients you know (or at least suppose) your dog does well on and is not allergic/sensitive to. Whether or not you want to avoid grains and meat by-products is another story – some Labs do better on grain-free diets, however, this is most certainly not always the case. Same with by-products – unless your pet is of highly sensitive health, there's no need to avoid them as they often contain even more nutrients that whole, lean muscle meats. Take a look at our review of grain free dog food for more options.
But more on that later; for now, let us focus on the most important things to look for when buying dog foods for Labs.
As mentioned, the first thing to look for in dog foods, whether you're buying them for your Labrador or any other breed, is a nutritional guarantee. What do we mean by this? In order for pet foods to claim they provide all the macro- and micro-nutrients necessary for canine health/development, they have to have a statement on the label from the AAFCO. This statement should read that their food provides "complete and balanced nutrition". In other words, the formula will not only contain the minimum requirements for protein, fat and carbohydrates, but also all the essential vitamins, minerals, and other nutrients needed for canine health.
Of course, all the foods on our Top list check this box.
Natural, Nutritious Ingredients
Now that you've made sure the food you want to buy is complete and balanced, it's time to check out the ingredients list. And don't worry, there's no need to study every little detail on this list; what matters the most are the first three to five ingredients. In general, you want to look for animal protein sources as the first ingredient(s), and then some nutritious vegetables, fruits, seeds, legumes and grains, depending on your Lab's specific needs and preferences. Some of the foods that most Labs thrive on include chicken, beef, pork, fish, lamb and other meats, as well as whole grains like brown rice, oats, barley, etc. Legumes and other plants such as chickpeas, peas, potatoes, flaxseed, apples, blueberries and so on are also welcome as they're packed with antioxidants and phytochemicals that help boost your pet's immune system.
Head over to our review of Limited Ingredient Dog Food.
Moderate to High Protein Content
Finally, look for foods that have moderate to high protein contents. Why? Because protein is vital for canine health. Proteins are the building blocks of your Lab's body and are necessary for all aspects for growth, muscle development and maintenance, body tissue repair, immune system… you name it. Bottom line? Dogs need protein in their diet, and preferably protein that comes from animal sources. Muscle meats (pork, lamb, beef…), poultry, fish, organs and intestines are all excellent sources of protein plus various other amino acids and nutrients. Plant-based proteins such as grains, soybeans, legumes and vegetables are also ok, however, unless your dog is on a vegetarian diet for health reasons, it's wise to choose animal protein sources as the first ingredient(s). For more options, check out our detailed review of high protein dog food.
So, who much protein is enough protein? This, unsurprisingly, depends. But generally speaking, for healthy puppy growth, as well as healthy adult maintenance, 22-32% of protein on dry matter is what you should be looking for.
Nutritional Needs of Labradors
Do Labradors need a special diet? Contrary to what some people may lead you to believe, Labs don't really have special nutritional requirements. Like all dogs, they need good-quality protein and healthy fats in their diet, as well as some carbs (fiber) for healthy digestion and immune system. That being said, Labs are large breed dogs, and as such, need a different diet than small breed or toy breed dogs. It's also worth noting that Labs are a high-energy breed who may need more calories, as well as protein than some lower-energy breeds.
So, what are some of the most important nutritional needs of Labradors?
Protein: like all canines, Labs need plenty of quality protein in their diet. And the more active your pet is, the more protein they should consume on a daily basis. Look for around 22-32% of protein on dry basis.
Fat: fat is a concentrated source of energy, which is vital for canine health, but even more important for always-energetic Labs. Look for foods that contain between 10 to 20% of fat on dry matter, depending on your pet's lifestyle.
Carbohydrates: some carbs are more than welcome in dog foods, including Lab dog foods. Look for whole grains (unless sensitive), legumes, veggies, fruits and seeds as they all help keep your Lab healthy and strong. Bear in mind that healthy, adult Labs need much more carbs than older or inactive dogs, but that pregnant and nursing Labs may need even more than that.
Micronutrients: like all dogs, Labs need a host of different micronutrients in order to be healthy and happy. Linoleic acid, omega 6, and omega 3 fatty acids, including DHA for puppies, are much needed, and so is Glucosamine and Chondroitin Sulfate for healthy joints. Other minerals and vitamins are also required, but every "complete and balanced" diet already contains everything your pet needs.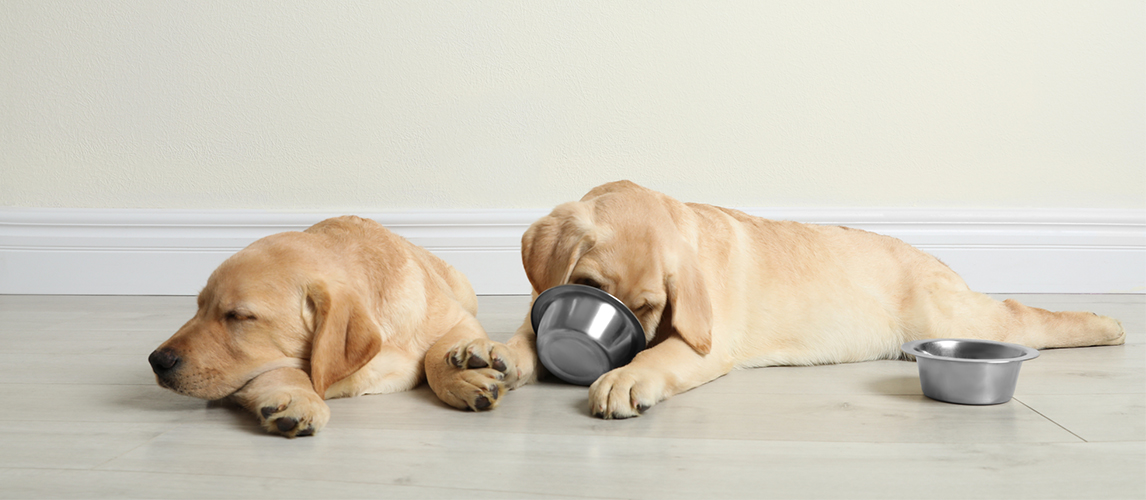 Ingredients to Avoid Feeding Your Lab
Because every dog is different, things you should avoid feeding will depend on your pet's specific needs. For example, although grains may still appear to be a controversial subject in canine diet circles, nutrition authorities mostly agree that grains are beneficial. Besides fiber, grains contain vitamins and minerals and shouldn't be avoided unless your dog has grain sensitives. But what about the ingredients that are universally considered bad for dog health?
Dry dog foods need preservatives to keep fresh and safe for a long time. However, artificial preservatives such as BHT, BHA and ethoxyquin have been shown to have some adverse effects on dogs if used in large amounts. Of course, dog food companies use them in very small quantities (as that is all it takes to preserve food) which are shown to be safe. Still, since we have natural preservatives available (tocopherols or vitamin E, citric acid or vitamin C and rosemary extract), it's best to be safe and avoid the artificial ones completely.
Artificial Colors and Flavors
Similar to synthetic preservatives, some artificial colors and flavors have been linked with health issues. For this reason, it's best to stick to natural flavors, or better yet, no added flavors and colors.
Like people, dogs need sodium to be healthy. However, excess amounts of salt can negatively impact your Lab's health, including their blood pressure, heart health, kidneys and nervous system. Therefore, it's important to avoid dog foods that are very high in sodium; even more important if your pet suffers from kidney disease.
A word on by-products: most experts agree that meat by-products contain lots of easily digestible nutrients that are actually hard to come by in lean muscle meats. As such, it's not wise to avoid them at all costs. If you're still uncomfortable using by-products, that's ok – they're certainly not a must-have in dog foods. But it's worth noting that reputable brands use quality by-products that can be great sources of nutrients. Ultimately, it's just a matter of personal choice.
You may also like our articles on High Fiber Dog Food and Organic Dog Food.
Potential Labrador Health Problems
Like all purebred dogs, Labrador Retrievers are prone to certain genetic diseases. The potential health issues include:
Joint disease, hip and elbow dysplasia are common health problems in Labs. If left untreated, degenerative joint disease eventually leads to arthritis and lameness, so it's important to do what you can to keep your Lab healthy for as long as possible. Help your dog maintain healthy weight and consider purchasing supplements such as Glucosamine and Chondroitin Sulfate. Check out our guide on dog joint supplements for more info.
It's no secret that like older humans, many older Labs suffer from cataracts. What's less known is that younger Labs too may have a hereditary tendency toward juvenile cataracts. Luckily, surgery can fix this problem. Unfortunately, some Labs are also prone to progressive retinal atrophy, which eventually leads to complete blindness.
Exercise Induced Collapse (EIC)
This is a genetic disease, with around 30-40% of Labs carrying the EIC gene. Affected dogs develop weakness and collapse after short strenuous exercise, and some even die.
While all dogs can develop cancer, Labs are more prone to it than other breeds. The most common cancers in Labs are sarcoma (affects bones and connective tissue) and lymphosarcoma (affects white blood cells).
Our Top Pick
While all dog foods we reviewed in our Top list provide excellent nutrition, we believe that Blue Wilderness, Rocky Mountain Recipe offers the best value for money. This recipe contains several good-quality proteins and as such, is high in protein content, which is ideal for most healthy adult Labs. The formula also contains a good amount of fat and carbohydrates, plus all the essential vitamins and minerals, including Glucosamine for healthy joints. Thanks to the recipe's unique blend of ingredients and supplements, that promotes healthy immune system and muscle maintenance/development, this is the best dog food for Labs, hands down.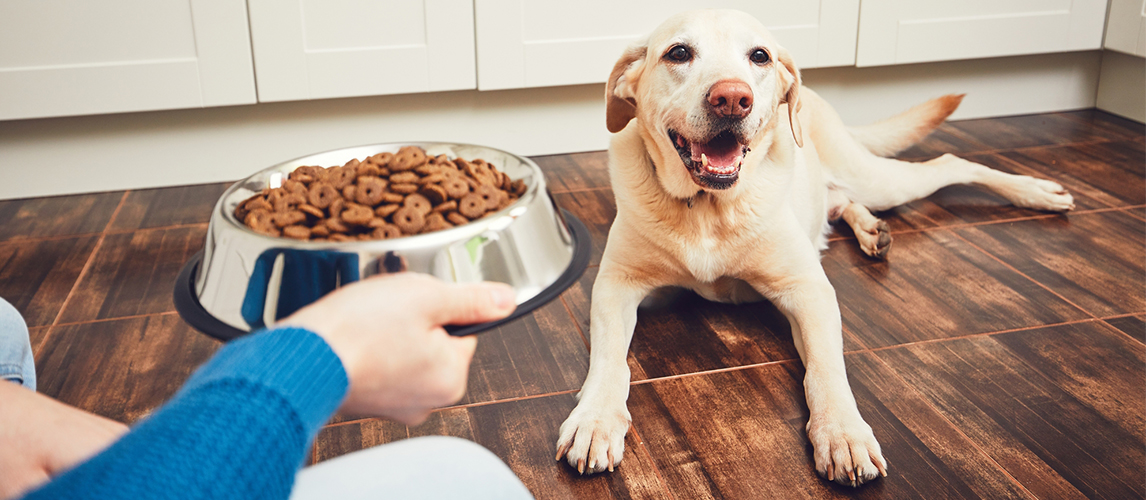 FAQ
Q:

How often should I feed my labrador?

A:

How often should you feed your Lab depends on their age, health and lifestyle. Healthy and active adults should be fed two to three times (highly active) a day, and given plenty of water. Senior dogs should be fed two times a day, with smaller amounts of food to avoid bloating. They may also need more water than healthy adults. Lab puppies should be fed three to four times a day, while newborns (less than a month old) should consume only mother's milk. As for nursing and pregnant dogs, similarly to puppies, they need more food, but water too; ideally, feed them three times a day and provide plenty of fresh water.
Q:

How much should I feed a labrador?

A:

This depends on three factors: your Lab's age, lifestyle and current health state. Generally speaking, because every food is different, it's best to follow the recommended quantities on the kibble's packaging. That being said, highly active dogs will naturally need more food than sedentary pets, and so will nursing or pregnant dogs. If you'd like some rough guidelines for adult dogs, around 1.75 to 2.75 cups per meal, 2 times a day should be enough.
You May Also Like The Best Dog Food For: