The Best Dog Food For Jack Russell (Review) in 2020
Last Updated: September 2, 2020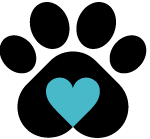 By Petside
Published 14:46 pm
If you own a high-energy Jack Russell, you'll know how important it is to provide them with the right type of food! These canines may be small in size, but they have a very energetic character and simply love running around, digging, and searching for little animals. This type of dog requires a carefully balanced diet that will give them the right amount of energy without making them put on weight. When it comes to dog food, unfortunately, it isn't all produced to the same standard, which means that there is some pretty low-quality food available which often labels itself "healthy". In this review piece, we will look at the best food for Jack Russell dogs. We have also written a guide specifically focussed on Jack Russell dog dietary requirements and have answered your top most asked questions.
Keep reading to discover more...
The Best Dog Food For Jack Russell
Best Dog Food for Jack Russell Buying Guide & FAQ
In this buying guide, we will look at why it is important to buy food that has been specially designed for Jack Russell dogs. We'll talk about this smaller dog breed in relation to diet and the best way that we can feed our canine friends. Keep reading for more in-depth information on this matter and to read the answers to your most commonly asked questions regarding feeding a Jack Russell dog.
Related Post: Dog Food for Small Dogs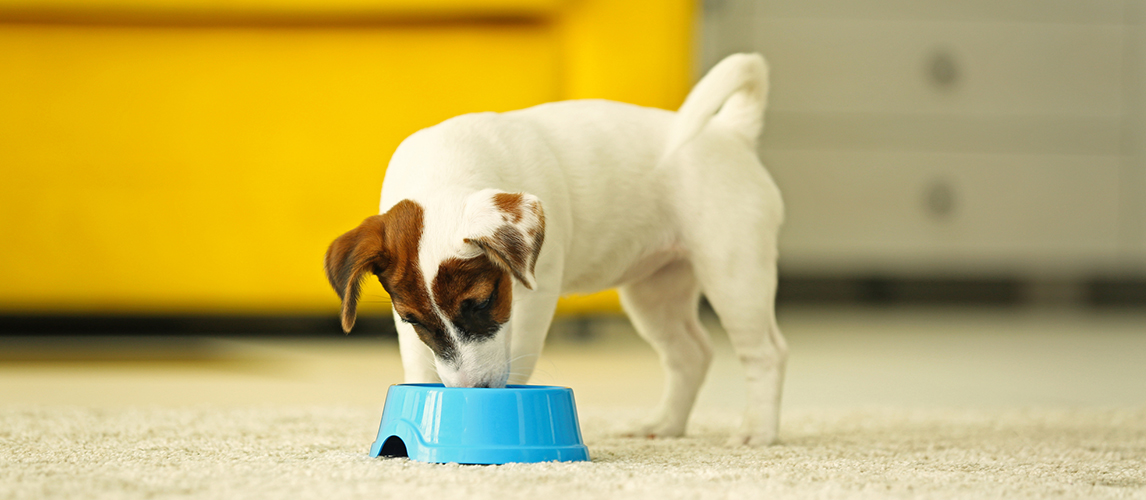 Understanding Jack Russell Terrier's Diet Requirements
It's important that your Jack Russell dog eats the best quality food in order for it to have a healthy life. A balanced diet is essential for your dog's wellbeing. It is scientifically proven that small breed dogs such as Jack Russell dogs share the same genetic makeup of ancient canines, like foxes. They may now be completely domesticated, but Jack Russell dogs still have the same DNA which means that they will still crave the type of food that they would normally have caught in the wild, such as fresh meat and fish. It's a contentious issue, but many people dislike the idea of feeding their small breed dog certain grains, such as wheat as this isn't something that they would naturally eat in the wild. So often, the best Jack Russell food is grain-free or gluten-free, perfect for sensitive tummies, and packed full of meat, fish, and yummy goodness. Jack Russell dogs can be susceptible to skin conditions and food allergies and as they are high energy dogs with excessive appetites can also be prone to weight gain and obesity. It's important to look for fresh ingredients and always measure the food that you give your Jack Russell so that they don't eat too much.
Related Post: Grain Free Dog Food
Ingredients to Look for in a Dog Food for Jack Russell Terrier
As with any other animal on the planet, it's important that your Jack Russell is given a healthy balanced diet if you want to give them the best life. The main ingredient of the food that you give your Jack Russell should be meat or fish - as this contains vital protein that will help their organs and muscles function well. Jack Russells are high energy dogs so will need the energy from food to enjoy an active life. If you look at the ingredients on the back of a dog food package, you will see that the main ingredients are always listed first - meat, poultry, and fish should always be listed as the main ingredient here. You should avoid Jack Russell terrier food that has corn or wheat in the top five listed ingredients, these are much harder to digest for their tummies and ultimately not as good for your dog. Avoid artificial flavors and preservatives as well as chemicals and E numbers.
Related Post: High Protein Dog Food
Ideally, you should feed your Jack Russell Terrier a diet that mainly consists of kibble (or dry biscuits). Jack Russell's teeth can be prone to tartar and the crunchy texture of this type of food can prevent build-up. Look for added vitamins and minerals such as Omega-3 and Omega-6 fatty acids, as these support a shiny coat and healthy skin. High protein food helps maintain hip and joint function as well as supporting other body functions too.
Related Post: Dry Dog Food
Jack Russell Food Allergies and Food-Related Health Issues
Jack Russell Terriers can be prone to a number of allergies and sometimes it can be tricky discovering what they are and how they are triggered. As well as dermatitis (a common skin disorder), Jack Russells can also have issues with digestion. It's important to feed your Jack Russell a diet which has a high protein content. If you want to boost your dog's immune system then look for food that contains protein-rich meats or fish and added omega fatty acids. Fatty acids can help fight against allergies and other disorders that can cause inflammation. If your dog suffers from inflammation, then you might want to consider cutting out grains and gluten altogether and seeing if this makes a difference.
It can be hard to spot allergic reactions in dogs as they cannot communicate to us exactly how they feel. So here are a few things you should look out for, which might indicate whether your dog has an allergy: sore skin which is dry or itchy, excessive scratching, diarrhea, vomiting, breathing issues, chewing body parts, watery eyes and ear and nose infections. If you suspect that your dog may have an allergy, then you should speak to your veterinarian immediately and work with them to help choose the best diet for their needs.
Our Top Pick
The food that made it to the top of our list was the Blue Buffalo Life Protection Formula - Small Breed Dog Food which is available in several different sizes. This formula contains high-quality meat as its main ingredient and it has been specially designed for small dog breeds such as Jack Russells. Chicken is combined with whole grains, vegetables, and fruit to make the healthiest food for your four-legged friend. You won't find any meat by-products in here either and there are no artificial flavors or preservatives, soy, corn, or wheat - which makes it the perfect choice for Jack Russells who have sensitive tummies or have an allergy to wheat.
Related Post: Dog Foods for Sensitive Stomachs
With all food options, if your Jack Russell Terrier ever displays unusual symptoms or you suspect they may have an allergy, then you should take them to your veterinarian immediately to have them checked. If nothing is found then you can eliminate certain food groups (usually grains) to see if there is an improvement. But always seek professional advice.
Remember: your dog is only as healthy as the food you give her, so always make sure you buy the best quality food you can buy.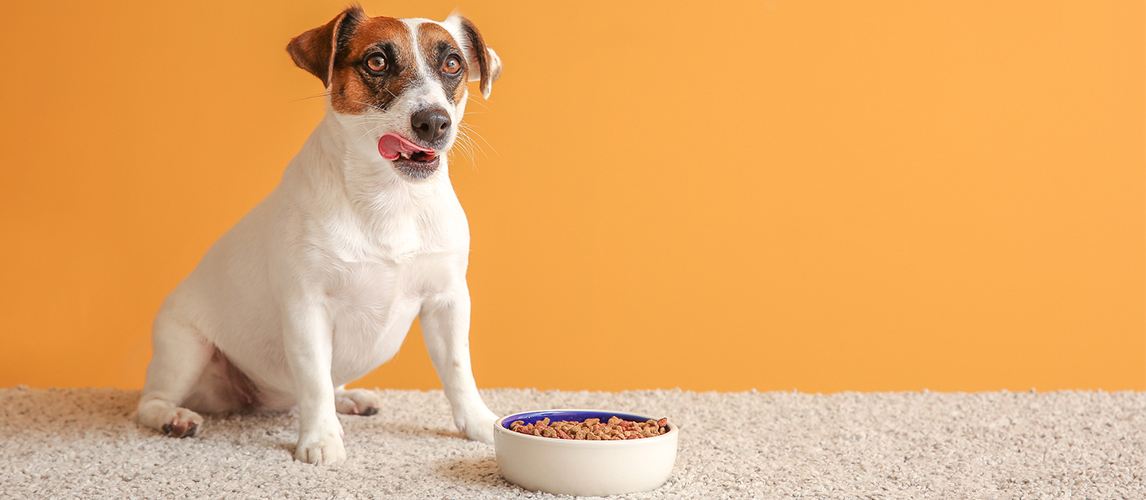 FAQ
Q:

How many times a day should I feed my Jack Russell?

A:

The problem which Jack Russell Terriers, is that they have pretty intense appetites despite their petite size! They usually weight around 13-17 Lbs and normally dogs of this size will need around 450-650 Kcals a day. If you don't measure your kibbles and just pour them straight into the dog bowl, then you are likely to overfeed your four-legged friend and this may even lead to obesity. If you tend to feed your dog as and when you think they are hungry, try changing this to meals only 2-3 times a day. Make sure that you measure the kibble according to the packet instructions and according to your dog's weight - your veterinarian should have this information if putting them on a scale is too difficult! Jack Russells are natural hunters so like to "hunt" for their food. To minimize boredom and potentially destructive behaviors you can place the food around the house in hidden spots so they have to "hunt" for it! You can even buy specific toys designed to keep your dog entertained and prevent them from eating too much.
Q:

What should I not feed my Jack Russell?

A:

Avoid feeding your dog human food unless it's the type of lean meat that you find in dog food. Never ever feed your dog sugary "treats" such as chocolate as this is actually poisonous for dogs and can be fatal.

Some Jack Russells have sensitive tummies that cannot take certain grains and wheat - in this case it's always best to give them food that is gluten-free. Your dog's diet should have high protein content for healthy organs and bodily functions. Added vitamins as well as added minerals will ensure a good skin and coat too.

Here is a list of food items you should never feed your Jack Russell:

• Chocolate
• Grapes & raisins
• Yeast & hops (don't let them share your beer, even on a hot day!)
• Onions & garlic
• Toothpaste
• Chewing gum

These food items could be fatal if consumed by dogs.
You May Also Like The Best Dog Food For: