The Best Dog Food for German Shepherds (Review) in 2020
The German Shepherd, according to a report created by the American Kennel Club, is one of the top dog breeds in America currently, and this is for a perfect reason. They are not only beautiful but also extraordinarily hardworking and smart with an incredibly beautiful fur that comes in thick, black, and tan coats. When these dogs are in your home, you will realize that they hardly stay still love to move around, and continually need a good amount of physical exercise, coupled with some human interaction and other mentally-stimulating activities. With the kind of activities that these dogs engage in are usually large, and they require a lot of calories to help them function and keep active. In this article, we highlight some of the best dog food for German Shepherds that will help maintain your pup's wellbeing.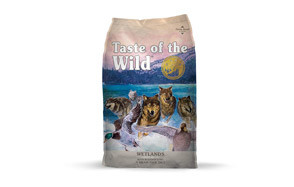 Taste of The Wild Dry Dog Food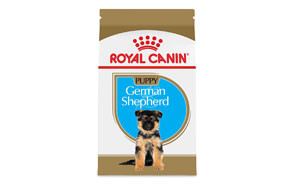 Royal Canine Dog Food for German Shepherd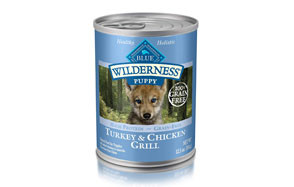 Blue Buffalo Wilderness Natural Puppy Wet Dog Food
The Best Dog Food for German Shepherds
1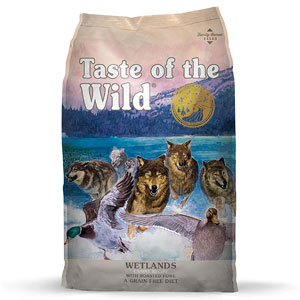 1.

Taste of The Wild Dry Dog Food
There are three significant types of dog food, namely the moist, semi-moist, and dry. Dry foods are easy to store and can be consumed over a more extended period and this dry dog food Is a meal made with high protein substances and ingredients, with the sole aim of giving your canine the much-needed muscle power it deserves. The very best dry dog food explicitly made for German Shepherds is the Taste of the Wild Dry Dog Food.
 All ingredients used in this dry dog food are organic and rich in amino acids to help build lean and strong muscles. They offer your dog a varying taste, with ingredients such as roasted quail, and real duck being used for better flavoring. Other components included are vitamins and minerals via fruits and vegetables — these superfoods act as antioxidant substances that help in the flourishing of your dog's coat and skin.
We're recommending this dry food as its made from trusted and highly sustainable sources and remains free from preservatives. What's more, it no grains, fillers, or colors were used in its production. This is due to the fact that most foods produced by Taste of the Wild Company are usually very high-quality. The brand is a family-owned business with several years of scientific food discovery under their belt and are always searching for safer ways of delivering healthy meal options to pets around the world.
Product Features:
Roasted duck mix
No artificial flavors
Made in the USA
Omega fatty acid blend
2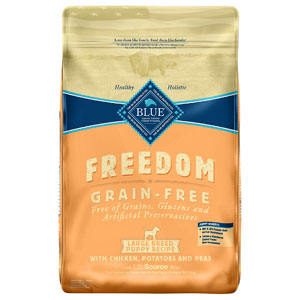 2.

Buffalo Freedom Dry Dog Food
Another brand that comes highly recommended by veterinarians and dog trainers is Buffalo. There are a lot of dog owners who have come across their products and have been very impressed with how they impact the health and activity of their dogs. Buffalo is one fantastic brand made up of skilled dog trainers, veterinarians, and scientists. All these professionals come together to discover the best formula which will help s live long, healthy and active lives.
The Buffalo Freedom Dry Dog Food is a premium dry food formula, developed from pure and organic ingredients to enhance its rich taste. It uses real chicken, which appeals to many dogs, and also encourages the growth of your dog's muscles and bones. For healthy and holistic development, we are recommending this German Shepherd dog food as it doesn't contain any gluten. It is a formula that is grain-free and ideal for all large-sized dogs. Furthermore, substances such as ARA and DHA are used in its making which deliver the much needed fatty acids which are present in a mother's milk. The substances aid in the development of your canine's eyes and brain, keeping them active for longer, without any health defects. For the total wellbeing of your dog, other additional ingredients include wholesome grains, vegetables, chicken, and garden fruits that your dog is going to enjoy and bark for more.
Product Features:
Chicken as the first ingredient
Grain-free
24lb
DHA fatty acid
3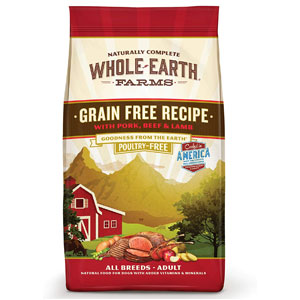 3.

Whole Earth Farms Natural Dry Dog Food
German Shepherds love to eat a lot since they're naturally active dogs. The foods they consume need to have high caloric content, but they also need to have the necessary nutrients and vitamins, which will go a long way to keep your dog active throughout the day. Finding such a healthy dog food can be very tough, which is why we have taken it upon ourselves to search for the very best for you. We present to you this dry dog food formula from Whole Earth Farms.
Meet the Whole Earth Farms Natural Dog Food, dry food made tasty. Dogs, by their nature, have a little prey instinct; thus, they are drawn to foods such as chicken, fish, and meat. To ensure that your dog enjoys this dog food as often as possible, the manufacturers have included bits of actual chicken and turkey, which can be munched on during your dog's feeding sessions. This German Shepherd puppy food features ingredients such as protein-rich beef, pork, and lamb, which deliver all the vitamins and minerals your dog's body will require.
All Whole Earth Farms food products are made in the USA. They are cooked with only the best ingredients, and they help your dog experience less shedding, easier digestibility, increased energy, a shinier coat, and healthier skin. There is no presence of additives, flavors, colors, or preservatives; thus, we're confident that your dog is in safe hands.
Product Features:
Grain-free
No artificial preservatives
Cooked in the USA
High-quality protein
4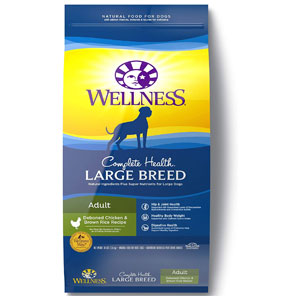 4.

Wellness Complete Health Large Breed Dog Food
Bring health back into your dog's life without spending your entire fortune. At the Wellness Complete Health Company, holistic growth, healing, and development is the aim. To ensure that your canine experiences all of this together, the company has come up with its version of dog food, which is marvelous in composition and amazing in taste. It is the Wellness Complete Health Dog Food, a meal made for all large breed dogs. Out of all competing food brands we know, this is one that stands out with its fantastic food composition and safety.
This dry dog food has been developed alongside trusted nutritional scientists; thus it comes with a controlled caloric intake that not only helps your dog maintain its German Shepherd diet and weight but also develop more muscles. The formula for this dog food is made with extra rich protein foods such as whitefish, deboned chicken, and more chicken meals. All these foods come together to help promote the growth of lean muscle and also meets the needs of all large breed dogs and dogs above the age of one.
Thanks to a series of tests and extensive research, it is safe to say that this food from Wellness Complete Health comes with no added preservatives, colors, fillers, grains or colors that may pose a health risk to your canine
Product Features:
Chicken & rice
Dry dog food with lean protein
No wheat
Controlled caloric intake
5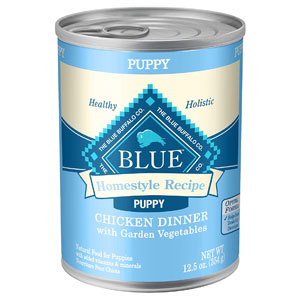 5.

Blue Buffalo Homestyle Recipe Natural Puppy Dog Food
Blue Buffalo has come our way again with yet another fantastic dog food recipe, and we believe that it is just as amazing as all their other meal plans. We are recommending the Blue Buffalo Homestyle Dog Food, for all those with puppies. This recipe is ideal for younger dogs; thus, it is made purely organic substances that they can easily consume and digest. Blue Buffalo understands the nutritional value of every ingredient used and its benefit to the growth and development of your dog, this the Homestyle Dog Food has been made with real chicken and protein-rich foods for muscle development. Unlike the fares listed above, this is a wet food, thus, it comes in a pate style that appeals to a considerable number of puppies. You can feed this meal to your canine in three different and equally enjoyable ways – the first is serving it as a meal on its own, second is as a delicious treat, and the third is as a mixture with their favorite dry food. 
Some of the ingredients avoided in this German Shepherd dog food includes chicken by-product meals, soy, corn, wheat, preservatives, and flavors. All these substances have been avoided to allow the wet dog food last longer and also maintain its wholesome nature for the holistic development of your. Start your dog on the right nutritional path with the Blue Buffalo dog food, and watch as it grows into a healthy and highly active canine, ready to protect your household and explore their neighborhood.
Product Features:
Wet
NO chicken (or poultry)
High-quality protein
Enhanced with vitamins and minerals
6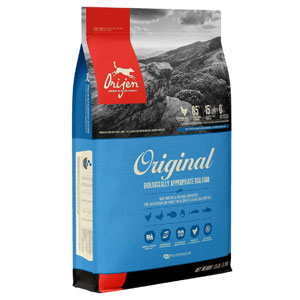 Many dog owners rave about the Orijen Dry Dog Food and how amazing it concerning taste and nutritional value. We know that it comes highly recommended by veterinarians all across the globe; thus, we can trust that it will do a great deal of good for your little canine. No doubt, this dry dog food is fantastic because it is highly organic and is made from wholesome ingredients including wild-caught fish, chicken, turkey, and cage-free eggs. 
This is no doubt, the best food for german shepherd puppy as well as adults and was formulated to nourish your dog not only biologically but also naturally; thus, it uses a grain-free diet that includes cartilage, meat, organs, and bone. All products from Orijen are made in Kentucky, in the company's Dogstar kitchen. They are nutrient-dense and also go through a series of safety tests to ensure that they're nutritional enough for consumption. 
Orijen is a company that focuses on creating and formulating only the best canine companions concerning nutrition. They produce some of the most exquisite meals, which are both nutritious and tasty. Using natural ingredients, their meals act as a powerhouse of energy and goodness that allows your dog to thrive in many ways you never expected. So, you can feel confident feeding your pup with fresh and tasty meals from Orijen.
Product Features:
High-protein
Grain-free
Premium-quality meat
Biologically appropriate
7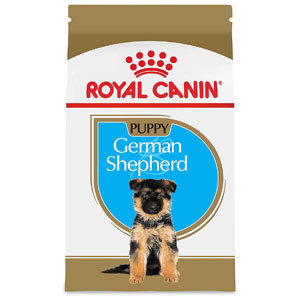 7.

Royal Canine Dog Food for German Shepherd
The Royal Canine Dog Food is another one of the best dry dog food options. Put together by expert scientists and veterinarians, the formula is made up of all the required nutrients, which will help your  pup reach their highest activity potential. The meal meets the nutritional needs of all dogs aged between eight and fifteen months; thus, were confident it would work for you. One primary reason was recommending this dog food for your canine is because it doesn't only taste good; it also looks good. It comes with a kibble shape, which is a design that encourages chewing in your dog.
The Royal Canine German Shepherd dog food also helps develop the natural defenses and immune system of your canine, via the use of exclusive antioxidants such as vitamin E. To promote an optimal stool quality, this meal features specific fibers and highly digestible proteins which go a long way to aid in digestive health. What's more, it is very affordable and comes in a substantial quantity that will last an extended period. Overall, this food will help your dog grow and develop excellently via a highly nutritional meal plan from Royal Canine. And you can now say goodbye to all health issues and allow your dog to experience what holistic health feels like. 
Product Features:
Dry
Exclusive kibble shape
Highly digestible proteins
Glucosamine and chondroitin
8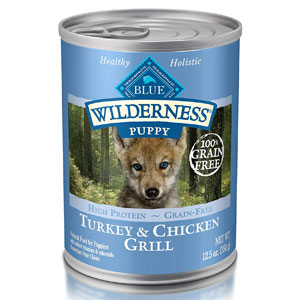 8.

Blue Buffalo Wilderness Natural Puppy Wet Dog Food
We have another dog food combination that exists to bring out the best health in your dog. This is the Blue Buffalo Wet Dog Food, a highly organic dog food formula that is grain and free and high in protein. This meal is unique in more ways than one and features purely natural ingredients that aid in muscle development and overall growth. Some of the ingredients in this meal include real meat, which is the first ingredient, chicken, and turkey. A single purchase comes with a pack of twelve cans, which can go a long way to keep your German Shepherd well fed.
We also love the best food for because it is delicious, rich in protein and features fatty acids that aid in the development of cognitive learning and retinal function in growing dogs. Some of the missing ingredients to ensure holistic health are wheat, corn, flavorings, and colors. There are also no preservatives which are artificial and not safe for consumption.
Blue Buffalo loves making dogs happy via their food. To do this, they formulate meals with real meat and natural, tasty ingredients that appeal to dogs of all ages, from pups to senior dogs. Furthermore, the food comes in different flavors, which means that no matter your canine's preferences, it will find one meal that it will love.
Product Features:
High protein
Grain-free
Wet dog food
Imported
9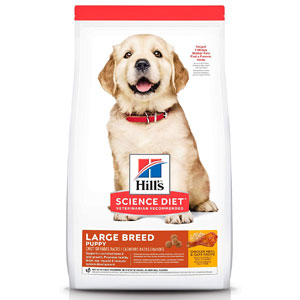 9.

Hill's Science Diet Dry Dog Food
This next dry dog food that comes highly recommended by veterinarians is Hill's Science Diet Food. Made in the USA, Hill's Science Diet Dog Food features natural ingredients sourced from all over the world. The company are on a mission to lengthen and enrich the bond between pets and their owners.  The company features a team of 220 people, each one bringing in their particular skills and knowledge to help improve the general health of dogs. With this in mind, we can safely say that their dog food is safe to consume. This is a food supplement that is well suited for puppies, large dog breeds, and senior dogs and comes with oats and chicken meal recipes, which is extremely tasty for dogs of all kinds.
The primary benefit of this dog food, as stated by the brand, is that it can help control bone growth, and this is provided via the high levels of calcium included in the formula. What's more, the formula also contains a large number of minerals, which aid in the development of bones and teeth in large puppies. Furthermore, this food has DHA, which is retrieved from fish oil for better eye and brain development which makes it ideal for growing and aging dogs and the maintenance of their health. No doubt, we recommend this product because it comes in a wide range of flavors, and is backed by a countless number of veterinarians, technicians, and food scientists.
Product Features:
Dry dog food
Large breeds
Chicken meal & oats recipe
An optimal level of calcium
10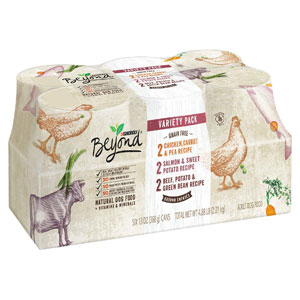 10.

Purina Beyond Natural Grain Free Wet Dog Food
Our final best dog food for s option is from the Purina camp. Meet the Purina Beyond Natural Wet Dog Food. This is a purely organic meal formula made from natural ingredients for the general wellbeing of your dog. It is a six-ounce unit that has extra minerals and vitamins coming together to keep your dog active all day long.
Grain-free and gluten-free, Purina dog food also has no soy, wheat, or corn; thus, it is safe for all dogs, even those with allergies. You can give this food to your dog as a whole meal, mix it with other dry foods or offer it as a special treat to your canine as and when you deem it necessary. All across the globe, dog owners praise the quality of Purina products, mentioning how efficient they are in developing the physical activity of canines.
Product Features:
Grain-free
Ground wet dog food
Beef, chicken or salmon
No corn, wheat or soy
Best Dog food for German Shepherds Buying Guide & FAQ
What to Look for in a Dog Food for German Shepherds
When finding the perfect meal for your German Shepherd, you need to be mindful of several elements which can protect your dog from allergies and illnesses. And as there are many products on the market; thus, having such guidelines can ensure that you always make the best choice. We discuss some of these considerations and explain their relevance in your search.
As dogs tend to consume a lot of food at a sitting, to ensure that your dog is well fed at all times, you need to invest in dog foods that come with a high quantity of food. These products are often considered more economical than those that come in little cans since they tend to last longer.
The second vital consideration you need to make is the palette of your dog. Some dogs hate real duck in their meals while others love it. You need to study and know the ingredients your canine likes, dislikes and is allergic to. This helps streamline your options and also keep your dog safe from potential harm.
The best meal to feed s is a natural or organic formula. This means that the dog food you opt for needs to be made with ingredients sourced from naturally occurring elements around the world. No additives or preservatives must be included, as they can do more harm than good.
The different types of dog food on the market come with various interests. Some of these foods have a high amount of protein, and this aids in the development of lean muscle. Other products feature natural ingredients that aid in digestive health.
The calorie demands of one dog will differ from another, depending on their age and how active they are. Newly born dogs require more nutrients and vitamins, and this is very similar to senior and aging dogs. Younger and energetic German Shepherds need more protein to maintain their active lifestyles.

Food to Avoid Feeding Your German Shepherd
Feeding is an essential act that must be carried out for all organisms, even dogs. To ensure that your  is well-fed, there are certain foods and ingredients which need to be eliminated from its diet. Some of these substances include fillers, grains, wheat, soy, and preservatives. They are to be avoided because they often cause allergies in dogs, and eventually make your canine sick.
Diet and Nutrition
When it comes to the nutrition and diet of a German Shepherd, every owner needs to know the caloric content of their foods, as well as how many calories they're meant to be consuming per day. For less active and senior dogs, veterinarian's advice that they consume 1,300 to 1,600 calories daily. Aggressive dogs and working adult s needs to consume 1,700 to 2,400 calories daily, to maintain their energy. The fat levels in these meals need to be at most 14%, 24% have to be protein. Healthy fat also needs to be present, and this should reach a percentage of five.
For nutrition, the best foods are grain-free foods. This is because these meals don't set off any allergies that your dog might have. To tell if your dog has an allergy to grains, check for loose stool after consuming grains. You also need to avoid feeding your dog with foods that contain wheat, flavors, artificial colors, and fillers.
Common Health Problems in German Shepherds - How Diet Can Help Them?
The primary health issues many German Shepherds experiences are bloat and hip dysplasia. These ailments are widespread in this breed of dogs because they're most active and are always in need of food and water. To help prevent or alleviate these ailments, you can employ proper feeding methods for your canine.
The first ailment is bloat, and this is a fatal condition. With this ailment, the dog's stomach fills up quickly with gas, cutting off digestion. To help deal with these issues, you need to feed your dog two to three small-sized meals every day. Also, be sure that your shepherd rests for up to an hour after meals, before going about many activities.
Hip dysplasia is the second ailment common with German Shepherds. With this illness, the hip joint of your dog is not formed correctly, and this may cause your  to gain some weight. For this condition, you need to feed your dog with formulas that feature chondroitin and glucosamine, as they're known to reduce the chances of developing such an ailment.
Wet Food vs. Dry Food for German Shepherd Puppies
The most popular kind of food usually fed to dogs is dry kibble, especially for German Shepherds. This is because they often come in large quantities, which satisfy their great hunger at all times. The packaging of these foods is in large bags, which also makes them very easy to store when necessary. Besides their secure storage, dry kibble is delicious, and they come in many formulas and flavors.
Wet food for German Shepherds isn't as typical as feeding them with dry foods because most often, these meals are small. These meals are great for newly born dogs since they're soft and comfortable to chew. The fact that they contain water means that they are also more comfortable to digest than dry foods. Such a feature makes them better for quick and easy digestion.

Our Top Pick
Taste of the Wild is a beautiful brand, responsible for our best choice product. Their Taste of the Wild Dry Dog Food is the world's best dog food, according to several veterinarians and dog lovers across the globe. It features a careful combination of purely organic ingredients, which are known to be high in protein and beneficial for lean muscle development and worldwide growth. This food is recommended for dogs of all ages and sizes, thanks to its varying Taste. It comes in flavors such as real duck and chicken bits, which animals love to nibble on.
Source:
German Shepherd Dog – Pet Health Network
Related Reads
Related Reads