PetSide may earn a small commission from affiliate links in this article.
Learn more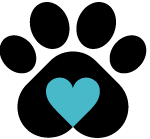 By Petside
Published 10:29 am
To be healthy, happy, with optimal weight and shiny coat, dogs need quality nutrition. But exactly what is that – quality canine nutrition? Is it whole meats only, or are veggies, grains, and fruits allowed? Sure, if money was no issue, we'd all let our dogs eat whole meats like fresh chicken and lamb to their heart's desire, but unfortunately, whole meats are expensive. The next best thing? Quality dry dog foods that are packed with good animal protein, healthy carbs and fat.
But finding the best dry dog food is no easy task. With literally thousands of options to choose from, it can be difficult to find the food that offers great nutrition, your dog loves and your budget doesn't mind. Luckily, you're in the right place. After consulting with several experts and reviewing hundreds of different dog diets, we've created a list of what we believe are the best dry dog foods currently on the market. And if you need more information on canine nutrition? Our buying guide is there to help!
The Best Dry Dog Food
Best Dry Dog Food Buying Guide & FAQ
Every pet parent who loves their dog like a member of their family wants the best for them. But when it comes to canine nutrition, finding 'the best' food is tricky. Are grains healthy or should you avoid them? Are by-product meals ok in well-balanced formulations or should you steer clear from brands that use them? Should you feed your pup breed-specific foods or regular kibble? With so many different options on the market, it's no wonder most dog owners feel overwhelmed and confused!
To make the process of finding the best dry dog food for your pet easier, we've put together this buying guide. Here, we cover everything you need to know about proper dog nutrition, including the things to consider and maybe avoid when shopping for dog foods. We've also answered some of the frequently asked questions about dog diet in general down below, so stay tuned until the very end.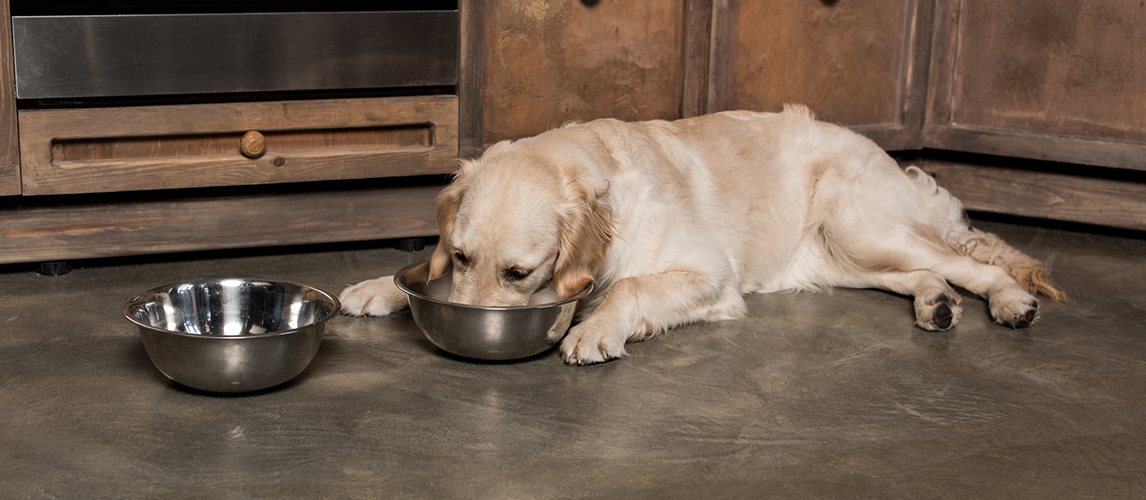 Things to Consider When Buying Dry Dog Food
Finding a quality, well-balanced dry dog food for your pet can sometimes be headache-inducing – with literally thousands of varieties to choose from, how does one decide?
Fortunately, you don't have to be an expert on canine nutrition, you just need to know the basics, which we cover right here. Before buying any dog food, consider the following.
The health condition of your pet
The current health condition of your dog is of utmost importance. Healthy dogs who eat whatever is served in front of them have the most options – quality protein, healthy carbohydrate sources such as whole grains, veggies, fruits and seeds, as well as some good fat sources should all be present in your dog's food. Although some pet parents avoid grains, there's really no reason to do that unless your pet has grain allergies or sensitivities. Check out our article on grain free dog food.
Sensitive dogs, on the other hand, have fewer options, as they should avoid the ingredients that cause them digestive upset and/or other health problems. These may or may not be grains, though –the only way to know for sure if grains are the problem is to have your pet checked by your veterinarian. Grains, especially whole grains, are a great source of fiber, plant protein, and vitamins and minerals and you really shouldn't exclude them from your dog's diet just because of the grain-avoidance trend. For more options, check out our detailed review of dog foods for sensitive stomachs.
The age and size of your pet
The age, as well as the size and particularly the weight of your dog matter too. Puppies need different nutrition than adult and senior dogs because they're still developing and growing. If you're looking for the best dry puppy food, pay attention to the macronutrients first and foremost – there should be plenty of protein and healthy fats there, as well as some fiber for good digestion. Omega-3 fatty acids and DHA specifically are also important as they promote healthy brain development in young pups.
Overweight pets also need a different diet than healthy dogs. For one, they need fewer calories, and two, they require significantly less fat than other pets. If your furry friend is on the chubby side, it may also be a good idea to look for high fiber dog foods as fiber increases the volume of the food (so they still get to eat quite a lot) without packing on the calories.
You may also like our article on Dog Food for Weight Loss.
The quality of the food and your dog's preferences
While we all want the best for our four-legged companions, it's not always possible to feed them the healthiest of foods. There are several reasons for that, but let's start with the most obvious ones. One, it's actually difficult to find the food that is both healthy, highly nutritious and budget-friendly. Two, super-healthy food is different for each dog – some dogs will thrive on high protein foods, while others will get sick, especially if they already have kidney problems. And finally, even when you find quality, healthy food that's affordable, there's no guarantee your pet will actually want to eat it.
So how do you go from here? We have a few pointers: firstly, always take into account your dog's specific health conditions, lifestyle, age, and weight before purchasing dog food. Secondly, pay attention to the macro- and then micro-nutrients of the food. You want quality animal protein in the formulation (this will depend on your dog's health, of course, but generally 20% to 35% of crude protein is good), some healthy carbs such as wholesome grains (if not sensitive), veggies and fruits, and also some fat, preferably coming from animal fat like chicken fat, fish oil, salmon oil, but also canola oil, etc. And what about the taste? Although added flavors are not recommended for sensitive canines, they can be life-saving for finicky eaters. As long as the flavor is there in small quantities and the food is well-balanced otherwise, a little bit of added flavor doesn't hurt (natural are always better than artificial, though).
What to Avoid Feeding Your Dog
To purchase the best dry dog food for your pet, besides knowing what to look for, you should also know what to stay away from. While each dog is different (e.g. some may thrive on grains-included formulas, others may not), there are some things that most pets simply don't do well on. We talk about the most important ones here.
Pet foods need to contain preservatives in order to stay fresh and safe for a long time. However, there are many ways to preserve dog food, and only one of them includes using artificial preservatives. Butylated hydroxyanisole (BHA), butylated hydroxytoluene (BHT) and ethoxyquin are some of the most commonly used artificial preservatives in pet foods, and while they're highly effective at preventing food from spoiling, they have also been linked to certain health issues. Some studies have shown that ingesting large amounts of these preservatives leads to health problems, including cancer in laboratory animals. However, it's worth noting that pet foods (as well as human foods!) contain very small amounts of preservatives, so these problems may never actually happen in real life. Still, considering there are natural alternatives such as vitamins C and E and plant extracts like rosemary, there's no need to risk it.
Take a look at our guide on Organic Dog Food.
Artificial flavors and colors
We mentioned that dog foods with added flavor can be life-saving for picky eaters. They're also a good option for extremely skinny, rescue dogs who are wary of foods given to them. However, when it comes to non-picky eaters, there's really no need for added flavors at all. Sure, in small quantities and in well-balanced formulas, added flavor will just improve the palatability of the food and won't cause any issues. But for sensitive dogs, added flavor, and especially artificial flavor, may cause problems. For this reason, it's best to stay away from both artificial flavors and colors as they don't add anything in terms of nutrition to the food, only make the recipe taste and look better.
Finally, it's important to know that certain people foods are harmful to pets. Although no quality dog food brand will use these foods in their formulations, it's still a good idea to be on the lookout and read the ingredients list.
Xylitol: this sweetener can cause dangerous blood sugar drops in dogs, as well as liver failure if ingested in large amounts.
Onions, garlic, chives: whether raw, cooked or powdered, these plants are not healthy for dogs in large quantities. They can kill red blood cells, causing anemia and vomiting.
Grapes and raisins: these fruits can cause kidney failure in dogs and even a small amount can make a dog sick, inducing vomiting.
Dog Food Prices: Is Expensive Dry Dog Food Really Better?
Although the old adage "you get what you pay for" has some merit in general, it's not always true when it comes to dog nutrition. There are quality dog food brands that are inexpensive, just like there are mediocre pet foods that are obscenely overpriced. So how do you go about finding a food that is both healthy and budget-friendly?
Look for complete dog foods: the most important thing for good dog food is that it's well-balanced and complete. This means that the final formula meets or exceeds the standards set by nutritional authorities, particularly the AAFCO.
Look at the Guaranteed Analysis and the Ingredient List: make sure the food you're buying contains enough quality protein and healthy fat for your dog, plus some nutritious carbohydrate sources. After you've checked out the Guaranteed Analysis section, take a quick look at the ingredient list. The best dog food brands use real meats and meals, wholesome and low-glycemic carbs and healthy fats in their formulations. That said, by-products are not something you should avoid in well-balanced, affordable foods –many experts agree they're highly nutritious, sometimes even more so than lean muscle meats.
Look for reputable brands: while we're for trying out different dog food brands, if you want a brand that consistently makes healthy, tasty and reasonably priced recipes, it's ok to stick to it. In any case, what's important is to look for reputable brands, companies that have safe and sustainable manufacturing practices.
Our Top Pick
We hope that our Top 15 list has helped you find the right food for your pet, or at least armed you with a better understanding of dog nutrition. As for us, we chose the Taste of the Wild, High Prairie Adult Canine Recipe, as our No. 1 food as it's packed to the brim with quality, tasty protein sources, plus it's reasonably priced. With a whopping 34% of protein, several antioxidant-rich veggies, fruits and legumes, and species-specific probiotics, this food checks all the right boxes: it's delicious, incredibly nutritious, easy on digestion and budget-friendly!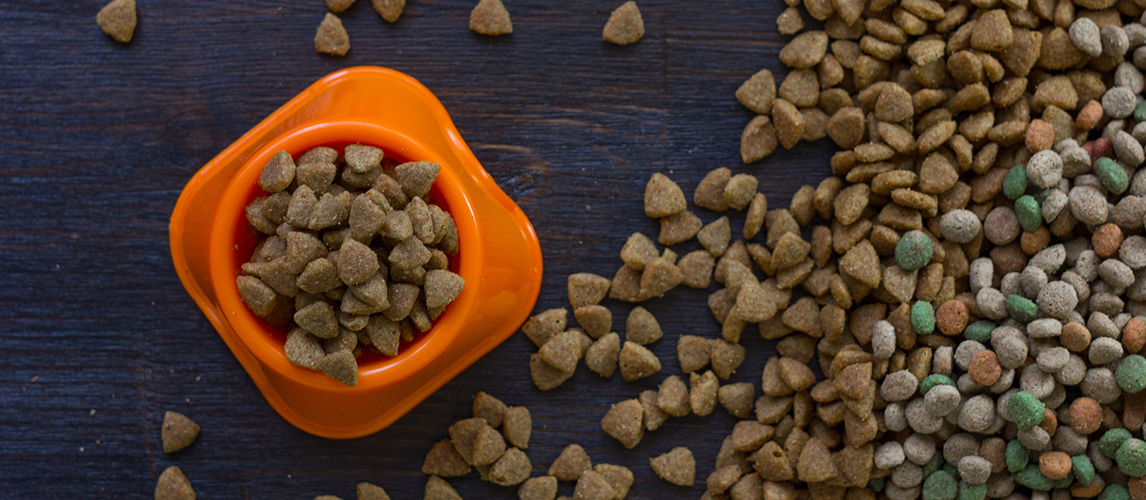 FAQ
Q:

How much should I feed my dog?

A:

This depends on the current weight of your pet. Generally though, adult dogs require around 25 to 30 calories per pound of body weight to maintain their weight. But, if your dog is underweight, they'll need more than that, if they're overweight less than that. Bear in mind that this is a rough approximation; puppies and nursing dogs, for instance, need more food than adult dogs, while sedentary pets, no matter their age, require less.
Q:

Can I mix dry food with canned food?

A:

Absolutely! Mixing wet dog food with dry dog food is recommended if you're dealing with a fussy eater. And even if you're not, it's good to provide your pet with a little bit of variety from time to time. Just be mindful of the calories (it's easy to go overboard!).
Q:

How can I stop my dog from gulping his food?

A:

If your pet swallows their food whole without much of chewing, there are a few things you can do to help them eat slower.

Hand feed: if you have the time, hand-feed your pup whenever possible. Take a small amount of dry food into your hand and offer it to your dog. Do not offer seconds immediately – after your dog eats the first offering, wait a few moments and then offer more food.
Turn the dish upside down: to make your dog work for his food, pour kibble into a bowl that's been turned upside down. This creates an obstacle and will slow their eating.
Put a toy/rock in their bowl: another way you can create obstacles for your pet while eating, is to place a softball or a large rock right in the center of their dish.
Q:

How should I switch my dog from one food to another?

A:

Start by mixing about 25% of the new food with around 75% of the old food. Keep doing this for 3-4 days. Then, start mixing it half-half and keep serving it like that for another 3-5 days. Next, move to mixing around 75% of the new food with 25% of old food, and after a few days, serve the new food only.
Q:

Do I need to feed my specific breed of dog a specific food?

A:

While not absolutely necessary, it's recommended to feed your specific breed pet with a breed-specific food because these recipes are specially formulated to satisfy the needs of particular dog breeds. Small breed dogs have different metabolisms than large breed dogs and vice-versa, so they may require different diets.
Q:

How should dog food be stored?

A:

Dry dog food should be stored in a cool and dry environment, preferably in its original bag as it provides a fat barrier. Opened bags of food should also be stored in cool and dry places (under 100°F or 38°C).