PetSide may earn a small commission from affiliate links in this article.
Learn more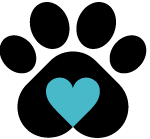 By Petside
Published 12:54 pm
As your faithful friend ages, you will inevitably start to see some signs that mean you may need to re-think their diet. They may still be thinking – and acting – like a pup, but they're getting a little slower chasing that stick on the beach or their middle-aged tummy is wider than it used to be. And while those tell-tale signs of grey around their eyes and muzzle tell you they are heading into their silver years, it doesn't mean they can't still be happy, fun-filled and healthy.
Regular exercise, check-ups with the vet, and lots of love will all help to keep your precious pooch young at heart as will the right food in their dog bowl. Feeding your older dog an optimum diet to ensure they get all the nutrition they need will help to keep that spring in their step. We take a look at the best senior dog foods currently on the market to help you make the right changes when it comes to keeping your pooch healthy and young at heart.
The Best Senior Dog Food
Best Senior Dog Foods Guide & FAQ
To remain healthy and happy in their golden years, senior pooches require a diet that is specifically crafted to support their aging needs. These 15 options are some of the best that the pet market has to offer, but if you're still unsure which recipe is right for your pup, we cover everything you need to know about senior dog food right here, in this buying guide. Read on to find out what makes dog food healthy and what unhealthy, as well as whether raw food is the right choice for your pet.
Things to Look in Dog Food for Older Dogs
They may be still be bouncing around like a spring chicken, but even if the inevitable signs of age have yet to show, your older dog will start to need a few changes to their daily diet. From being a bit more mindful of calories to keep their weight down or a boost in key nutrients to keep that spring in their step, or supplements to maintain their skin and coat condition and help to alleviate age-onset aches and pains, it is important to be aware of what you feed your older dog.
When choosing the best dog food for senior dogs, here are the main things to look out for:
The middle-age spread can a problem for your pooch, especially if it's coupled with less exercise and less activity as it could lead to obesity. Switching to a lower calorie senior dog food, coupled with portion control can ensure they get all the nutrients they need without putting on excess weight. However, if your older dog is starting to lose muscle mass, a diet higher in protein and calories could be helpful so do speak to your vet to make sure your older pooch is getting the right level of caloric intake for their body.
Take a look at our review of Low Protein Dog Food for more options.
Older dogs will 'burn through' their protein stores much faster than younger dogs, potentially leading to loss of muscle mass and tone. A good source of quality protein in the diet will supply the essential amino acids they need to keep their muscles in good shape as they age, as well as boost their immune system. Check the label on the pack or can of senior dog food for the protein source and always opt for specifics – chicken or beef – rather than the vague 'poultry' or 'meat'. For a wider selection of choices, check out our high protein dog food guide.
As your dog ages, so does their digestive system, which can get slower. One of the downsides of a sluggish digestive system is constipation which is not pleasant for you or your pet. Help to keep things moving by ensuring there is sufficient fiber in their diet, ideally a quality source such as psyllium or wheat bran. Probiotics and 'good fats' such as Omega 3 can also be beneficial to your older pooch. Just be careful if your dog has a sensitive gut or age-onset allergies and check with your vet if you are in any doubt.
As they age, our furry friends can be susceptible to age-related health conditions such as arthritis, especially if they are overweight. To help ease their movements and maintain their health and vitality in their silver years, look for senior dog foods that have added supplements. While they are no guarantee, there is no harm in making the most of these extra boosters. Look for anti-inflammatory chondroitin, glucosamine and omega 3 fatty acids EPA and DHA for joint health, and antioxidants that can help to counter the effects of aging. However, if your pooch requires specific supplements for a health condition, it's important to follow your vet's advice and not rely on their senior dog food alone. Head over to our review of dog vitamins for more choices.
If your dog has issues with their kidneys, check the salt levels in your chosen dog food for older dogs as higher levels are not really advised for senior pets. For more options, check out our detailed review of the best low sodium dog foods.
Softer textures such as canned and wet dog food is a good choice for older dogs with weak teeth. Softer food rather than harder kibble is also a good idea if your dog has lost its appetite as it can help them to get back to enjoying their food. That said, if your pooch has strong teeth but struggles with tartar buildup, crunchy kibble may be a fantastic choice as it can help scrub away food debris and soft tartar build-up.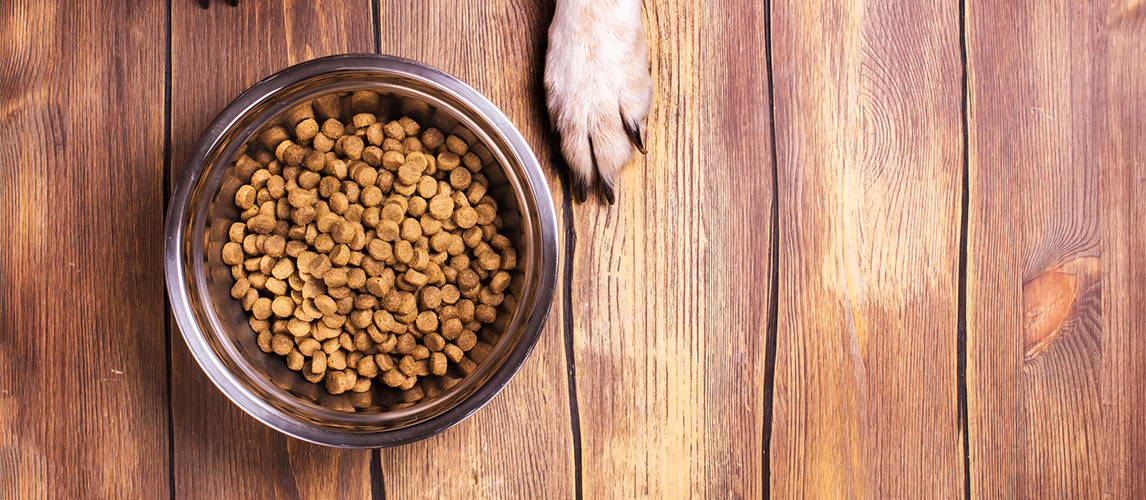 The Ingredients to Avoid Feeding Your Senior Dog
Just like humans, the ageing process sees changes in health and fitness as your pup gets older. Older dogs are also more prone to obesity, allergies, digestive issues and heart problems so the key to supporting their vitality is to feed them more of what they need and cut out the things they don't. Ingredients to avoid feeding your senior dog include:
Artificial colors and preservatives
Always try to buy senior dog food that that is as natural and additive-free as possible and always read the label to see if there are any artificial nasties hiding away in the recipe. Artificial color has no nutritional value and is there to make the food look good to you, but your pooch couldn't care less what their meal looks like as it's the taste that matters!
Dogs don't have a natural sweet tooth, so their food simply doesn't need sweetening up! Corn syrup is often added to dog food and it can actually be addictive for your dog, as well as adding extra calories they don't need. Added sweeteners can also be detrimental to your pet's health, especially if they have diabetes.
Some dog food for older dogs can be padded out with extra agents that actually have no nutritional value but are purely there to enhance texture and taste. And one particular 'bulker', bone meal can actually be harmful for your older dog as it adds phosphorous to the meal, which can irritate their digestive system. And, with bulking agents, you can never be sure of the quality or source, so avoid.
Allergies and sensitive digestive systems are common problems for senior dogs and some ingredients in their food can make matters worse. Wheat grains and corn are such ingredients which need to be used with caution or avoided altogether if your pup has an extra-sensitive digestion or skin and coat issues. That being said, grains can be a healthy addition in well-balanced formulas, so don't avoid them unless you know for sure your dog is sensitive or allergic to them. f you are looking for more options, check out our guide on grain free dog foods.
What About Raw Food?
Increasingly popular, raw food diets aim to provide your dog with a "purer" and more natural diet. But such a diet is not necessarily the right choice for an older pet. As they age, their digestive systems are not so robust and may not be able to tolerate an uncooked diet. Also, older dogs who have serious health conditions – such as pancreatitis or cancer – should not eat raw food.
But ultimately, when it comes to deciding whether raw food is ok for your older dog, it's best to chat with your vet. It is likely that your dog will need a more balanced diet though, including fiber and good fats – to keep them feeling young and energetic.
Our Top Pick
As our top pick, Blue Buffalo Life Protection Formula Senior Recipe is a quality dry dog food that is nicely balanced to create a tasty kibble that is easy to digest and calorie-maintained to keep your old dog healthy and satisfied. Fortified with the vitamins and minerals senior pooches need for muscle, joint and immune system health, and a quality protein at its source, this is an appetizing way to keep a spring in your aging fur baby's step.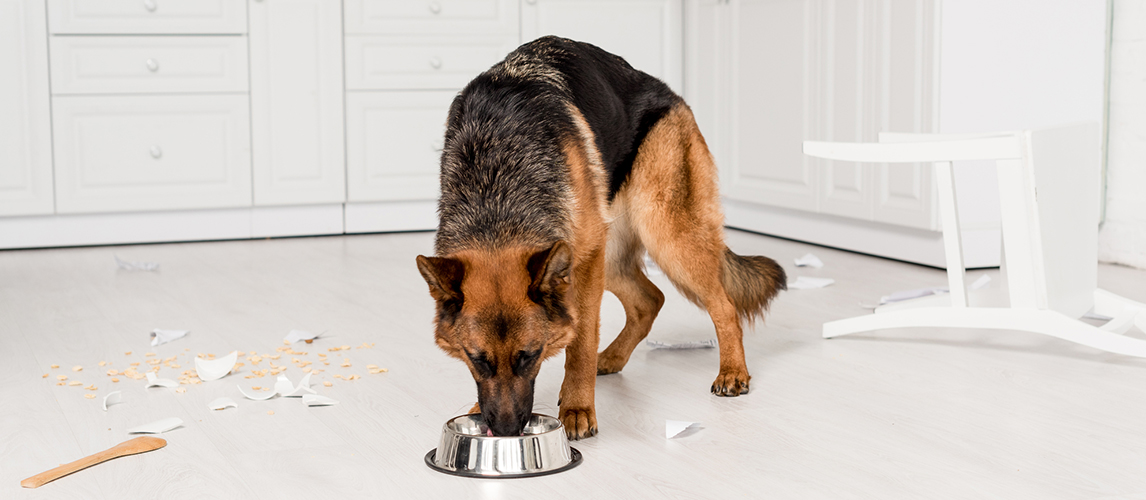 FAQ
Q:

What is considered a senior dog?

A:

While it does depend on the breed and weight of your dog, a general rule of thumb is that your dog is in his senior stage when they have reached half their life expectancy. So, a small dog with a life expectancy of 15 – 20 years, he will be a senior from around eight or nine, while for a large breed that can live to around 12, he will be entering his silver years around six or seven.  Most vets typically consider a dog as a senior from seven years when it comes to health and wellbeing.
Q:

What age should you switch to senior dog food?

A:

Although your pooch has reached his half-way mark and is technically now a senior, it doesn't necessarily mean he needs to be automatically switched to a geriatric diet. His health, energy and overall condition, both physically and mentally, will help you to decide when his diet may need a little extra help.  If your older fur baby is showing no signs of slowing down and is enjoying his food, then don't rush to change. Signs that he may need a little extra fine-tuning in his diet are a dull coat, lethargy, stiffness in his joints, upset tummy and a growing girth. Otherwise, a good time to look at upping his nutrition with a specific dog food for older dogs is around eight or nine.
Q:

Can I give my older dog puppy food?

A:

The nutritional needs of a puppy are different to a pooch in his twilight years and so you really shouldn't be feeding the wrong diet. Puppy food is higher in calories and protein to support the pup's development, and can be harmful to an older dog, especially if they are obese or have kidney problems. Always try to stick with the right food for your dog, at every stage of their life for optimum nutrition and health.
Q:

How often should I feed my senior dog?

A:

As they age, your canine's need for food will change, due to a reduction in activity levels and the potential arrival of age-onset health conditions such as obesity, dental issues and digestive problems. Little and often is the best way to feed your senior dog, especially if he is a smaller breed. Unless advised otherwise by your veterinary practitioner, twice a day for large breeds, up to three times a day for smaller pooches, is ideal, and don't overfill their food bowl.