The Best High Fiber Dog Food in 2022
Last Updated: January 4, 2022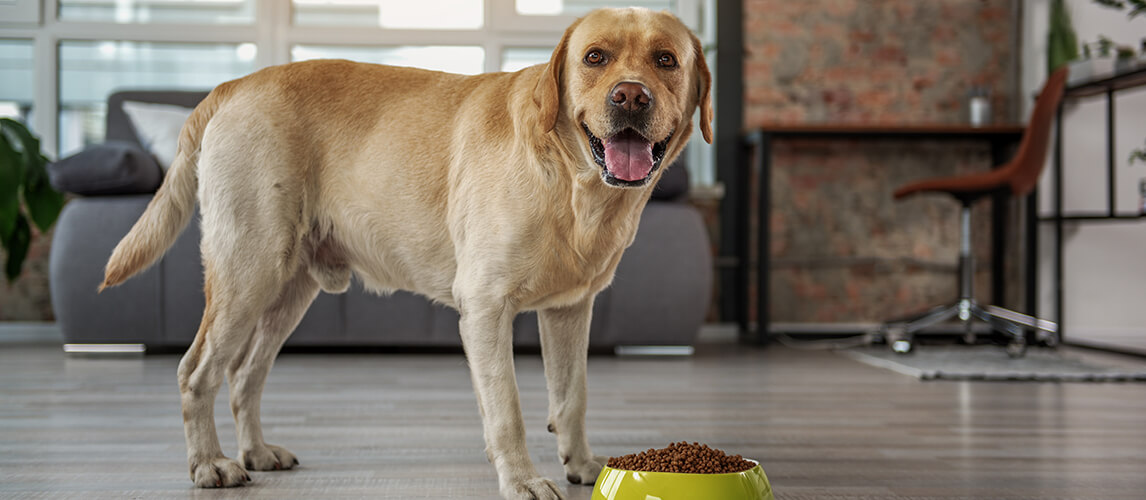 PetSide may earn a small commission from affiliate links in this article.
Learn more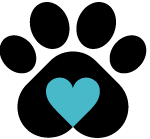 By Petside
Published 09:33 am
Whether your dog is battling health issues, needs to lose weight or you just want to feed them a healthier diet in general, high fiber foods and supplements can help. Although essential for canine health, dietary fiber is one of the commonly over-looked nutrients in dog nutrition. From healing gut problems, to lowering high blood sugar, to maintaining optimal weight, the health benefits of both soluble and insoluble fiber are numerous.
To help you find the best high fiber dog food for your pet, we've spent more than 40 hours researching and editing this article. The result is our buying guide, plus a list of 8 best high fiber foods and supplements on the market. So read on, inform yourself, and help your furry companion stay healthy for as long as possible!
The Best High Fiber Dog Food
Best High Fiber Dog Food Buying Guide & FAQ
You've probably heard of the many health benefits of fiber on humans. But what about our canine companions? Is fiber as beneficial to dogs as it is to us? According to the American Kennel Club, dietary fiber is not only beneficial to dogs, it's crucial if you want your pet to have healthy digestion and optimal weight. And it's even more important for dogs with diabetes and EPI. For more options head over to our guide on the best food for diabetic dogs for more info.
But since most quality dry dog foods already contain some fiber, do you really need to switch to high fiber diet for dogs or incorporate fiber supplements? The short answer? It depends. The longer and more comprehensive one, along with a heap of useful information on canine nutrition, can be found in this buying guide. With this guide, we hope to not only help you choose the best high fiber dog food for your pet, but also help you gain a better understanding of proper canine nutrition.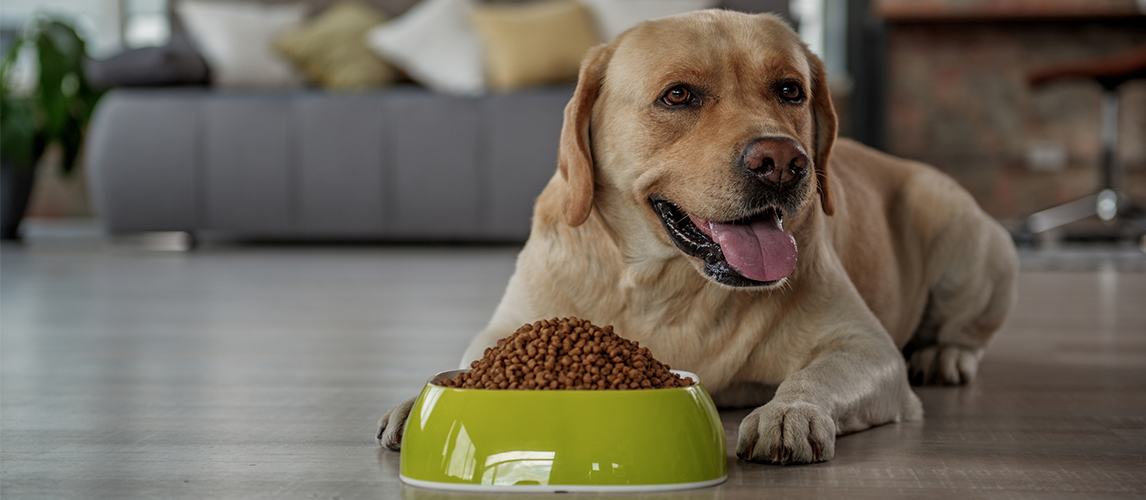 What Is Fiber?
Fiber is the edible part of different carbohydrate sources that cannot be digested. It can be found in legumes, vegetables, grains, fruits and seeds, which is why it's impossible for dogs on a meat-only diet to consume enough fiber. Among other things, fiber helps dogs feel fuller for longer, which is why it's crucial in weight management dog foods. It also aids in digestion as it promotes beneficial bacteria and speeds waste elimination. But more on the benefits of fiber later; for now, let's focus on the basic facts about dietary fiber and why it's important to include it in your dog's diet, no matter their health condition, breed or age.
There are two major subcategories of fiber and knowing which is which can help you decide which type your pet needs more.
Soluble Fiber
This type of fiber 'feeds' beneficial bacteria found in the canine gut, thereby promoting gut health and strong immune system. For this reason, some types of soluble fiber are also considered prebiotics. Generally, canine digestive tract doesn't have that much of an effect on soluble fiber, however, the bacteria that live in the large intestine break it into short chain fatty acids which are a great source of energy for the cells that line this part of a digestive system. It should be noted here that because soluble fiber feeds beneficial bacteria, it also produces fermentation in the colon, which can lead to gases. However, this can easily be avoided if you introduce it slowly into your pet's diet.
Soluble fiber is particularly important for dogs with EPI (pancreatic insufficiency), as they have a diminished ability to break down the foods they eat. However, it's also worth noting that too much of fiber (both soluble and insoluble) can inhibit nutrient absorption, so diets very high in fiber should not be fed to dogs with pancreatic insufficiency.
This type of fiber can be found in:
oats, barley, beans, rice bran, psyllium, beet pulp, inulin, chicory, apples, peas, potatoes and other plants.
Insoluble Fiber
Insoluble fiber cannot be digested which means it passes through your dog's gut unchanged, promoting healthy digestion by stimulating bowel movement in the gastrointestinal tract. This is why insoluble fiber is essential for dogs who frequently suffer from constipation. However, when feeding lots of insoluble fiber, it's also crucial to make your dog drink plenty of water, because this type of fiber absorbs liquid as it moves through the digestive tract. So, if you want to help your pet beat constipation, add insoluble fiber to their diet, plus lots of water.
This type of fiber can also help dogs lose or maintain body weight as it increases the volume of the food without increasing total calories much. It's also important for dogs with anal gland problems, as it encourages the colon to push the waste easier and faster. Similarly, it can also help with diarrhea.
Unlike soluble fiber, insoluble type doesn't produce fermentation and therefore gasses, so you can introduce it quicker if you want to.
Insoluble fiber can be found in:
wheat bran, oat bran, cereals, seeds, sweet potatoes, broccoli, carrots and skins of other fruits and vegetables.
Head over to our review of High Protein Dog Food for more choices.
The Benefits of High-Fiber Dog Foods
The health benefits of dietary fiber for dogs are comparable to those for humans. Good fiber for dogs, whether it's coming from supplements, treats or high fiber dry dog food, can help with digestion, colon health, weight loss/optimal weight management, nutrient absorption, and many other things, including the symptoms of diabetes.
Promotes Digestive and Colon Health
Both soluble and insoluble fiber are great for your dog's digestive health. Soluble is fermented into short chain fatty acids which feeds the beneficial bacteria that reside in the large intestine. Insoluble adds bulk to the stool, helping your pet push out waste easier and quicker. But one of the most important benefits of fiber in dog diet is that it helps reduce the risk of colon cancer, and may even prevent it. How? By speeding up waste elimination and reducing the exposure to any toxins your dog may have consumed. Also, by feeding that beneficial bacteria while starving the bad ones in the colon.
Helps in Weight Management
It's no secret that overweight dogs are at a higher risk of developing various diseases. However, it's also not surprising that many pet parents feel guilty when feeding their dogs less than they're used to. If you're one of those dog owners, you'll be pleased to know that with a high fiber dog food you can both feed your pup plenty of food, and help him lose/maintain weight. This is possible because fiber, whether soluble or insoluble, adds volume to the food, allowing your dog to eat as much as they want to, without consuming too much calories. Furthermore, dog food with fiber (quality fiber, of course), will keep your pet feeling fuller for longer. For a wider selection of choices, check out our dog food for weight loss guide.
Dogs with diabetes may greatly benefit from high fiber dry dog foods, or even fiber supplements. This is because fiber helps slow the breakdown of food, especially carbohydrates, thereby preventing blood sugar spikes. When a diabetic dog consistently eats a high fiber diet, he'll have fewer blood glucose fluctuations, meaning he may have fewer disease symptoms and better control of the illness.
That being said, not all diabetic dogs need high fiber diets – some will do great on regular, healthy dog food that contains moderate amounts of fiber, others may need much more. If your pet has diabetes, it's best to first talk to your vet and see what they recommend.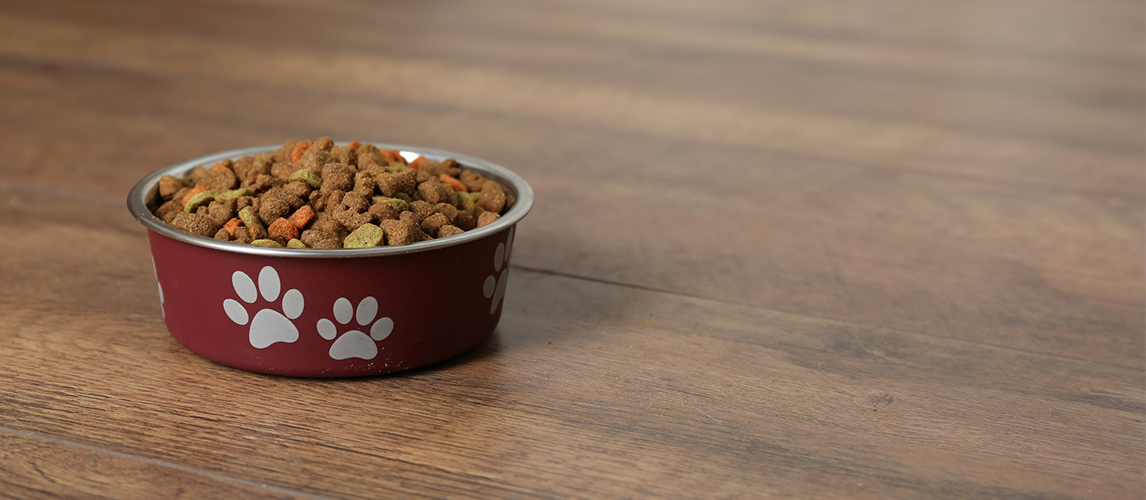 Common Sources of Fiber for Dog Foods
There are many natural sources of fiber for dogs, but what's really important is ensuring your pet eats enough of quality fiber sources. So, what are those?
Legumes such as black and red beans, green and red lentils, peas, chickpeas (garbanzo beans), soybeans and other contain lots of fiber as well as protein. Choose dry dog foods that contain them, or feed these foods by cooking them and mixing them with your pet's regular meals.
Sweet potatoes, potatoes, broccoli, carrots, beet pulp, kale, kelp and other veggies are all packed with antioxidants and fiber. This makes them the ideal ingredients in high fiber food formulations.
Both whole and refined grains are good sources of fiber, although whole grains are a better option. Oats, barley, rice bran, brown rice, flaxseed, sunflower kernels, chia seeds, psyllium husk and other grains and seeds contain plenty of fiber and some healthy fats (depending on the ingredient). They're all great choices, however, some pet parents of sensitive dogs choose to avoid grains. Check out our guide on the best grain free dog foods for more info.
Pumpkin, apples, raspberries, blueberries and other fruits are a welcome addition to any dog's diet. Owners of diabetic dogs, on the other hand, may want to stay away from foods that contain lots of fruits.
Tips for High Fiber Dog Food Diet
Whether you're considering completely switching to high fiber dry dog food, or just feeding it in conjunction with your dog's regular diet, it's important to introduce the new food slowly. Transitioning from one diet to another (whether that's igh in fat to low in fat, low in fiber to high in fiber, it doesn't matter) can sometimes be difficult, if for no other reason, then because the new food tastes different. Some dogs have picky eating habits and will refuse to eat a new food if it doesn't taste as good as the old one. But even more importantly, high fiber food needs to be introduced gradually because it can cause digestive upset. So, how should you go about this?
Step by Step
When introducing any new food, use the step by step approach, meaning don't just suddenly start serving high fiber food when until yesterday, you fed your dog a regular, low fiber diet. Instead, mix the new food with your pet's favorite kibble, gradually increasing the amount of the new food every few days. For instance, in the beginning, you can mix 20% of the new (high fiber) food with 80% of the old food and keeping serving it like that for a few days. After 4-5 days, mix 40% of the new food with 60% of the old food, and keep feeding it like that for another 4-5 days. Gradually increase the amount of the new food over the next few days, until your dog is used to eating its high fiber food alone. Alternatively, serve the high fiber food along with the regular kibble. For example, feed your dog the old kibble in the morning and feed the new food in the evenings.
Generally speaking, it's always best to speak to your vet as they have the full knowledge of your pet's health and may offer a better feeding strategy.
Our Top Pick
All dog foods we reviewed in our Top list are quality, healthy products, so whichever one you decide to try, we're certain both you and your furry friend will love it. That said, our No.1 would have to be Blue Buffalo Wilderness, Healthy Weight, High-Protein, Grain-Free Chicken Recipe. This dry dog food is packed with wholesome, healthy ingredients, including lots of quality protein and fiber, but is moderately low in fat, helping canines maintain their ideal weight. And since it's grain-free and enriched with all essential supplements, it's also suitable for dogs with sensitivities to grains. All in all, one of the best high fiber dog foods out there!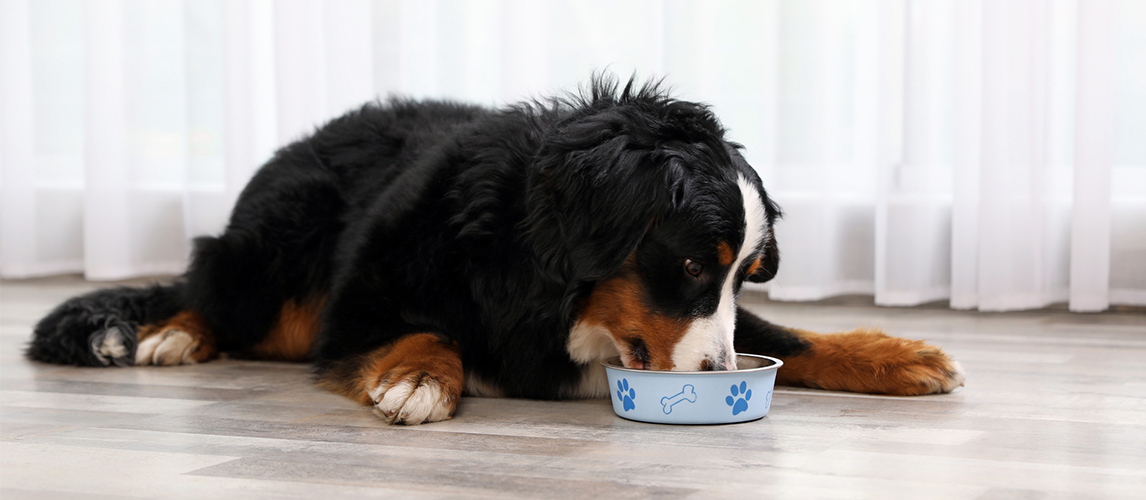 FAQ
Q:

How much fiber is in regular dog food?

A:

Most regular dog foods contain between 2-5% of fiber, which is enough for many healthy dogs. However, if your pup has digestive issues, diabetes, weight problems and other similar health issues, a dog food higher in fiber content may be necessary. Many prescription high fiber diets contain between 6-12% of fiber, or more and lower amounts of fat than usual (around 10%).
Q:

How can I add more fiber to my dog's diet?

A:

The easiest way to add more fiber to your dog's diet is to switch to high fiber dry dog foods. If your pooch is generally healthy, there's no need to go for super-high fiber foods; instead, choose foods that contain a little over the average amount, so around 5-8% of fiber. If you don't want to purchase high fiber dog foods, you can buy supplements and add them to your pet's regular meals, or simply feed your dog fiber-rich veggies and fruits from time to time (e.g. feed pumpkin as a treat daily).
Q:

What causes my dog to generate such a large volume of stool?

A:

Short answer: fiber. Both soluble and insoluble fiber, but especially insoluble type, add bulk to the stool, helping the process of waste elimination become easier and faster.
Q:

How can dog food fiber help a diabetic dog?

A:

Because fiber slows the breakdown of carbohydrates, it prevents blood glucose from spiking. This, in turn, causes fewer glucose fluctuations, keeping your dog's blood sugar more stable and controllable.
Q:

How does dietary fiber help control inflamed anal glands?

A:

Fiber absorbs water as it moves through the digestive tract, helping your dog produce enlarged stools which are easier to pass. Furthermore, passing this type of waste adds pressure to the anal glands, which in turn helps induce the drainage of the inflamed glands.