PetSide may earn a small commission from affiliate links in this article.
Learn more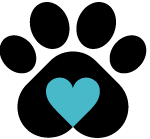 By Petside
Published 08:04 am
Just like people, cats can have a little trouble with weight from time to time. With all the tasty treats and foods available for your kitty, it's not hard for their weight to creep up and up without their owners noticing. In fact, according to a 2003 study, as many as 48% of domestic cats may be heavier than their ideal weight.
Being overweight or obese can trigger a number of problems in cats, but, luckily, help is at hand. Many petcare companies have gone out of their way to formulate special foods to help fat cats shed that extra weight, leading to happier, healthier lives. With so many options springing up, it can be hard to know which one is best for your cat, so we've scouted around for the top 10 options on the market right now. To help you and your feline friend, we've also put together a handy guide to cat obesity;  its causes, effects and how you can stop it in its tracks.
Best Cat Food for Weight Loss
Best Cat Food For Weight Loss Buying Guide
With these 10 quality foods to choose from, we're confident you'll find the solution that's right for you and your cat. Maintaining a healthy weight can be a tricky balancing act for both us and our feline friends, but giving them access to healthy, high quality foods is a step in the right direction.
To help your cat achieve and maintain a healthy weight, we've compiled the useful guide below. Here we address some common questions and concerns about excess weight and obesity in cats, how you can tackle it, and how it can be prevented in the future.
What to Look for in Cat Food For Weight Loss
When choosing a weight loss food for your cat, there are a few key factors to consider:
Allergies, Intolerances, and Sensitivities
When selecting a weight control food for your cat, the first thing to consider is whether they suffer from any allergies or intolerances. Many cats are allergic to ingredients such as soy, or wheat, and it's important to check that their new food doesn't contain anything that will upset their stomach or trigger an immune response. Luckily, there are plenty of grain-free cat foods on our list to choose from. For a wider selection of choices, check out our hypoallergenic cat food guide.
Although your options are usually limited to dry foods, with a little research you can also find the best wet cat food for weight loss. However, purchasing special diets tends to be more expensive when you need to buy wet food. As a compromise, you can feed your cat a blend of wet and dry foods.
When selecting a new diet for your feline friend, nutrition should be one of your top concerns. Look out for foods that contain a high proportion of protein, as this should comprise the bulk of a healthy cat's diet. Also look out for B vitamins, antioxidants, fiber, and omega-3 and 6 fatty acids, to promote overall health.
Take a look at our guide on the Best High Fiber Cat Foods.
Food can go a long way towards resolving many health issues in cats, so it's important to choose a food that supports them as much as possible. For instance, if your cat is suffering from itchy skin or a dull coat, it's a good idea to select a food that contains plenty of omega-3 and 6 fatty acids, as well as vitamin E, to help combat it. If problems are severe or persist, it's not enough to simply change your cat's diet, however, and you should seek advice from your vet.
For more options, check out our detailed review of Vitamins For Cats.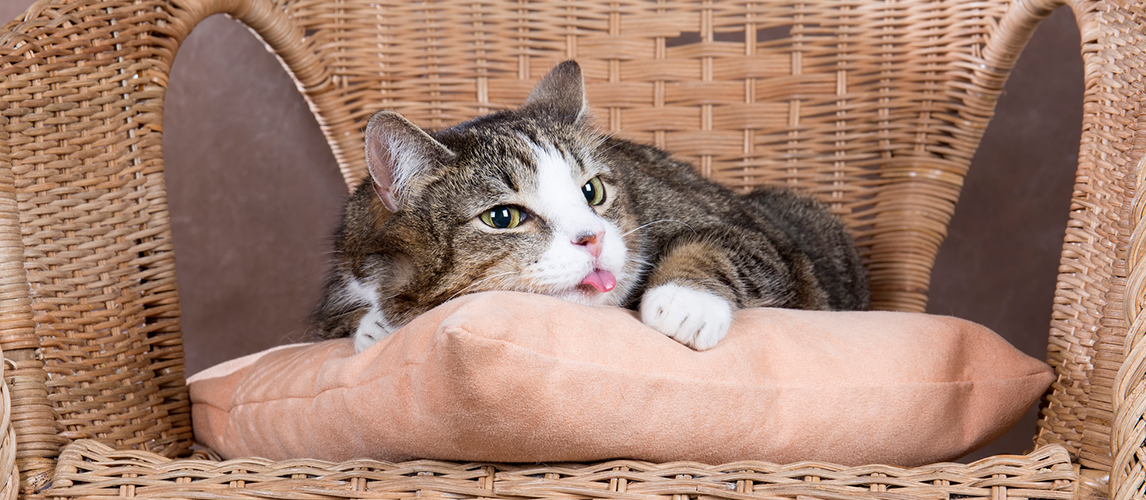 Health Risks for Overweight Cats
Just like humans, excess weight puts cats at greater risk of developing a number of health issues, including:
Diabetes
Fatty liver Disease
Osteoarthritis
Skin issues, such as feline acne or dryness
High blood pressure
Bone and joint damage
Decreased immune function
Lethargy and trouble maintaining an active lifestyle
How to Tell if Your Cat is Overweight or Obese?
Clearly, carrying extra weight comes with huge risks for cats, so it's important to know whether or not they are above their ideal weight.
Unfortunately, it can be difficult to tell - cats come in all shapes and sizes, and the ideal weight for one cat might be under or overweight for another. There are, however, a few signs to watch out for which indicate an above-ideal weight:
Looking at your cat from above, you can't see a 'waist' between their rib cage and hips
Looking from the side, you don't perceive an upwards slope from your cat's rib cage to their back legs
Gently squeezing your cat's torso, you can't feel their spine and ribs clearly
If you believe your cat is overweight, it's a good idea to confirm with your vet before attempting to put them on a weight loss regimen. This is especially important when you consider that the excess weight could be the result of an underlying health condition.
Check out our guide on the Best Pet Scales.
What are the Contributing Factors for Obesity?
So, what exactly contributes to obesity in cats? We can break down the triggers into two categories: lifestyle, and health issues.
Lifestyle Triggers
High calorie foods
Fatty foods
Too many treats or human foods
Lack of exercise
Changing diets too often
Health Issue Triggers
Hyperthyroidism (an overactive gland that results in an altered metabolism)
Insulinoma (a pancreatic tumor that can trigger abnormal hunger)
Cushing's Disease (a tumor in the pituitary or adrenal gland leading to excessive eating)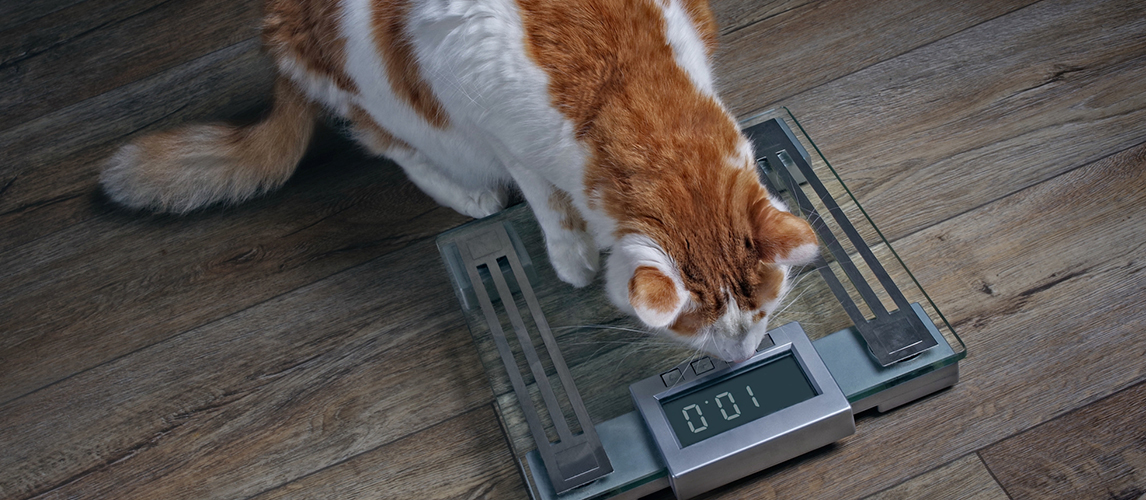 FAQ
Q:

What is a healthy weight for a cat?

A:

This apparently simple question is surprisingly tricky to answer in practise. What constitutes a healthy cat weight can vary with size and breed.

The average cat weight is around 10 pounds, but smaller breeds such as Siamese cats could be healthy at just five pounds, while the Maine Coon and Siberians can be in good condition at up to 25 pounds.

If in doubt, it's best to consult with your vet.
Q:

How do I get my indoor cat to lose weight?

A:

Just like humans trying to shift a some pounds, the best way for a cat to lose weight is a combination of dieting and exercise.

We'll discuss how to change their diet in the next section, but for now, here are some tips to get your overweight cat more active:

Provide plenty of toys

Cats tend to be more solitary than dogs, so it can be difficult to entice them to play for exercise. Luckily, toys will help them to do just that! Try to set aside some time for play every day, using something your cat can chase.

Cat Towers

If you have the room, consider purchasing a multi-tiered cat tower for your feline friend. Leaping and climbing about the tower is a great form of exercise, and you can encourage them to explore the device by placing small cat treats on each tier if they seem reluctant at first.

Go Outside

Many cats take well to walking on a lead with a harness, just like dogs. It'll take some patience and perseverance, but walking is great exercise for both you and your cat, plus it's gentle enough to act as a good starting point for overweight felines. Find out more about the best cat harness here.
Q:

How can I put my cat on a diet?

A:

Putting your cat on a diet is the single best way to promote weight loss, but it's important to consult a veterinary professional and do so with caution. Cats who don't get enough vital nutrients can develop a number of health issues.

To place your cat on a diet, you'll need to gradually replace their current food with the weight control option you've selected. Individual makers will provide guidance about how to do this - just remember to be patient, as sudden changes in diet disagree with a cat's stomach.

Feed your cat only the recommended amount for their size, and weigh them on a weekly basis. Your vet will be able to provide an ideal weight for your cat, and once this weight is reached, you may need to up their calorie intake slightly to maintain it.