The Best Cat Harnesses (Review) in 2020
Last Updated: August 13, 2020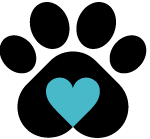 By Petside
Published 07:44 am
If you have an indoor cat, a cat with FIV or cat that can't go out due to health problems, you may find yourself being a little wracked with guilt. Cats are naturally outdoor beings and, sometimes, staying indoors is simply suffocating for them. Enter the cat harness.
You might think that cats are not likely to want to be placed on a leash and walked through the streets like a dog, but you would be surprised. Like dogs, many cats love the idea of going out and simply require a little training to get used to the idea. If you've never used a cat harness before, take a look through our buying guide to find out everything there is to know about these simple but effective items- and don't forget to check out our top picks!
The Best Cat Harness
Best Cat Harness Buying Guide & FAQ
What to Look Out for in A Cat Harness
It's likely that when you first begin training your cat on their leash and harness, that you're going to be dealing with an uncomfortable kitty who wants to remove their new clothing. This will lead to a lot of pulling, scratching and generally a very grumpy cat. The best cat harness will be tough enough to handle this tantrum.
Of course, your cat could be as calm as they come, and you may not have any issues at all. However, having that added durability means that your harness is more likely to have added longevity, leading to your saving money over time and being safe in the knowledge that your cat won't slip out of a damaged harness.
A very important factor is the material that your new item is made of. Naturally, having a fur coat means your cat is likely as cozy and warm as they'll ever need to be, so adding thick material that increases their body temperature will more than likely lead to problems. The best cat harnesses will be made from breathable material, such a polyester mesh. Try to avoid cotton and similar materials, as these contain heat and can cause health issues in your cat.
There are two main styles of cat harness, which we discuss in more detail below. These are the H-style of cat harness and the cat harness vest. They both come with their own pros and cons, so keep reading to find out more about which style best suits your cat.
Probably the biggest factor in how well your cat takes to their new clothing is the fit of the harness itself. Too tight and your cat may become distressed and instantly hate their new attire and you, while being too loose leaves them open to escaping from their harness and getting themselves into mischief.
We'll talk about how to get the best fit for your cat in our FAQ section- but the main thing to remember is that you should be able to comfortably fit two fingers between your cat harness and your cats' skin, without being too tight or too loose.
Easily the most important aspect of buying a cat harness is the safety- after all, the entire reason you're probably looking at this article is to ensure that your cat is comfortable and safe, while still getting the freedom they require. Remember that your cat needs to be comfortable when using their harness, as a priority- otherwise you risk causing harm to your kitty, which nobody wants.
Simple additional features in your cat harness- combined with the best cat leash- will allow you to feel confident in your cat's safety. For example, many modern cat harnesses come with multiple adjustable straps, which allow you to get a snug fit, while others are reinforced and even have reflective strips or similar, which encourages their visibility when out and about.
All of our top choices have taken these factors into account- particularly the safety features- and we feel that these choices are honestly some of the best cat harnesses available online, today. Take a look through our choices and see which one best suits your needs.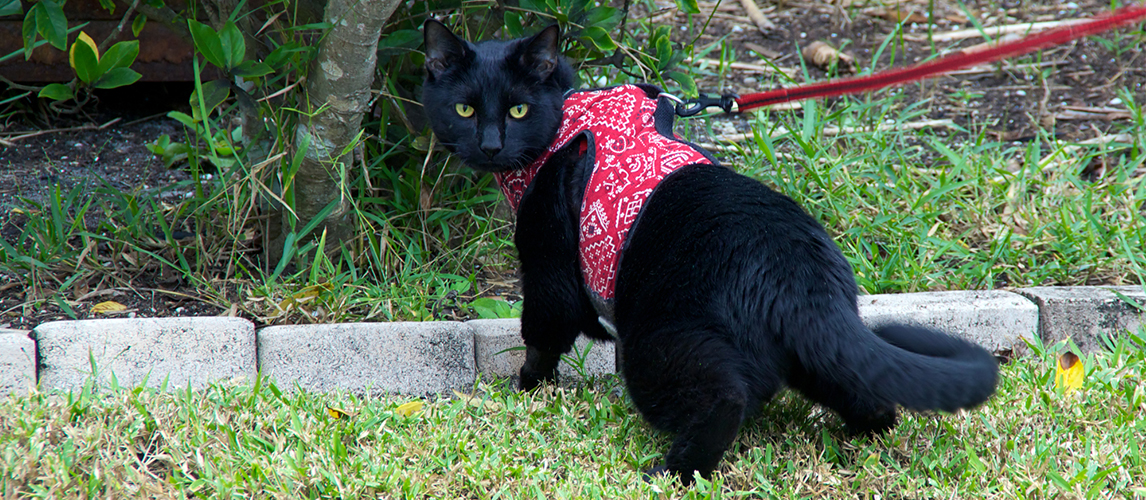 Types of Cat Harnesses
The first type is the "H" style cat harness. This comes as a rather stringy-looking piece of kit that can be hard to wrap your head around, at first. Don't worry, once you see the item on your cat, it all begins to make much more sense!
Essentially, this looks like a H, if you were to look at your cat from above and across their body, as the first strap holds around their neck, while the second holds around their chest or stomach- with a connecting strap along the back of the piece. They are easy to adjust and can usually fit a wider range of cat sizes and breeds- providing you have roughly the right size.
The negatives of the "H" style cat harness is that they are tricky to get on, with many cats becoming annoyed before you complete your mission and wandering off. As well as this, their added adjustability can leave a larger gap for mistaken fittings, leading to many cats easily escaping their host and getting into danger. Because of this, many new users find the vest style of cat harness is much easier, safer and quicker to use.
Also known as a cat harness vest, the vest styles of cat harnesses are usually made of a breathable mesh material- which are ideal as they cover nearly the entire top half of your cat's body. They can come in two variants- as a t-shirt style, which goes over your kitty's head and with adjustable fittings, allowing you to place the vest over in the same way you would with a cardigan or waistcoat.
As they're more all-encompassing, they are a great choice for cats who like to escape from their "H" style harness, as they provide added security and are a little tougher for your adventurer to escape from. They can be a little more expensive, however, but this is usually worth it for the added peace of mind.
Tips for Using a Cat Harness
Always begin with measurements
To begin, you should get the right fit for your cat as soon as you can- which will require you to take measurements around the chest at the widest area and the neck, just above the shoulders. Don't forget to take these in both cm and inches, as it's likely you'll need to have both to hand in order to work with the sizing guides based online.
Gently introduce the harness
You should allow your cat to first play with their new clothing, which will allow them to mark it with their scent and show them that the harness isn't something to be feared. The aim here is to associate the harness with positive memories and experiences.
After you first fit the harness, allow your cat to walk around freely, without the leash. This will give them greater confidence with their new attire and make the next step- going outside- much easier.
Just like dogs, cats can be trained- all it takes is a little time, energy and tasty treats. Don't pull on your leash and try to make your cat go where you want them to be- this will only make them resent the leash. Allow them time to explore and simply follow their lead.
Related Post: Cat Treats
If your cat is distressed at any point, you can always distract them with your treats. It's also a good idea to bring a towel on your first few trips outdoors, as this will allow you to scoop up your kitty and bring them home (without any scratches), should anything go wrong.
Related Post: Cat Carriers
Our Top Pick
The biggest benefit to the Come with Me Kitty Harness and Bungee Leash from PetSafe is easily the bungee cord and simple-yet-safe design for your cat. The harness manages to avoid the delicate neck area while still being safe for your cat to use on a regular basis, while the cord has enough give to allow for your kitty to have a little adventure with every trip. Of course, if you are a cat-walking veteran, you can always use the D-ring to exchange this leash type with another of your favorites.
This is massively popular with buyers and provides great security for kitties without weighing them down. Many reviewers mention how quickly their cats approved of the change and note that the fit of the harness seems to work brilliantly for their cats.
Available at a great price and loved by thousands of buyers, this is easily our top pick thanks to the accessibility, durability and overall safety that this cat harness from PetSafe brings.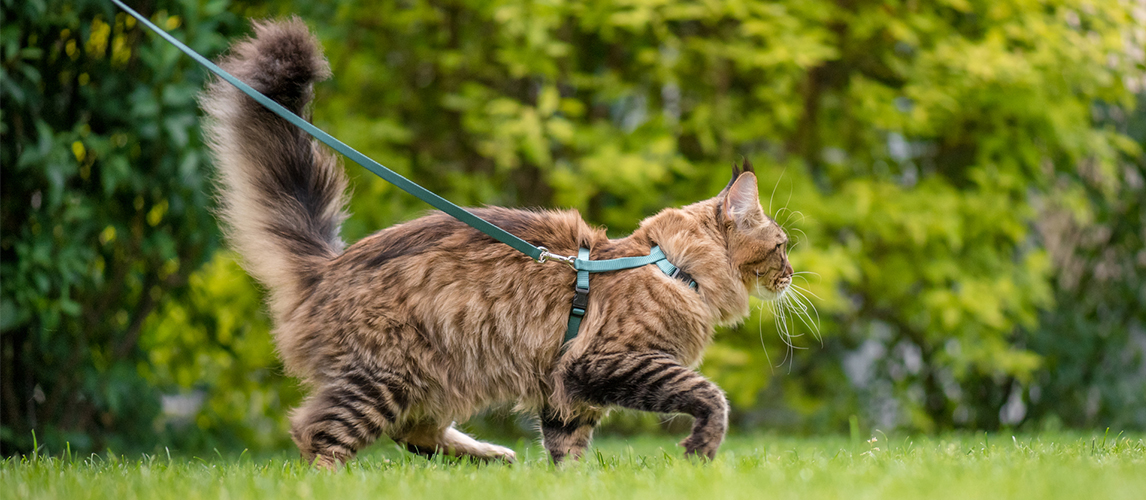 FAQ
Q:

How Do I Put on A Cat Harness?

A:

This will depend on the cat harness you buy- if you have a "H" style cat harness, you'll need to find a decent fit to begin with, so be sure to check the size before you buy. Your cat will need to either step inside this harness or, more likely, you'll have to have the fiddly task of putting the harness around your cat.

Similar to a collar, you can choose to loosely place this over their neck and chest, and tighten as required, or completely undo the "H" harness to reattach it around the correct areas- do what is best for your and your cat.

The cat harness vest will usually be placed over your cat's head, much like a t-shirt. Again, this can cause some distress if your cat isn't used to it, at first but they'll soon understand that this movement leads to their freedom, so will allow it after a while. Vest harnesses also come in the form of a waistcoat-style opening at the front, which may be easier for you but can lead to an increased likelihood of escape. Both vest styles are admittedly easier to put on and harder to get off, so are more likely to be escape-proof cat harnesses than the "H" styles.
Q:

What is The Safest Harness Style?

A:

The safest style will always be the harness that has the best durability, fit and features- which can differ from brand-to-brand. That said, the vest that is the most comfortable, places less pressure around your cat's delicate neck area and is less likely to be Houdinied is undeniably the vest style cat harness. Just be sure to get the right fit and material, which suits both you and your cat.
Q:

How Can I Tell If the Harness is Too Tight?

A:

Your kitty harness is definitely too tight if you aren't able to slide two fingers between the harness and your cat. You should also be aware that the harness shouldn't hang loosely from your cat's body either, so if you can pop more than two fingers under the harness it is too loose!