The Best Cat Hammocks in 2022
Last Updated: January 4, 2022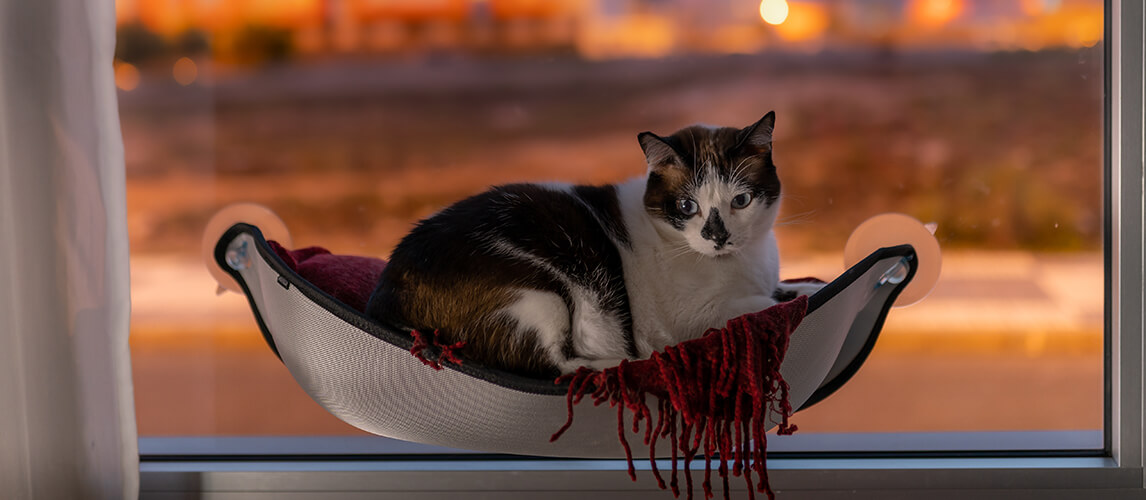 PetSide may earn a small commission from affiliate links in this article.
Learn more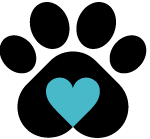 By Petside
Published 10:39 am
As a human, you most probably know how comfortable and relaxing reclining in a hammock can be – and now, your cat can experience this pleasure too! Cat hammocks offer a cozy and safe place for your feline friend to lounge and sleep, without taking up the space of a bulky pet bed – not to mention your cat will look adorable chilling out in his very own hammock (cocktails and catnip may have to be served upon request!)
Most cat hammocks are easy to assemble, affordable, and make a stylish addition to your home. Some are even multi-functional, providing an all-in-one place for your cat to play and exercise too. Say no more, you're convinced your cat needs a hammock in his life? Then check out our buying guide below to the best cat hammocks available today, to help you find the purr-fect suspended bed for your pampered puss.
The Best Cat Hammock
Best Cat Hammock Buying Guide & FAQ
Still feeling overwhelmed by the amount of cat hammocks on the market? (Who knew there were so many?!) Hopefully our buying guide and FAQ will help you decide on the best hanging bed for your fur baby.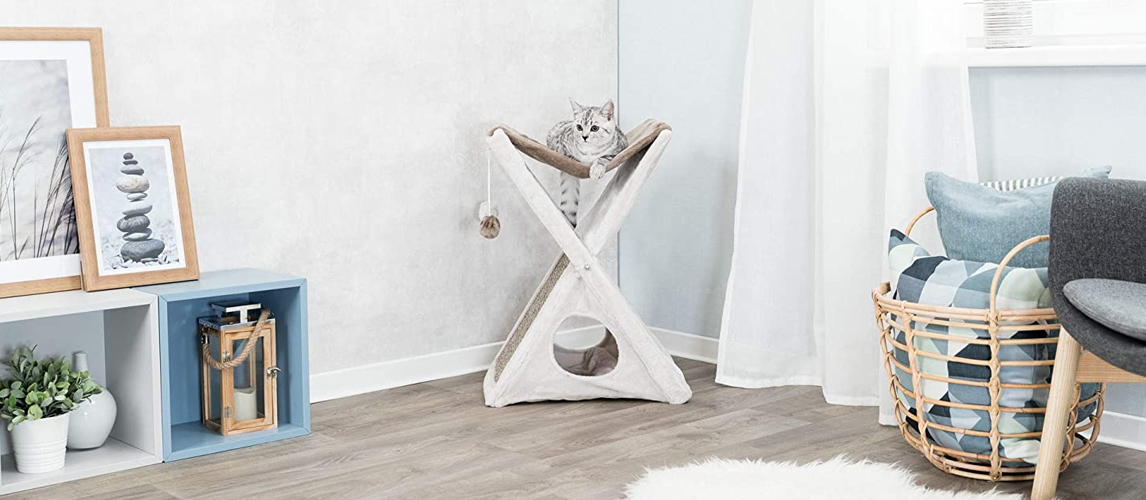 What to Consider When Buying Cat Hammocks
When choosing a cat hammock, make sure it's the appropriate size for your feline friend. Most cat hammocks have a one-size-fits-all approach, but they'll usually include dimensions and a maximum weight they can hold – make sure your cat doesn't exceed this, especially if he's a big boy. Also, when considering size, make sure you have space for the hammock in your home by measuring the area where you intend to put it.
Cat hammocks are made out of a wide variety of materials, including cotton, nylon, velvet and faux leather. Some are double-sided, and feature a plush side for keeping warm when it's cold, and a waterproof side for keeping cool in the heat. This might be a particularly good idea if you live in an area that experiences exaggerated seasons. Consider your climate, the temperature of your house and your cat's preferences when deciding the best hammock material for you, as well as durability.
It is important to think about how your chosen cat hammock is mounted, and where you will put it. If it's a freestanding design, you just need to make sure you have the floor space to accommodate it. If it mounts to the wall, you need an appropriate wall space with studs in the right locations. For suspended designs, you'll require an appropriate crate, table or chair to which you can attach the corner clips or straps.
If you're handy at DIY you won't need to worry about this, but even so, try to make your chosen hammock is easy to assemble and comes with clear instructions – there's nothing more frustrating than struggling to put up a complicated cat hammock while your unimpressed kitty looks on in disdain. Check reviews for feedback on how easy the hammock is to assemble.
Finally, because it's not ALL about your cat (well, ok, it is, but still) you'll want to chose a cat hammock that fits into the design of your home. This might mean a wooden Scandi style if you have a neutral interior, a colorful option if you like to make a statement, or a subtle, hideaway design if you prefer not to have modern cat furniture take over your décor.
Benefits of Using Cat Hammocks
A cat hammock bed provides a comfortable space for your cat to rest and sleep – much nicer than hard surfaces such as the floor or tables. Hammocks mold to their shape, and can be made from a material that will keep them either warm or cool, depending on what your climate requires.
Keep your cat away from dogs
Another advantage of providing your cat with a hammock instead of a conventional cat bed is that it keeps them off floor level, and away from other pets, such as dogs, who may hassle them.
A cat hammock that folds away, attaches to your wall or that can be fitted to a pet crate or chair is the perfect option for small spaces, as you won't need to find extra floor space for a bulky pet bed.
Keep your cat off your furniture
We can't guarantee this one, but if your cat has a cozy bed of his own that he enjoys using, he's likely to spend less time on your furniture – so you might finally have your favorite chair or bed to yourself again!
Make your cat feel like royalty
Judging by the hundreds of 5-star reviews of cat hammocks, cats love using them. Giving your cat a hammock in which they can relax and be adored will make them feel even more like the king or queen of the house than they already did before.
Types of Cat Hammocks
A freestanding cat hammock will have a strong frame, usually made of wood, cardboard or plastic, which supports the hammock and allows it to standalone, without needing to be fixed to another surface. Freestanding cat hammocks sometimes include additional features in their structure, such as scratching posts, hanging toys or hideaway areas.
Wall-mounted cat hammocks are fixed to the studs in your wall, using brackets and screws. They may also feature some kind of ladder or shelving system to help your cat access the hammock. This type of hammock is suited to smaller homes, as it takes up zero floor space.
Perhaps the most common type of cat hammock is the suspended design. This hammock consists of a piece of fabric with straps and/or clips in each corner to allow it to be attached to the bars of a cat cage, or the legs of a table or chair. Again, this kind of hammock is ideal for small spaces.
A cat window hammock is one which is positioned in the window of your home, often mounted directly onto the window pane via suction caps. This type of hammock is particularly great for cats who like to lounge in the sun, whilst keeping an eye on the birds in your garden! Head over to our review of cat window perches for more choices.
Cat Hammock Maintenance
How you can maintain your cat hammock will depend on what style you've chosen and the material it's made from. You should always follow the manufacturer's instructions regarding washing and caring for your kitty hammock. Many suspended cat hammocks and the fabric parts of freestanding hammocks can be machine washed, although it is advisable to place them in a washable bag, such as a lingerie bag, to protect your washing machine and prevent damage to any hooks and straps. Other cat hammock maintenance techniques include wiping the hammock with a wet cloth, or vacuuming it to remove cat hair.
Our Top Pick
We've got some fabulous cat hammock beds on this list, but our pick of the best has to be the Miguel Fold and Store Cat Tower. This multi-functional cat tower features a cozy hideaway condo with removable padded cushion, a scratching board and 2 hanging ball toys, as well as the all-important hammock on top. This means your furry friend will be able to recline in their suspended bed, play, exercise their muscles, sharpen their claws and hide out in the condo – all in this one piece of feline furniture. Best of all, the entire tower folds closed for storage, so it's ideal for small spaces or for use when traveling – your cat will never need to be without his hammock again. We believe this is the purr-fect cat hammock for any kitty needing to relax and unwind after a hard day of swiping at the goldfish and batting cups off counter tops!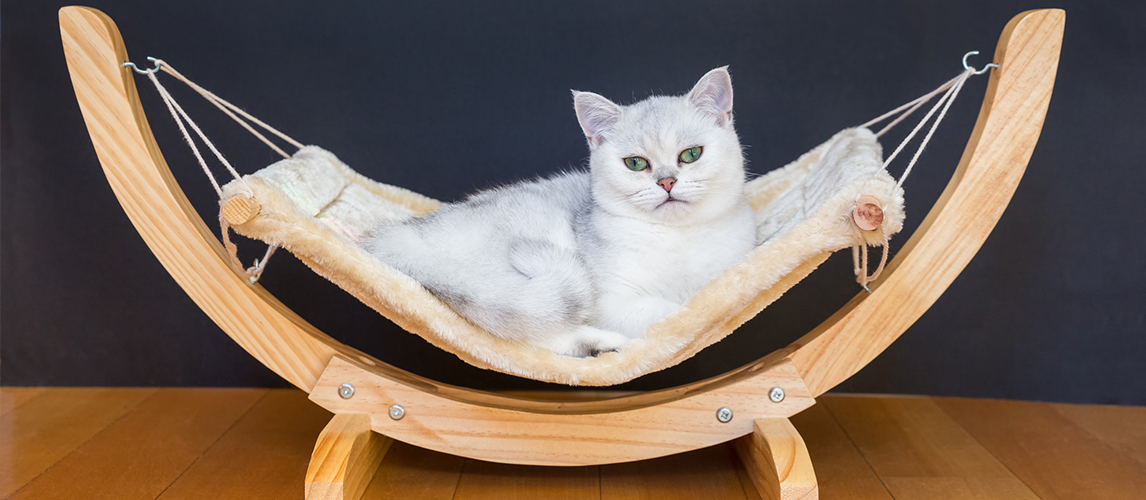 FAQ
Q:

What is a cat hammock?

A:

A cat hammock is a type of cat bed that consists of a piece a fabric attached at the sides or corners to a stand or other structure, providing a suspended sleeping space for your feline friend. Think human hammock, but cat-sized! Cat hammocks can be freestanding, wall-mounted, or they might require support from a cat crate or another piece of existing furniture.
Q:

Why do cats love cat hammocks?

A:

Why do humans love human hammocks? They're comfortable, they support our weight in a natural way, we can move freely and they sway oh-so-gently, helping us to drift off to sleep and dream of more tropical climes… We imagine cats feel pretty much the same way (although their dreams probably consist more of decapitating mice and birds!) Hammocks provide a cozy place of refuge for cats to sleep in plain sight or to hide away, whilst being safely removed from the floor. The average cat sleeps for 15 hours a day, so it's important for them to have a bed that they like!
Q:

How can I install a cat hammock?

A:

How you install your cat hammock will depend on the type you've purchased. Some cat hammocks require little to no installation. A freestanding cat hammock may require some simple self-assembly, such as slotting or screwing the frame together. Wall-mounted hammocks will need to be screwed into the studs of your wall. A suspended cat hammock can be clipped to the sides of a cat cage, or strapped onto the legs of a chair. All good cat hammocks will come with full installation instructions, and if you're not sure, ask someone to help you – two heads, and sets of hands, are always better than one!
Q:

Can a cat hammock be used outside of a cage as well?

A:

Yes, absolutely – in fact, some cat hammocks are designed to be freestanding or attached to a wall or window. Of those suspended designs that are most commonly used inside a cage, most can also be attached to the legs of a chair or table as well, or you can always create a suitable place to suspend it by placing additional hooks in your desired location to clip it to (note that this will require an additional purchase, and a bit of DIY!)
Q:

Will the hammock be big enough for my cat?

A:

Cat hammocks are designed to fit a variety of sizes of cat, although most do have weight restrictions. To make sure your chosen hammock will be big enough for your cat, compare the dimensions of the hammock against your cat's usual sleeping spot, to see how it measures up. Additionally, check the recommended weight allowance against your kitty's weight to make sure he doesn't exceed this. If you have multiple cats, try to choose a hammock that is capable of supporting all their weights, in case they decide to fight over it (this can also be avoided by making sure each cat has their own hammock!)