The Best Cat Backpacks in 2022
Last Updated: January 4, 2022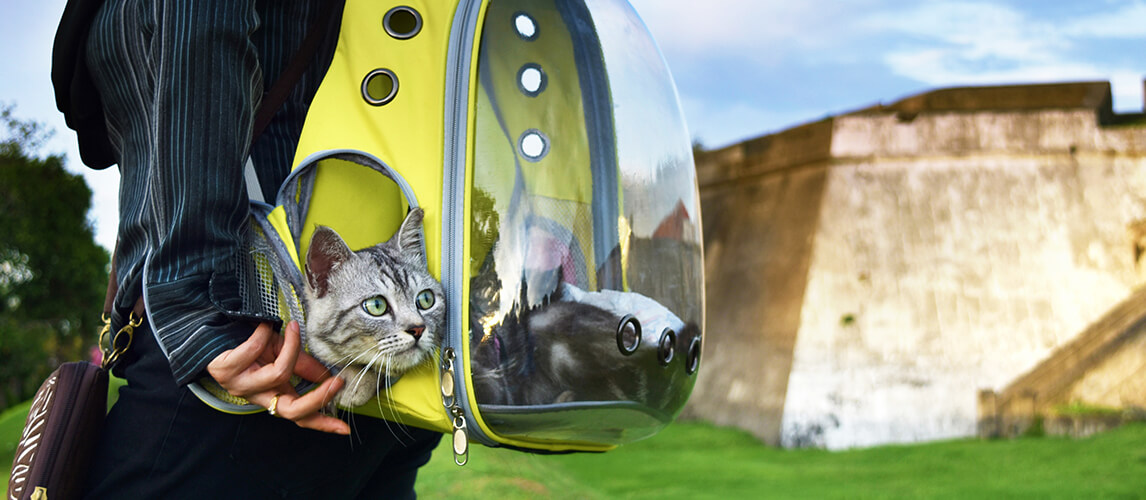 PetSide may earn a small commission from affiliate links in this article.
Learn more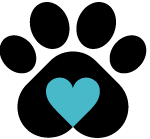 By Petside
Published 13:37 pm
Travelling can be difficult at the best of times - but when you're thinking of taking a vacation with your feline friends, it gets a whole lot more complicated. Considering you need to add all your pet supplies to your trip, finding the best cat backpack options is more important than ever. These pet backpack choices have been hand-picked by us to meet the needs of you and your cat.
The Best Cat Backpacks
Buying Guide
What To Consider When Buying a Cat Backpack
Size and Capacity
The first thing you'll need to consider is your cat's weight, since you'll be carrying the cat backpack for extended periods of time and don't want to do any damage to your back. Remember that you'll need to calculate the weight of your cat plus the weight of the entire bag, then decide what you're comfortable lifting for as long as your travel will be. While a cat carrier backpack works as a mobile pet bed for your furry friend - they are simply a cat carrier for you.
Similarly, some cats may be lighter but have a larger body type. As such, do check the dimension of the cat backpack carrier, so you can be sure your cat can comfortably sit and sleep in their cat backpacks. They are also less likely to be airline approved. At the same time, smaller cats may bounce around or feel unsafe in a cat backpack that is too big. As such, look for cat backpacks that match their size and weight as closely as possible.
Comfort and Breathability
Comfort and breathability are key to maintaining the health and happiness of your cat, so finding the right cat backpack that ensures these is absolutely essential. Many cat backpacks will come with the option of a mesh window, or air holes in lieu of this.
These can help to provide a constant supply of fresh air, which works to keep your cat healthy. Not only this, but the air circulation also lowers the risk of them becoming stressed by your travel. As such, cat backpack carriers should always offer one or the other and NEVER buy a cat backpack without these.
In addition to this essential component, it's also handy to add any nice creature comforts. So, a soft mat or pad for them to lay on can add more than simply another layer. It can help to keep your cat happy and even able to sleep through longer journeys.
Cost and Quality
As always, we understand that sometimes buying the most expensive cat backpack doesn't always equate to the most sturdy cat backpack. Indeed, often the best cat backpack carrier is one that offers the best value for money, rather than the best cat backpack - especially as each cat and their human will have their own needs and preferences.
However, as a rule, you should opt for a cat backpack that is scratch-resistant and is made from a durable material. This not only means you'll get the best value for money, but also that your cat is safe - even on long journeys. So, don't worry so much about saving up to find the best cat backpacks. Instead, look for an option that offers you peace of mind and won't break the bank.
Additional Features
The additional features are easily one of the biggest pulls, when it comes to buying anything online. With so many options out there, it's easy to see why the simplest changes can make the biggest difference - not only on your wallet/purse, but how happy you are with your purchase.
Some of the most common features to be found in cat backpacks include: the addition of a safety strap, which will stop your cat from escaping when checking on your puss. A bubble window, which ensure you're not only able to keep an eye on your cat, without opening the cat backpack carrier itself, but also allows your pussycat to look around as they travel, too.
Some options will come with a collapsible pet bowl or other accessories, which can help make the vacation, in general, easier and more enjoyable. These aren't necessary, to be effective cat backpacks, but they can be very handy to have.
Finally, those with plenty of storage can also be a major boon. These provide plenty of options for storing your cat treats.
Type
Bubble backpacks are a great choice, as they are often more compact and won't change shape or style, which means they're much more likely to be airline approved. They're called this as they often have a bubble window at the front of the cat carrier, rather than a mesh fabric. In addition to this, they're also better for travelling with lots of luggage, since their harder shell means they're less likely to get squashed under other suitcases or similar.
Meanwhile, fabric cat backpacks are great for those who want the added benefits of being able to easily store their cat carrier away, when not in use. They also tend to be much lighter than some of the hard-cased alternatives, which makes them ideal for some users. Of course, they are also more likely to collapse more easily when placed under pressure, which can be a safety risk for some cats.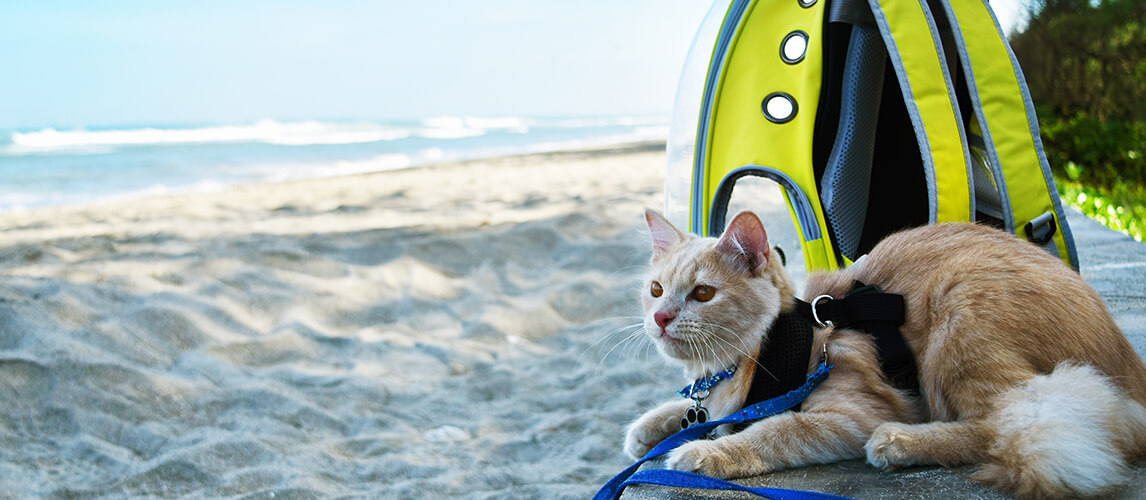 Benefits of Cat Backpacks Carriers
Cat backpack carriers have a distinct advantage over cat strollers, as a cat stroller is often much larger and bulkier than a carrier. They need more forward planning when it comes to travel, as they need more storage space and can't be used over rocky/uneven ground without shaking your cat and getting them stressed.
However, a cat backpack works wonders for those who want to bring their cats along with them on vacation, without stressing about how to keep them safe. Since they're incredibly lightweight, they don't bog down owners on their travels, and can be easily stored away when not in use.
Many carriers even have better visibility than strollers and carriers, since they can include windows or larger mesh walls. This will appease the curiosity of your fur baby and keep them (and, therefore, you) happy on their travels.
At the same time, carriers offer a much smoother ride for your cats, since the cat themselves will be on your back (or front, depending on the type) and will only have to handle any larger bumps you go through.
Cat Carrier vs Cat Backpack
A major benefit of the backpack over the carrier, is that you can use a cat backpack as a cat carrier, when needed. When not in use, they can be placed on the floor or in the footwell of your car, in the same way a carrier can. While a carrier cannot be popped on your back for longer trips, the backpack can be used as a carrier on shorter journeys.
However, do be aware that a carrier will often offer more space for movement and have a harder, outer shell. These simple changes may not make much difference for the occasional trip to the vets - but for those elderly cats or cats who can become easily stressed, being able to move freely can help reduce the amount of anxiety they feel when travelling.
Similarly, multi-cat households may be better suited to carriers over backpacks, since it is unlikely to find a large enough bubble backpack or mesh alternative that is large enough to suit more than one cat at a time. At the same time, carrying more than one cat on your back can increase the risk of damage to your back over time.
My Cat Hates Her Backpack! What Should I Do?
When it comes to helping your cat get used to its cat backpack, the biggest change you can make comes down to the basics of training. Many cats will end up hating their carriers or backpacks, purely because they're used to going to the vets, whenever they see this being pulled out of the cupboard! Instead, a big factor in getting your cat used to their backpack is to simply leave it out for a few days before using it.
Not only will this allow the backpack itself to pick up the scents of your home and become more appealing to your fur baby - but it will also allow your cat to see that this new thing is not a threat to them. After a while, curious cats will often try to get in and sleep in the carrier, purely because your cat will realise how comfortable and cosy it can be.
Of course, if they aren't naturally enticed, you can always add in plenty of toys and treats to encourage your cat to see their new item as a safe space. Not to mention giving your cat plenty of treats while they're inside the backpack itself will help them to view this item as something positive.
If you can, make the first few trips to somewhere positive - rather than the vet or straight to the airport. This will help reduce the risk of any stress or fear being attached to the cat backpack and will encourage your cat to enjoy their new item.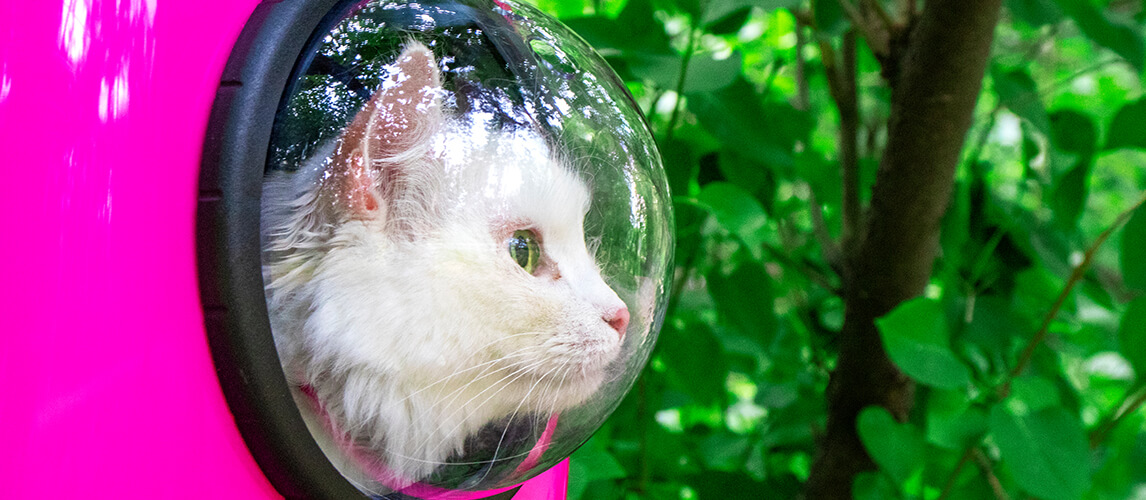 FAQ
Q:

Are cat backpacks cruel?

A:

When you find the right backpack for your needs - and the needs of your cat - there's absolutely no need to consider backpacks cruel. Indeed, they are actually ideal for cat fans who simply want to ensure their cats comfort and needs ahead of their own. Instead of keeping the cat in a hard case, which often needs to go into storage during travel, a backpack will keep your cat close to you. This, in turn, reduces the stress your cat feels.

However, there is one addendum to this. If your cat does not enjoy being in their cat backpack, then using a backpack is cruel. In the end, your cat's safety and comfort should always come first. And forcing a cat to enter a confined space, for your journey, can be unnecessary. In these cases, always try to find an alternative.
Q:

Can I put two cats in the same backpack?

A:

Generally speaking, most cat backpacks are designed for one small cat or for medium-sized cats. However, if the cats are very young and the cat backpack is large enough, there may sometimes be room for two cats. That being said, large cats should never double up in any space.

Similarly, cats who don't get on should never be placed into the same space, since this will simply add to your stress and make travel unbearable for your cats. At the same time, you should also consider the added weight of more than one cat at any time. Not only can this be bad for your back - but it can also increase the risk of the pet backpack struggling to hold the additional weight.

As a general rule of thumb, if you need to bring along two cats, then you would be better suited to a carrier, rather than a backpack. As always, consider the health and safety of your cat before making any decisions and work with what's best for their personal needs, as well as your own.
Q:

Can I use any of these backpacks as a car seat?

A:

Regardless of what type of carrier you use, all formats should be placed in a secure space, when travelling in the car. In the case of these backpacks, they should always be placed on a flat surface, where you can be sure they won't slide - even if you hit the brakes.

It is not recommended that these backpacks are used as a car seat, as standalone products. However, if you are able to strap these down securely and are confident in the safety of your cat when driving, you can use seatbelts to secure the backpack and ensure the safety of your cat.

Generally, the best way to do this is to loop the seatbelt through the straps of the carrier - both the short and long sections of these - in order to secure your backpacks. If you can't do this, keeping your cat in the footwell of the back seat is a good alternative, which will ensure you're not distracted while driving.
Q:

What is the best airline-approved cat backpack?

A:

Since so many airlines have different standards, it can be hard to find the right option which is approved across all airlines. However, as a rule, all of the backpacks given above are able to fit within the dimensions required for most airlines. As long as your cat fits comfortably in these, you're likely to have your cat backpack accepted for use on airplanes in the US.
Q:

How do I wash my backpack for cats?

A:

This depends on the different type you have purchased. Many bubble options are able to have a quick wipe down with some soapy water, which can make cleaning quick and easy. Others, however, offer the options of removable pads or machine washable options.

As always, this comes down to each, different purchase. As such, you should always follow the recommended guidelines given by the manufacturer, in order to ensure you won't accidentally ruin the integrity of the cat backpack.