The Best Cat Beds in 2022
Last Updated: January 4, 2022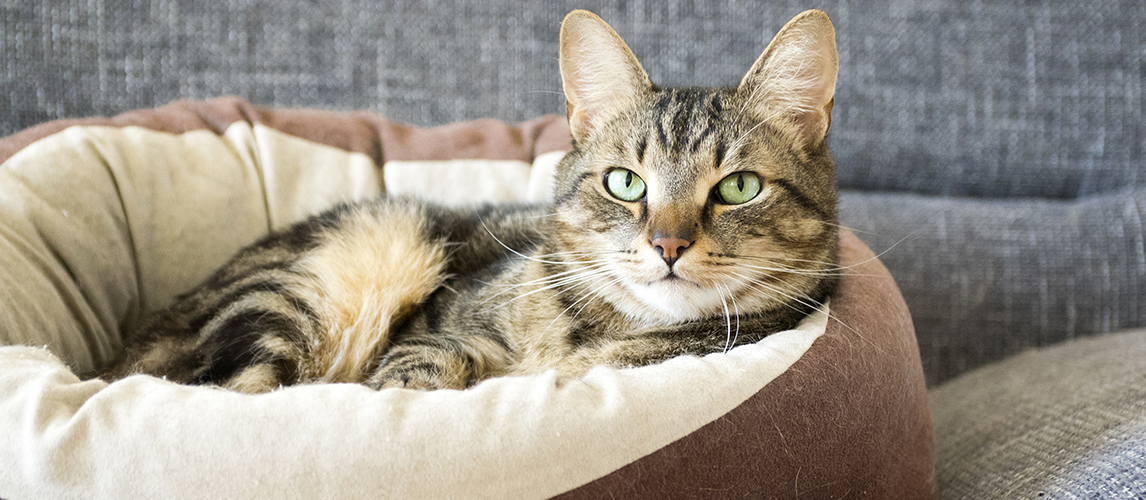 PetSide may earn a small commission from affiliate links in this article.
Learn more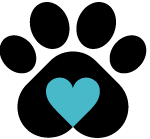 By Petside
Published 12:13 pm
Your cat really does love to snooze and, as they are nocturnal animals, most of this slumber time is during the day. But as all cat lovers know, they can also be a little picky about where they choose to take their catnaps. Yes, they like a bit of luxury but they also want to feel safe and secure while they sleep. And many cats are private animals and like to be out of sight when they relax into their sleepy downtime. So, providing them with their perfect space to snuggle down is going to earn you some serious 'good pet owner' points.
But with so many different types and styles of cat beds available, how do you choose? We take a look at some of the best cat beds you can currently buy so you and your furry friend can rest easy.
The Best Cat Bed
Best Cat Bed Buying Guide & FAQ
Features to Consider When Buying Cat Beds
Your feline friend can be a champion sleeper and all that catnapping needs a comfortable space. Here are the main features to look for when choosing the right cat bed for your sleepy puss:
Your cat's sleeping behavior
The right bed for your cat needs to work with their individual behavior and sleep 'quirks'. Some cats instinctively curl up to sleep, making themselves small and using their body to protect themselves. Curling up also helps them to preserve their body heat. If this is your cat, then they may well prefer a snug-fitting cat bed that gives them added (padded) protection and the privacy they need to slumber peacefully. However, other felines are more confident and prefer to spread out as they doze so a more open cat bed with a larger surface area would work best. Know your cat and get the right bed to match.
Comfort is top of the list for your kit, but durability and breathability are also important considerations if you want your pet to make the new bed their own. Look for natural fabrics such as cotton, linen, wool and fleece which are all soft and breathable, so reducing the risk of lingering odors and potential mold. The filling also counts and should be sturdy and safety-tested but not lumpy or over-stuffed. Polyester fiber fillers are a good choice for the best cat beds as they are allergen and harmful chemical-free.
A stretching, yawning cat is not necessarily a delicate thing, when you consider their claws and a tendency to scratch. To help prolong the life of your cat bed, look for durable fabrics and well-stitched designs that can stand up to the cat-mauling it will get over time. The design also needs to be sturdy and well-made to give your puss the privacy and protection they prefer when they sleep.
Especially if you will be using it in an outbuilding or garage, the thermal properties of the cat bed should count towards your final choice. From lux or double-layered fleece to self-warming beds using NASA technology and even electric-heated cat beds, you can choose a bed to give the right level of warmth to your sleeping cat.
It goes without saying you should choose a cat bed that is quick and easy to clean, ideally washing machine safe. Beds with removable covers and wipeable fabrics are good options so you can keep those catty odors and ingrained stains at bay.
Check out if your preferred cat bed has any handy extras such as anti-slip grips, removable cushions and even attached toys to keep her occupied when she is awake and chilling. You may also like our article on cat toys.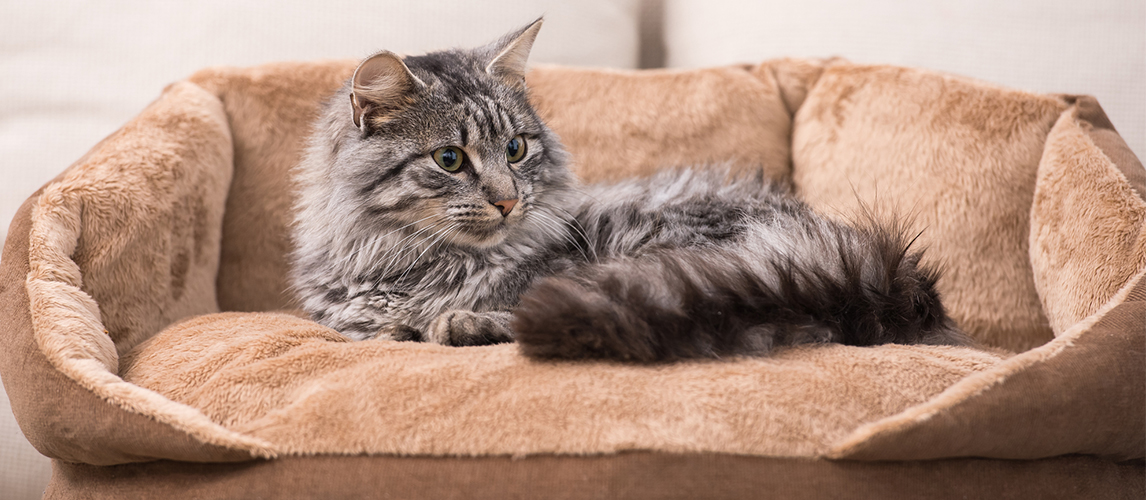 Selecting the Style and Size of Cat Bed
The size of your cat, the breed and their sleeping habits will all factor in your final style choice of cat bed. Whichever type of bed you choose, you need to ensure your pet has enough space to turn in a circle as they settle as well as room to move and stretch as they sleep. However, too big and your cat may lose some of the security they crave. And the timid or privacy-seeking cat may also like a covered cat bed, whereas the more social feline may prefer the open, cushion-style sleeper to settle down on.
Different Types of Cat Beds
Once you understand your cat's sleeping preferences and have also factored in where you will be keeping their new bed, you can now choose the right type for your pet. The main types of cat beds on offer include:
The simplest type of cat bed, the open versions are designed like super-comfortable floor cushions on which your puss can spread out and relax. These are a good choice for confident, sociable cats that like to be in the thick of the family action when they snooze.
Take a look at our review of Cat Hammocks for more options.
A padded floor cushion with thick, soft sides to create a cozy haven, the enclosed (or donut) cat bed is a good all-round choice if you cat likes to be aware of what's going on around him but still needs to feel snug and secure.
These cat beds are exactly as they sound; a full enclosed, cave-like bed in which your cat can retreat and get away from it all. Safe, secure and private, these are ideal for the cat who likes to have some alone time. You can also choose beds that are tent or igloo shaped.
For a cat that likes to keep warm or for a more feral or outdoor cat that seeks shelter in a garage, you can opt for a bed that heats up for extra snuggling. Choose from self-heating beds, which use space-blanket technology that adds excellent thermal properties to the inner of the bed, or even electrically heated beds, to turn the temperature up when your cat needs a little more warmth. For a wider selection of choices, check out our heated cat beds guide.
Our Top Pick
For a bed that feels like a warm, soft cuddle for your pet, and with an easy to clean and use design, the OrthoComfort Deep Dish Cuddler scoops our best cat bed review Top Pick. Soft, sumptuous and deep, with a snuggly high bolster to help ease joint pain and support your cat, this is a lovely, warm bed that will comfort your cat as they sleep and will become their favorite chill-out space.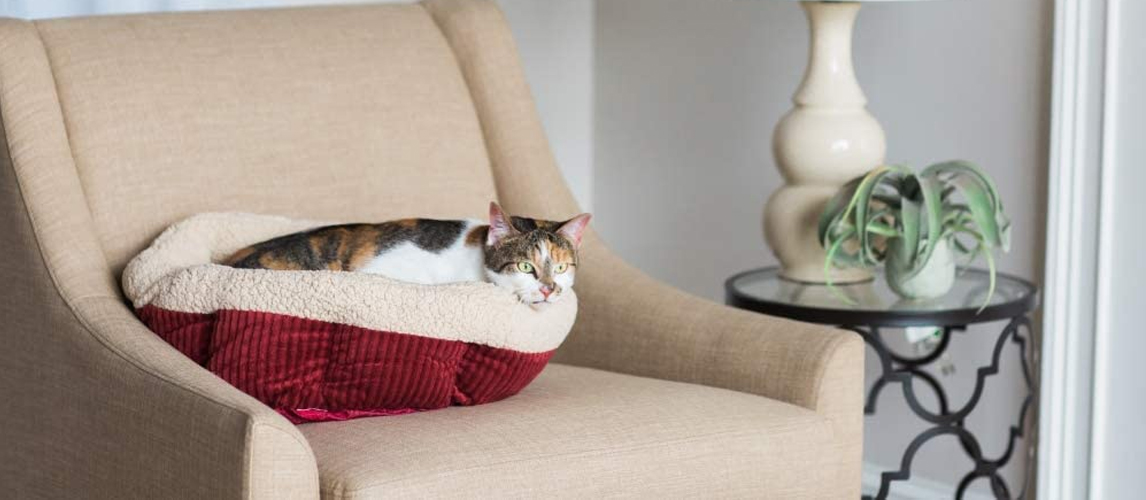 FAQ
Q:

How do I Get My Cat to Use Her Cat Bed?

A:

With their naturally suspicious nature, it can take a little while to convince your cat that their new bed is the best place ever and to make it their own. The first step to getting your feline to embrace their new sleeping arrangements is to leave them to explore it on their own terms – forcing your cat to use the bed could well make things worse. You can help your cat take to her new bed by placing it in a semi-private place in the home that she favors and gives her the peace and quiet she needs to make up her own mind.  If your cat is still reluctant to make the bed their new sleeping space, you could try tempting them in with a treat or lacing some of their favorite toys inside. Eventually they should realize the space is warm, safe, secure and most importantly, theirs.
Q:

Can You Wash a Cat Bed?

A:

It does depend on the material and fillings used, but all cat beds should be cleanable so read the washing instruction label for the right way to wash your new cat bed. Many open and enclosed/donut-style cat beds will have removable covers you should be able to pop into the washer. If your cat bed is not machine or hand-washable, you should be able to spot-clean it to get rid of those odors and catty dirt marks. If in doubt, always opt for clearly marked, washable cat beds.
Q:

What is the Best Place to Place My Cat's Bed?

A:

The location of your new cat bed should be in a place which suits your kit and their individual sleeping behavior.  Place it where they typically like to sleep and make sur the environment means they feel safe and secure. Some cats like to sleep at a height so you could pop the bed on a cabinet top while others like to be away from the family action so perhaps in a utility room or cozy corner. Inquisitive cats may also like to have a sleeping room with a view, so a windowsill or by the patio windows where they can see out into the yard or street can also work really well. As long as it is a place your cat feels familiar and comfortable with, they are more likely to use it for their precious slumber time.
Q:

Can You Use a Cat Bed for a Dog?

A:

There are some similarities between cats and dogs in relation to how they sleep, however many dogs are happy enough to be in an open or semi-enclosed bed. It does depend on your dog's size as to whether a cat bed is suitable, but it will need to be durable as dogs by nature are more boisterous and potentially destructive. A cat bed could work for smaller dogs and toy dogs but anything bigger and you'd be better off buying their own dog-specific bed.