The Best Heated Cat Beds in 2022
Last Updated: January 4, 2022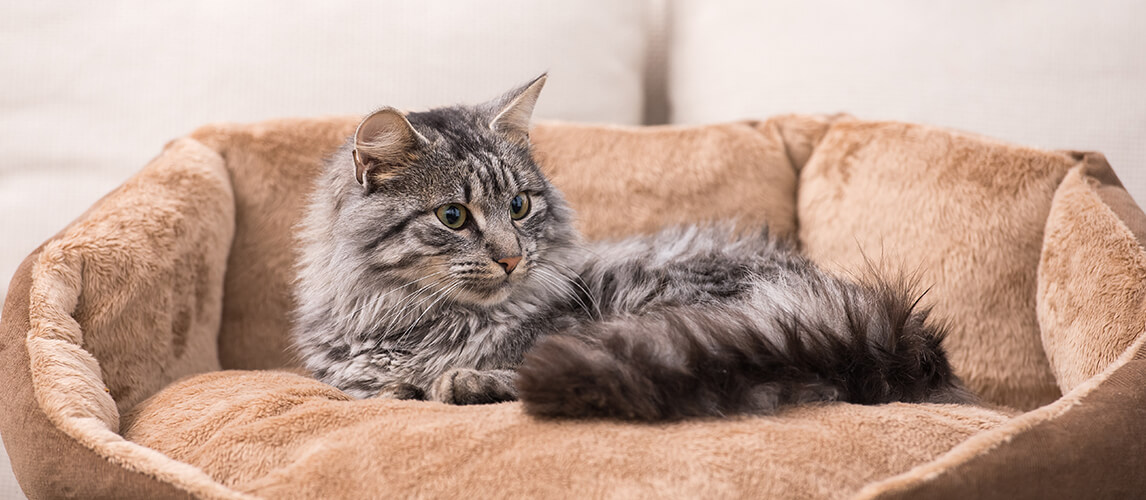 PetSide may earn a small commission from affiliate links in this article.
Learn more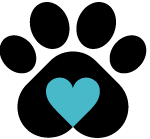 By Petside
Published 12:01 pm
Cats are notorious for their love of comfort and coziness. Any cat lover will know that they can find their feline-friend in the most snugly spot in house. Maybe they're curling up on a windowsill and catching those last sunny rays, or perhaps they've found a comfortable little corner next to your heater and enjoy basking in its warm delights. A heated cat bed is the perfect way to treat your fury-friend and will offer them maximum comfort and warmth all year long. Heated beds are perfect for cold climates and will keep them super comfortable no matter the weather.  They are also a great pick if you have elderly, or arthritic cats who need some extra comfort and warmth. Warm beds will soothe their joints and offer them extra comfort and ease.
Heated beds come in a variety of styles and options and the main thing you need to think about is whether you want a model that utilizes electricity, or one that simply uses self-heating materials. Whatever your preference, you'll find the perfect heated cat bed on our list for you and your paw-some pal. As always, our top picks boast an array of products to suit all budgets and design tastes.
The Best Heated Cat Bed
Best Heated Cat Beds Buying Guide & FAQ
What to Consider When Buying a Heated Cat Bed
There are a few things you will need to think about when you decide to buy a heated cat bed for your fury-friend.
What type of heater you want: An electric, or non-electric model?
Some beds come with an internal electric heater that can be switched on and utilizes electricity, while others simply use heat reflecting technology to trap the cat's body heat and keep them snugly and warm. An electrical heater will usually get warmer and is great for really cold temperatures, however, if you are out the house a lot and feel uncomfortable leaving a heated bed on while you're out, a non-electrical model is a better choice.
Once you have decided what type of heater you want, you need to think about the style of bed. Do you want a rectangular flat bed that you can simply fold up when not in use? Do you want a cocoon style model that will envelope your kitty in all its snuggly delights? Or do you want a lovely plush round design? You know your cat best and you'll know what model will have them purring in delight.
Take a look at our review of Cat Window Perches for more options.
Machine washable, or hand washable
You will also need to think about maintaining your cat bed and whether you want a model with a removable cover that can be easily washed in the machine or a cat bed that needs to be washed by hand.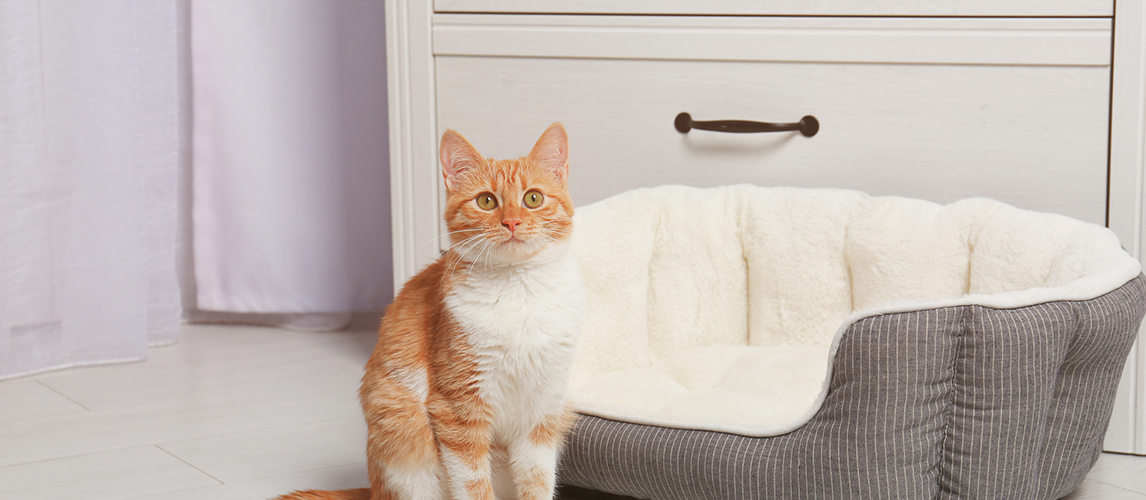 Why You Should Consider Getting a Heated Cat Bed
Cats love being cozy and like nothing more than curling up in a super comfortable spot. If you live in a particularly cold area that is prone to harsh winter months, then a heated cat bed is the perfect option for you. Heated cat beds ensure that your cats are always kept comfortable and warm and will prevent those cold temperatures from making them sick. Benefits include:
Keeping your cat warm amid even the coldest of weather conditions. They are perfect if you live in an area that experiences extreme cold.
Making them feel secure no matter the weather.
Supporting eldering cats, or those dealing with arthritis or joint problems. The warm heat will sooth aching joints and create extra comfort and security.
Giving them extra comfort on cold, or stormy nights.
Head over to our review of Cat Hammocks for more alternatives.
Types of Heated Cat Beds
The two main types of heated cat beds include:
Electrical heated pads that utilize electricity and need to be plugged in. These will utilize electricity but most function on a low wattage and won't drain the bills.
Self-heating material beds that don't utilize electricity. These are great for pet owners who need to leave home frequently and don't want to leave their plugs running.
Our Top pick
While we absolutely love all the items on our list and think they all offer your kitty epic snuggle opportunities, our favorite pick has to be the Aspen self-warming bed. This bed seriously combines amazing value with style and will keep your cat warm and cozy all winter long. Due to its self-heating technology, your fur-baby will never get cold and the anti-skid bottom makes this a really safe pick. Since it's so lightweight it's the perfect travel bed for those holiday adventures and will mean that you can always bring a bit of home with you wherever you go/ It also comes in an array of colors and is thus perfect for diverse design needs.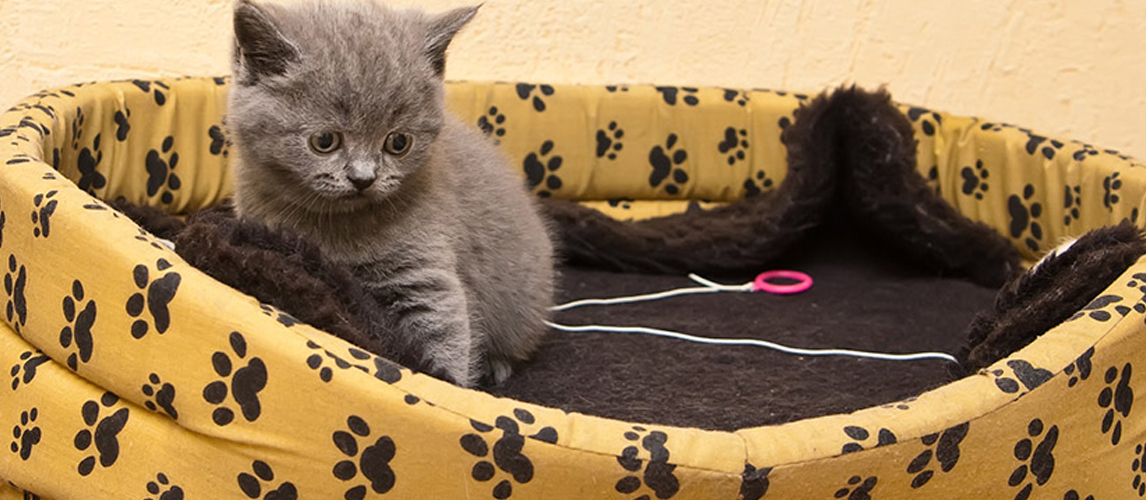 FAQ
Q:

What is a heated cat bed and how does it work?

A:

A heated cat bed is a super comfortable bed that comes with an internal heating system. This heating system makes the bed super cozy and warm and aims to ensure that your cat doesn't get cold. They are a perfect pick for those who live in areas that are prone to extreme cold or for elderly cats, or kittens who might need some extra warmth all year long. Electrical models come with an in-built heater and require an electric plug point to work. Other models are designed with specialized self-heating materials that are able to respond to your pet's body temperature and generate heat.

Heated cat beds are also a great idea if your pet struggles with joint issues or arthritis. The heat will offer extra comfort to aching joints and will stop the cold from making them feel aches and pain. If you have an elderly, or injured cat you might want to invest in an orthopaedic model that has been specifically crafted to support cats with medical issues.
Q:

Are heated cat beds safe?

A:

Like all electrical products, you have to be careful with electric powered cat beds and its advisable that you switch off the heater when you are not at home. However, they are perfectly safe when you are around and will offer your feline companion hours of snuggly fun.  Many of the top-models come with specialized cords that have a chew resistant lining. If you have a pet who is prone to chewing things then this is essential to ensuring their safety.

If you are often out of the house it is a great idea to invest in a non-electric model and save the electric one for those wonderful family evenings when you're with your furry friends.
Q:

How do  I wash a heated cat bed?

A:

Some heated cat beds come with a removeable cover that can be easily washed in your machine. These models are great and are super easy to keep sparkly and clean. Other models don't have removeable covers but can easily be handwashed. Of course, you'll have to make sure that you can remove the heater before washing your heated bed. Always check the manual that comes with your product and follow the particular instructions for your product.