The Best Cat Strollers in 2022
Last Updated: January 4, 2022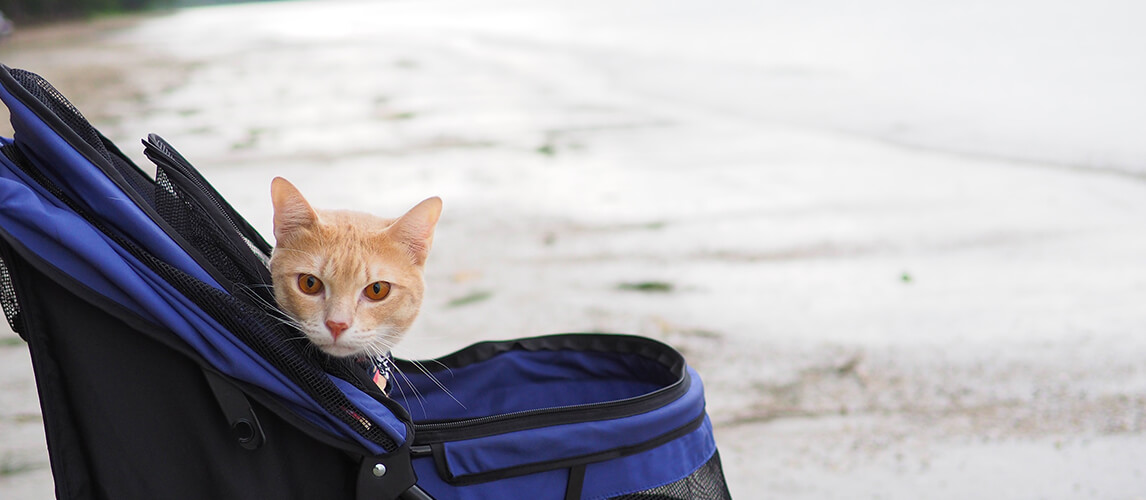 PetSide may earn a small commission from affiliate links in this article.
Learn more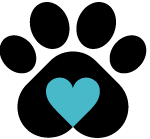 By Petside
Published 15:03 pm
More and more people are training their cats to walk on a leash, as a much safer way of providing them with physical stimulation, instead of letting them roam the streets by themselves. But what if your cat can't stand a leash, but you still want to keep them safe when out in the big wide world? Well, that's where a cat stroller comes in handy, providing safety and comfort for your feline friend. We've put together a list of some of the best cat strollers on the market along with answering some frequently asked questions, to help you to make an informed decision.
The Best Cat Strollers
Best Cat Strollers Buying Guide
Who Needs A Cat Stroller?
The best cat strollers are designed with all cats in mind. The idea is to allow easy transport for cats incapable of travelling on their own - often senior cats. However, there is a variety of reasons for the use of a cat stroller.
A safer alternative: If you're worried about your cat running around outside and potentially getting hit by traffic, a cat stroller can provide a much safer option. You would treat it as you would taking your dog for a walk. Giving your cat a chance to soak up the fresh air and take in the sights without the risk of injury.
Easier than a carrier: Using a stroller for cat can be particularly helpful for people that may struggle to cart around a cat carrier. This makes vet appointments and travelling in general easier for everyone involved.
Great for ailing cats: Kitten strollers can provide a comfortable and safe space for injured, disabled, and senior cats or can even be used for cats that have recently undergone surgery. Whilst they are in no way a substitute for medically-approved walking aids, they can prove extremely useful for giving your cat some safe time in the outside world.
Can be used in place of a leash: As more and more owners are turning to the leash walking their cats, not all cats will accept a leash. Therefore a cat stroller can be the ideal alternative.
Important: Please remember that the compartment of a cat stroller should never be used as a car seat, as they are not designed for that type of use. A cat car seat is specifically made to be secured into your car for maximum security and safety. Boxing your cat into a free-standing compartment in a moving vehicle can be highly dangerous and should be avoided.
Do Cats Like Walks In Strollers?
That is totally dependent on the cat in question! Some cats love to be carried and fussed, others prefer to be left alone. Even if your cat is incapable of moving on its own, be it due to disability or age, they may still prefer to be left to their own devices. You know your feline friend better than anybody, so you should use your best judgement. If you are really wanting to get your cat out of the house and give them some fresh air, it is well worth trying out a cat stroller for peace of mind.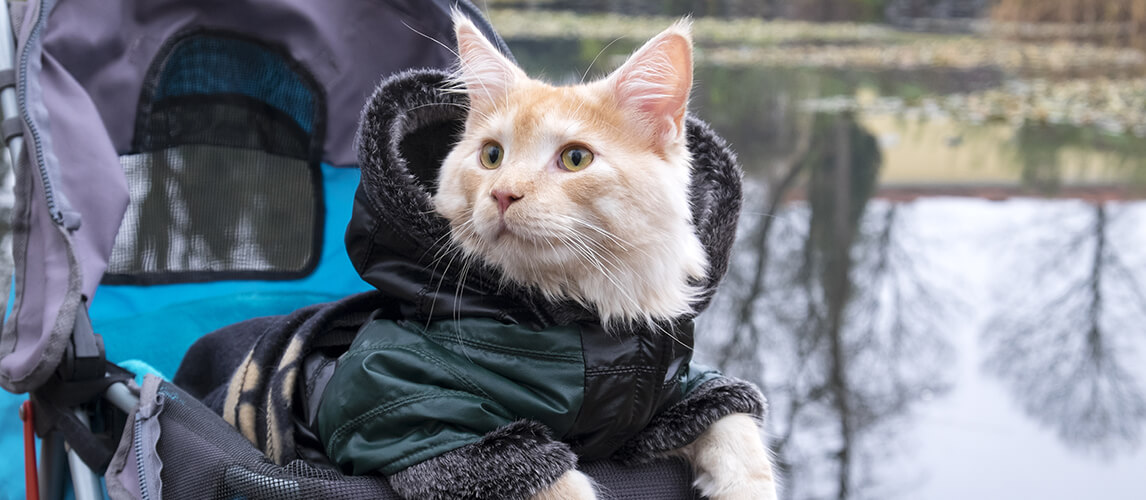 Taking Your Kitty for a First Stroll
As is the case with most things, when introducing something new to your cat you must go slowly. When you buy a cat stroller, treat the introduction like you would a cat carrier. First, place it on the ground and allow your feline friend to approach it in their own time. Once they seem comfortable with its presence, slowly open it and leave it at the side of the room (with the breaks on) like a new chair. It wouldn't hurt to put a couple of treats inside to entice your kitty to enter, the treats will act as positive reinforcement to reward their bravery.
Getting Your Cat on Board
If your cat has had experience with other strollers, you may find they're somewhat unaffected by its presence. However, having your cat sit in the stroller, and moving it whilst they are inside are two entirely different matters. Once your cat gets to a stage where they are happy to sit inside the stroller, with no fuss or anxiety, you will need to test the waters with movement. Leaving the hood open, start to roll the stroller gently around the room. From there you will go on to attempting quicker movement.
Once your cat had gotten used to movement inside the house, try it with the hood closed - opening it if your cat looks distressed. When they are finally comfortable with the movement and having the hood closed (be sure to provide plenty of positive reinforcement throughout), you can now head outside. Just like every other stage, take it a little bit at a time until you're positive your kitty is happy to go on longer journeys.
How Do You Choose a Purrfect Pet Stroller for Your Cat?
Cat strollers are designed to let your cats experience the world outside while keeping them safe. There are several factors that every cat owner should take into account when deciding which stroller to buy for your cat. All these features combined amount to the ideal cat stroller.
Good cat strollers will have enough space for your cat to sit, stand, stretch, and lay down comfortably. Cats enjoy a good lounge but don't like to feel boxed in or couped up, so a spacious seating area is essential to keeping them stress-free whilst on a stroll.
The best cat stroller should be light enough to be easily pushed, but still be durable enough to withstand daily use. Check the pet strollers weight and structural materials to be sure of its durability.
You'll want space to add a cat bed or blanket, although many stroller models come with a soft surface built-in. All of the strollers on our list include soft cushions to ensure a comfortable ride for your kitty. This is especially important with senior cats that may have trouble with their joints, as the cushioning in a good cat stroller can save them a lot of discomfort whilst they travel.
A feature you'll find in the best pet strollers is maneuverability. When checking out the strollers on the market, look for one that rolls smoothly so your cat won't get bounced around. Additionally, high-quality wheels are essential for enabling you to cover a range of terrain while walking with your cat.
How Do You Get Your Cat To Stay in a Stroller?
It all comes down to preparation. So long as your take your time introducing your cat to their new stroller, they should adapt quite well. This means lots of positive reinforcement and a gradual introduction. You have to remember that cats naturally prefer to be in charge of their own movements, so the idea of being pushed around unknown territory against their control can be quite stressful.
Fortunately, most cat strollers come with a water-resistant hood that can be locked or zipped shut whilst you are out and about. But if your cat seems particularly anxious to get out of their stroller, take them home and let them out immediately - you don't want to risk them developing a negative association with it.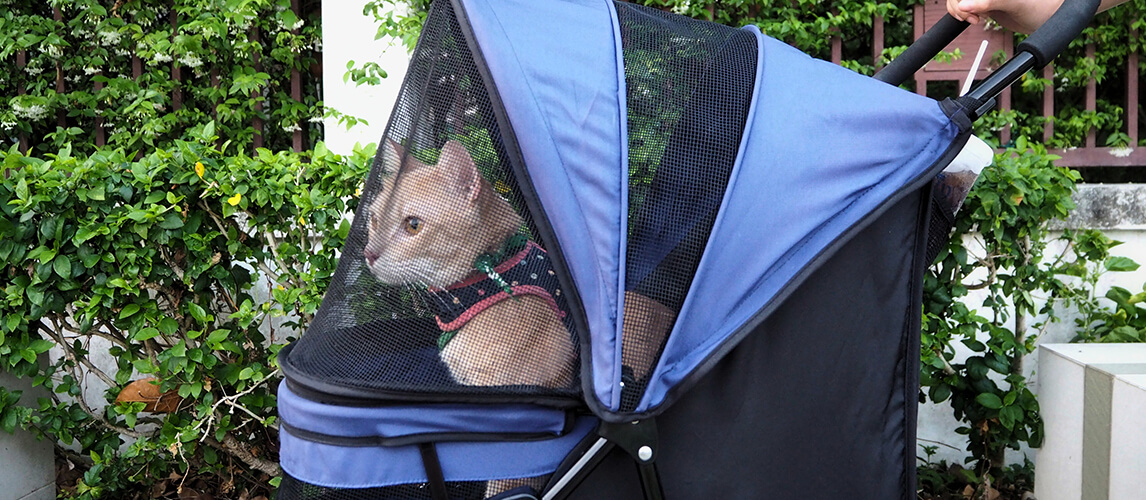 Our Top Pick
Pet Gear Ultra Lite Travel Stroller
The Pet Gear Ultra Lite travel stroller is the ideal choice for cat parents on the go. It can be easily folded down into a compact size that can be easily packed into the boot of a car, or even tucked into a footwell. It meets your typical baby stroller standards, meaning you're not giving your cat anything less than should be expected for a human baby, with rear-wheel safety breaks for added security. Combined with the water-resistant liner that can be easily removed and cleaned, the Pet Gear Ultra Lite Pet Stroller has everything your cat needs for a comfortable trip out of the house.
Best Cat Strollers FAQ
Q:

Can You Use One Stroller for Multiple Cats?

A:

Absolutely! There are some pet strollers designed to hold a significant amount of weight - enough to hold multiple cats. Additionally, you can even get a cat stroller for two cats with multiple entrance holes and a wider flatbed to accommodate multiple felines.
Q:

Should You Get a Cat Stroller or Backpack?

A:

There are pros and cons to both. Cat backpacks are a compact size that is easy to move around with. However, it can be a bumpier ride for your kitty, as it will move with your steps. Though if you're wanting to find a carrier to take your cat to see the great outdoors, meaning hill climbing and rough terrain, it can certainly be the better option. Alternatively, cat strollers are a more smooth, comfortable mode of transport for your cat if your regular walk route is over relatively even ground.
Q:

How Much Does a Pet Stroller for Cats Cost?

A:

You can find a good, basic cat stroller for a bit more than $50, or invest in a deluxe model that can run as much as $300. The price entirely depends on the level of luxury, convenience, storability, durability, and mobility you're looking for. You're best to decide on a price budget before you look, to help you to narrow down your choices.
Q:

How Do You Clean a Cat Stroller?

A:

Much like you would with a baby stroller! You can wash down the wheels and frame with a hose or jet wash after a particularly muddy walk. In terms of the material elements, each cat stroller will have different ways of removing and washing the fabric areas, so be sure to check the instructions. Though you'll be happy to know that most strollers for cats have easily removable and machine washable cushions.