The Best Cat GPS Trackers (Review) in 2020
Around ten million cats and dogs go missing every year according to the American Humane Organization and around 3.2 million felines end up in shelters. Losing a feline companion is hard especially in suburban areas inhabited by wild creatures or crowded cosmopolitan cities where speeding cars are at every corner. The curious nature of cats can sometimes lead them down a dark and dangerous path even if we do our best to protect them. These curious tendencies can get them in a heap of trouble especially if they were adventurous outdoors cats by day and lazy couch potatoes by night. Luckily, there are so many devices out there that cater to cat owners who are unable to keep an eye on their curious feline 24/7. One of these devices is none other than the GPS tracker. There are so many features and brands to choose from, which is why we have narrowed down our search to focus on the best GPS trackers money can buy. You will find our carefully curated list below.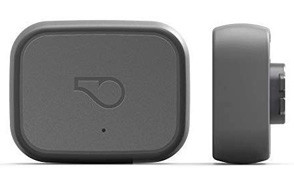 Whistle Health & Location Tracker for Cats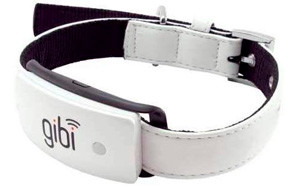 GIBI Pet Location GPS Service Unit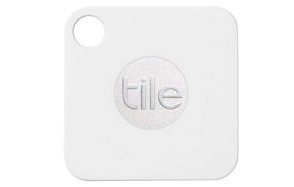 Tile Mate Cat GPS Tracker
1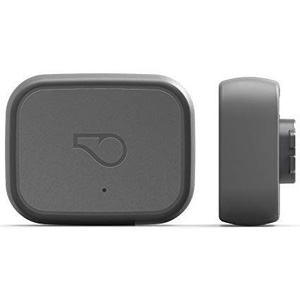 1.

Whistle Health & Location Tracker for Cats
Keeping tabs on your feline friend during the day is possible thanks to the latest pet tracker from Whistle. This new and improved model is powered by AT&T and makes good use of GPS to help you monitor your cat no matter its location. The nationwide cat tracking device can be attached to any collar and was designed for felines who weigh 8 pounds or more. Wandering outdoor cats who take advantage of your absence to fulfill their escapism dreams can be easily found using this waterproof GPS cat collar.
Tracking can be done via your phone anywhere within the United States. The lightweight tracker is waterproof and has a battery that can last up to seven days. Pet owners can also use the Whistle Go to check how their cat is doing health wise and if there are any fluctuations in its weight or physical activity. What is also great about this product is that it sends you a notification via text or email whenever your curious feline decides to leave the house. You will also receive alerts if you download the Whistle app on your phone. 
Product Features:
Live GPS tracking via Google maps
Lightweight and waterproof
Battery can last up to 7 days
Works with AT&T 3G service
Monitors weight and physical activity
Sends an alert whenever your cat leaves the house
2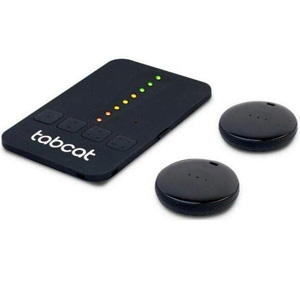 2.

TabCat Pet Tracking Cat Collar Tracker System
The TabCat tracker system replaces cat GPS with radio frequency technology to help cat owners locate their wandering felines. Cats love hiding in odd places and finding them can take hours or minutes depending on their mood. In both cases, you need an accurate tracker that allows you to find your feline friend without spending money on 3G or wireless internet fees. This system is made up of two components: a lightweight tag for the collar and a compact handset.
Once activated, the handset will produce a beeping noise accompanied by a light signal that will turn green the closer you get to your missing cat. The system has a 400-foot range that is ideal for large backyards and suburban areas with an abundance of hiding places. Training your cat to return home is also possible thanks to the tag which emits a beep once you press the locate button on the handset.
Product Features:
RF technology tracking system
Compact and lightweight tag and handset combo
Does not require 3G or wireless internet subscriptions
Audio and visual signals help guide you to cats location
400 ft. range helps you locate trapped or lost felines
3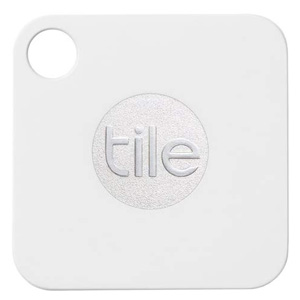 3.

Tile Mate Cat GPS Tracker
Tile Mate is a handy device for pet owners on a budget and is ideal for cats who live in apartment buildings or households with small backyards. This cat tracking device uses Bluetooth technology instead of RF or 3G and consists of a square shaped tag that goes on your cat's collar. The device has a 100-foot detection range and is linked to the Tile Mate mobile app. Locating your feline friend is as simple as pressing a button on your phone, resulting in a beeping noise that will lead you straight to them.
The Tile app memorizes this location so you can easily find your cat the next time he disappears. Tile Mate is versatile and can be attached to other items such as car keys and your pet's favorite toy. It is also compatible with all Apple devices including Apple Watch and can be used with many Android devices as well.
Product Features:
Budget friendly Bluetooth tracker
Lightweight and powered via lithium metal battery
Water resistant with a 100 ft. detection range
Produces audible alert to help you find your cat
Connects to the Tile mobile app for additional features
4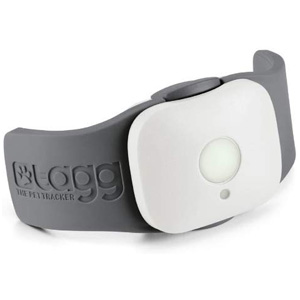 This award-winning cat gps tracker from Whistle is another great option for pet owners who favor GPS powered tracking devices and prefer downloading the app on their phones. This model is compatible with both Apple and Android devices and is suitable for cats who weigh more than 10 pounds. Much like the first device on our list, the Tagg tracker can be attached to any existing collar and its durable design ensures that it stays on no matter how hyperactive your pet is.  
Daily activity levels can also be monitored using this device and this will help you figure out your cat's daily patterns and how you can keep it healthy and active during work hours. The Whistle Tagg cat tracking device requires a one-time activation fee and weighs a mere 1.16 ounces. Once you download the mobile app, you will be able to receive notifications regarding your pet's whereabouts and Google maps will provide you with directions so you can pick them up and take them home in no time.
Product Features:
GPS powered tracker for 10 lb.+ pets
Compatible with both Apple and Android devices
Includes docking station for easy charging
Allows you to track daily activity levels
Compatible with most collars
5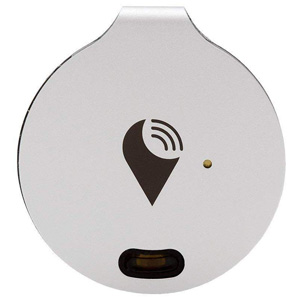 The slim and sleek TrackR device is both slim and inexpensive with a two-way separation feature that allows you to find your missing phone or cat. Downloading the app allows you to connect to a vast network of TrackR owners who can help you locate your lost feline. All you need to do is attach the coin shaped tracker to your pets collar and establish a Bluetooth connection with your phone before using the mobile app. Pressing the app will in turn trigger an audio alert within the tracking device to help you find your missing cat. TrackR Bravo is compatible with Amazons Alexa so you can easily ask the virtual assistant for help instead of using the app. Each tracker comes with its own lithium metal battery and is available in a rose gold and silver color.
Product Features:
Bluetooth tracker with 30-100 ft. range
Lightweight at just 0.64 ounces
Powered via one lithium metal battery (included)
2-way separation helps you find your pet or phone
Compatible with Amazons Alexa
6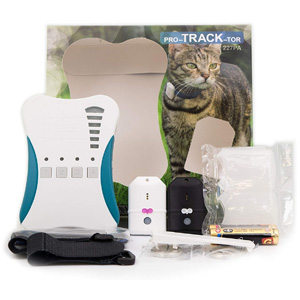 6.

Girafus Cat Tracker RF Finder
This Girafus tracker relies on radio frequency rather than Bluetooth and has a detection range of 1600 feet. This is more than enough when it comes to households that are colonized by one ore more felines. Most cat owners have trouble locating their indoor/outdoor pet and this generous detection range is great for felines who venture outdoors from time to time. The base unit does not require configuration and can support up to four tags. This means that you can purchase this device for more than one cat.
Missing felines who are in the habit of disappearing either from your fenced garden or house can be easily located via the LED indicators on the base unit. The indicators act like a compass and point you in the right direction and all you need to do is keep an eye on all three which are labeled as Near, Middle and Far. Once you get close to your missing cat you will be able to hear the chirping sound coming from his or her tag.
Product Features:
Radio frequency tracker with 1600 ft. detection range
Suitable for households with up to four cats
Base unit runs on AAA batteries (Included)
Tags run on rechargeable LIR2032 battery
7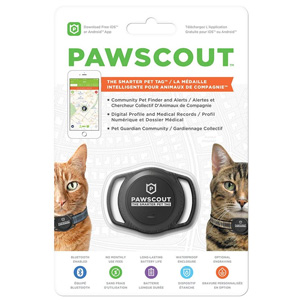 7.

Pawscout Outdoor Tracker for Cats
Pawscout is another premium Bluetooth based tracker that allows you to connect to an entire community of users who can help you find your missing cat. All you need to do is download the app and establish a connection between your phone and the round tag. You can also create what is known as a virtual pet leash in order to set up a border around your home. Once your cat crosses this virtual border, the app will send you a notification.
You can also mark your pet as missing on the Pawscout map so that other users can be alerted to his presence. This feature is activated if your cat is within 300 feet of any user. Creating a digital record that includes your pet's medical history and vaccinations is also possible thanks to the app. The Pawscout tag is waterproof and is powered by one lithium battery that is included with your purchase.
Product Features:
Bluetooth tracker with 300 ft. range
Notification sent once pet leaves established safe zone
Mark your cat as missing on the map to help others find him
In-app record of pet medical history and vaccinations
Waterproof tag the size of a silver dollar
8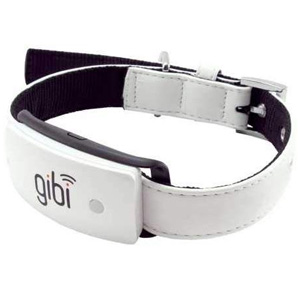 8.

GIBI Pet Location GPS Service Unit
The Gibi device relies on Google Maps and includes features like live tracking and safe zones. The app, however, must be accessed via browser so you can either use your laptop or mobile phone. Much like the Pawscout device, you will be able to establish safe zones such as houses or apartments that belong to family and friends. Adding those safe zones is a great way to keep tabs on your cat while you are out of town.
You will receive real-time updates and notifications via text or email if your cat decides to venture out on his own. The downside when it comes to using the Gibi tracker is that it does not work with the newest operating system belonging to iPhone devices. Registration is also required and your subscription to the service can be renewed on a monthly or yearly basis. Gibi can be used in North America and even worldwide if needed.
Product Features:
GPS tracker powered by Google Maps
Can be used in North America or Worldwide
Waterproof unit can be attached to collar or harness
Allows you to create multiple safe zones in any shape
Live tracking available and within 10 ft. of your pet
Compatible with iPhone and Android devices including tablets
Best Cat GPS Tracker Buying Guide & FAQ
Cats can go missing for a myriad of reasons. Some do eventually find their way home while others can spend days on end hiding in fear and unable to return to their distraught families. Both indoor and outdoor cats can end up on the streets due to a fire or a similar emergency. Some outdoor cats can venture out and get trapped inside a shed or a basement while others can get accidentally displaced. Attaching a GPS device to your feline allows you to keep a virtual eye on him no matter his location. Of course, there are so many features that you need to consider beforehand for you to purchase the right cat tracking device for your feline.

Features to Look for in a Cat GPS Tracker
Technology matters a great deal when it comes to this device and luckily, there is more than one option to choose from. Each one has its own advantages and limitations but opting for a GPS device means more extensive coverage if you own a mobile phone and live in an area with no shortage of cellphone towers to help you track down your missing pet. Radio frequency is another option that can save the day in the absence of a strong and stable mobile signal. RF trackers are great if you plan on traveling to a remote area with your feline companion.
If your cat is a homebody but tends to disappear for hours on end in mysterious corners around the house or backyard, then you can purchase a tracker that relies on your wireless internet rather than your mobile network.
Some trackers run on rechargeable batteries while others are powered via AAA batteries. Make sure that you choose a battery that caters to your own tracking needs. If you are constantly worried about your outdoor cat during busy weekdays, then you probably need a tracking device with batteries that can last up to seven days or more. Some models have a battery indicator that blinks or turns red when the battery is low. Keeping the tracker switched on 24/7 will drain the batteries so it is advisable to activate Sleep Mode whenever your cat is safe and sound at home.
Investing in a durable tracking device that is also impervious to water is highly recommended if you live in a rainy state and you have an adventurous feline on your hands. This feature will prevent the device from shutting down or malfunctioning if your feline accidentally stumbles upon a puddle or tries to chase a mouse while it rains.
Receiving real time updates when it comes to your feline companion is ideal if you need to leave your cat with friends or family while traveling for work or leisure. This feature exists in several GPS and Google Maps powered units and it allows you to track down your pet and share his live location with others as well.
This is another great feature that allows you to establish a virtual fence around your house or backyard. A notification will be sent directly to your phone whenever your feline friend crosses that invisible border. You can set up more than one safe zone to include other households that belong to your family or cat loving friends. These zones can be easily created via a mobile application that is free to download. Different GPS trackers offer additional features in their app such as location history and even a digital folder for storing medical records and other helpful info.
Some of the best cat GPS trackers on the market are compatible with both Android and Apple devices. This means that more than one member of your family can keep an eye on your cat in your absence. This also means that you can use the app on your tablet or iPad instead of draining your phone battery.
Why You Should Use a Cat GPS Tracker
Imagine moving to a brand-new house that is surrounded by a completely different landscape and neighbors. It takes a while to get used to this new environment and the same thing goes for our pets. Cats who divide their time between lounging indoors and exploring the great outdoors are more at risk of getting chased by a larger animal or getting lost in the woods. Using a GPS tracker will help erase the worry and anxiety that comes with owning an outdoor cat. Felines are smart but their inherent curiosity can put them in danger no matter their age. Using an accurate device with expansive coverage saves time and lives as well.
Difference Between Dog and Cat GPS Trackers
Most dogs are larger in size compared to cats, so they need their own collar or harness-friendly device. You will find that many dog trackers are bulkier and weigh more than your average feline tracking device. Canine friendly trackers cover more area and have a wider detection range as well. This generous detection range caters to young and well-built breeds who can run five miles without breaking a sweat. Most dog trackers operate with the help of cellphone towers that provide better and more extensive coverage than Bluetooth or radio frequency.

Best Cat GPS Tracker FAQ:
Q: What is a cat tracker?
A: Keeping an eye on your cat is not always possible especially if you have a hectic work schedule and a seasoned escape artist on your hands. A cat tracker is the easiest way for you to track your feline friend in real time thanks to the latest GPS technology. These devices consist of a base unit or app that you can use to connect to the tag. Notifications regarding your pet's whereabouts will be sent directly to your phone or portable handset. Some models feature LED indicators that blink and produce beeping sounds once your missing pet is within range.
Q: How do cat tracking devices work?
A: Tracking devices consist of two separate units: the small tag is attached to your pet's collar and its main job is to release an electromagnetic signal that is picked up by the second unit. This second unit can be your mobile phone or a handset with LED indicators as mentioned above. A strong and stable connection between the two needs to exist in order for this system to work.
Q: How long do cat tracker batteries last?
A: The answer to this question depends on the tracking device itself as well as its running time. It also depends on the batteries, so you need to check the instructions manual and device specs. Activating Sleep Mode is recommended when your feline is home. This will help preserve the batteries in the long run.
Our Top Pick
California based Whistle is a reputable brand and their pride and joy happens to be the best cat GPS tracker on the market. Whistle Go is more than just a tracking device and can be used to monitor weight and activity levels. This feature will help alert you to any changes in your feline friend's daily habits. Downloading the app on your phone allows you to track down your missing pet anywhere in the United States. The lightweight tag is compatible with AT&T and its battery can last up to 8 days. Creating safe zones is also possible thanks to the handy app and this feature allows you to establish virtual borders around your home. You can choose to receive alerts via email or SMS, and you can also check what your feline companion was up to in the past 24 hours. This durable and top-rated device is also available in 6 trendy colors including magenta and blue.
Source:
"Every Day is Tag Day™" — Is Your Pet Protected? – American Humane
Related Reads
Related Reads