The Best Laser Pointers for Cats (Review) in 2020
Out of all available cat toys, cat lasers have come to be some of our favorite. We love these toys because they help cats exercise their limbs for long periods as well as make total use of their natural prey instincts and drive for hunting. The instinctive hunting behavior is instantly awakened as soon as the red dot hisses over the floor and furniture! However, although hunting for the red dot from a laser is the same for all laser models, the models themselves are very different. With the full range of models available in the market today, we believe that this comprehensive list of the best laser pointers for cats are top quality recommendations that will help keep your furry friend more engaged.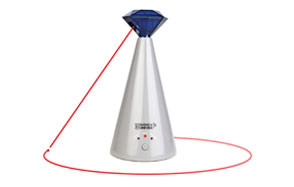 Friends Forever Interactive Laser Cat Toy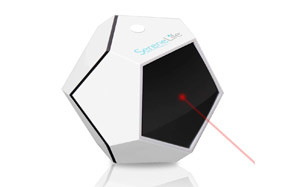 SereneLife Automatic Cat Laser Toy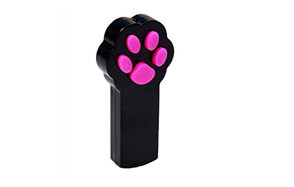 Ruri's Laser Pointer for Cats
The Best Cat Laser Pointer
1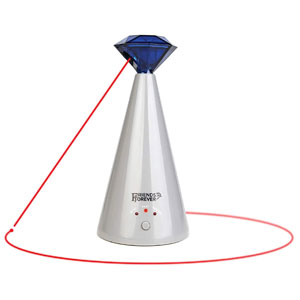 1.

Friends Forever Interactive Laser Cat Toy
Friends Forever is yet another company famous in the animal accessory sector. Since their production, they have come up with highly innovative products that make use of top quality materials and construction methods to deliver durability and reliability as and when needed. Their latest addition to the family is the Friends Forever Interactive Laser Cat Toy. This is an extraordinary toy designed for all cool cats. The interactive nature of this cat toy means that no matter the age of your feline, it is going to have immense fun and a lot of activities.
This best laser pointer for cats features an automatic rotating operation, which works together with the unit's laser system. The pointer is an electronic toy; thus, it is powered with help from a powerful battery. It also has three different operational modes, which increases its versatility. These motions include fast, slow, and random ways and you're at liberty to choose among the options for a movement that appeals to your cat.  Furthermore, the laser produced by this unit appeals to the natural hunting instinct of your cat; thus, it's bound to have a lot of fun chasing this red dot around, across your floor. And unlike other laser toys, the laser beam also features a 360-degree tower head, which forms an infinite circle where your cat can play. This is different from the small spot that many laser toys offer.
We are recommending the Friends Forever interactive laser toy for all felines of all ages. It is a top-quality product that uses three AA batteries, and a spinning tower head. It should be used to help your cat have stamina while running, but it shouldn't be used for 15 minutes continuously, or else the machine's timer will tire.
Product Features:
Rotating laser pointer
Automatic
Battery powered
Three Speed modes
2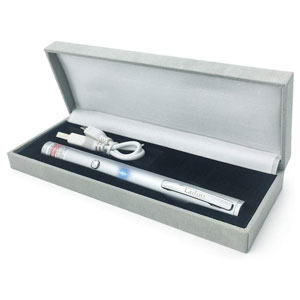 2.

Laifoo Light Pointer Cat Toys
There are a lot of products in the market today from Laifoo. They are a brand that has promised to develop and distribute only the best products to customers. Their latest creation is focused on helping young felines discover their natural hunting instincts. To do this, they have developed the Laifoo Light Pointer, a unique and highly durable unit that comes with a lot of design features to make that aim a reality.
The Laifoo pointer is a rechargeable unit that operates as an interactive model for all kinds of cats. This model features USB ports and a charging cable to keep the unit operational at all times. It has a sturdy and durable alloy body, with an integrated microchip internal, life, and a brass module that helps enhance its overall performance. Furthermore, the Laifoo laser allows pet owners to tease their felines at any time, whether day or night –  in the dark, it features light elements that make visibility possible. 
When using this best laser pointer for cats  with your cat, you need to ensure that direct contact with your eyes is prohibited as it can be dangerous to your health. Nevertheless, the power produced by this unit is low and safe for both humans and animals but if you are not fully satisfied, the product comes with three-month quality-related issue guarantee, which starts on the day of purchase. The brand also has a highly professional after-sale service, which is almost non-existent with other competing brands.
Product Features:
USB rechargeable
Interactive LED
Aluminum alloy body
5mW output power
3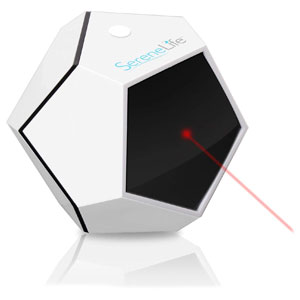 3.

SereneLife Automatic Cat Laser Toy
At SereneLife, the design is a process that combines strength and beauty to deliver nothing but the best in quality. They have a wide range of products under their belt, with each product offering much more than is invested into its purchase. Out of their entire collection, the unit we have come to love is their SereneLife Automatic Cat Laser Toy. This is a unique toy that comes with a rotating and moving dot, powered by durable batteries for the best performance. 
We also love that the SereneLife laser light for cats uses an automatic and wireless control system for operations – this means that it will offer a more interactive and smart service to all cats that play with it. The remote light beam produced is more comprehensive than usual, and this keeps your cat engaged for long hours without fail and you can transform your home surfaces into playgrounds at the touch of a button.
In addition to its interactive digital design, this unit also has built-in preset modes that allow for an automatic laser movement. The entire design is very compact for better storage and natural progression around your home whenever you want. Take control and play along with your pet; be it a smart adult or a young cat, with SereneLife. With this cat laser toy, we can guarantee that your cat will have fun chasing the uncatchable and imaginary bug or mouse up the wall. 
Product Features:
Rotating LED pointer pen
W/ auto wireless control
Remote light beam teaser machine
Suitable for interactive & smart sensory pet play
4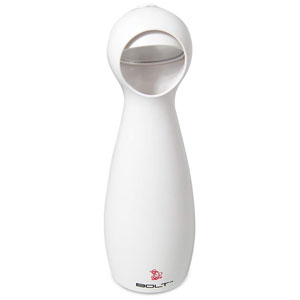 4.

PetSafe Bolt Laser Cat Toy
In recent times, it has become imperative that you engage your pets to improve their stamina, movement skills, and coordination and the laser toy is one easy way to undertake such an aim. Another world-class laser cat toy is the PetSafe Bolt Laser Toy, and it is a top-quality toy that is made for all your cat's enjoyment and activity. Since its inception, PetSafe has been known to be an industry-leading manufacturer in the US, always using their products to help millions of pets and people. They have created this laser toy from the best materials, such as stainless steel and sturdy plastics. 
As for safety, the PetSafe laser toy is very pet-friendly and it uses 4 AA batteries that are sold separately, thus incurring a little extra cost. Besides this payment, everything you will need to make your laser work comes in a beautiful packaging delivered by the manufacturers. If you wish to experience the best performance from your laser cat toy, we recommend that you make use of only alkaline batteries. 
To help save power, this cat laser toy is designed to turn off after fifteen minutes, provided it isn't in use. This helps to prevent your cat from being over-stimulated, to keep the chase more exciting. The PetSafe laser toy is highly interactive in its operation, and it has a one-year warranty, which guards it vigorously against craft and design defects in the material.
Product Features:
Automatic laser cat toy
5mw max power output
One-year warranty
Includes a manual on/off switch
5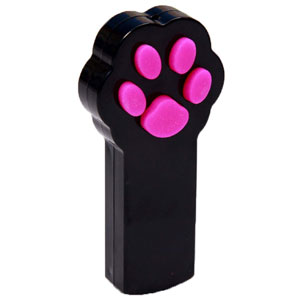 5.

Ruri's Laser Pointer for Cats
With Ruri's, you're assured of a great training session with your feline. We present to you the Ruri's LASER Pointer for both cats and dogs. This unit is very interactive because of its design elements. and it offers a high level of comfort and convenience that cannot be found with other brands in the market. 
This cat laser toy uses a powerful battery for its operation. What's more, this battery is easy to change at any point in time which allows you to enjoy your laser toy whenever and wherever you wish. No doubt, you can show you cat crazy love with this laser toy that also features a paw design that is very traditional of the typical laser toy.
We are recommending this unit because it is very durable, allowing your cat to remain active throughout the year. All in all, you get precisely what you pay for.
Product Features:
Easy to change the battery
Comfort and convenience
Cat crazy love
Paw design
6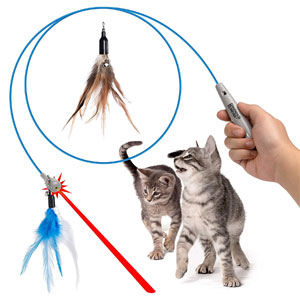 6.

Friends Forever Interactive Feather Cat Toys
Our final product review is on another cat laser toy from Friends Forever. This is the Friends Forever Interactive Cat Laser, a state of the art toy created for durability and function. This cat laser toy helps your cat to exercise as and when he needs to, in the comfort of your home. This reduces your trips to the park and also allows you to have twice as much fun with your feline.
We love this two in one kitty teaser unit because it is built to last and it features a built-in laser pointer tip, which is accessible for us. With one hand, you can flick your wrist and watch as your cat bounces around for hours on end. If you have a small dog, we believe that the Friends Forever cat laser toy will be ideal for their chasing games.
Play for hours with your canine or kitten, and never bother about your battery running dry. Friends Forever are around to make your chasing games more enjoyable and highly energetic.
Product Features:
With built-in laser pointer tip
2-in-1 kitty teaser game
Exercise for a healthy cat
Battery-powered
Best Laser Pointers for Cats Buying Guide
What to Look for in a Cat Laser Pointer
The vital feature one needs to look out for when choosing the perfect cat laser pointer is its beam strength. The generally accepted beam strength is below 1mv, as this is very mild and doesn't pose any health threats to humans and cats. Be sure to read all the design specifications before you decide to make a purchase.
The cost of your preferred cat laser toy should be affordable and must fit within your budget. As much as possible, you should have a budget that helps you define your preference boundaries. This will help prevent you from overspending on products that may cost you more in the long run. Compare and contrast the prices of existing models before you make the final decision.
Your laser tool needs to last for a very long time. To do this, one needs to be particular about the quality and durability of the laser model they opt for. Sustainability is a necessity because it helps you to save a lot of resources in the end and also keeps your cat active for a more extended period.
One feature many pet owners fail to consider is the versatility of your laser toy. If you have plenty of pets other than cats, we recommend that you opt for a versatile unit that can be used by both dogs and cats. Versatility is more economical and also more beneficial for many pet owners.

The Importance of Playing with Cats
Having a laser toy for your cat is very helpful because it helps keep your cat active at all times. The laser pointer toy keeps your cat running around at all times, in the comfort of their home. This excellent exercise tool helps improve the overall health of your feline and ultimately prolongs their lifespan.
By nature, there is no stupid cat. Even though this is a fact, not having any mental stimulation can cause your cat's brain to be dull. Having the laser toy helps keep their mind active and also helps with physical stimulation. If you wish to keep the brain of your feline ticking, we will recommend that you invest in a laser toy.
If you hate dogs and you have a cat, it might mean that you hate having to take walks. Without lifting a finger from your couch, you get to keep your activity with a laser pointer. These items are always identified as the lazy cat owner's choice by several cat owners across the world.
Different Types of Cat Laser Toys
This is the standard type of laser pointer on the market today. These are pens that are very portable and convenient enough to keep on you at all times. The only disadvantage of this unit is that it has a button that needs to be held down to keep the laser going.
An electronic pointer is a unit that is powered by batteries. It features an electronic timer, and it can be attached to your floor or wall for smooth rotation about your room. The automatic beam is more expensive than the handheld unit, and this is also more durable.
How To Use a Cat Laser the Right Way
When using the laser toy, we advise that you avoid direct contact with your eyes and those of your cat. Prolonged exposure to laser beams can be detrimental to the health of your cat's eyes and can damage their eyesight.
Another way to ensure that you're using the cat laser toy right is to ensure that the laser you use delivers less than 1mw. Pet owners are also advised to halt usage of the laser toy if they feel that their cat might be getting distressed.
Best Laser Pointers for Cats FAQ:
Q: Why Do Cats Like Laser Pointers So Much?
A: Every cat is created with an innate feeling to catch something. This is because they're natural predatory animals. Cats love lasers because it awakens their internal prey instinct. Instead of having your cats chase mice, we recommend that you help them enjoy chasing a laser toy instead.
Q: Can a Cat Laser Harm my Kitty's Eyes?
A: When using a laser toy, pet owners are advised to keep the laser point away from the eyes of both cats and humans. The laser used for these toys are typically designed with 1 to 5 million milliwatts, and this level is super safe for animals and humans. It is not advisable to point the beam directly into your cat's eyes, but you don't have to worry if you do it accidentally.

Q: Are Laser Pointers Bad for Cats?
A: Laser toys are a great way to get a good workout for your feline. These toys work well for all cats, especially indoor felines, who are always kept in enclosed spaces for long periods. With the laser toy, you get to help your cat move, which is very beneficial for their health. Laser cat toys are perfect for cats also because they prevent them from redirecting their frustration in ways that can cause them to hurt.
Sources:
Are Laser Pointer Toys Really Safe for My Cat? - VetStreet
Seven Benefits of Regular Playing with Your Cat - Pet-happy
Related Reads
Related Reads