The Best Chew Toys for Cats in 2022
Last Updated: January 4, 2022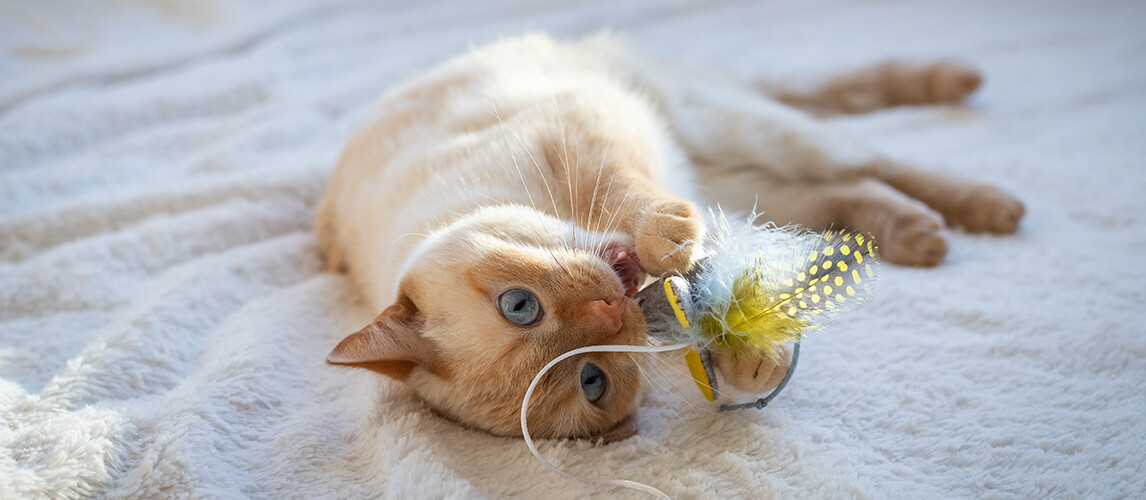 PetSide may earn a small commission from affiliate links in this article.
Learn more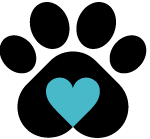 By Petside
Published 14:51 pm
Want to hear a horrifying statistic? According to the Cornell Feline Health Center, between 50% and 90% of cats ageing above four years of age suffer from some form of dental disease. However, the good news is that most of these dental diseases are treatable. And one cost-effective way that vets encourage owners to treat their cats dental difficulties are with chew toys. Not only will cat chew toys scrape the plaque and tartar from cats' teeth, they'll also provide your feline with the mental stimulation they crave throughout the day when you've got too much on your plate to play with them.
So, where do you start searching for your cat's favorite future chew toy? Look no further. Amassed within this buying guide are what we believe to be the best cat chew toys on the market; each one equipped with the ability to transform your cat's teeth from plaque-ridden to squeaky clean.
The Best Chew Toys for Cat
Best Cat Chew Toys Buying Guide & FAQ
What is a Cat Chew Toy?
The majority of cats are fiercely independent and take great pride in their personal hygiene. In fact, the average cat likes to spend between 30% and 50% of their day grooming their body. Yet owners tend to forget that maintaining oral hygiene is largely their responsibility, not their cat's!
Cat chew toys exist as a fun way for owners to protect their cat's teeth besides daily tooth brushing. The best cat chew sticks and toys are ergonomically designed so as your cat plays, their teeth and gums will become clean as a result of the shape or texture of their toy.
What to Look for in Cat Chew Toys
The best cat chew toys are out there, but sifting through the garbage products plastered all over the internet takes a lot of time and hard work. That's why we've put together a list of questions detailing what cats need their chew toys to contain so you get it right first time.
Do the cat chew toys you've got your eye on contain catnip? The volatility of our felines towards catnip has been picked up by producers of cat chew toys everywhere. The catnip effect keeps pesky kitties from clawing your furniture and also encourages kittens to exercise. Even the catnip scent, best described as a slightly minty scent, is light and will keep your home smelling fresh.
How about silver vine? Genetics play a key role as to whether cat are even affected by catnip. In fact, it's even estimated that approximately one-third of cats aren't affected by catnip in the slightest as a result of hereditary genetics. That's why so many owners turn towards silver vine instead. As a plant from the mountainous regions of eastern Asia, the benefits of silver vine have been celebrated for centuries. As well as being used in Asia as a preventative health aid, for centuries powdered silver vine has been used as a cat stimulant. Although silver vine is often compared to catnip, it's been found that the former is more potent than the latter – silver vine contains two cat attractants rather than the one present in catnip.
Benefits of Chew Toys for Cats
Chew toys provide mental stimulation for growing cats: Indoor and growing cats in particular require a large amount of mental stimulation to satisfy their hunting instincts and encourage them to exercise. When you aren't around during the day to play, your cat will be happy to have a plush toy to fool around with,
Destructive chewing is prevented: Say an indoor cat isn't provided with entertainment. Fuelled by boredom, it's highly likely that they'll turn towards chewing on your plush new sofa instead. Don't turn this nightmare scenario into reality and plan ahead by providing them with chew toys ASAP!
Our Top Pick
Our chew toys list is full of ingenious creations to such an extent that it's tempting to buy each and every chew toy for our cats. But if budget doesn't allow for this expenditure, the cat toy that stands out in particular is Petstages' Ton of Tails. Cats love this crazy catnip toy particularly due to the fun floppy streamers consisting of three fabric textures that keep cats interested and their teeth clean. Plus, Petstages designed their cat toy to be lightweight so owners could bat and toss this Petstages dental ball without any problems. What a fun way to bond with your cat, all the while ensuring that their oral hygiene is supported.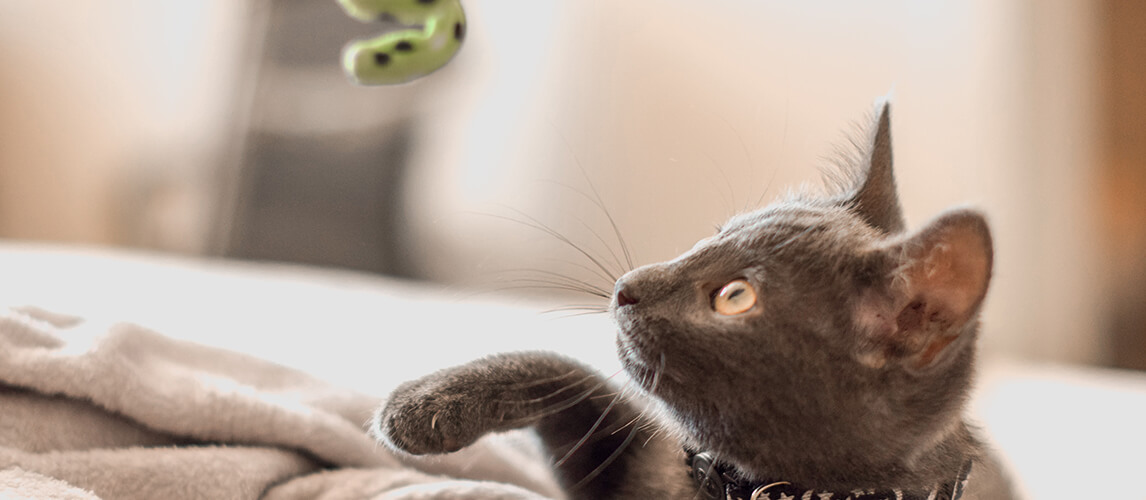 Best Chew Toys for Cat FAQ:
Q:

Do cats go through a teething phase?

A:

Although incredibly rapid, kittens do indeed undergo a teething phase. This period usually begins at between ten weeks to six months of age and tends to be uncomfortable. To go into greater detail, a kitten's primary incisors are replaced by thirty permanent teeth that will see them through adulthood and (hopefully) their senior years.

If you notice your kitten drooling or turning down their food during this time period, don't worry. After all, their adult tooth buds are moving though bones and erupting through their gums – it's bound to be an uncomfortable time for them!
Q:

Does my kitten need a chew toy?

A:

Not treating your kitten to chew toys isn't the end of the world. Kittens are incredibly curious creatures enamored by the world around them, so it certainly won't take them long for them to conjure up something else for them to chew to shreds. Nonetheless, chew toys are created with the objective to alleviate kittens' discomfort. Plus, unlike the other miscellaneous items scattered around your home, these toys have been designed with the protection of your kitten's delicate incisors in mind.
Q:

Are cat chew sticks safe?

A:

Regarding whether catnip or silver vine leaf sticks are safe for cats, we're here to tell you that all natural and unprocessed sticks made by trustworthy companies are indeed harmless for felines everywhere. Every cat chew stick included in Petside's product selection has been rigorously tested to guarantee compatibility with cats' teeth and digestive system. It's when you start handing over your cash to unreliable brands that problems start to arise.
Q:

Is it bad for cats to chew on cardboard?

A:

Generally, it won't harm your cat's teeth one bit to chew upon and probably tear to shreds the odd piece of cardboard lying around your house. Before you do, however, it's your responsibility to remove anything on the cardboard that may harm your loveable kitty:

Tape: The large majority of deliveries are packaged with tape that, if a cat ingested, may result in intestinal blockage.
Debris: All responsible cat owners out there should wipe down cardboard boxes to eradicate any small particles that may have latched to them.
Staples: Although staples are handy for securing the goods inside cardboard boxes, these sharp objects run the risk of fatally injuring cats.
Given the large amount of work cat owners must do before allowing their kitty to tear apart cardboard boxes, we therefore believe that buying cat toys instead is a much more effective use of your time.