The Best Water Bowls for Cats in 2022
Last Updated: January 4, 2022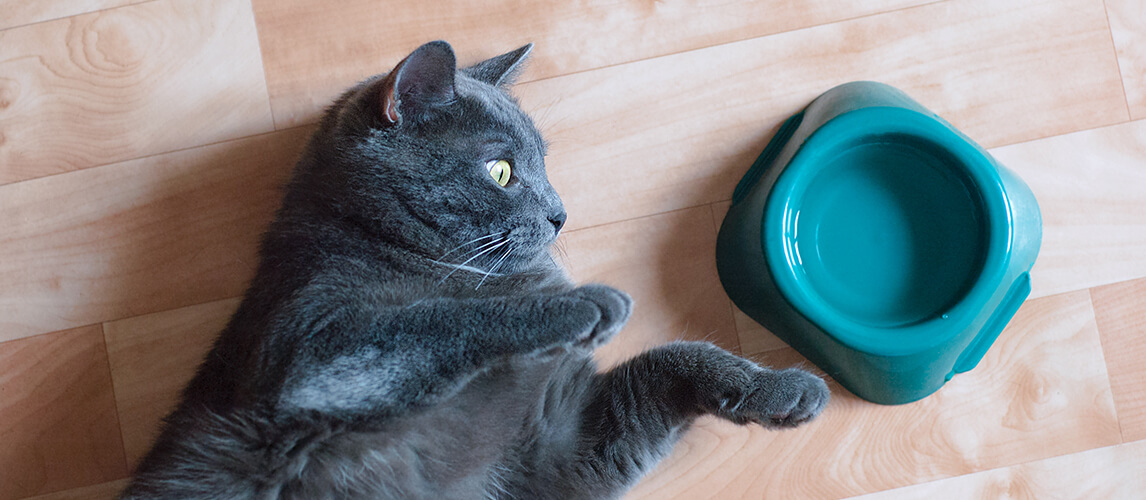 PetSide may earn a small commission from affiliate links in this article.
Learn more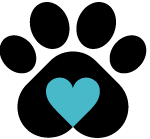 By Petside
Published 09:28 am
It is very important to keep your kitty hydrated and the cat water dish that you choose plays a big part in this. Cats are not naturally big drinkers and many have to be coaxed into taking in enough fluid to keep them healthy. Kitties that don't drink enough water can easily become dehydrated and suffer from various chronic health issues including kidney problems.
By choosing the correct cat water bowl and filling it with fresh water, you can encourage your kitty to drink. The shape, size and material are all important. The height is another factor that you may not have thought of. Many cats prefer raised water bowls in a stand. Others prefer to have a reservoir that continually tops up the bowl with fresh water. To help you and your kitty decide on the best water bowl for cats in your house, here is our useful guide.
The Best Water Bowl for Cats
Best Water Bowl for Cats Buying Guide & FAQ
What to Consider When Buying a Cat Water Dish
Buying the right cat water bowl will encourage your kitty to drink plenty and stay healthy. There is plenty of choice out there so here are the things that you should consider.
The size of the cat water dish is important. It must be able to hold enough water to keep your kitty hydrated if you are out for the day. Water bowls that top themselves up from a reservoir will last a lot longer than a simple water bowl and will keep the water fresh.
Some cats are very fussy about what material their bowl is made out of. It is best to choose a material that will not absorb tastes and odors and which is durable.
Wide bowls that will not touch the edges of your cat's whiskers will make them feel more relaxed when they are drinking and will prevent whisker fatigue.
Many cats would prefer to not have to bend down when they are drinking. They have to swallow uphill and it can aggravate neck and back conditions. Senior cats, in particular, often prefer to have raised bowls.
Cats cannot stand dirty water bowls so you must be able to keep them very clean. They need to be made of a nonporous material and preferably they should be dishwasher-safe.
Cats will be put off drinking if the cat water dish skids along the floor and makes a horrible noise. Some bowls prevent this by having rubber coatings on the underside edge.
No one likes clearing up spillages. Bowls with a solid, wide base are less likely to tip over.
Head over to our review of Automatic Cat Feeders for more alternatives.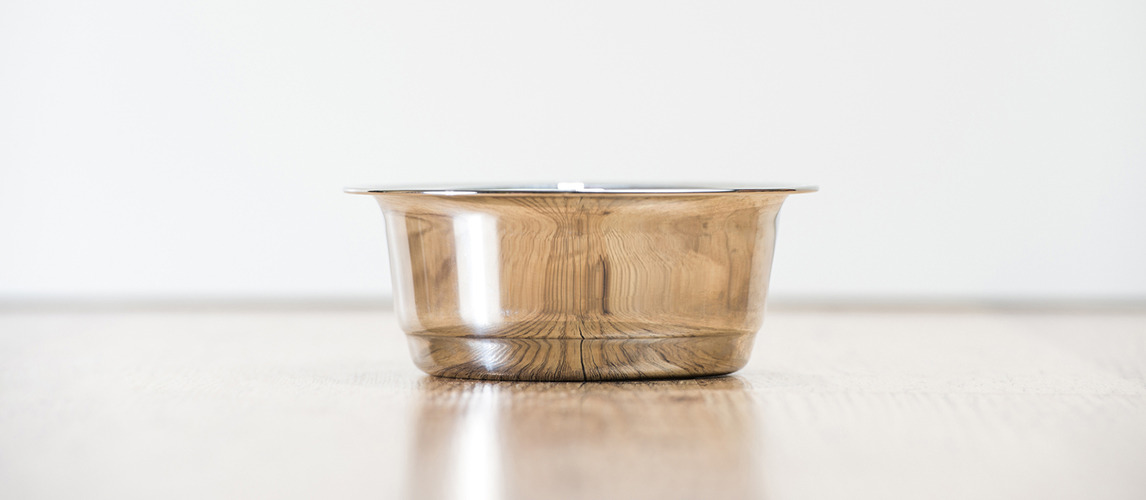 Different Types of Water Bowls for Cats
There are several different types of cat water bowls to choose from depending on your preferences and your budget. Having said that, the person that will have the final say here is your cat! As a cat owner, you will already be aware that cats have very particular likes and dislikes of their own. What suits one cat, will not suit another and it may take some trial and error.
Your first choice is a very basic, stand-alone cat water dish that you can place directly on the floor or on a mat. They are the cheapest option but have some drawbacks. They can slide around and that makes a noise which will put some cats off. Also, they can get tipped over. There are heavy-duty versions that are more stable and some have rubber undersides to keep them quiet and still.
Your second choice is a set of bowls that are set into some kind of stand. The stand could be made out of wood or plastic. Because the raised water bowls for cats typically come with an elevated stand, they're harder to tip over and are also more comfortable to drink from as they don't put a strain on the kittiy's neck. Senior animals with joint issues may find raised water bowls for cats particularly useful. There can be a problem with washing the bowls but this is overcome if they are removable. Sometimes the stands come in different heights for different pet sizes.
Finally, you could choose a watering bowl that has a built-in reservoir. This will top up the bowl with fresh water as your cat drinks. Because cats love a constant supply of fresh water, this is ideal for them. Don't forget collapsible silicone water bowls for when you are traveling.
Different Kinds of Materials Used in Cat Water Bowls
Several different types of material can be used in water bowls for cats and there are advantages and disadvantages for all of them. Here are the most popular options.
Glass is a good material for a watering bowl because it is non-toxic yet nonporous. It won't react with the water and will not have an odor that could put your cat off drinking. Glass will retain the fresh taste of water that your cat loves and most glass is very easy to clean and can be put in the dishwasher. However, there is lead in some types of glass and it can break if it is knocked over. Broken glass is dangerous for cat's paws and human feet!
Stainless steel water bowls
Stainless steel is a very durable and does not absorb tastes or odors. For this reason, it is a great material for a cat water bowl. The bowls will not break if you drop them and are resistant to corrosion and staining. They are very strong and can be put in the dishwasher but even stainless steel can sometimes corrode.
Ceramic is also nonporous and should not have a taste or a smell. Most ceramic bowls, but not all, can go in the dishwasher. However, some ceramics do contain heavy metals and are not safe for use with food or water so exercise some caution. Ceramic will break if you drop it.
Plastic bowls are usually the cheapest option but you need to be careful to select a high quality product. Do not choose a product that contains BPA because these can cause health problems. Some plastics can cause allergies.
Take a look at our review of Food Bowls For Cats for more options.
Our Top Pick
Our top pick of the best water bowl for cats has a built-in reservoir with a capacity of one gallon. It feeds by gravity into the bowl giving a constant supply of pure and delicious water that will encourage your cat to stay hydrated.
The water is refreshed from the reservoir after passing through a charcoal filter. The bowl is made from a Microban antimicrobial material which inhibits the growth of bacteria so there is no staining. It is very easy to clean and available in several colors.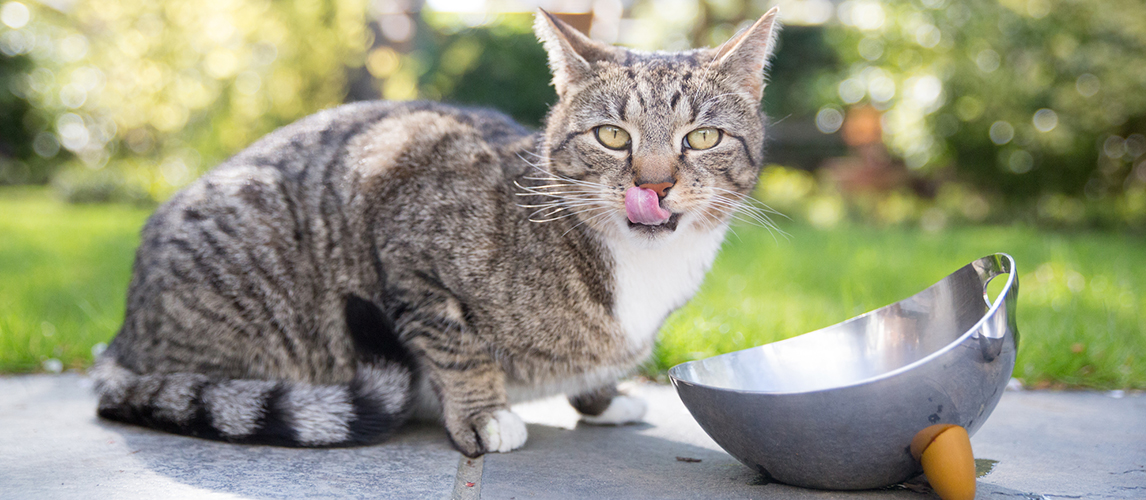 FAQ
Q:

How long can a cat go without drinking water?

A:

A healthy cat will get all the water they need from their food and from a source of water. The problem is that cats can be very fussy about what they drink from. In nature, they would drink from a stream or river and that is why many owners find that the best cat water fountains are a sensible investment for them. If you do not want to use a water fountain, it is a case of finding a bowl that your cat likes.

Cats can survive for some time without eating and this can be up to a month. However, when it comes to hydration, the situation is more serious. A cat cannot go longer than a few days without water. Dehydration in cats is a serious issue that can cause irreversible kidney damage.
Q:

What is whisker fatigue?

A:

Your cat is highly dependent on their whiskers to inform them about the world around them. At the base of every whisker, there is a sensory organ called a proprioceptor. This sends information about the area around your cat's body and helps them move around in the dark, hunt prey and determine whether they can fit through spaces.

Most of the time, your cat will not be able to control all of the signals that their whiskers are sending. Therefore, there comes a point where they can get overloaded with information because their whiskers are so sensitive. Even a tiny change in air current can set them off and eventually too many messages can cause your cat to feel stressed – this is termed whisker fatigue or whisker stress.

Some experts do not agree that whisker fatigue actually exists but everyone agrees that cats can suffer from stress! Food and water bowls can play a role if your cat's whiskers touch the sides every time they dip their head in. You can watch out for signs of whisker fatigue in your own cat. They will often pace around in front of the bowl and may paw at it but refuse to dip their head in. They may even knock it around and act aggressively. However, this can also be a sign of some medical conditions so you should discuss this with your vet.

A shallow and wide water bowl may suit your cat better as their whiskers will not touch the sides. Never be tempted to trim your cat's whiskers though because this will not work.
Q:

Where should I place my cat's water bowl?

A:

Cats can be quite fussy about the location of their water bowl. It has to be in a location that they like or they will not drink and could become dehydrated.

In general, they do not like high-traffic areas or areas where there can be sudden and startling noises. Therefore, place the water bowl in a quiet area of the house away from where there is a lot of movement and from where children are playing. Many cats also do not like their water bowl to be near their food bowl, especially if food can get into the water bowl and make it dirty. Cats only like clean and fresh water!

Cats may also prefer not to have their bowl by their litter tray and if you have more than one cat, you will definitely need more than one water bowl. The bowl will need to be placed on a mat to stop it sliding if it does not have its own non-slip base. A bowl that skids around a hard floor will certainly put your cat off drinking with the noise and the movement.
Q:

How often should I change my cat's water bowl?

A:

The simple answer is – very frequently! Cats love fresh and cool water and ideally would prefer to have a source of running water. Cat water bowls need to be thoroughly cleaned every 24 hours but will need to be topped up several times a day.

As soon as the water bowl gets contaminated with dust, dirt or food, you will need to clean it and fill it back up with fresh water. Some reservoir cats bowls automatically refill as your cat drinks.
Q:

What size water bowl should I buy?

A:

This depends on your cat. A large, shallow bowl is best to avoid whisker fatigue. Also, it needs to hold enough water to keep your cat hydrated if you are out for the day.

There is no point in buying a huge bowl and thinking that you won't have to top it up very often because this will not work. Your cat will not touch the water if it has been in the bowl for too long and you will end up having to change it anyway. Also, cats are very good at tipping their water bowl over and you don't want too much water all over the floor! This is one of the main advantages of raised water bowls.