The Best Cat Doors in 2022
Last Updated: January 4, 2022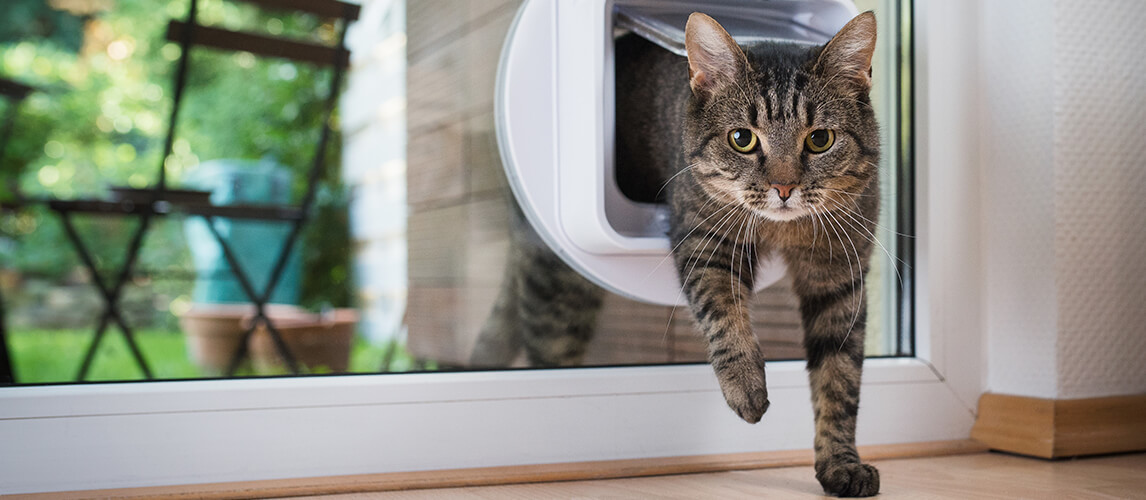 PetSide may earn a small commission from affiliate links in this article.
Learn more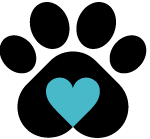 By Petside
Published 14:26 pm
If your adventurous feline likes to explore the neighborhood, letting them in and out of your house multiple times each day can be surprisingly time consuming. Luckily, there's a solution at hand - the cat door. Installing a cat flap into your front door is a simple but effective way to give your feline friend easy access to the outside world.
Many petcare companies have taken this basic principle, and updated it for the modern home. Below, we run through the top 10 options available right now, so you can make an informed decision for your feline friend. To help you get the most out of your new pet door, we've also compiled a handy buying guide. Here, we discuss how to choose the right type of door for your needs, how to install it, and whether outdoor time is right for your cat.
The Best Cat Door
Best Cat Door Buying Guide & FAQ
We think that these 10 cat doors are the best of the bunch, and you're sure to find your own purrfect solution somewhere on the list. To help you figure out which option is best for you and your feline friend, we've compiled this brief guide. Below, we run through how to choose a cat door, why you might want one, and how to install it safely.
Things to Look for In a Cat Door
When it's time to choose a cat door for your feline, there are a few key factors to consider:
Your new cat door will be useless if your kitty can't actually worm their way through. For this reason, it's important to double-check the size of a cat door before you go ahead and buy it. Measure your cat from their toes to their ears, and across the widest part of their chest, to get an idea of the opening size they'll require.
Some cat doors are designed to let your pet in and out of the house, while others offer access to different spaces within the house. Exterior doors usually feature a flap, usually made from rigid or flexible plastic. This flap falls back into place when the door isn't being used, keeping heat inside. On the other hand, internal doors don't really need this feature, so they tend to look more like archways. This type of door is easier for cats to use since there's no need to push anything out of the way to gain access.
Many cat doors offer extra features, which can come in handy for owners. For instance, most exterior cat doors include a versatile locking system, allowing you to lock the door from both sides, or from one side only. It's a great way to let outdoor cats out at night, without having them sneak back in, or keep adventurous cats in the house when necessary. Other cat doors feature specialized electronic equipment, which can be programmed to only let your cats through. If you're purchasing a cat door for exterior use, we'd highly recommend a lockable option, to optimize home security.
Check out our guide on Outdoor Cat Houses for more info.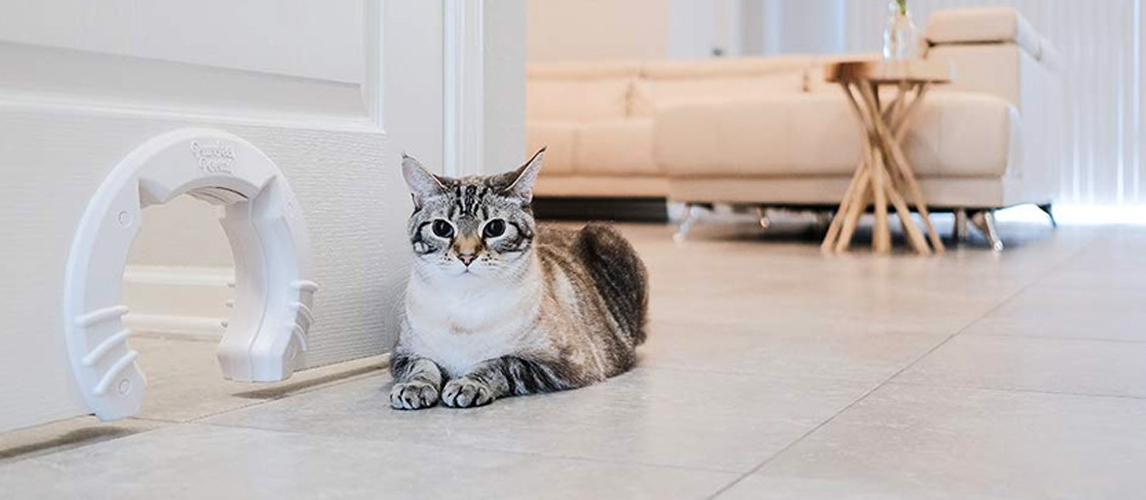 Cat Door Types
As the out list has illustrated, there are a few different types of cat door to choose from:
Interior Doors vs. Exterior Doors
As mentioned earlier, some cat doors are great for outdoor use, while others will be more at home inside. It's possible to use an external door inside the house, but the reverse is not true.
Exterior cat doors always feature flaps, and they come in two varieties: rigid, or flexible. Some cats find soft, flexible doors easier to push through, but their rigid counterparts tend to be more secure since they're easier to lock. Whichever option you choose, be sure that the flap features some sort of seal or insulation, or you could find a lot of heat escaping through the door.
Most exterior cat doors are lockable. Some feature a basic locked/unlocked system, while others can be locked from one side at a time for convenience. We think that being lockable is essential for an external cat door, for security reasons.
Some cat doors, such as number seven on our list, are a little more high tech than their conventional counterparts. They'll only open for your cat, who can be detected either through their microchip, or a special collar attachment. This type of door is great if you're concerned about strays, or other people's cats wandering into your home. However, bear in mind that you'll need to change the batteries now and then, and if your cat isn't microchipped, they run the risk of being locked out should they lose their kitty key fob. Head over to our review of cat GPS trackers for more options.
How to Install a Cat Door
Installing a cat door is a fairly straightforward process, which most owners will be able to do themselves:
Stick the cat flap template to your door, and use a spirit level to ensure it's straight
Drill a pilot hole in each corner of the template
Remove the template, and join the holes together with a pencil or chalk line
Use a jigsaw to cut out the correct shape (wear goggles)
Sand down the edges of the hole with fine-grit sandpaper
Hold the cat flap against the hole, and check it opens properly
Mark and drill holes into your door where the flap will be positioned, using the flap itself as a guide
Drill holes where the screws will go
Secure your cat flap to the door with screws
Encourage your cat to use the door by showing them how it works, and coaxing them through with a tasty treat
Bear in mind that this is a rough guide, and you should consult the manufacturer's instructions.
Our Top Pick
For us, the best pet door on the market right now has to be this magnetic cat flap by PetSafe. Suitable for virtually any patio door, the flap is durable, effective, and easy to install. Its magnetic closing mechanism allows cats to pop in and out, without letting heat seep out of your home. To help you stay in control of your pet's coming and going, the door is also lockable for controlled access.
Made from durable yet lightweight aluminum, the door is built to last, without compromising on appearance. Thanks to the availability of three subtle colors, the door will blend seamlessly with any pet friendly home.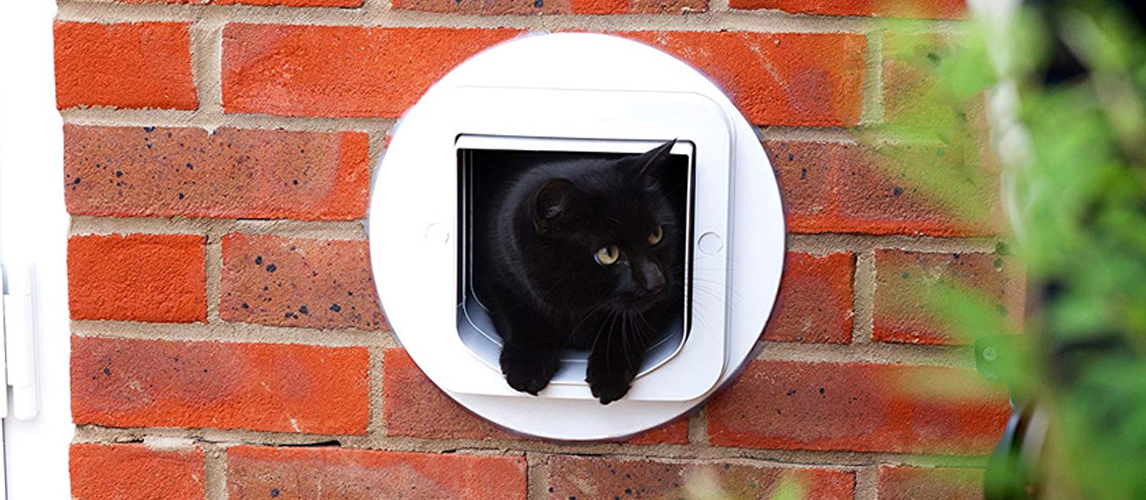 FAQ
Q:

Should I Allow My Cat in the Yard?

A:

There is much debate about whether or not you should allow your cat in the yard. A lot of it comes down to the area you live and your cat's personality. If you live in a relatively safe area that doesn't have much traffic, allowing your cat outside is often the choice people make. You should also consider whether your cat has previously been allowed outside in a past life, plus all the sensory enjoyment and physical exercise that your feline can get from being given access to the outdoor world.
But you need to weigh this up against the dangers that exist in the outdoor world such as predators, other cats, traffic, diseases and even humans with bad intentions. Ultimately, both indoor and outdoor cats can live rich and fulfilling lives. If you do allow your cat outdoors, you can minimize risks by getting your cat micro-chipped, giving them the right medication and vaccinations, and speaking to your neighbors so they get to know your cat.
Q:

What's the Difference Between a Cat Door and a Dog Door?

A:

The only real difference between a dog door and a cat door is their size. Dogs tend to be larger than cats, so require a bigger space to step through. Some large cat doors are also suitable for small dogs, but most cats will find the average dog door a little heavy for easy usage.
Q:

How will the cat door prevent other animals from entering my home?

A:

Cat doors are usually too small for unwanted visitors, such as raccoons, to use. If you're concerned about this, it's a good idea to lock the door at night, when racoons and other pests are most active.

If your main concern is other cats, investing in an electronic door that only allows your pets to enter could be the best solution.