The Best Cat Litter Mats in 2022
Last Updated: January 4, 2022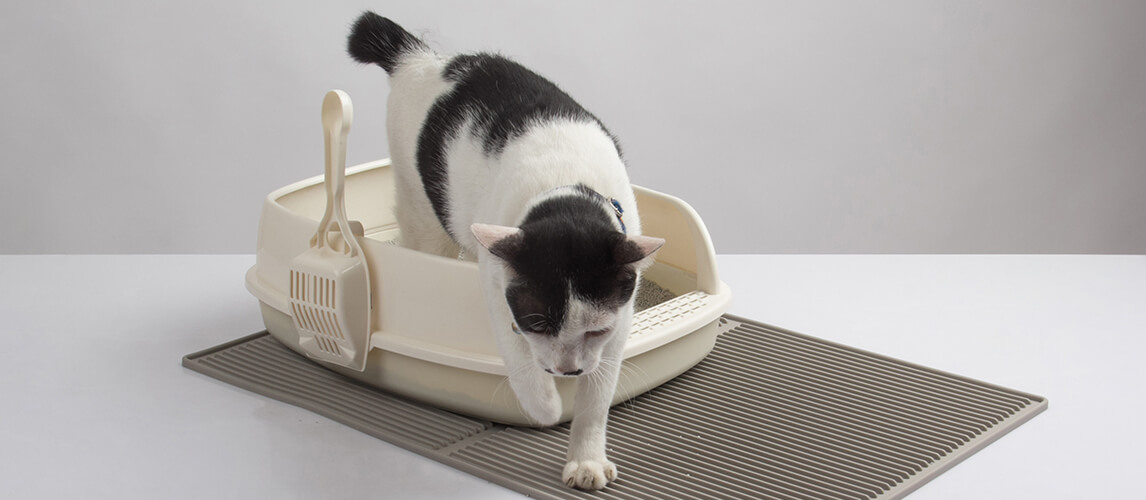 PetSide may earn a small commission from affiliate links in this article.
Learn more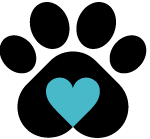 By Petside
Published 11:41 am
As much as we love our feline friends, there is always one aspect of their being that every cat owner will admit isn't the greatest- cleaning up litter. It's fiddly, frustrating and it gets pretty much everywhere- unless you have a cat litter mat.
Cat litter mats are amazing, simple pieces of soft furniture that can capture the dust and debris that comes with cat litter- no matter which type of litter is your preference. They help cut down on cleaning time and keep your house much more hygienic, overall.
This is why we've scoured the internet to find you the best cat litter mats on the market, today and you'll even find the best maintenance tips and tricks for caring for your kitty litter mat, below. Feel free to read everything you need to know about cat litter mats and check out our favorites to help cut down on tracking, in your house.
The Best Cat Litter Mat
Best Cat Litter Mat Buying Guide & FAQ
What to Consider When Buying Cat Litter Mat
While it would be nice to be able to buy any old mat and chuck that under your cat litter box, we all know that it's unlikely you'll find a great cat litter mat this way. There are hundreds of options out there and, sometimes, even our top picks might not be right for your house. Check out some of the considerations to take into account when buying litter mat for cats, below, and decide on what works best for you.
A litter box mat will only work if you have the right size around the litter box area. The best way to manage this, is to have a litter box that only has one direction for entry and exit, such as a covered cat litter tray. Otherwise, you'll need to spend a little more money getting a litter tray that covers a larger area, so that your cat doesn't simply jump over the mat, when exiting their tray.
The surface needs to be soft enough that your cat's sensitive paws don't try to avoid the area. The softer the mat, the more likely your cat is to step on the litter mat and clean their paws. If the surface is too rough, they will likely try to avoid their new kitty litter mat at all costs.
This contributes to the overall feel of the mat which, as we now know, is an important factor in whether or not your cat will use their new litter mat. However, this isn't the only reason why material matters; having the right material can make dislodging dirt and debris from between your cat's paws much easier.
There isn't much point investing in a high-quality cat litter box mat if you then can't clean the mat itself. The best cat litter mats are machine washable, easy to pick up and easy to vacuum or flick out dirt and general mess from the surface. Find out more about Dyson pet vacuum here.
Common features in cat litter mat revolve around cleanliness- with many boasting about their antibacterial qualities and added ways in which the mat can capture litter dust. As always, when it comes to features, these are nice to have but not essential to the overall capability of the item. Remember that these added features usually bring the cost up a little- but they can also cut down on everything from drying time, once washed, to holding certain scents to increase a kitten's interest in their litter tray.
A good kitty litter mat won't fade or break apart through continuous washing and general wear and tear. They should be able to withstand the test of time- otherwise, you may end up spending more over time than you would with a higher quality mat.
The best way to check the quality of the mat is to look at the reviews of other users. We always check the recommendations of other users before adding them to our top picks, which is one of the reasons why we love them so much!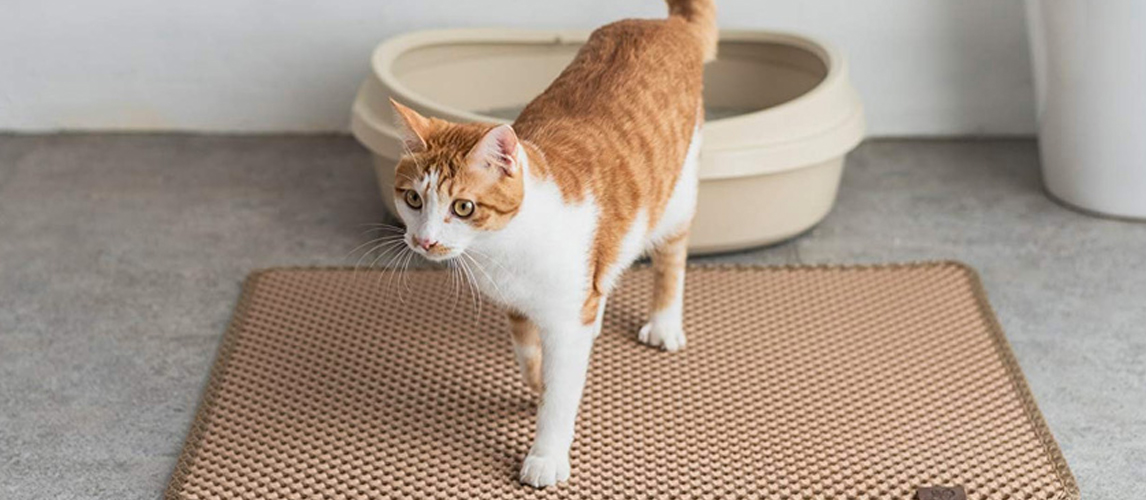 Benefits of Using Cat Litter Mat
Frustratingly, cat litter has a tendency to get caught between the claws and pads of cats as they use their litter tray. If this doesn't come away within the first few minutes of leaving the litter tray, it's likely that they'll end up with not-so-hygienic dirt caught between their claws and paws.
This can be, at the very least, annoying for your cat. At it's worst, these particles can make your cats paws sore and lead to an infection. Having a cat litter box mat means there's a great chance of this debris being dislodged from your cat's paws before they become embedded.
As above, dust and debris from your chosen litter is likely to get stuck between your cats' pads. These particles then leave the tray area with your cat and end up all over your nice clean carpet and/or flooring- something commonly referred to as "tracking".
While this isn't the fault of your feline friend, it can still be very annoying- especially if you find yourself cleaning up after them multiple times a day. So, investing in a litter box mat means you can cut down on cleaning time throughout the day, giving you greater peace of mind and a chance to relax.
Check out our guide on the Best Self-Cleaning Litter Boxes for more info.
Prevent the spread of diseases
Cat feces contains some not-very-nice bacteria, such as E. Coli and can therefore be very dangerous to your family- especially children under 5. If your cat is tracking litter around the house, chances are he or she is also bringing along some of those delightful particles, too.
Having a cat litter mat can help stop the spread of these bacteria, meaning your house will not only look cleaner on the surface, but be hygienic to the core, too. Just be sure to clean your cat litter mat, as well.
Cat Litter Mat Maintenance
Naturally, your kitty litter mat will need to be cleaned regularly to ensure the best hygiene. Always check if your cat litter mat is machine washable- as this will make your job much easier. Shake off the mat from time-to-time to get rid of all the dust and dirt that gathers through use- the number of times you'll need to do this depends on how frequently your cat uses their litter tray.
Once you've given the mat a shake, give your litter mat a vacuum to ensure that as much dust as possible comes away from the fibers- this will help to save your washing machine in the long-term. Finally, pop the mat in the washing machine, paying attention to the best ways to wash your mat according the manufacturer's guidelines, and allow the mat to air dry where possible.
This can take a little time if your cat's litter mat is heavily soiled, so it may be wise to buy two mats and circulate them for maximum efficiency.
Our Top Pick
The Gorilla Grip Original Premium Durable Cat Litter Mat came up as our top pick thanks to its cleanliness, overall ability to capture litter and great size. Loved by over 2,500 users who speak highly of how well this cat mat works for picking up litter and keeping their kitty happy- as well as how well it cleans-up, with its non-slip backing that makes sure your new mat stays put as you dust, scrub or vac the dust up left by your cat.
Available at a great price, this litter tray mat can keep your cat happy, with many cats deciding that this also doubles up a great place to nap- so it definitely hits the comfort factor. It's also big enough to ensure that your cat will definitely be able to shift the dirt from their paws as they leave their tray- which, in turn, leaves your floors clean and hygienic!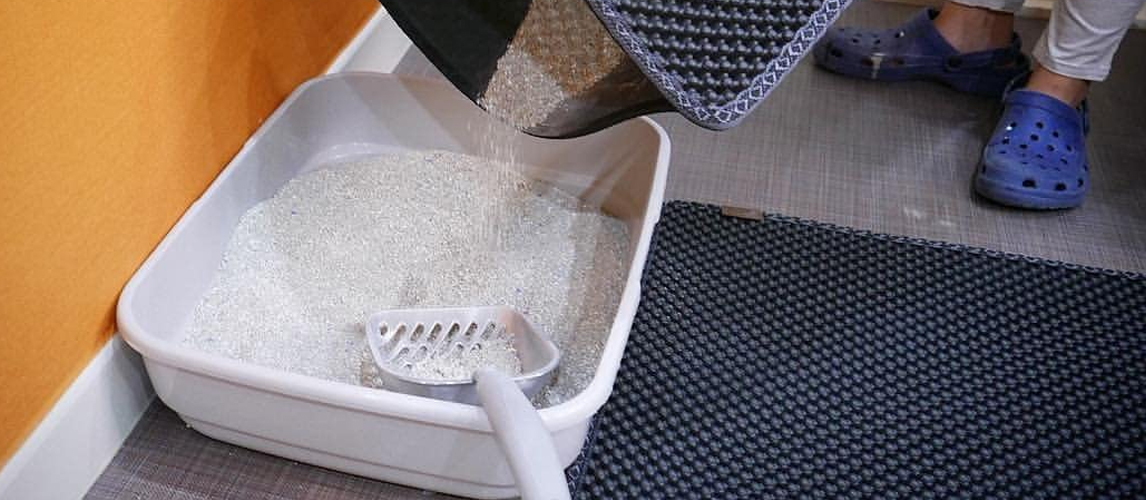 FAQ
Q:

What is the purpose of the holes in the litter mat?

A:

One of the most popular cat litter trays to have this feature is Blackhole cat litter mats, so we asked them for the reasons why they introduced holes. They told us that these were created simply to capture and trap any excess litter dust from your tray or cat's paws. This stops the dust and dirt from scattering and gives the debris a chance to fall from between the pads of your cat's paws, into the bottom layer of the mat, below.
Q:

Is a cat litter mat safe for my cat?

A:

In order to ensure that your cat litter box mat is safe for cats, you need to check whether or not they are non-toxic. Toxic products for cats include BPA and phthalate (pronounced "thalate"), so you might notice that our top picks make a point of mentioning the lack of these materials in their descriptions.

Used in common plastics, BPA is known for possibly leaving tiny particles, which can be ingested over time- they are currently banned from all baby products as the results of digesting BPA are currently unknown.

Similarly, phthalate is used to soften items and make plastics more malleable and harder to break. Studies have shown that phthalates can cause reproductive issues in animals, as well as respiratory paralysis. Thus, it is very important that any items purchased for your cat need to be both BPA and phthalate-free.
Q:

How do I shake off the sand that accumulates on it?

A:

This depends on the type of cat litter tray mat that you have purchased- some made be made up of multiple layers, which you will need to open up or separate in order to free the litter dust that has made its way into the mat.

For others, it can simply be a case of holding up the litter tray mat and forcefully flicking the sand off, or laying it over a washing line and using a stick on the floor-facing side to gently beat away excess dust that has accumulated on the litter mat.
Q:

Is cat litter mat immune to cat scratching?

A:

When it comes to cats, nothing is entirely immune to their scratching! Of course, the desire to scratch by your cat can be lessened through the use of the right material. For example, a softer mat is less likely to be scratched by your cat as it won't have the desired effect of catching your cat's claws, which would therefore be of little interest to them.

You can also buy mats that are designed to handle both their ability to catch litter and double-up as a scratching mat. While not ideal, this certainly goes with the phrase "if you can't beat them- join them"!
Q:

How should I place my cat litter mat?

A:

Ideally, a cat litter tray mat should be placed at the only entrance and exit of the litter tray. However, we know that not all trays are made this way. If this is the case, you'll need a litter tray mat that is big enough to fit all the way around the tray itself, else the mat may simply be jumped over and lead to the dirt and dust being tracked around the house, regardless.

In these situations, you'll need a litter mat that stands between 6-10 inches beyond the reach of the tray itself, all the way around the litter area. This is the best way to ensure that the dust from the litter is caught as your cat steps over the area.