How To Manage Litter Box Odor Like a Pro
Cleaning the litter box to get rid of nasty odors is not really the most pleasant task you have to do when you have a cat. However, it still needs to be completed to the best of your ability in order to have your home stay clean and healthy. Fortunately, there are some tricks that you can employ to learn how to manage litter box odor like a pro.
Related Posts: Best Cat Litter Boxes and Best Self-Cleaning Litter Boxes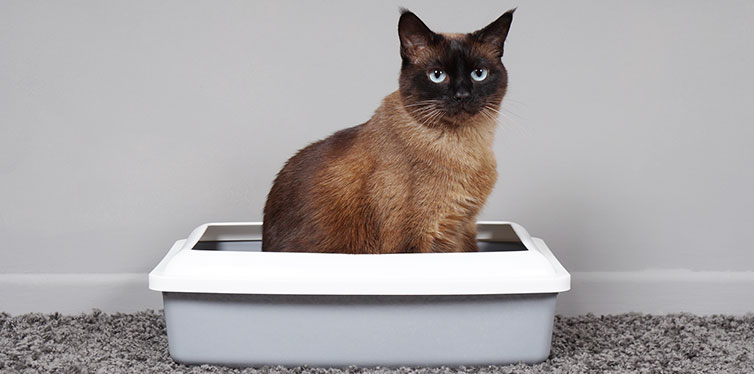 Get Busy Scooping
One of the best ways to lessen litter box odors is obviously going to be to rid the box of the smelly stuff daily. Clean out your cat litter box at the very least once a day. This will keep your cat happy and your home smelling delicious too. Litter that clumps together is obviously the easiest to scoop out and get rid of but do not stop there. It can help if you buy low-dust cat litter which is easier to keep clean and tidy and is particularly good when you own a pet who has asthma. Another tip on how to manage litter box odor like a pro is to get good scoops. One of the most significant things owners can do to ensure that litter box cleaning is easy is to invest only in quality scoopers. This is because they will be less likely to break under the weight of litter or cause owners any harm from the weight of the litter on hands and wrists.
Remember it will not just be human noses that do not like the smell in your home, your cat will probably not like the odors coming from a dirty litter box either. Cats usually start to go to the toilet outside of their litter box if they do not think that it is clean enough. If you have been thinking about getting an automatic scooping box, you  may need to think about how your cat is going to react, some get scared of the noise from the that these litter trays make, which may cause them to seek out and discover other places to do what they need to do.
Related Post: Best Cat Litter
Give it Some Air
Lots of people are disposed to putting their litter boxes away in a confined space. Naturally you will want to put litter trays away from the liveable areas in the home. While this is logical, by doing this, it just concentrates smells in a single area and makes the odor much more pungent. So, in place of permitting the smell to disperse, you may just end up with a foul-smelling no go area. Then you will also have the problem that it is not just your human family that will probably avoid this area, but your cat might do as well leading them to make a mess elsewhere. As an alternative, home the litter box in a place that you consider well-ventilated.
Numerous people choose covered litter boxes since they hide everything including the smells inside the litter box. But, lots of cats will not like this for the reason that it traps the scents making the smells too strong for them. A cover likewise gives you an additional thing for you to have to clean routinely.
Use a Mat
Take some time to discover a good mat on which to put your litter box on, as it will help to cut your cleaning time, the mess will be more contained and so this will help you to manage litter box odor more effectively. Find one that will fit under virtually any litter box and that will spread out all around the side of the box. It means that when your cat steps from the box, if they have any litter stuck to the bottom of their feet, it will not be spread around your home creating odors all around the place. Do not use towels underneath you litter box as it will train your cat to use them to relieve themselves elsewhere in your home like in the laundry basket.
Related Post: Best Cat Litter Mats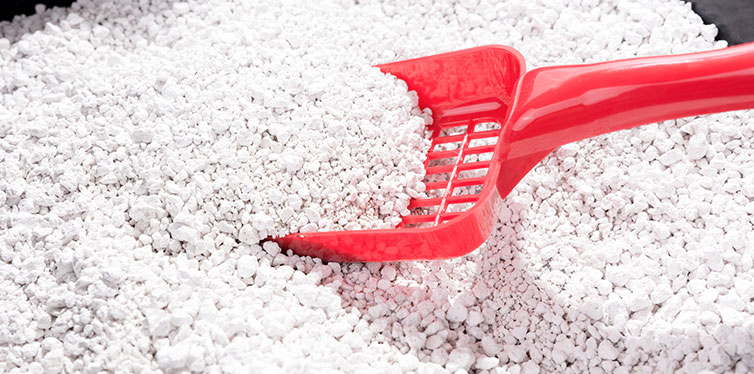 Wash Methodically
At least once a week you need to give your litter box a complete clean in order to prevent odor in your home. If you have just the one cat this should be effective, or perhaps more frequent cleaning will be needed if numerous cats are using the litter tray, then you should wash more diligently. You will first want to get the box cleared of all the litter before you clean it, then fill it only with replacement fresh litter. If you are following the advice to scoop once per day, this makes it easier to clean the litter box weekly. Ensure that you wear gloves to properly protect yourself from all the things that can infect people from cat waste. It is completely to fine to just use soap and water to clean and rid yourself of litter box odor. The smell of chemicals from strong cleaners might sometimes make your cat circumvent their box once it has been cleaned. Ensure that you thoroughly dry the litter box before you place more litter in it.
Replace Litter Boxes
Over time, a litter box can turn out to be scratched and broken from the recurrent clawing where your cat attempts hide away their waste. The thing with these scratches is bacteria can build up in them and this is where litter box odor comes from. Ensure to swap boxes around at least once every year. Look for a litter box that is as long as your cat from top to tail, and one of the sides of the litter box must be low so that your cat can securely and without difficulty get in and out of it. This is particularly important for older cats or where you have a cat with and illness.
When you do not have plenty of litter boxes available around your home, your cat may evade the box completely, which is especially true if you have numerous cats. Cats hate to go if other cats have already been there so you will usually need a litter box for each cat, plus an extra one, to help reduce needless spraying and odor around your home. This is also true if you have selected litter boxes that are the wrong size for your cat. Litter trays that are too small will put your cat off from using them as they will have less space, and it will be more probable that they just hit the sides of the litter box, whether or not that is inside the box or not. With a smaller box they will also have less space to manoeuvre about and so they will have a harder time attempting to lay to rest their waste.
The Magic of Baking Soda
If you have tried everything that you can think of but you are still having odor difficulties, try scattering some baking soda onto the bottom of the litter box before any fresh litter is added every week, or even put an open container of baking soda around the same area as the litter box. Baking soda can help to absorb most of the odors, without the addition of any irritations that will distress your cat's delicate little nose. Activated charcoal likewise works hard to absorb odors. The worst thing that you can do to rid your litter boxes from odors is to use scented sprays next to the box. This might for the moment mask a smell, but then it will aggravate your cat's sensitive nose. And may even stop your cat from using their litter boxes. Also, hiding from the problem in not solving it and you will still have an odor in your home.
Ask Your Vet about Your Cat's Diet.
It may be that your cat's droppings smell in general. If this is the case, talk to your vet about making a harmless and healthy dietary variation which may be the answer to strong litter box odors. By keeping your litter box clean and fresh you should be able to distinguish if the smells are from your cat or just from their litter box. This is important both for your cat's wellbeing and your own peace of mind.
When you feed your pet a diet that includes heaps of grains that your cat will not really use, then they will eradicate those into their litter box which can obviously cause odor. What you give your cat to eat can have a big effect on the smell in your home and the amount of waste that they leave in a litter box. Consequently, it is important to feed your cat an appropriate, healthy diet and change it up to see if you notice any advance in litter box odor reduction and in your cat's general health.
Related Posts: Best Dry Cat Food and Best Wet Cat Food
As a loving cat owner, you are aware of just how smelly litter boxes can get. But with continual upkeep, good hygiene and high-quality products, you will learn how to manage litter box odor like a pro.
Sources:
Controlling Cat Litter Box Odor – WebMD
How to Keep a Litter Box From Smelling – Animal Planet
Litter Box Problems – ASPCA
Related Reads
Related Reads