5 Guaranteed Steps to Litter Train Your Cat
Toilet training your kitten is one of the most important things you have to do as a cat parent. After all, you don't want your kitty to be defecating anywhere it likes. It is true that kittens learn how to use a litter box from their mothers. However, if the kitten separates from its mom and littermates before it has learned how to use the potty, then it's up to you to teach it. There are also adult cats that for some reason, seem to forget how to use the litter box. Whatever the case, you can always litter train your kitty with these 5 simple yet guaranteed steps.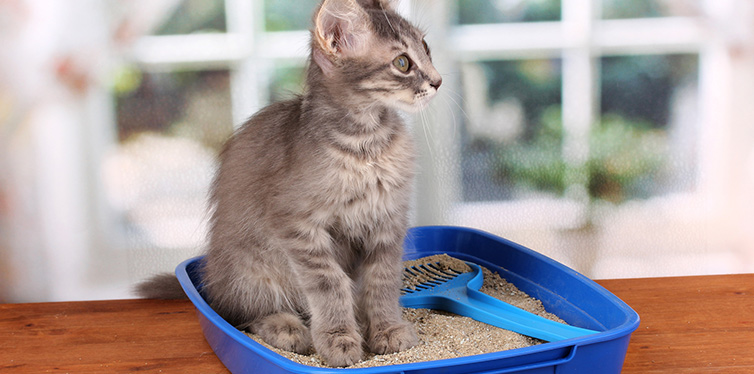 Get the Right Litter Box
The very first thing you should do is to get the right size of litter box. While you can use any flat-bottomed tray for such a purpose, it is best to get a large box with high sides. This will help contain the litter within the box itself and minimize litter tracking. However, if you have a kitten or a senior cat, a box with high sides may not be a good idea. You should always consider accessibility; meaning your cat should be able to get in and out of the litter box with ease.
If you want to purchase a commercially-available litter box, then you should also consider the size. The idea here is that there should be plenty of room to move about. Your cat will be moving in the litter-filled box to look for the perfect spot to deposit its wastes. If there is not enough space to move about, your cat might take its business elsewhere.
You may also want to choose between a covered and uncovered litter box. The issue with uncovered litter boxes is that the odor tends to permeate the entire room a lot easier. Plus, there is no privacy for your cat. The problem with covered litter boxes is that they may look too bulky. Covered litter boxes also trap the odors inside. This can make it unappealing for your cat to use.
As a rule, you should get one litter box for every cat in your household plus one. So if you only have one kitty, you should get at least two litter boxes. The reason is simple enough. If one litter box is dirty and smelly, there's always another litter box to go to.
Pick the Right Litter for the Litter Box
Most cat parents prefer clumping litter over non-clumping litter. This type of cat litter features bentonite clay which solidifies when moistened with pet urine. This makes it very easy to scoop the clumped litter. The problem with such litter is that it can be dusty and can make your litter box heavy.
Non-clumping clay litter also absorbs urine. The problem is that they don't form into clumps, making cleanup a bit challenging. It is less expensive than clumping litter, nonetheless. There are also those that utilize silica gel crystals. These have excellent moisture absorption properties. They can also control odor and are dust-free. The issue here is that they are often expensive and some cats don't like the feel on their paws.
There is also cat litter that features recycled paper. They come in either pellet or granule forms. Paper granules clump well while pellets do not. Both are dust-free, biodegradable, and very absorbent. There are also those that feature corn, wheat, grass, and walnut shells. These are biodegradable solutions. Each of these has their pros and cons so it's best to understand which is best for your cat.
In addition to choosing the right litter, it is also important to put the right amount of litter into the litter box. Cats love to dig in the litter in an effort to make a hole for their feces. This way they can bury it afterwards. As such, the litter should be deep enough to allow cats to dig and bury its waste.
You can start with a 2-inch layer of litter on the litter box. If your cat doesn't seem satisfied with it, you can add another inch or so. What most cat parents recommend is a 4-inch deep litter. This gives your cat sufficient depth to dig.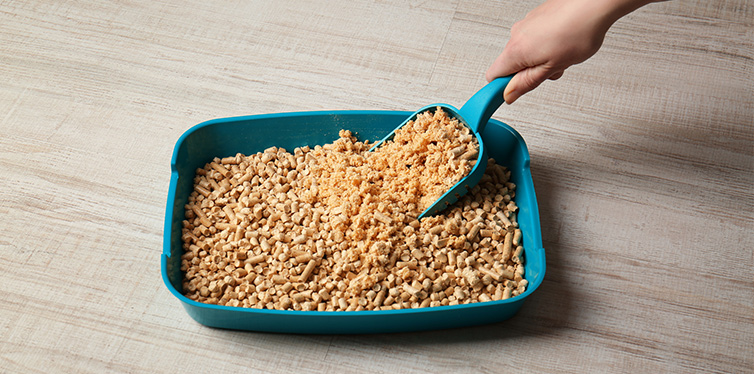 Choose the Right Spot to Place the Litter Box
Choosing the right litter box is one thing. Knowing where to place this feline toilet is another matter. You have to understand that cats don't like having their toilets anywhere near their feeding area or the space where they sleep on. Come to think of it, they're like us. We don't like to have our toilets near the dining area or at least have the toilet door open while we're having dinner.
As a matter of rule, the litter box should be accessible. When a cat feels the need to go, it goes. It doesn't want to go too far or navigate a maze of rooms to get to its toilet. It is for this reason that the litter box should be in areas where your cat has easy access to.
Another important consideration is peace and quiet. Most cats don't like defecating in full view of everyone. That is why many pet parents choose a covered litter box to give their cats privacy. They also don't want areas that are noisy. Could it be that they lose concentration when defecating? Nobody knows. But the general observation is that cats don't like defecating in areas where there are too many distractions.
So, where should you place the litter box? Put it somewhere it is quiet but is accessible to your cat. It should also be far from both its food and water sources. These are the fundamental guidelines to observe when placing litter boxes in their correct places.
Teach Your Cat How to Use the Litter Box
Now that you have the right litter and litter box placed in the right locations, you can begin with toilet training your cat.
Determine the usual schedule of your cat for defecation. Most cats defecate about 30 minutes or so after eating or right after playing. Some cats also defecate after having a nap. The idea here is to have a clue as to when your cat will be defecating. This will help you determine when is the best time to bring your cat to the litter box.
Since most cats defecate right after playing, it is wise to play with your kitty near its litter box. Bring your cat's favorite toys for it to play with. If the litter box is in a room, you may want to close the door so that your cat stays in the room. Be patient. You can also bring your cat to the litter box about 30 minutes after its meal.
Most cats already know what to do in case they feel like going. They will hop onto the litter box and start looking for a nice spot to deposit their waste. However, if your cat is yet to learn how to use the litter box, then you have to show it how it's done.
Scrape some of the litter aside using a finger. Do not grab your cat's paws and use it to dig into the litter. This may frighten your cat or make it more anxious than it already is. If this happens, it may not want to go into the litter box anymore. This is counterproductive. Just let your cat watch you as you dig into the litter. It is okay if it will not defecate into the hole. What is important is that it saw you dig. Sooner or later it will imitate what you are doing.
Your cat will defecate in the litter box. Chances are it will not bury it yet. Again, you have to show it how. Scoop some litter and put it over its waste. Be patient. It takes time before your cat will get what you are trying to teach it.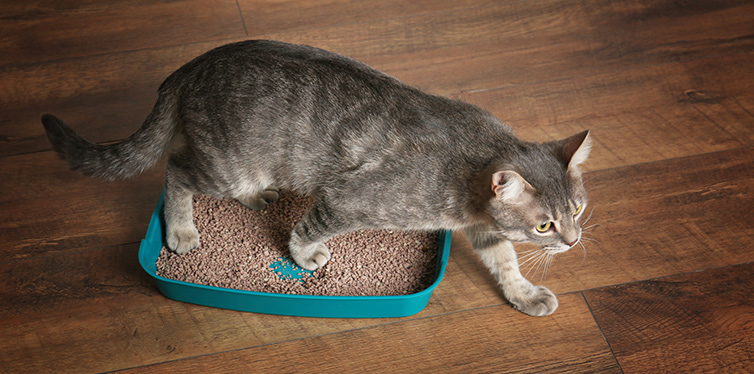 Maintain the Cleanliness of the Litter Box
One of the most often neglected aspects of litter training in cats is the maintenance of the litter box. You may have the right litter box and the best litter, but if you neglect its proper maintenance then everything is for naught. Think about it. Would you want to use your toilet if it's dirty and smelly? That's the same thing with your cat. It will not go to its litter box regardless of how well you trained it.
This is where a clumping litter will come in handy. It helps simplify the cleaning process. It allows you to scoop the clumped litter so you maintain the cleanliness of the litter box. However, regular scooping of soiled litter is not enough. You also have to wash the litter box every week.
You can wash it with a warm soapy water solution. Don't use harsh cleaning agents. Rinse the litter box well before allowing it to dry. You can then fill it with a fresh batch of litter.
Training your cat to use the litter box is easy. Follow these 5 steps and you're done.
Sources:
Dealing With Cats That Have Litter Box Accidents – HowStuffWorks
How to Litter Train a Cat – PetMD
Related Reads
Related Reads