The Best Clumping Cat Litters in 2022
Last Updated: January 4, 2022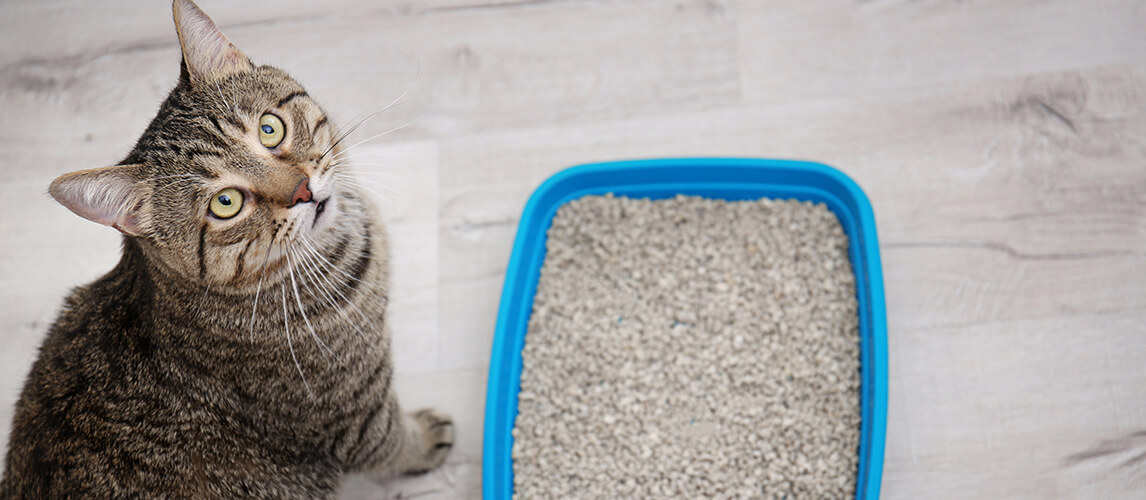 PetSide may earn a small commission from affiliate links in this article.
Learn more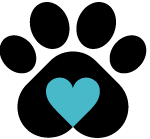 By Petside
Published 09:20 am
Our kits are fastidious creatures, especially when it comes to their toilet habits, and so keeping their litter boxes clean and fresh is a must for a happy cat. And that means picking the best cat litter for the job. Designed to absorb liquid, clumping cat litter has become increasingly popular as it makes cleaning out your cat's litter box so much easier. With your cat's business caught up in the clumps, you can scoop it all out, leaving the unsoiled litter behind. And this means your cat's toilet area can stay fresher for longer, and your pet a more contented kit.
But with so many brands for a cat owner to choose from, it can be tough to decide which is right for your cat. To help, we have the scoop on some of the best clumping cat litter you can buy.
The Best Clumping Cat Litter
Best Clumping Cat Litters Buying Guide
What is Clumping Cat Litter and How Does It Work?
Clumping litter is a hardworking type of cat litter that has been designed to clump around urine and solid waste so that they can be quickly and easily scooped out and removed, without you having to completely change the tray every time your kit uses it for their toilet.
Most clumping cat litters are made from clay, typically bentonite clay, which is highly absorbent and swells, to encompass the waste into a convenience clump, ready for removal. You can also get clumping cat litters that are made from all-natural fibers such as walnut shells that help the litter clump up when wet.
Once the clumps are formed, you can simply litter scoop them out for disposal, leaving the clean, untouched litter behind. You do however, still need to do a full litter replacement every couple of days as you would with more traditional litter.
Is Clumping Cat Litter Dust Free?
As it is generally made from clay and so has a finer texture with loose particles, clumping cat litter is not dust-free. And, as it works to collect urine and poop by clumping around the moistened areas, it can create more dust, which is not good for people and cats who may suffer from asthma. However, if you shop around, it is possible to find clay litters - or other natural litters - with a low dust formula which is less irritating, and you will find some of the best in our review.
Is Clumping Litter Safe for Cats and Kittens?
As long as your adult cat doesn't suffer from severe allergies or asthma, clumping litter is perfectly safe for your pet. In fact, as it makes cleaning out their litter tray quicker and more convenient, it is something most cats - and most cat owners - prefer. However, most clumping litters should not be used with young cats and kittens under four months of age. And this is because of the clumps the litter creates when your cat urinates. Younger felines are extra curious and there is a risk that they may try to chew on the clumped litter or mistake it for cat food, which could lead to gastrointestinal distress and even blockages which can be dangerous for your little pet.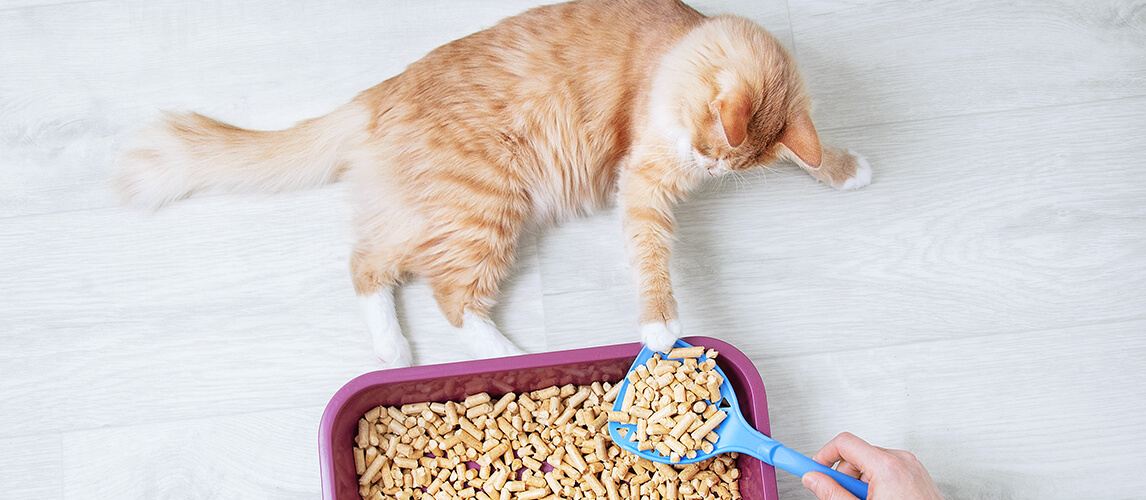 Things To Consider When Buying Clumping Cat Litter
When choosing the best clumping cat litter for a clean litter box, there are a few things cat owners should take into account to ensure they pick the right cat litter:
Which Type of Litter Your Cat Prefers
As we know, cats are fussy creatures and while most are happy to use clumping cat litter, as a cat parent you may have to be prepared for your own kit to turn their nose up at their litter tray. Some tidy cats prefer much finer particles or are not fond of the dustier texture of clumping litter so do a little test beforehand to ensure you are not opting for the wrong type of litter for your pet or multiple cats.
Litter Material
The most common 'ingredient' used by clumping cat litter brands is clay, normally sodium bentonite which is used in traditional clay litters and is highly absorbent and forms solid clumps on contact with moisture. Other litters use a material called silica to create a lightweight litter some kits prefer. Often referred to as crystal cat litter, this type of clumping litter is made from tiny silica beads which are dust free so can be the best clumping litter for allergies. Ingredients found in other litters include all-natural materials to make lightweight natural clumping litters, including compressed corn and walnut shells.
Low Dust
A clumping cat litter that is low in dust is the best option for cat owners, not just to keep your home free from dust but also as it is kinder on both you and your cat's lungs, especially if asthma or allergies are an issue.
Scented vs Unscented
In general, cats prefer unscented cat litters in their litter boxes, as their nose is a sensitive organ that can easily get irritated but scented litters can help to keep your home fresher for longer. If you are in any doubt, err on the side of caution and opt for an unscented variety that has good odor absorption.
Is it Odor-Absorbing?
Just as your kit may not like a florally scented litter, neither will you welcome the smell of urine odors or poop lingering in your home. To keep everyone happy, the best cat litters have some form of odor control – added activated charcoal or baking soda are the ingredients to check for.
Size of The Particles
Many cats will typically prefer finer particle litter, rather than pellet or the crystal type of cat litters as it is softer under their paws as they walk on it.
Low Tracking
And finally, you want your clumping cat litter to stay where it is meant to be – inside the litter box or tray – and not all over your floor as your cat moves around. Look for anti-track cat litters that are low dust so that everything should stay in place.
How Often Should You Change Clumping Cat Litter?
For the best results, you should be sifting and scooping out those clumps and wet patches daily and then do a full change of the litter around twice a week, depending on the level of soiling as well as the number of cats that may be sharing the litter box. No doubt, you cat will tell you if the cleaning regime is not good enough as chances are, they will simply not use their box!
What's the Difference Between Clumping and Non-clumping Litter?
Traditional cat litters which are non-clumping or the newer clumping variety, are both perfectly safe to use in your adult cat's litter tray. And both have their advantages and disadvantages, which may help you to make your final decision. Here are the main differences between the two:
Non-clumping cat litter: Although usually made from clay and other minerals, non-clumping kitty litter is also made from other materials such as pine, wheat or corn, or synthetic crystallized silica. This traditional cat litter is good at removing odors from cat urine as it can absorb large amounts of liquid. However, non clumping cat litters is also prone to getting saturated as all that liquid builds up and can pool at the bottom of the tray, making it difficult to clean without replacing all of the litter.
Clumping cat litter: While also made from clay, clumping cat litters have been designed to form into a neat blob when it comes into contact with moisture, which then locks away any pee or poo as it hits the litter tray. These clumps then conveniently sit on the surface, ready for pet owners to scoop them away. This means you don't have to do a full tray empty every time you need to clean up your pet's litter tray and so can be more cost-effective than the non-clumping variety. However, it tends to be dustier and has a tendency to track and is not suitable for use with kittens.
How do You Dispose of Clumping Litter?
After scooping out the soiled clumped together bits, disposing of clumping litter is pretty easy. Simply tip it into a top tied waste disposal bag or even an empty grocery bag – double bagging is a good idea to prevent any unwanted spills from the liquid waste. Most brands can be put in your domestic garbage and many clumping litter products are also biodegradable. But don't be tempted to put your soiled clay-based clumping litters on to the bonfire as it is possible for toxins to be released into the air. And never put your cat litter waste on the compost as your cat's feces may carry worms, parasites and other unpleasant things which could spread disease.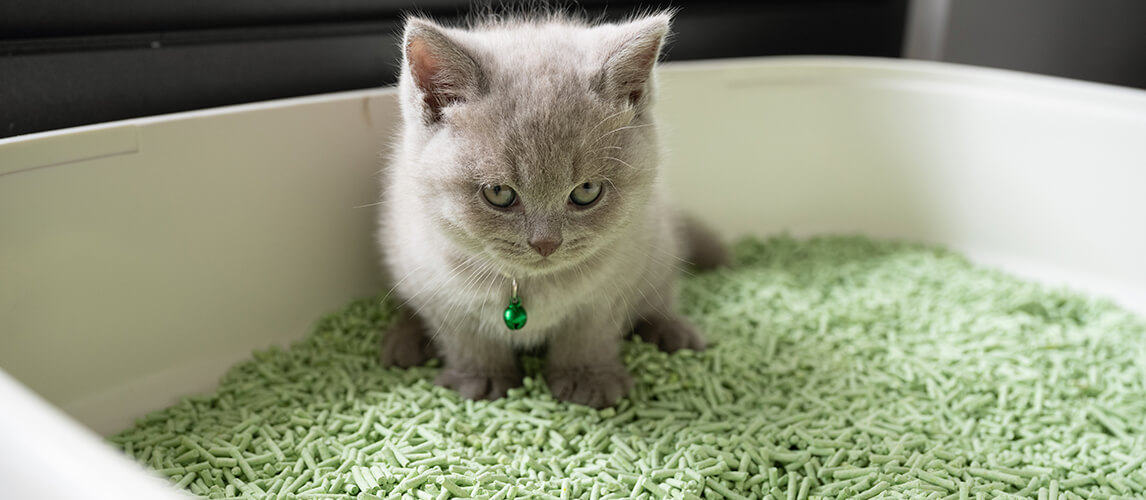 Our Top Pick
Almost entirely dust free, our review's best choice - Dr. Elsey's Ultra Premium Clumping Cat Litter - is great for allergic cats (and humans). And its medium grain clumping clay creates excellent lumps to lock away not only your kit's waste but also its odor. Not the cheapest of the clumping litters in our review, it is one of the most hardworking and works as well with multiple cats as it does with a solo pet. Unscented, low tracking and easy to use, the Ultra Premium is a reliable clumping cat litter go-to for the feline loving home.