PetSide may earn a small commission from affiliate links in this article.
Learn more
Very few cats can come close to the elegance of the Birman. It has these sapphire blue eyes that can pierce through the soul. One look and you will somehow have the feeling that you're in the presence of an ancient Burmese goddess. It possesses a semi-long coat that is quite silky to the touch. It may have the blessing of the gods but this kitty is an adaptable and very affectionate breed. It can communicate to you in a stunning soft voice, reminding you of its dinner or that it's time for its regular cuddle. The Birman exudes elegance but underneath this graceful demeanor is a muscular body, a friendly disposition, and a strong desire to play. If you want to bring the Birman home, then you've got to find out more about this beautiful feline breed.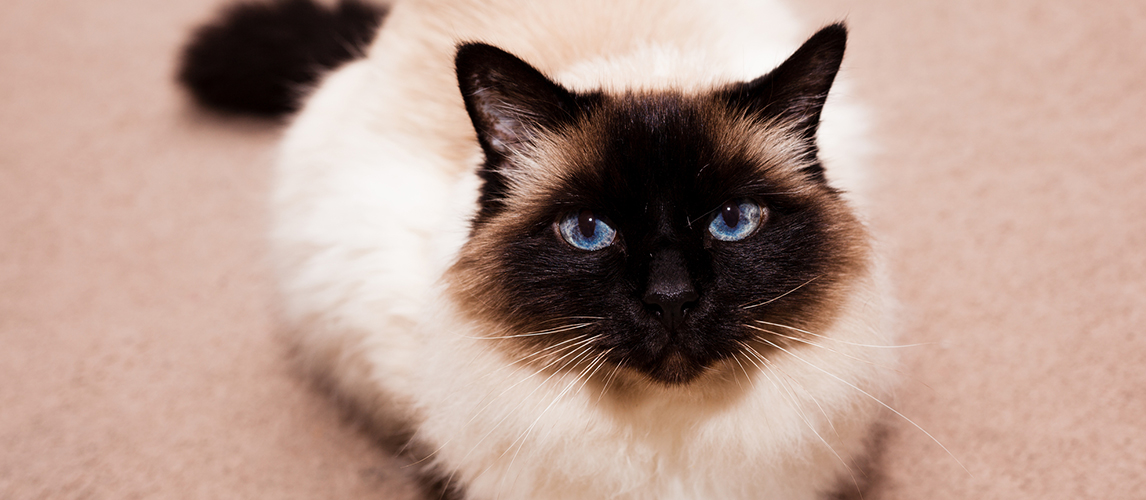 History of the Birman Cat
There are two versions as to the origins of the Birman Cat. The first has an almost mythical and legendary nature. The other one is more grounded in reality. However, the facts surrounding the historical development of the breed remain questionable.
Legend has it that the Birman is one of the temple cats of the Lao Tsun Temple in Burma. The temple revered Tsun-Kyan-Kse, the golden goddess who also happened to have deep blue eyes. Mun-Ha was the head priest of the temple. He had a cat named Sinh.
When troublemakers tried to rob the temple of its valuables, Mun-Ha tried to stop them. The thieves killed Mun-Ha. Sinh saw what happened to its master and decided to stay beside the lifeless body of its master. Sinh placed its paws on the chest of its master. Right after placing its paws on Mun-Ha's body, Sinh's coat changed in color from white to light gold. Its yellow eyes also changed into deep blue. The face, limbs, and tail, of Sinh changed from white to brown. Its paws remained white. The rest of the temple cats also changed in color, following the changes that occurred to Sinh.
Temple priests saw what happened. They believed that the transformation of the temple cats from all-white felines to cats with golden white fur, brown face and tail, white paws, and deep blue eyes was the result of Tsun-Kyan-Kse's intervention. They believed that the golden goddess saw what Sinh did and forever changed its appearance to honor the cat's loyalty, affection, and devotion to its master.
This is a very colorful story, of course. But it is a story that is quite difficult to support with facts.
The second story about the Birman's origins doesn't provide any clue as to its actual origins, unfortunately. It is not certain how the cat arrived in France. There is a story about how a disloyal temple servant stole a temple cat and sold it to the American millionaire Vanderbilt.
There is also the version where two Europeans brought the cat from Burma when they assisted the temple priests in the defense of their temple. Major Gordon Russell and Auguste Pavie were given male and female temple cats as reward in 1919 for the assistance they provided. The male temple cat perished in the voyage home. But this was after it was able to impregnate the female. Birman fanciers think that this provided the backbone for the breeding of the Birman in Europe.
The French Cat Registry accepted and recognized the breed as the Sacre de Birmanie in 1925.
After World War II, there was only a pair of Birmans left – Xenia de Kaabaa and Orloff. These cats produced 5 kittens: Lon Saito, Manou, Djaipour, Sita 1, and Sita 2. Baudoin-Crevoisier deemed it necessary to crossbreed the cat with long-haired feline breeds.
Towards the 1950s and 1960s, the Birman achieved purebred status again. It reached US shores in 1959. The UK was the first country to recognize the Birman as a breed in 1965. The following year, the Cat Fanciers Association gave its recognition of the breed.
Quick Facts about the Birman Cat
It is true that we can never ascertain the origins of the Birman or from what breeds of cat it originated from. However, there are certain facts the Birman fanciers can be very certain of. This breed is one of the world's most popular felines. In the Cat Fanciers Association's most popular cat breeds for 2018, the Birman ranked number 21. It bested the Ragamuffin, Turkish Angora, and others. It has a calm, affectionate, and loving personality that works well with its unique looks. Aside from these, there are other facts about this feline breed.
A fully-grown Birman can weigh anywhere between 6 and 12 pounds.
Birmans, like most cats, lead longer lives than their canine counterparts. Birman cats can live between 12 and 16 years.
Birmans look like stocky Siamese cats.
The Birman's greatest asset is its eyes. They are always colored in deep sapphire blue. The eyes are also more rounded like buttons.
Another characteristic that is very unique to the Birman is its voice. It has a soft and sweet meow. Many say it is "angelic".
Its body takes on a more rectangular shape.
The face is broad, complete with a unique Roman nose.
The ears are as wide as their height.
The feet come in white color, complete with laces and gloves pattern.
One of the best assets of the Birman is its coat. Unlike other cat breeds, the Birman does not possess a double coat. What it does have is a silky top coat that does not form tangles or mats. It is always silky to the touch.
Birman cats are known for their low-shedding potential. In other words, they are the kind of cats that you'd want to give to someone who may have pet dander allergy.
Like the Siamese, the Birman features colorpoint patterns in different shades. There's blue, blue cream, lilac, seal tortie, lilac tortie, chocolate, cream, and chocolate tortie.
Some say the Birman has dog-like qualities. If you're a believer of the Birman legend, then you know that this cat is very prone to separation anxiety. It is a kitty that does not like its owner to leave it alone.
While the Birman may be prone to separation anxiety, it remains one of catdom's healthiest breeds.

Things You Should Know
It is not difficult to see why many families and cat-loving people look to bring home the Birman as their pet. This is a cat that is devoted and affectionate to its family; much like the devotion and love of Mun-Ha's temple cat to its master. It has stunning deep sapphire blue eyes plus remarkable colorpoints that always stand out in the crowd. But before you start calling a few trustworthy Birman cat breeders, you need to understand a few things about this cat first.
Health
Birman cat owners who believe in the legend have this thinking that the cat enjoys the protection and blessing of Tsun-Kyan-Kse. Some also believe that the spirit of Mun-Ha remains strong in the breed. Whether or not you believe in such things, know that the Birman cat is one of the world's sturdiest and healthiest.
It is true that the Birman is a healthy breed. However, one should not interpret it as freedom from veterinary care. All cats, regardless of breed, require the competence of a veterinarian to make sure that your pet is in tiptop shape.
Another point one has to remember is that all cats, including Birmans, are not immune to hereditary disorders. These are disorders that the cat may get from its parents or forebears. Everything depends on whether the disorder is a dominant trait or a recessive one. It is quite easy to determine whether a disease is dominant or recessive.
Dominant-trait diseases are always present in every generation of the breed. An example of a dominant-trait disease in cats is feline hypertrophic cardiomyopathy. Recessive-trait diseases, on the other hand, always "skip" a generation. Hence, if the Birman's parents do not have the disease, you should also look into the cat's grandparents.
When getting a Birman cat, it is necessary to ask for documentation regarding the cat's DNA health profile. This will help establish the presence of any hereditary feline diseases, giving you the chance to make a better-informed decision.
Birmans are also susceptible to other diseases like congenital hypotrichosis, spongiform degeneration, idiopathic trembling, and corneal dermoid. The good news is that these diseases are quite rare. Regardless, it is best that you are knowledgeable about such feline health conditions.
Feeding
Birman cats deserve only the best food for them to thrive. And when we talk about the best food for kitties, we mean high-quality raw food. However, given the fact that it is difficult to source high-quality raw foods, a good alternative is to make your own cat food for your pet. Unfortunately, not every pet parent has the skills to create nutritious, safe, and cat-specific diets at home. Hence, your second-best alternative will be high-quality commercial cat food.
Some pet parents go for kibbles because it is more economical and won't spoil that easily. One has to understand that cats need a different kind of diet compared to their canine counterparts. While dogs may subsist on kibbles, cats do better on wet cat food. The formulation of this pet food closely mimics the water and dry matter composition of whole prey animals. Cats need water in their diet because their thirst drive is not that great compared to other animals. Wet cat foods can fulfill this requirement.
As for the ingredients, Birman cats need high-quality animal proteins as the first ingredient. We do not need to remind you that cats are not vegetarians, despite contradictory claims. Their digestive system is that of a predator that feeds only on animals.
Animal proteins provide a more complete array of essential amino acids. Taurine is one of the amino acids that cats need. Taurine is present in animal proteins, but not in plant proteins. This amino acid is necessary for the cat's optimum heart, brain, eye, and platelet development.
Birman kittens under the age of 6 months need to feed three times every day. After this period, you can feed the Birman twice a day.
For more guides on choosing the right cat food, you may wish to check out our reviews of the best wet cat food, senior cat food, cat food for sensitive stomachs, high fiber cat food and cat food for indoor cats.

Care
We mentioned that the Birman is a healthy feline. However, it still requires some tender loving care. After all, this is not any ordinary cat that you can leave behind to fend for its own.
Caring for the Birman requires regular veterinary visits, especially during the 1st year of life. This includes mandatory vaccine shots against rabies, feline viral rhinotracheitis, feline calicivirus, and feline distemper or panleukopenia. Depending on where you live, your Birman may also require vaccines against bordetella, feline leukemia, and chlamydia.
All cats, including the Birman, need a fresh and clean litter box. They do not want their toilets to be stinky whenever they use it. Of course, you can always buy at least two litter boxes for the Birman. However, frequent and regular cleaning and disinfection of the litter box is a fundamental requirement for the proper care of this breed or any other cat for that matter.
Caring for the Birman cat's teeth is also crucial. Everyday brushing of the teeth is ideal; although once every 2 to 3 days would be fine. A visit to a veterinary dentist once every 6 months should be beneficial in the prevention of dental problems in the cat.
Take care of the Birman's eyes because this is one of the breed's greatest assets. It has this characteristic deep sapphire blue eyes that are mesmerizing. Inspect the eyes for discharges every day. If you see eye discharges, make sure to wipe it clean using moist, soft cloth. This will help prevent staining the cat's fur around its eyes.
The ears also need ample care. There are ear cleaners that are specially formulated for cats. Do not use cotton swabs or Q-tips when cleaning the Birman's ears. But before you clean the ears, it is important to inspect it for any sign of discharge, inflammation, or foul odor. For a wider selection of choices, check out our cat ear cleaners guide.
The Birman is an indoor cat. Under no circumstances should you allow it to leave the home without your supervision. This is an expensive breed that can be a real magnet for cat thieves. Moreover, there are other dangers in the outdoors for which the Birman may not be ready to face. For instance, stray cats and other animals may get in contact with the Birman and transmit different diseases into this breed. Birmans are also at risk of injuries secondary to accidents.
Grooming
Grooming the Birman is such a joy since it does not have a double coat. Its fur is so smooth and silky that it is famous for its tangle- and mat-free characteristics. However, you should never skimp on brushing the Birman's coat. This is not only to help maintain the silky smoothness of its coat, but also to improve blood circulation in the skin.
One of the characteristics of Birman cats is that they are low-shedding but this does not mean they no longer shed. They still do, especially during spring. More frequent brushing of its coat is necessary during springtime to help reduce the amount of fur that may fall on your furniture. At other times of the year, once-weekly brushing of the Birman's coat is sufficient.
There is no need to bathe the Birman, unless necessary. Most Birman cat owners bathe their pets once every 3 to 4 months. Cleaning the cat with pet-friendly wet wipes in between baths should keep the Birman smelling fresh and clean.
For more help on cat grooming, you may wish to read our guides on the best cat nail clippers, brushes for cats, cat brushing gloves and cat shampoos.
Temperament
The Birman is an affectionate, mild-mannered, and gentle cat. It has dog-like characteristics such as sociability and friendliness. This cat can be friends with cat-friendly dogs, making it an ideal cat to have in a multi-pet household. While it is tolerant of children, it is best that only kids who know how to handle delicate pets play with the Birman.
This breed is known for its moderate levels of energy. It is more active than the sedentary Persian and less nervous than its forebear, the Siamese. This kitty is an adaptable and intelligent breed. If you can commit to its training, you can turn the Birman into a multi-talented feline. It is all the more reason that the Birman is the feline equivalent of a multi-talented Poodle.
Birman cats are very sociable. They can grow attached to their human owners in the same way as dogs do with theirs. It is for this reason that Birmans are also prone to separation anxiety. They can get very depressed if they feel their owners are neglecting them. It is loyal and devoted to its family. It loves the attention and pampering that it receives, too.
While it is true that the Birman is a loving and affectionate feline breed, it may be aloof to strangers. This is a characteristic that is quite common among certain dog breeds.
With a gentle and affable temperament, it is easy to see why the Birman cat appeals to almost everyone. Even hardcore dog-lovers will fall in love with this feline breed. It is very loving, affectionate, loyal, and devoted.
Source:
About the Birman – CFA