The Best Cat Grooming Gloves in 2022
Last Updated: January 4, 2022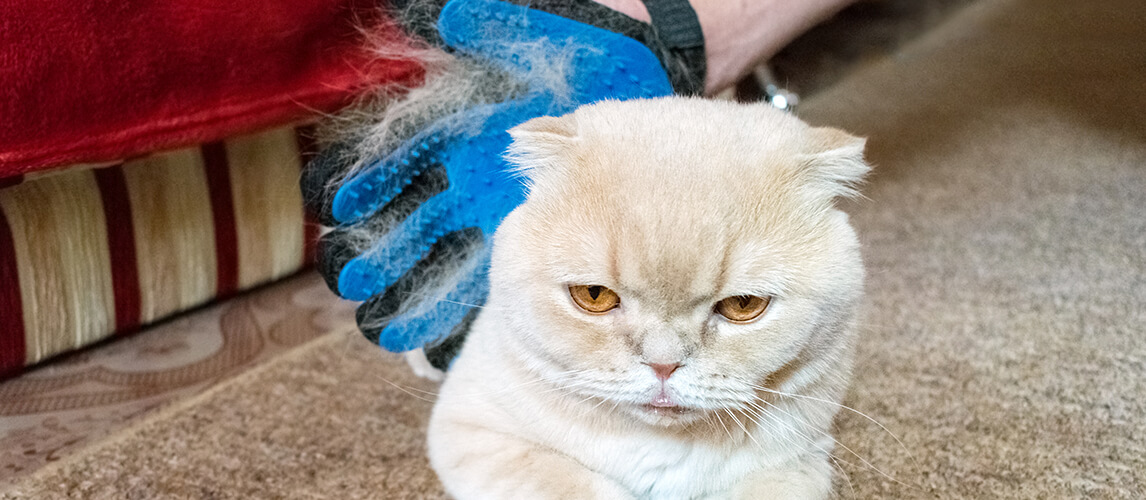 PetSide may earn a small commission from affiliate links in this article.
Learn more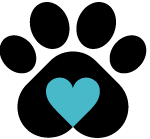 By Petside
Published 11:14 am
Brushing your kitty serves several purposes: it removes dead hair, dirt, and grease, stimulates blood circulation, and perhaps most importantly, it helps to cut down on those dreaded hairballs as well as frequent vacuuming. Needless to say, it's highly important both for your pet and you! But while some cats love to be groomed, others are not so keen. If your kitty is one of the latter, a grooming glove could be the answer to your prayers.
You may also like our review of Vacuums for Pet Hair.
Gentle and simple to use yet highly efficient at massaging the skin and removing dead hair, grooming gloves are perfect for both adult cats and kittens. They come in a variety of styles, designs, and sizes, so finding a perfect glove for your feline companion should be easy. To help point you in the right direction, we reviewed some of the best cat grooming gloves currently on the market. We also put together a handy buying guide to further assist you in choosing the right product for you and your kitty, so read on!
The Best Cat Grooming Gloves
Best Cat Grooming Gloves Buying Guide & FAQ
And there you have it, some of the best grooming gloves that the pet market has to offer. Still unsure which model is right for your feline companion? Not to worry as our buying guide contains everything you need to know about these grooming accessories, including how to find the best product for your cat, how to use it, and so much more!
Things to Consider When Buying Cat Grooming Gloves
Grooming gloves are available in many different styles and designs. To find the product that best suits your and your kitty's needs, here are some of the most important things to consider:
How many gloves do you need?
This is an important consideration as some pet parents use only one glove when grooming their cats, while others work best with a pair. How do you know which option is best for you? You may prefer a pair of gloves so that you can use both hands at the same time to groom your cat and get the job done faster. Bear in mind that this is typically possible only for cats who are already used to grooming. If you and your cat are beginners when it comes to brushing and grooming, you may prefer to have one hand free so that you can secure your cat or reach for other objects. Ultimately, this is very much a matter of personal preference.
Again, this is a matter of personal preference. Some grooming gloves are just like traditional gloves with five fingers design. These take a little more effort to put on but are great for more intricate grooming in areas such as around the face. You can also grip things better if you need to.
Other grooming gloves are, in fact, mittens with one space for all the fingers together and another for your thumb. They are very quick to get on and off but you lose dexterity so you can't pick anything up and can only groom large areas.
Make sure you choose a product that is made of a material that is BPA free and perfectly safe for both you and your cat. The fabric should also be flexible so that you can easily move your hand and fingers as needed. Likewise, the grooming nubs should be soft so that they're gentle on your kitty's skin. On the other hand, they shouldn't be too soft as their primary job is to pick up and trap dead hair.
It's also important that you are able to remove the hair easily from the cat hair glove when you have finished.
Your comfort is also important. An ill-fitting pet grooming glove is not comfortable. Some models come in a range of sizes, and others come in one size and have an adjustable strap at the wrist which is usually secured by a Velcro strap. This is important because you don't want the glove to come off when you are using it.
Also, look out for the type of fabric that the glove is made from. You need a fabric that will let your skin breathe so you don't get too hot and sweaty (polyester mesh is a good option).
You need to be able to clean the glove easily and preferably quickly. Look out for products that are easy to wash and which will dry fast so that you can use them on a regular basis. It's also a good idea to get a glove that can be used wet or dry.
Grooming gloves are multi-purpose: good for massaging your cat as well as for grooming. Most have one type of nub which is like a raised nodule that rubs against your cat's skin, helping to remove loose hairs and massage skin. These nubs must be soft and rounded so they don't scratch your kitty.
Some gloves have a different type of nub on the fingers. These are longer and slightly more pointed and therefore are better at removing dead hairs - they're ideal for long-haired cats.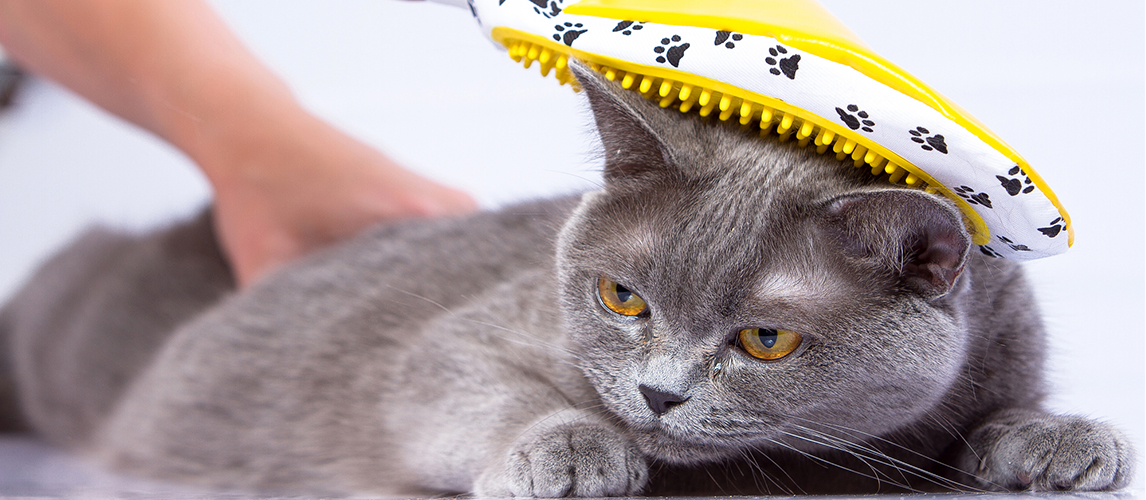 Benefits of Using Cat Grooming Gloves
Grooming is not just for dogs! Cats can benefit a lot from regular grooming as well. Firstly, there are the obvious benefits, such as a reduction in shedding and keeping all the stray hair in one place. It's a lot easier to pick hair off a glove than to collect it from all over your sofa and chairs!
Regular grooming is also vital for long-haired breeds because their coat can get very matted which is uncomfortable and unhealthy for the cat. Speaking of unhealthy things, regular brushing with a glove or brush can also reduce the occurrence of hairballs by removing loose hair that would be otherwise swallowed by your cat.
Take a look at our article on Cat Food for Hairballs.
Grooming also gives you a chance to bond with your pet. Most kitties prefer a grooming glove to a brush because it feels just like you are stroking them. The time that you spend together builds trust and helps to deepen the bond between you while giving you a chance to have a little health check of your cat. You will be close enough to notice potential tick and flea infestations so you can start treatment quickly before the flea bites cause major irritation. You will also be able to notice wounds and scratches that could become infected if not treated. Any lumps, bumps, or skin problems that you may find should be investigated by your vet as soon as possible.
Check out our guides on the Best Flea Combs for Cats and Best Cat Hairball Remedies.
Additionally, regular grooming increases the blood supply to the skin keeping it nice and healthy. It also redistributes natural oils around the skin which act as a natural moisturizer and protectant.
Cat Grooming Glove vs Cat Grooming Brush
When it comes to grooming your feline friend, you have the option of using a grooming glove or a cat brush. While both accessories have their pros and cons, here are some of the advantages of grooming gloves:
Grooming is not just about removing dead hair and dirt. It can also act as a massage for the skin and this is best achieved with a grooming glove. The massaging action helps to increase blood circulation and distribute natural oils, promoting healthy skin and a shiny coat.
Many cats find it stressful to be groomed by a hard and inflexible cat brush. However, a good-quality grooming glove is just like the touch of a human hand, so to your kitty, it will feel just like being stroked plus massaged.
If your cat needs frequent brushing, they will allow you to groom them more often if you use a grooming glove instead of a brush. This is because a glove is more gentle on the skin and therefore more comfortable. Long haired cats can especially benefit from frequent brushing.
It is not easy or safe to groom delicate areas such as the face with a hard brush. However, with a soft, flexible grooming glove you can get at these hard-to-reach areas with ease.
The grooming glove keeps your hands and fingernails completely clean because you are not touching your cat. As an added comfort bonus, there is no strain on the wrist and your hands stay cool and comfortable.
Our Top Pick
While all products featured on our list are great grooming tools, our top pick has to be Delomo Cat Grooming Glove. This model can be used to reduce shedding and matting as well as for relaxing massages thanks to the soft and rounded grooming nubs. As a nice bonus, they come in a pair for quick and comfortable grooming sessions. One of the best grooming gloves for cats on the market, hands down!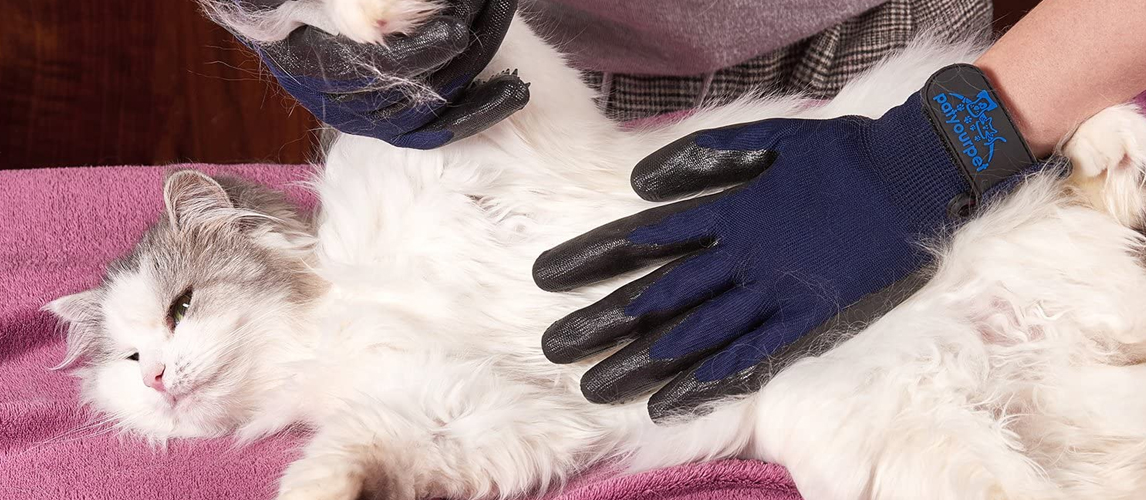 FAQ
Q:

How to groom a cat using a glove?

A:

If you can get your kitty to love their pet glove, you will have a very useful grooming tool at your disposal for life. As with all things, your cat will have their own opinions about this!

The secret to successful grooming with a cat grooming glove is to start with a 'little and often' approach. Gradually, build up the length of the sessions as your cat gets used to it. Start slowly with just one section of the body. It may take a while to work out which part of the body that should be!

Keep the grooming gloves close to where your cat likes to sleep so you can 'seize the moment' when they are feeling relaxed. Start with very gentle and short strokes. It is important that the atmosphere is calm and relaxed so try not to get uptight. If your cat clearly doesn't like it, just stop and try again another day. Try to make sure that there are no loud or sudden noises in the room. You want your cat to associate grooming with a pleasant experience, so it may help if you reward them afterward with a tasty treat.
Q:

At what age should I start grooming my cat?

A:

It is best to start grooming your kitty when they are as young as possible. Young kittens have not learned to groom themselves properly so they will benefit a lot from your help. This is where a grooming glove is really useful. Gloves are less terrifying for a little kitten than a big brush, plus are better for smaller areas.

If you get your cat used to the grooming brush when they are young, they will grow up to be a lifelong fan. However, if you have an older cat and you have never tried a grooming glove, don't despair. Many older cats get used to them with time, especially if you use a reward-based approach to grooming.
Q:

Can I use a human hairbrush on my cat?

A:

You may think that brush is a brush, but human brushes are typically different from cat brushes. For one, they're too hard for a cat's delicate coat and skin.

Also, there are some skin conditions that you can pick up from your cat if you share a brush. One infection is ringworm which is caused by a virus. There are other bacterial infections that can be passed from a cat to a human as well, so we advise keeping your cat's grooming tools separate from your own.