The Best Flea Shampoo for Cats in 2022
Last Updated: January 4, 2022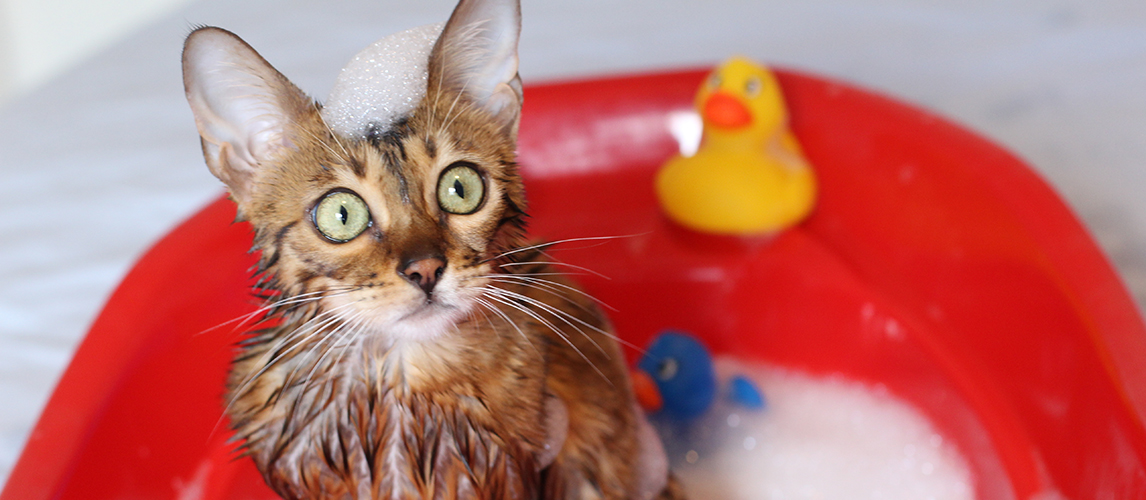 PetSide may earn a small commission from affiliate links in this article.
Learn more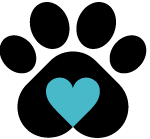 By Petside
Published 13:49 pm
Fleas are the bane of every pet owner's life. A flea infestation can happen quickly and once it takes hold it can be difficult to get back under control. It can mean treating the whole home as well as your pets. Catching and treating pets with fleas quickly is the best way to save a lot of additional time and expense, as well as saving your furry feline from the irritation and potential skin issues that come with flea bites. Flea shampoo is a great way of helping to prevent infestations and treating pets with fleas quickly. However, with so many different flea shampoos for cats available on the market, it can be difficult to know which one to choose. Our panel of cat lovers and pet experts have compiled a list of the best flea shampoos for cats to point you in the right direction.
The Best Flea Shampoo for Cats
Best Flea Shampoo for Cats Buying Guide
While topical flea treatments remain one of the best ways to fight flea infestations, they are not suitable for all cats. If your cat has allergies, sensitive skin, or has had a previous reaction to such treatments, then finding an effective alternative is a must. Even if you do use topical treatments, the right shampoo can add an extra layer of protection, sooth affected skin, and help prevent fleas from landing on them in the first place. In this section of the buying guide, we explore what you should look for in a good flea shampoo for kittens and cats, how to properly use such shampoos, and the benefits of taking this approach. We also answer some of the most frequently asked questions about flea shampoo for cats.
What to Look For When Buying Cat Flea Shampoo
When looking for a cat flea shampoo the most important thing to check is that the shampoo is designed for use on cats. Buying one that does not state it is for cats could mean that you are exposing your cat to ingredients that could potentially make them ill. It is also important to check the age recommendation of the shampoo. Never use a product on a kitten unless it clearly states that it is safe to do so. Very few, if any products, should be used on kittens under the age of 12 weeks. Also, check whether the product is specifically suitable for pregnant or lactating cats if your kitty falls under either category. Other things to look for include:
These are the ingredients that actually kill the fleas, ticks, and lice. The main ingredients that achieve this are pyrethrins. These can be sourced naturally from plants or come from synthesized compounds. Natural pyrethrins include rosemary and chrysanthemums and are considered to be much safer for your cat, particularly younger and smaller cats. Synthesized, inorganic pyrethrins are often listed as pyrethroids. These break down much slower than their natural counterparts and can be highly toxic. However, they are safe to use, unless your cat has an allergy to them, as long as you follow the manufacturer's instructions. Synthesized pyrethrins are considered to be more effective at killing flea eggs and larvae and providing long-lasting protection.
By its very nature, a cat flea shampoo is designed to kill fleas. However, the best and most effective flea shampoos kill fleas in all stages of their development. This means they are just as effective on larvae and eggs as they are adult fleas. Using a product that leaves the eggs behind does not break the cycle of infestation and may require several washes to complete the process. Overuse of flea shampoos can dry out your cat's skin and damage their coat, so this is best avoided. If the shampoo contains a repellant, this is an added bonus. This reduces the risk of your cat being re-infested the moment they leave the bath.
Fleas and flea bites make your cat itch and naturally their response is to scratch. This can leave their skin sore and irritated. In extreme cases, it can lead to them losing their hair and the skin becoming infected. Choosing a shampoo that contains natural conditioners can help sooth the skin and reduce the irritation caused by the bites. Such conditioners also improve the look and feel of their coats.
Interaction with topical treatments
If you use a topical flea treatment on your cat, then you need to check on potential interactions between the topical treatment and your flea shampoo. Choose one that is suitable to use with topical treatments and follow instructions regarding how long to leave bathing your cat after applying a topical treatment.
We all want our cats to smell lovely and be thoroughly clean after a bath. Most flea shampoos achieve this as well as killing fleas. However, be aware of the additional ingredients that are included for achieving cleaning and deodorizing. Artificial perfumes and other added ingredients can cause irritation for some cats. Knowing your cat and reading the label carefully is the best way to choose a flea shampoo that provides effective flea treatment without harm to your cat. For a wider selection of choices, check out our flea treatments for cats guide.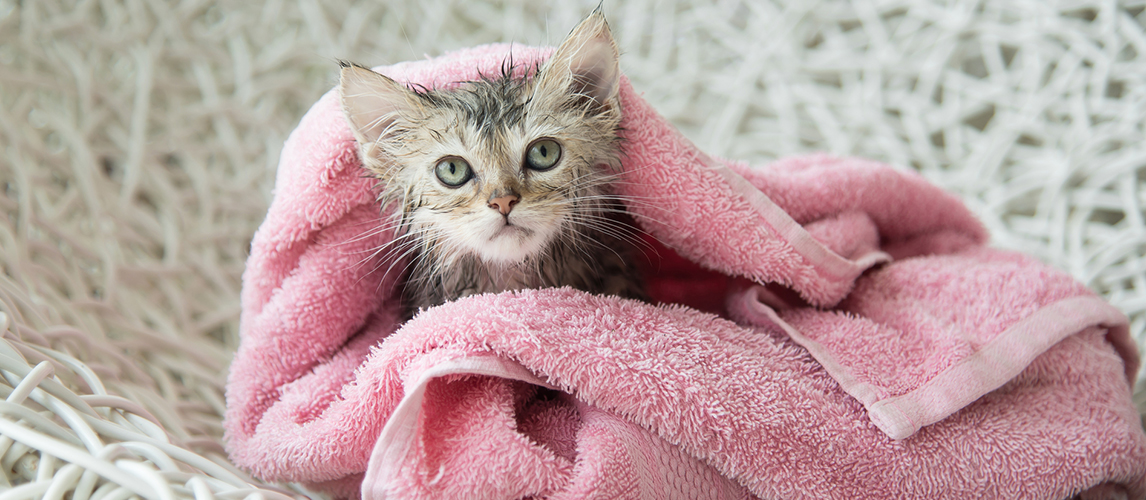 How To Properly Use Cat Flea Shampoo
The first step to using a cat flea shampoo properly is to read the instructions, warning, and advice carefully. Failing to take proper precautions can be harmful to your health as well as to your cat. If you have sensitive skin or are sensitive to any of the ingredients, then wear gloves and ensure the room is well ventilated.
There are two main types of cat shampoos; wet and dry. Ensure you know which you have purchased before going any further. If you have a wet shampoo, then use warm water to thoroughly wet your cat's coat. When ready place the required amount of shampoo in your hands and then apply to your cat, avoiding sensitive areas such as around the eyes. Lather the shampoo and leave on your cat for the recommended amount of time. This is usually around five minutes. Removing the shampoo before the recommended time will affect its effectiveness.
Once the time has elapsed, use warm water to rinse the shampoo off. Ensure it is completely gone before removing your cat from the bath. Now you can use a flea comb for cats or something similar to remove dead fleas and eggs and to check that the shampoo has been effective.
If you are using a dry shampoo, then there is no need to wet your cat first. Follow the instructions on the shampoo and work into your cat's fur, avoiding the eyes and other sensitive areas. Once left for the appropriate amount of time, groom your cat as normal and dry their fur to prevent them from licking the shampoo while it is wet. No rinsing is required with these dry shampoos.
Benefits of Using Flea Shampoo for Cats
There are numerous benefits to using flea shampoo for cats. Firstly, and most importantly, good flea shampoos are an effective method of killing fleas and managing potential infestations. Flea shampoo also provides immediate relief from the effects of flea bites and it improves the condition of your cat's coat and skin.
Flea shampoo is also easy to use and can be used regularly to kill fleas, larvae, and eggs, helping to break the cycle of infestation. The active ingredients are safe for use on kittens from the age of 12 weeks and are in many cases suitable to use alongside topical treatments to provide additional peace of mind. For cats with allergies or particularly sensitive skin, there are also organic, natural shampoos available.
Our Top Pick
Our top pick is Adams Plus Flea and Tick Shampoo. If you are looking for an effective flea shampoo that also prevents flea development, then Adams Plus Flea and Tick Shampoo with Precor might be just what you need. The shampoo is formulated to be safe for use on sensitive skin and contains aloe, coconut extract, oatmeal, and lanolin. It is safe to use on cats and kittens from 12-weeks and can also be used safely on dogs. The shampoo is effective for fleas, flea eggs and larvae, ticks, and lice. The insect growth regulator kills and prevents flea development for up to 30 days, helping to break the flea life cycle and giving you peace of mind that your cat is fully protected.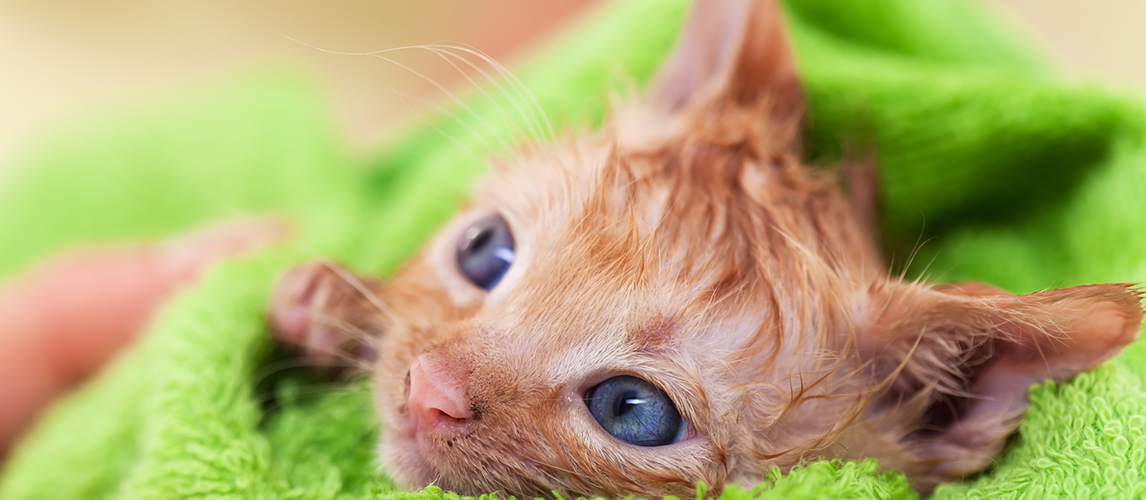 FAQ
Q:

How does flea shampoo for cats work?

A:

Flea shampoos for cats contain either natural pyrethrin or synthesized pyrethroids. This is the active ingredient that kills fleas, ticks, and even lice. The ingredient has a toxic effect on insects and works by affecting the nervous system; shutting it down by binding to the sodium channels and interrupting the messages that are sent along the nervous system. This happens almost instantly with the best shampoos, reducing the risk of fleas being able to jump away.
Q:

How do I check my cat for fleas?

A:

The first signs that your cat has fleas is usually an increase in them scratching or you noticing bites on yourself or other family members. However, at this stage, it is possible that a flea infestation has already taken hold. Vigilance and taking notice of changes in your cat's grooming behavior is the first step to checking for fleas.

Regular grooming is the key to catching fleas quickly. Use a flea comb to help you capture fleas and eggs as you groom. The best way to do this is to sit your cat on a white pillowcase or sheet and comb through their coat carefully and slowly, paying particular attention to areas where fleas like to hide. Around the neck, behind the ears, their belly, the base of their tail, and in the joints of the leg are all key areas because these are particularly warm and offer protection for eggs. Using a light-colored sheet or pillowcase will help to catch any fleas or eggs that you dislodge and will help you identify them more easily.

A full-grown flea is brown in color and around 4 mm in length. While they cannot fly, they do jump large distances. Flea eggs and excrement will also be dislodged. If you find small dark flecks in your comb place them on a wet paper towel. If it turns dark red, then you most likely have found flea excrement. Flea dirt contains blood, which is why this test works so well. Eggs are usually small and white, similar to grains of salt.
Other signs of fleas include:
Scratching
Overgrooming
An increase in hairballs
Patches of hair loss
Skin irritation
Tapeworms being passed in stools
Anemia (in extreme cases)
Q:

Can I use dog flea shampoo on my cat?

A:

You should only use a flea shampoo that is formulated for use on cats. Some flea shampoos can be used on cats, dogs, and other pets, but always check the label to be sure. Using a shampoo that is not designed for cats could potentially be dangerous. It may be too strong or contain ingredients that are dangerous to cats.
Q:

How often should I use cat flea shampoo?

A:

Some flea shampoos are suitable for use on a weekly bases, while others should only be used once a month. Check the manufacturer's instructions and do not overuse the shampoo. Doing so could cause toxicity and will certainly dry out your cat's skin and coat.
Q:

Is flea shampoo for cats effective?

A:

Yes, also long as the flea shampoo contains active ingredients that kill fleas it is effective. The shampoo should contain either natural pyrethrin or synthesized pyrethroids. There is some debate as to which is most effective. However, to ensure the effectiveness of your flea shampoo it should be used as part of an overall approach to flea treatment including regular grooming, topical treatments where appropriate, and regular vacuuming, particularly of areas where your cat spends a lot of time.
Q:

How old does a cat need to be to use flea and tick shampoo?

A:

To use a flea and tick shampoo your cat should be at least 12 weeks old. However, it is important to check the label to ensure the one you are considering is suitable for your specific cat in terms of age and weight.