The Best Cat Calming Sprays (Review) in 2020
Last Updated: September 2, 2020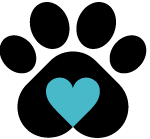 By Petside
Published 13:05 pm
Animals are not unlike us when it comes to certain emotions; stress and anxiety is something they share with humans. Unfortunately, cats cannot communicate the same way humans do and so they often express their anxiety through unwanted behaviors such as scratching, spraying, using the toilet where it's inappropriate and excessive meowing. Watching your feline friend go through anxiety can be incredibly upsetting and frustrating.
Luckily, there are solutions available that can really help. If you have had your pet checked by a professional and the problem still persists, yet you still want to avoid medication, then you can try a feline spray which may either contain soothing scents or special pheromones which help to relax your cat.
There are lots of different types of cat calming sprays on the market and we have gathered our favorites below:
The Best Cat Calming Spray
Best Cat Calming Spray Buying Guide & FAQ
What to Consider When Buying Cat Calming Spray
There are many different cat calming products on the market and it can be difficult knowing which type to buy. Not every product will work for every cat and so it may be a case of testing a few to find which works best for kitty. If you have never used a cat calming spray before then it's always good to opt for the products which have been recommended by vets first. These are often clinically proven to get fast results.
If you have multiple cats in the house then a cat calming diffuser can be a good first choice as these work by releasing pheromones into the environment and can calm your kitties together at the same time. If you find that this isn't effective enough then you can couple a cat calming diffuser with a calm calming spray to target specific areas where the cats have sprayed or displayed other negative behavior such as scratching and inappropriate toileting.
Some cat calming sprays are designed for use around the house and are safe to use on furniture and bedding but not safe to use on cats, whereas other pet calming sprays work the opposite and are designed to be used on the cat and not on furniture - please make sure you fully read and understand the instructions before use.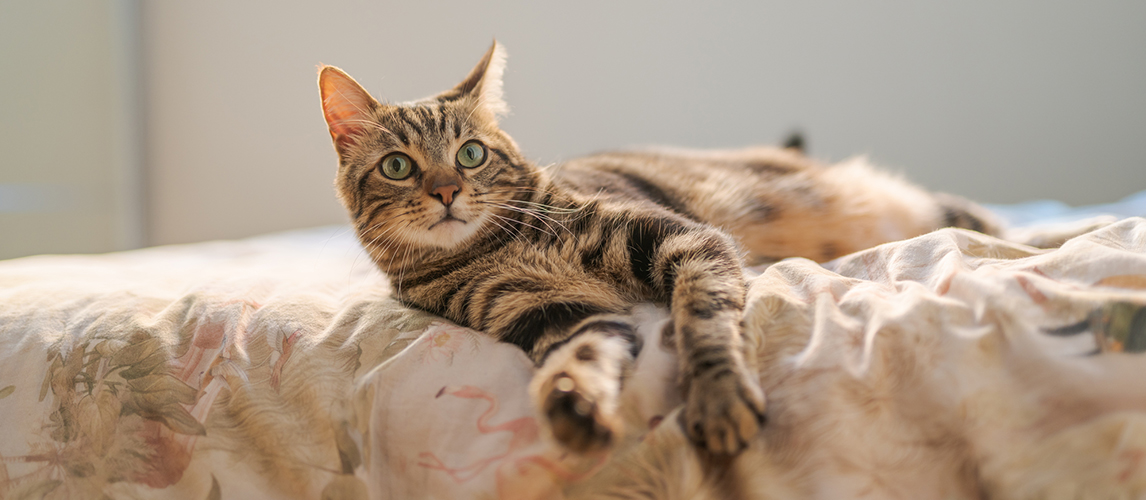 Cat Behavior Problems
When cats become stressed they tend to display negative behavior and this is their way of telling you that they're not happy. Here are some of the negative behaviors to look out for that can show if your cat may be stressed:
Certain cat breeds such as Bengals and Siamese generally make more noise than others. Regardless of breed, however, if your cat is excessively meowing then they may be trying to tell you something. As cat's cannot speak the human language, one of the ways that they communicate to us is through meowing and making other noises too. When they're hungry they meow, when they're angry they hiss and when they are watching birds through a window they make a type of chirruping sound. When a cat starts to excessively meow and there is nothing wrong with their physical health then they might be telling you that they are stressed or anxious. A cat calming spray can really help in this situation.
If your cat is toilet trained but has started suddenly eliminating outside of the litter tray then they are strongly communicating to you that something is not ok. They may not feel safe using the litter tray or just want to send you a very obvious message. Make sure you check their health first, as this can be a sign of physical illness. As above, if everything is ok then they will need a calming product to stop this negative behavior.
Related Post: Best Self-Cleaning Litter Boxes
When a cat marks his or her territory then it is feeling under threat. Perhaps you have just introduced a new animal into the house, a new cat has moved into the neighborhood or you have simply just moved some furniture, cats can respond negatively. Cats are creatures of habit and any change in their environment can cause them a great deal of stress. If spraying is a new behavior then the cat is displaying signs of anxiety.
If your cat doesn't usually bite or scratch furniture then this also can be a sign that something isn't ok. Scratching is one of the most common negative behaviors that people want to change. Fortunately, it's one that responds well to cat pheromone sprays and diffusers.
Benefits of Using Cat Calming Spray
There are lots of benefits to using a cat calming spray and it makes a smart investment for any cat owner.
These are the most common uses for a cat calming spray:
Your cat can be the sweetest, quietest little ball of fur at home and may not have ever displayed aggressive behavior. Take them to see the vet and your sweet fur ball can instantly turn into a tiger. Fear can make even the most gentle animals aggressive and there's nothing more scary than a trip to the vet. Cats are creatures of habit and don't like change. So when you bundle them up into a tiny cat carrier, take them out into the noisy world, only to then be poked and prodded by a vet, you can imagine how they might feel. Using a cat calming spray in advance of a vet visit can really help reduce stress levels.
As we said above. Creatures of habit. So moving house and essentially changing the cat's world is one of the most stressful things that a cat can go through. They have a new indoor environment to get used to and if they are outdoor cats they have to check to see what the local threats are in the neighborhood. A calming diffuser in the house can help your cat to settle.
Introducing a New Pet To Your Home
This is rarely a smooth process. When you introduce a new cat, dog or even a newborn baby into the house, your cat will feel threatened. This is when they are most likely to display bad behaviors such as scratching and spraying.
Even short term changes in the cat's environment can cause a great deal of stress for the cat. If you are planning a party and have a number if new people coming to the house, or more people than usual, then it might be a good idea to lock the cat away in a room with a litter tray, cat calming diffuser and a nice warm place to hide. Cats like routine and they like to know their own environment. Any changes to this will likely make them very anxious.
If you know there's going to be loud noises outside or inside the house then understand that this will make your cat nervous. You can help your cat to stay relaxed by introducing them to a cat calming spray ahead of the event.
Our Top Pick
Our favorite cat calming spray was the Comfort Zone Spray & Scratch Control Cat Calming Spray. This product comes highly recommended by professionals and is one of the leading brands for behavior control. This spray is totally unscented yet uses special pheromone technology to naturally and safely calm cats. It's perfect for use on cats who are excessively meowing, scratching furniture and mark making around the house.
Use the cat calming spray as a targeted spot treatment on furniture, door frames, couches and bedding. You can also use the product on the inside of cat carriers in preparation for a vet visit. The company provide a money back guarantee if you're not entirely happy with the product.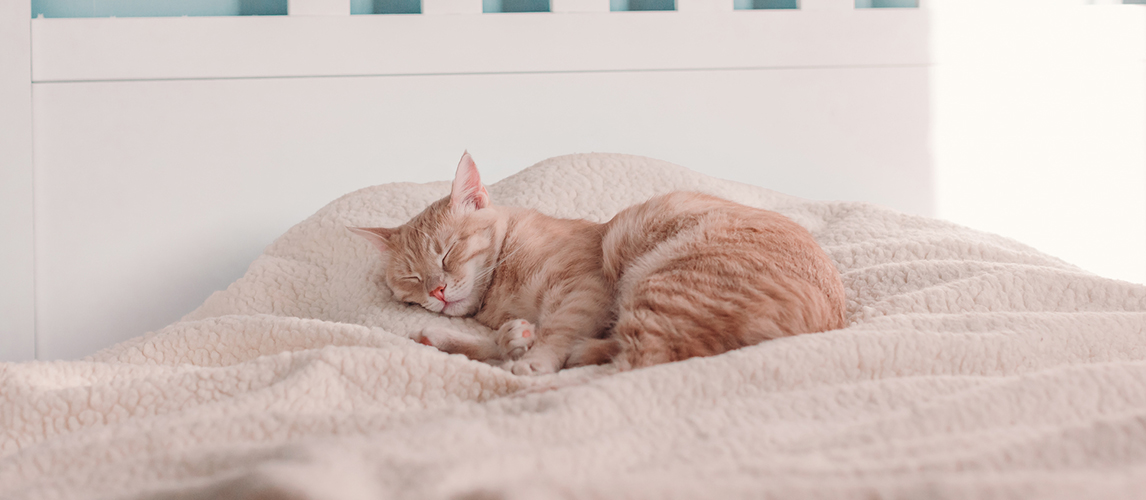 FAQ
Q:

Do cat calming sprays actually work?

A:

Some cat calming sprays work with natural ingredients that can naturally calm your pet, whereas others work by introducing pheromones into your cat's environment.

Pheromones are chemicals in the body that 'speak' to other members of the same species. This is why we can sometimes find ourselves feeling a strong attraction to someone and not know why...it's the pheromones! Many pheromone sprays that have been designed for cats contain a manmade pheromone that has been created to mimic the pheromones that cats release when they mark their territory with their face. Cat pheromone sprays are often recommended by vets and have a high success rate. However this is largely dependent on the cat, their background (rescue cat etc) and the owner. There is no correct answer to this question as the sprays can be super effective for some cats and totally ineffective for others.
Q:

Are cat calming sprays safe?

A:

Cat calming sprays are safe to use and species specific so won't effect you or your dog. You must read the instructions fully before using the spray as obviously when the sprays are used incorrectly they're no longer safe.
Q:

When to use cat calming spray?

A:

Cat calming sprays are designed to be used when your cat is displaying unusual behaviour problems or signs of nervousness. If your cat is excessively meowing, scratching furniture, spraying on door frames or not using the litter tray correctly then it's a good time to try a cat calming spray. With any of these signs it's always best to consult a professional in the first instance in order to rule out any physical illness. Once the cat has the all clear it might then become apparent that the issue is more of a nervous behavior triggered often by change. Try to eliminate the stress for your cat first. If that isn't possible then it's time to use a cat calming spray.

Cat calming sprays are often used ahead of stressful situations such as veterinary visits, moving house or getting a new pet. They can also be used for immediate relief with the diffusers rated as more effective for this purpose.
Q:

How long will it last?

A:

You might not see immediate results with cat pheromone products. Generally speaking a lot of sprays such as Feliway can take up to x 7 days to work and experts recommend that you use the product for at least one month. It's hard to say how long such products last as this depends on the root cause of the cat's anxiety. Luckily a diffuser can be used as a permanent solution to  create a relaxed environment for your cat. Other products provide more short term solutions and the effects can reduce quite quickly.