PetSide may earn a small commission from affiliate links in this article.
Learn more
The worst part about being a pet owner is being unable to help them when they're sick. Whether they're dealing with a stomach bug or broke a bone with some over-ambitious playing, it's never nice to see your furry friends struggling. Worst yet, when they need a trip to the vets – and you can't stay to comfort them.
Who, then, can help our pups and kittens when we need to leave them overnight at the vet's office? Usually, that would fall to the veterinary nurses and the vets themselves – but one clinic decided to take their customer care an extra step forward, with their very own "comfort dog assistant".
During a routine day at the office, someone caught the pupper caring for another dog after undergoing a medical procedure, and the picture was uploaded to Instagram. It's no surprise that the image soon went viral, as commenters and animal enthusiasts went crazy in love over the canine companion.
The image showed a picture of a poorly pup hooked up to an IV, and looked to be receiving some doggy donor blood, while the office pet looked over their patient. Of course, as any dog owner knows, there's nobody better suited to making you feel better than some snuggles with man's best friend. The caption reads: "This veterinarian has a comfort dog assistant that helps sick dog patients know that everything will be alright."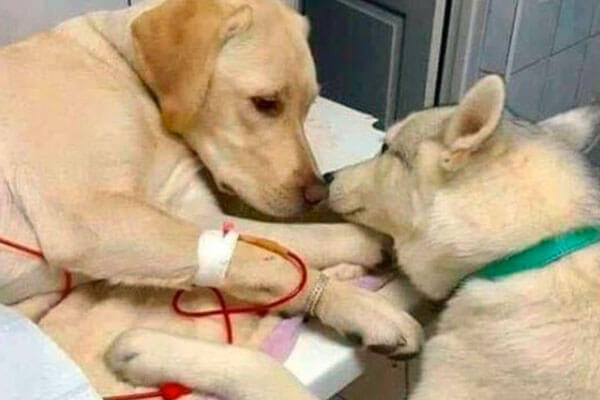 The two dogs looked completely comfortable in their roles – with both animals clearly being looked after well by the clinic in question. The image was so wholesome that it left many Reddit users in tears, judging by the comments.
"This is the saddest and cutest photo I've seen in my life," wrote redditor JungleLiquor.
Other, slightly more cynical comments were less enthusiastic. r/CactiHoarder was one such user, who wrote "Is this true? I feel like it could cause more harm than good based on how the other dog is." Luckily, another user stepped in quickly to point out that, if the dog ever became uncomfortable, they're sure the photographer would soon remove the pet.
Of course, you can't leave anything on the internet for long, before people start to theorize about the backstory behind such a sweet photograph. The photo was soon tagged in popular Reddit thread r/DogsWithJobs, where working dogs are often posted with cute photos and tags to let other users know who does what in the world of Rover's and Rex's.
While it's not uncommon for vets to have their own pets, this is one of the rare occasions where the pet owner takes their furry friend to work, in order to do their very own job! We can't say we blame them, however, as therapy pets are becoming increasingly common, for a wide range of reasons. In the end, we're just glad that everyone is getting the love and care that they deserve, while under the care of this expert.