PetSide may earn a small commission from affiliate links in this article.
Learn more
Introducing A Very Special Fur Family Member
Goldie Hawn, Oscar-winning actress and Cactus Flower star has recently acquired a new member of the family. Instagram photos show her posing with the yellow Labrador puppy.
It was clearly love at first lick. Seventy-five-year-old Hawn announced that the puppy's name would be, "Roy Hawn Russell". Fans believe this is a reference to the 1987 comedy film, Overboard, which she did with life-partner Kurt Russell. In this famously hilarious movie, Hawn's character Joanna falls overboard her yacht and loses her memory. Russell's character, Dean, tests her memory by asking her to guess their son's name. Hawn says "Roy", guessing correctly.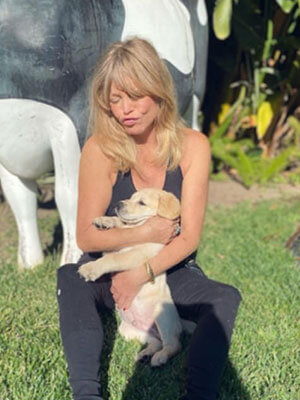 A Surprise Christmas Gift
The film star is clearly a lover of dogs, as her Instagram features multiple doggie snapshots. Recently, she posed with a gorgeous Collie in a video speaking on the benefits of world kindness. Also a lover of fashion, Hawn wore a gold bangle with her saffron bangs down. Her always-golden look matches the beautiful locks of her new Labrador puppy. In the photo with Roy, Hawn also shows off her manicured nails. "Look what Santa rescued for me!" she captioned. Roy was clearly a surprise Christmas gift. Hawn is beyond devoted to the dog already, completing the post with a heart emoji and a #goodboyroy.
A Family of Animal Lovers
Hawn and Russell clearly share a strong bond, having co-starred in multiple, successful films. Their inspiring chemistry was kindled in 1984 during their first movie, Swing Shift. The couple has stayed together for an inseparable 37 years. Roy the puppy is lucky to be a part of such a loving, devoted family. Looks like he won't have to fight for Goldie Hawn's attention!