PetSide may earn a small commission from affiliate links in this article.
Learn more
A Touching Friendship
Who would've thought a cow and a pup could be pals? But friendship has no bounds when it comes to this golden retriever reuniting with his long-lost friend.
The Grass Was Greener on the Other Side
Passerby and 28-year-old Blanaid May was walking her dog through her quaint Ireland town when she witnessed the goldie. The lovable dog raced up to the cow's pasture and hopped onto the fence. He was waiting for his black-and-white friend to join him. Once there, dog began excitedly licking the cow on the nose. May quickly took a video and posted it online, nearly in tears. The clip received over two million views. Viewers responded in the same, tear-stricken way.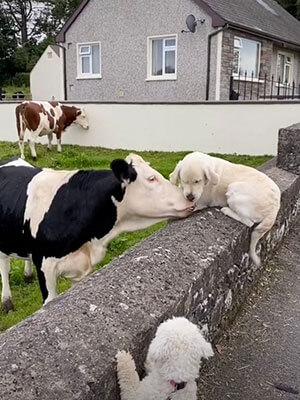 An Uncertain Future
May found out later that the unlikely pair had been friends already. They met initially when they were both just a pup and a calf. The two animal friends had since been separated for months. "They remembered each other," May said, clearly touched. It was a truly heart-warming sight.
The love between the two animals continues to inspire millions. Online viewers of May's video said that the reunion was "pure and precious," and "animals know more than us about getting along." Other viewers expressed concerns that the cow would eventually be slaughtered for meat. They used comments to promote vegan choices. The cow is indeed tagged, but its coloring suggests it could just be a dairy cow. If so, it would not be headed to slaughter.
Either way, it was a careful reminder for those with multiple pets to keep their animals close. You never know when they could get away from you. One thing is for certain though. An animal never forgets a friend.