PetSide may earn a small commission from affiliate links in this article.
Learn more
Following the dramatic volcanic eruption that continued to take place on the Canary Island of La Palma, countless homes have been destroyed. But further to this, pets have been abandoned and stray animals have been lost. In a volcanic ash-filled yard on La Palma, surrounded by lava, three dogs have been stranded in a walled yard for over 3 weeks.
Up until now, the three stranded dogs have been fed as much as possible by drones dropping packaged of food to them on the ground. However, this has not been enough for the dogs, who now appear to be severely emaciated after weeks of little food and excessive stress.
Rescue by helicopter has not been possible before now and will not be possible for the foreseeable future owing to the fact that hot gases and still continuously rising which could damage the helicopter's rotors and put not only the dogs but everyone aboard the helicopter in jeopardy.
A proposal has therefore been put forward by a Spanish drone operator for him to use a large 50-kilograms drone to attempt a rescue. After carefully reviewing the plan, emergency authorities have given permission for the rescue to go ahead.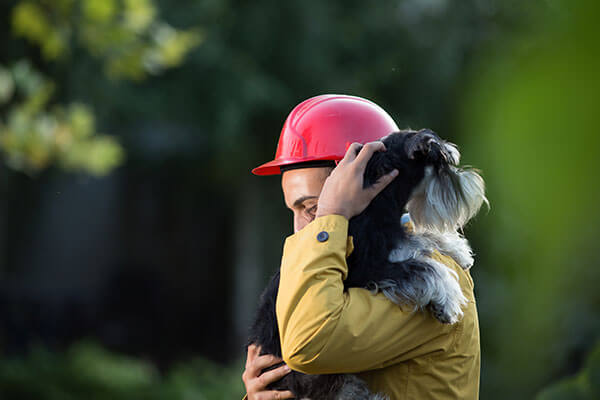 Jaime Pereira, CEO of drone operator Aerocamaras, has put forward the plan to use the 50-kilogram drone in conjunction with a wide net in the hopes of capturing the dogs one at a time and flying them to safety around 450 meters (1,476 feet) away from the active lava flow. Though this will mean having to fly the dogs over the surrounding lava before they can reach safety.
Pereira told Reuters that this will be the first time an animal has ever been rescued using a drone, as well as being the first time such an event will be captured for future reference. "If that's the last option that the dogs have? Then we're going after them," Pereira said.
The most challenging part of the entire planned operation is that the drone will only have four minutes to capture each dog, and four minutes to fly it to safety. This includes luring them into the net successfully and securing them before taking off over active lava.
"What we don't want is to run out of battery when flying over the lava," Pereira explained.
Test flights are still ongoing, but the entire mission will depend on how the already highly-stressed and weak dogs respond to the drone, which could be perceived as a threat.
"For us it is either we get them out, or they stay there. So if there's another option to get them out – go ahead." Pereira said whilst explaining their reasoning for this highly dangerous and risky rescue. "They've been eating very little for weeks. They might come, or become scared of the drone. We really depend on their reaction."