PetSide may earn a small commission from affiliate links in this article.
Learn more
Earlier this year, a senior Australian Shepherd mix was tragically abandoned by it's previous owner on Michigan's interstate 696. According to the BISSELL Pet Foundation, the 15-year-old dog goes by the name of Belky and is far too old to be able to care for itself in the wild.
Belky was discovered at the side of the highway by a good samaritan who noticed she was walking along the side of the busy interstate, apparently alone. They had immediately rung the Saginaw Police Department in order to report what they had seen in the hopes of getting the abandoned pup some help. The police department then forwarded the report to Saginaw County Animal Care & Control (SCACC). Rescuers were quickly dispatched to the area that Belky had past been seen and were able to collect her with ease.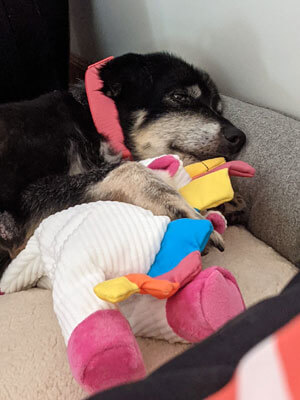 Sadly, Belky had been found to be in bad shape by the rescuers upon closer inspection. She had been dumped on the highway and was extremely overweight. Furthermore, they found that her body was covered in spotted maggot infestations. She was quickly returned to the Saginaw County Animal Care & Control, where she received treatment for the multiple health issues she was suffering from, and promptly put on a diet to get her weight under control.
Eventually, her care was taken over by the Humane Society of Midland County in Midland, Michigan. The communications coordinator at Humane Society of Midland County, Casey Nicholson, spoke with PEOPLE magazine about the rescue. Explaining that they had first seen Belky and heard her story via the Saginaw County Animal Care Facebook page. They then visited Belky at the shelter and promised to provide a new home for her if she was capable of having a good quality of life.
"We met a dog with a bright light in her eyes that wanted so badly to be loved and given a second chance," Nicholson told PEOPLE.
Belky quickly recovered from her ordeal with a bit of care and steady dieting and was soon able to look to the future with a better home. In August 2021, Belky took part in an emergency "Empty the Shelters" adoption event hosted by the BISSELL Pet Foundation. The event was entirely focused on finding good, safe, kind homes for senior animals and a variety of other difficult-to-adopt pets. At the event, she was one of  1,805 pets successfully adopted out.
Belky found her forever home with Breanna Dalton, who had also seen her via Facebook, but this time she had spotted Belky among the posts by the Humane Society of Midland County. She had already decided she would be adopting Belky before meeting her at the event and only loved her more once she finally got to meet Belky in person.
Dalton shared how she felt about adopting Belky, saying she was aware that she would need medication but still wanted to care for her. "I know it's harder for older dogs to get adopted because everyone wants puppies that will be with them for a long time…" Dalton said. "…I felt so lucky the next day when I had time to go to the shelter, and she was still there."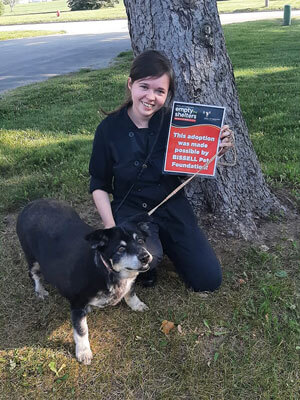 According to Dalton, Belky was all too happy to settle down into a comfortable senior life in her new home. And she now spends her time being spoiled with toys, walking with her loving new owner, and rest on her specially designed orthopedic bed.
"When I get home, she's so excited to see me that her whole body wiggles with excitement," Dalton described.
Happily what started as a tragic story turned into an uplifting tale of new beginnings. But Belky is just one of many animals desperately in need of a new forever home. If you are thinking of getting a dog, please consider adopting from your local shelter before looking to purchase a puppy.