PetSide may earn a small commission from affiliate links in this article.
Learn more
Gertie the dog had been reported missing for almost a week prior to her rescue by Cincinnati Fire Department. Posters had been plastered around Northside the entire time, with her owner frantically looking for her. It is unknown how Gertie initially went missing, but she was clearly very much loved, with a family wanting her home as soon as possible.
After posters of the Ohio pooch had been up for five days in hopes of locating the lost dog, Cincinnati Fire Department received a call. On Sunday 18th July, a phone call was received from a resident relatively near to Gertie's home, who had heard noises coming from their garage.
Upon inspection, the homeowners realised that the sounds they heard were that of a crying dog. And they were coming from inside the breeze block wall of their garage. They had immediately called the local fire department to alert them to Gertie's location, as the homeowners could not think of a way of getting Gertie free.
When the CFD Truck 20 firefighters arrived, they could not find any way of getting Gertie out of the wall easily. She had become completely stuck and was impossible for the rescue crew to reach. As a result, heavier means were required.
A member of the team grabbed a sledgehammer and begun carefully breaking away a section of the wall. All the while being extremely mindful of Gertie's presence on the other side. A video was taken of the rescue and posted to the Fire Department's Facebook page showing a blonde, female firefighters breaking away chunks of the wall and regularly checking to see if Gertie was okay.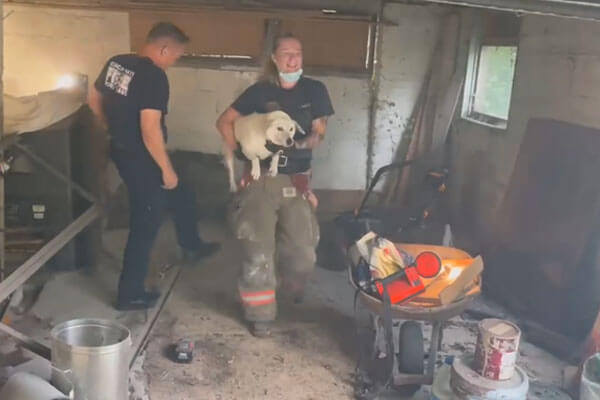 After seeing that Gertie was safe and well, the firefighters swings the hammer a few more times to widen the gap that Gertie would be climbing through. She is then seen to reach inside the hole and entice Gertie to the opening. Shortly after a small white nose can be seen poking out nervously.
Gertie then pushes her head through the gap and begins to attempt to climb out of the space. Owing to the shallowness of the opening, she struggles and requires the help of the firefighter to get her front legs through. She then clambers free, looking shaken, but healthy.
The firefighter then quickly walks Gertie out of the garage and reunited her with her owner. The Fire Department were uncertain as to how the pup could have gotten down there, but feel that it is likely she fell down a crevice. Resulting in her becoming trapped in the space behind the garage wall.
It is clear that Gertie is happy to be home, however, as she waggles her tail excitedly upon being with her owner again. As the Facebook post puts it: "This run ended in a happy reunion and a job well done by Truck 20!"