PetSide may earn a small commission from affiliate links in this article.
Learn more
On June 7th, 2021, PETA released an urgent message to all dog owners following reports of dog deaths as a result of being left out in the sun with no adequate shade. After temperatures have soared into the triple, PETA is urging dog owners to ensure their pet is properly cared for in the scorching sun.
The initial report that had triggered this announcement came from the loss of a dog in Las Vegas. Temperatures had skyrocketed coming into the hotter months, resulting in a dog reportedly dying from the extreme heat. PETA fieldworkers have previously found a dog's body after the dog had died from being chained up, unable to escape the hot sun.
Reports of dog deaths in high heat are continuously rolling from all over the United States. Recently a patrol officer had mistakenly left his dog in the patrol car on a hot day. The K-9 trapped in the car had sadly succumbed to heat prostration and passed away as a result.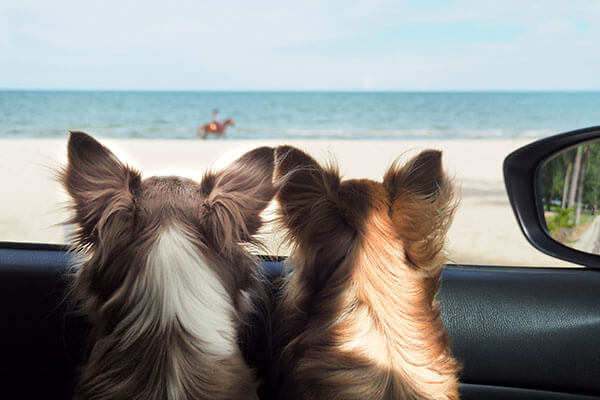 PETA have also included in their report that over 31 canines had been reported dead as a result of extreme heat exposure or heat-related complication in 2020. With their suspicion that the figure is likely much higher, seeing as most of these types of deaths go unreported under the assumption that the cause of death was something entirely different.
The animal rights company has urged that down owners be more vigilant in the future. With a list of things to be mindful of as the weather heats up:
Always put your hand on the pavement before leaving the house with your dog to ensure it is not hot enough to burn your dog's footpads.
Try and keep to the shaded and grassy area when out on a walk.
Never leave your dog in a vehicle in high heat.
If your dog is outside in high temperatures ensure they have adequate shade, water, and food.
Keep an eye out for heavy panting and curled tongues; this is an indicator that your dog is overheating as dogs do no sweat like humans to cool down.
PETA have also warned that leaving any animal outside when the weather is hot, knowing they will be subjected to extreme temperatures is a form of animal cruelty. As such, any owners found abusing their pet in this fashion is liable to prosecution.