PetSide may earn a small commission from affiliate links in this article.
Learn more
After being lost for an undetermined time, a cold and extremely muddy pup was pulled from an extremely deep hole by rescuers on May 14th, 2021, and reunited with its owner.
The little lost pooch had fallen down an unfenced, sheer-sided, hole easily ten times the dog's height in depth. The hole appears to have been man-made for an unknown purpose and had become extremely wet, muddy, and slippery at the bottom where the lost dog was found.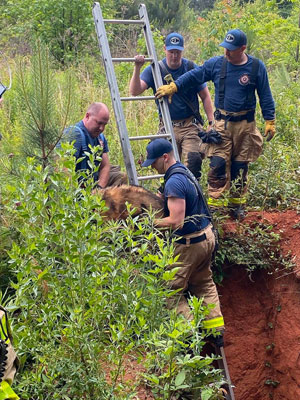 Mr. Ty McIntyre, the owners of the land on which the hole had been dug, had been doing checks on his property when he heard the cries of the frightened pup at the bottom of the hole. He then found the muddy, damp and terrified dog huddled in the corner of the hole having clearly tried to escape to no avail.
McIntyre had then called Cobb County Fire Department to come to the aid of the poor pup, according to an Instagram post by Cobb County Animal Services, who had posted a photograph of the rescue to give thanks to the firefighters for their rapid response, along with ACO Huber, who had also aided in getting the dog out safely.
It is still unclear how the sweet canine had managed to find itself at the bottom of an extremely deep earthly trench, which appeared to have been recently dug. But it is clear that it had been very much in fear of its life until the Cobb County Fire Department and ACO Huber had arrived to bring it to safety.
Cobb County GA's Facebook page had shared a post later that day including a photograph of the frightened pooch at the bottom of the hole while rescuers prepared to go down and get it. The same post had also included images of rescuers planning their descent into the hole, and the moment the lost canine was brought to the surface. It is clear that the matter was taken very seriously, as no less than 7 rescuers can be seen in the photos provided of the rescue scene.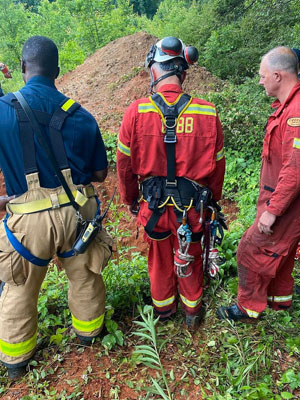 The rescue team had carefully lowered a ladder into the hole, being mindful of the dog's whereabouts the entire time, and had slowly descended down into the muddy trap to gently coax the pup to freedom. With plenty of gentle encouragement and careful lifting, they were able to bring the canine up the ladder without incident. Miraculously the dog did not appear to have sustained any major injuries from the huge fall.
Shaking like a leaf, but otherwise appearing unharmed, the pup was freed from its muddy pit. Fortunately, the rescuers were able to quickly find the dog's owner and return it to them, shaken, but okay.