PetSide may earn a small commission from affiliate links in this article.
Learn more
Few things are more dangerous than water in the winter – and nobody was closer to finding out just how dangerous his local pond than a young man, last Wednesday. Luckily, one man and his dog were around to save the day.
Diesel and his owner, Thomas Walsh, were taking a stroll around the popular Quarter Mile Pond in Massachusetts, when Diesel began kicking up a fuss. Unbeknownst to Walsh, who had been listening to his music, a young man had fallen into the ice and was struggling to break free.
"The dog alerted me that there was something going on in that water," Walsh told Boston 25 News.
Once Diesel let his owner know that someone was in trouble, the owner leapt into action. He immediately called 911 and began shouting out directions to help the struggling man, who is yet to be named.
"I told him to try to relax, catch your breath because he was panicking, you know what I mean," Walsh said. "My instinct was to go in and help him, I'm a great swimmer, but you can't do that in the wintertime."
Of course, those who are familiar with cold weather can understand just how quickly the muscles can cramp and become weak under freezing temperatures – and never is that more true than when fighting against icy cold water. Indeed, "cold shock" can cause instant and dramatic changes in heart rate, breathing and blood pressure, making it difficult for the muscles to receive the oxygen they need to help keep swimmers above water.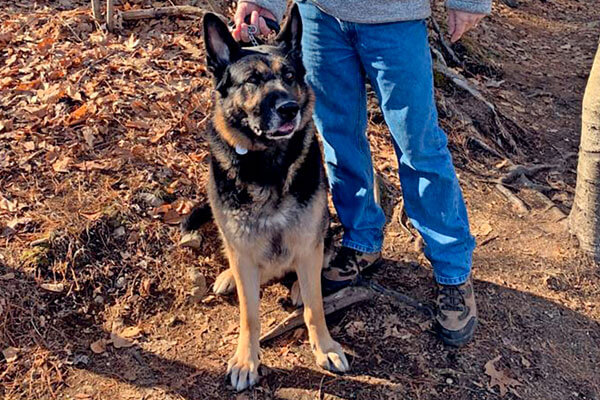 Walsh didn't work alone in helping the man, however, and he is quick to point out that a fellow walker helped him with the rescue.
"Another fellow was walking through the woods, and I tied the dog to a tree, and I grabbed a big branch from another tree, and we threw it in, and he was kinda too weak to grab onto it and pull it," Walsh said. "So, he finally held on with his other hand, and we kinda just dragged him through the water and got him up on shore."
Thanks to these actions of the pair, as well as Diesel the dog for alerting his owner, the man was able to make it to the local hospital, where he is being treated for "non-life-threatening injuries". If it hadn't been for the actions of these men and their canine companion, things could have easily ended very differently.
Chief of the Stoneham Fire Department, Grafton, later released a statement to the press, stating "We are grateful for this outcome and for Diesel alerting his owner that something was wrong. The two men who helped the patient get to shore did the right thing by calling 911 immediately and using a branch to help pull him in rather than trying to get in the water themselves. These actions helped to save a man's life this afternoon and are nothing short of heroic."
Walsh, ever the true superman-esque figure, was humble when asked about his heroic act. "[Diesel's] the hero today, nobody else," Walsh told Boston 25 News.