PetSide may earn a small commission from affiliate links in this article.
Learn more
We all know how heart-breaking it can be when your cat doesn't return after a day of adventuring. How many times have owners panicked over their lost cats, only to breathe a sigh of relief when they choose to return, as though nothing has changed? Worst still, when you've made your peace with the idea that your cat has simply worked their way into another home, or suffered an untimely accident.
These were the range of emotions that owner Christine Ball went through, when her beloved cat Phoebe disappeared at two year's old. Imagine, then, the shock she felt when it turned out that Phoebe had been living just 7 miles away from her home, for 18 years.
After months of knocking on doors, asking neighbours to check their sheds and garages, checking yards and posting flyers, 22 year-old Phoebe was found in Bridgemere. A member of the public had spotted the cat in the area, wandering alone in a field, and had decided to take the cat into the local rescue centre, to check for a microchip.
RSCPA's Stapely Grange Animal Centre posted the following on their social media page:
"Big News for 22 year old Phoebe
Yesterday we had this beautiful cat brought in. She was not in a good condition, but we have scanned for a microchip and thankfully she was chipped. Not only was she chipped but her details were kept up to date and we have managed to trace her owner.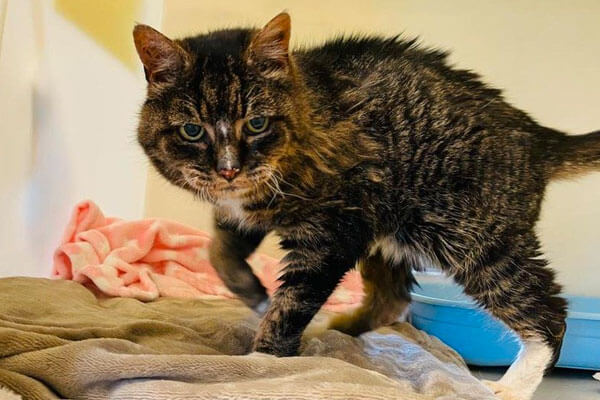 Phoebe is a 22 year old cat who had been missing for 20 years. She had originally been adopted from us and is now being reunited with her owner. Phoebe is a great example of how good microchipping can be if your animals are microchipped and details kept up to date."
Sadly, Phoebe was also diagnosed with an inoperable brain tumor, after struggling with convulsions. Christine decided the best thing to do would be to bring home her beloved feline friend to spend the last few days together, before she was put to sleep for the last time.
If there's one thing we can all take away from this, it is that microchipping your pets can absolutely be the difference between a pet being lost forever, and being reunited with their family. We wish to express our condolences to Christine for the loss of her friend, and hope that more families can be reunited in the future.