PetSide may earn a small commission from affiliate links in this article.
Learn more
It always breaks out hearts when we find out about a pet that has a hard time being adopted. As well as having to suffer through their original ordeals, they're then placed with any animal shelter that has space, before they're able to be vetted and rehomed with a loving family. Unfortunately for one dog, that meant spending nearly two years in the local pound, before he was finally rehomed.
Originally named Loki, the Pitbull mix had been found in California and had initially been considered a lost dog. Unable to find any owners, and not knowing whether he had been abandoned or whether he had simply gotten lost, Long Beach Animal Care Services managed to take the poor pup in.
It is unknown whether Loki – now named Melvin – was without a chip or the details were out of date. Regardless, they were unable to locate the original owners, and nobody came forward to claim their lost canine companion – serving well as a cautionary tale for owners who haven't managed to chip their pet, just yet.
When Melvin was found, he needed a surgery on his leg, which cost $2500 and was paid for through the kind donations given to the Society for the Prevention of Cruelty to Animals Los Angeles (spcaLA). The independent, non-profit animal welfare organization ensured Melvin received all the care he needed, before Long Beach Animal Care were able to place him in a foster home for four months, to make sure he healed well and was ready to be rehomed.
Sadly, it took a long time to find the right home for the pooch, who needed a family that was not only committed to providing a forever-home for the Pitbull, but also understood the breed and unique challenges Melvin might bring. In the meantime, Melvin became the longest-term resident of at SPCALA's shelters.
Fortunately, a dedicated team and adoption counselor from SPCALA were able to match the loving and energetic dog to the right home with the right family. After 667 days, the 4-year old dog was finally able to say goodbye to the friends he'd made at the shelter and settle into his new home.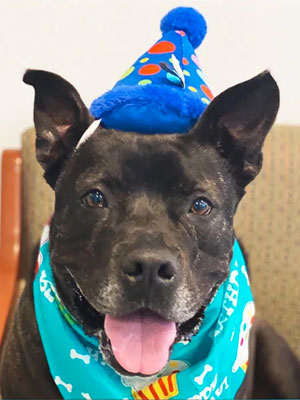 "Many phone conversations and a cautiously optimistic meet-and-greet made it clear that Melvin had a home at last," the agency said in a statement. "Melvin's new family has years of large breed experience, and room in their hearts for another dog after the death of one of theirs."
He joined the Maguire family of Rancho Palos Verdes, made up parents and their two teenagers after they sought out another family member, following the death of their previous Pit Bull mix at the age of 14. Understanding the energy and personality that Pitbull's can often have put them ahead of the pack when it came to seeking out their new pet pooch, and it seems to be a case of happily ever after for the whole family!
Trish Maguire described the new family member as "very excitable" and "very loving", stating that "He's going to have a great life now!".