PetSide may earn a small commission from affiliate links in this article.
Learn more
After finding out that his puppy was very sick and might not be able to stay where the vets can help him, 8-year-old Bryson Kliemann, from Lebanon Virginia, decided to sell his most prized possessions – his Pokemon cards – to help his parents foot the bill.
When Bryson had discovered that his 4-month-old pup, Bruce, was critically ill and was going to need expensive medical treatment to survive, he leapt into action. Bryson had said that when Bruce had fallen ill and needed help to recover he felt "super sad" because he "didn't want to lose [his] best friend."
So after thinking long and hard, Bryson had a great idea! He would his Pokemon card collection – a collection he had been slowly building up since he was 4-years-old. It was the only way he could think to raise the money his parents needed to keep his canine buddy safe and get him the help he so desperately needed. Without a second thought, he quickly hatched his plan and put a simple stand out onto his front lawn, facing the road, with a sign alongside it that read "Pokemon 4 SALE".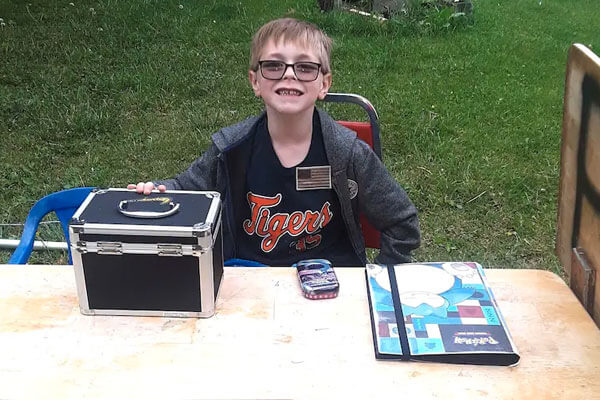 Bryson's family had purchased Bruce, their new black lab-mix, from a friend whose dog had recently had puppies. Kimberly Woodruff, Bryson's mother, had described how Bruce was ordinarily such a playful, happy-go-lucky puppy, but after a while, they noticed that he seemed alarmingly lethargic and didn't seem to want to move. Bruce had simply curled up in his crate, refusing to eat, drink or even leave his crate to join the family.
Woodruff quickly rushed Bruce to Southwest Virginia Veterinary Services, alarmed by this odd behavior and wanting to find out what was wrong. After being checked over by the vet, Bruce was diagnosed with Parvo. Parvo is a highly contagious and dangerous virus that becomes lethal very quickly if left untreated.
Woodruff had administered the Parvo vaccine to Bruce herself, along with other core puppy vaccinations in order to save money on vet bills. But she had been distraught to discover that the vaccine had not provided adequate protection for Bruce, resulting in his falling extremely ill.
Treatment for the Parvovirus is not a cheap affair, with Parvo treatment costing hundreds of dollars a day. For Bruce to receive the right care and have a chance of survival, he would need to be kept under very close supervision, with his care estimated at around $655 for three days at the clinic. Not including additional expenses that might crop up as a result of further treatment being required.
Woodruff and her husband simply couldn't afford these steep veterinary prices. Woodruff, 26, is currently in education studying phlebotomy, which means the household income is purely based on the earnings of her husband, who is an arborist. "My husband is the only one who works since I'm in school." Woodruff had explained.
Bruce is the family's first family dog. They have had other small pets in the past, but Bruce is the first canine to grace their home. Not only that but Bruce was specifically bought for Bryson, to give him a friend to play within the house. Woodruff admitted that she hadn't realized how expensive it would be to own a dog until this happened.
Woodruff and her husband had been having a seemingly private conversation regarding Bruce's health. In this conversation, they have been voicing their concerns that Bruce's treatment would prove too costly, as the treatment has included the use of IV fluids, antibiotics, and various other therapies to keep his health from plummeting any further. Bryson had overheard this conversation and started to look for a solution.
When Bryson came forward to his parents with the idea to sell his Pokemon cards to help with the vet bill, his mother had told him he didn't need to worry about it and that she would find a way to cover the cost so that he could keep his Pokemon card collection. After school, the next day Bryson had taken it upon himself to set up a sale stand on his front lawn, prop up the sign and start selling. The neighbors had slowly gathered around his table over the course of the afternoon to look through his collection.
Bryson explained that he felt the neighbors that had come to him were "sad for [him] and Bruce".
Over 4 years, Bryson had built up a significant collection of Pokemon cards, with a collection of hundreds of cards he had received for birthdays and Christmases. He had only ever asked for Pokemon cards when asked what he would like as a gift, so that was what he got.
On May 4th, Woodruff received a photo message from her husband of her son sat out on the lawn with his "Pokemon 4 SALE" sign and his full collection of cards. Woodruff said she had cried upon receiving the message and that she had been saddened by the fact that her 8-year-old son had felt the need to sell his favorite belongings to help his parents. At the same time, she felt heart-warmed by her son's love for his dog, and that he was willing to give up something he loved for Bruce.
She had shared the image on a local Facebook page in the hopes of encouraging her neighbors to stop by if they had a chance if nothing else but to acknowledge Bryson's efforts and offer encouragement. Woodruff has said that the outpour of support from the community had been "overwhelming". With far more people than she had expected messaging her wanting to know where to donate their money to.
The clear demand from the neighborhood helped Woodruff to decide on creating a GoFundMe campaign to give everyone somewhere legitimate to send their money to. The GoFundMe was set up simply to raise just enough to cover the vet costs and to save Bryson from having to sell his Pokemon cards.
As Bryson's story became more widely know, people from all over the community started to get involved. Online donations were growing, as well as Bryson getting more and more customers lining up at his stand to make a donation in person. After just two afternoons with his stand, Bryson had amassed $400 in donations! That was half of what his parents needed to pay off Bruce's vet bills.
Bryson had decided to sell his cards for between $5-10 depending on their trading value. But Woodruff quickly noticed that the people coming to his table weren't asking for anything in return. They would simply give Bryson $20, wish him and Bruce well, and be on their way.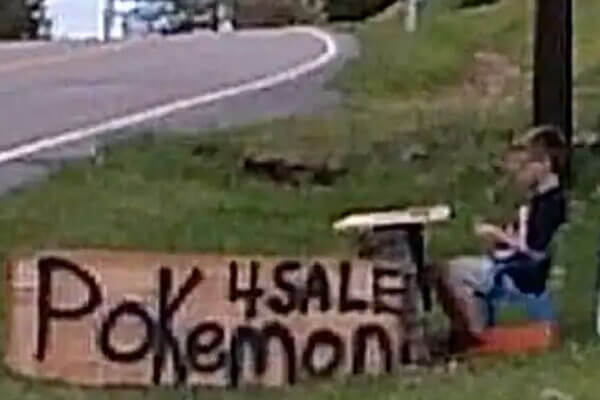 Those who weren't able to give money to Bryson's cause instead came to replenish his collection. Neighbors from all over would bring their own Pokemon card collections and give cards to Bryson that he had sold or didn't already own. Woodruff had said that more cards were being given to her son "before [she] could even notice a dent in his collection".
Not only that, but people were coming to provide dog supplies, too. Ginger King, the family's next-door neighbor, had come to drop off some dog food for Bruce ready for when he got home. Being a dog lover herself, she wanted to help the family as much as possible. She had even gone out of her way to check with Woodruff what type of food Bruce ate, before going to the store and picking some up, along with some delicious treats.
King had described how she had "felt so sorry for him"  when she noticed he was selling his prized Pokemon card collection. King empathized with the situation Bryson and his family had found themselves in, as she has a Welsh Corgi named Daisy who she cherished. The thought of something like this happening to Daisy drove her to help the family in any way she could.
Brenton Moseley, the owner of Lonesome Pine Brewing Co., had also felt a connection with the family's predicament, driving him to help out as well. Moseley is the proud owner of three dogs of his own, and so the family's story had really struck home with him. "I put myself in Bryson's shoes," Moseley had explained, "and looked at him selling his most valuable things to save his best friend and dog."
After hearing of the family's plight Moseley decided to host a three-day fundraiser affectionately named "Brew for Bruce". Moseley had set up a donation box at the bar, encouraging his customer to help in any way that they could as well as donating a portion of his sales to the cause. In three days the event was able to raise $450, covering the other half of the amount the GoFundMe campaign had been set up for. "We were in tears talking about it." Moseley had explained. He described how a community coming together in such a selfless way is a truly heartwarming feeling.
Beyond the reaches of Lebanon, Bryson's story had touched the hearts of countless others. Pokemon Co., Seattle, had even sent a box filled with rare cards to Bryson's address. Bryson was thrilled with this unexpected gift "I couldn't believe it. I was so, so, so, so excited." Bryson had described.
Pokemon Co.'s parcel had also included a personal note to Bryson which read "Hi Bryson, we have been so inspired by your story and that you are selling your cards to help your dog's recovery. So here are some cards to help you to replace the ones you have had to sell." Woodruff had explained how she had been amazed by this unexpected gift, and how she never would have thought Bryson's story would reach so far as to get the attention of Pokemon directly.
Not only had this story touched the hearts of the Lebanon community, businesses, and corporations, but Bryson's story had gone worldwide. The GoFundMe account meant to raise the money for Bruce's treatment had blown up with donations from people all over the world. People who had not only donated great sums of money, with one person donating as much as $1,350 but also offered messages of encouragement and support during the trying time.
With Bryson having managed half of the required amount with his Pokemon card sale stand, and Moseley providing the other half with his "Brews for Bruce" event, the GoFundMe account had acted as a filler to cover any other unexpected vet bills from Bruce's treatment. Now that Bruce is on the mend, they will be using the money to help other families with sick pets in Southwest Virginia.
Once Bruce's care had been paid for, Woodruff contacted Southwest Virginia Veterinary Services to tell them that if anyone else visits the surgery and is in need of help with their bills to let her know. As well as donating money to the local animal shelter, Woodruff intends to use the money raised to help other families in need.
As of June 7th, the funds had already helped three other families with their veterinary bills. And Woodruff and her family intend to use every penny of the donated money towards keeping up that support for as long a possible. "Knowing other families go through the same thing, we want to help."
The latest GoFundMe update on 7th June 2021 tells everyone that Bruce is now home and "doing amazing". Woodruff also continues the update to say how thankful she and the rest of her family are, especially Bryson, for the love and support that has been shown to them. She goes on to say that the outpour of love and empathy gave to them has shown her that "there is still a lot of good left in this world."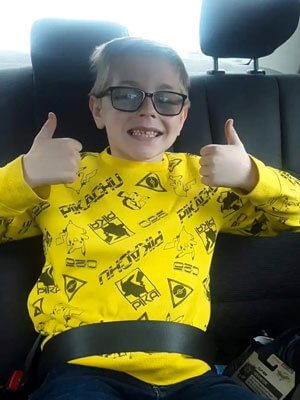 As of 9th June 2021, the GoFundMe campaign has cracked $18,000 with donations continuing to pour in. For as long as this campaign is running, donations will continue, only helping Bryson's family to continue their work with the community, and carry on helping families take care of their beloved pets.
"I never in a million years would have thought that something my 8-year-old son did in a small community would have such a huge impact," Woodruff mused, "It truly has been incredible."