PetSide may earn a small commission from affiliate links in this article.
Learn more
A raid that has recently taken place in Northern CA has uncovered evidence of dog fighting. According to court records, the raid allegedly resulted in the rescue of dozens of adult "pitbull-type dogs", as well as nine puppies, and a chihuahua which is believed to have been used as bait for the fights.
After a month-long investigation which has been undertaken by the U.S. Department of Agriculture, the raid was scheduled. Initially the investigation has entailed the use of undercover work. During which time a dog, suspected of having been used for dog fighting, was purchased. The dog in question was sold by Carlos Villasenor, the suspected ringleader, with the undercover special agent having to directly engage in price negotiations.
A federal criminal complaint was then filed in Sacramento showing Villasenor as the person being charged. The charges had been related to "the possession of an animal for participation in an animal fighting venture." According to this complaint, the undercover agent speaks of negotiations with  Villasenor. After purchasing a dog from the alleged ringleader, the special agent for the Department of Agriculture entered into further negotiations with  Villasenor pertaining to the purchase of an additional dog. Allegedly, during these discussions Villasenor mentioned that he had "eli gator" breeds available.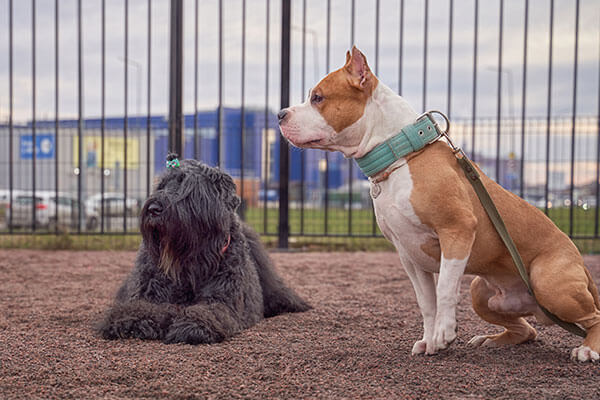 This particular breed is described by authorities as being particularly desirable to dogfighting rings because of their strength and agility. Further into the conversation Villasenor seemed to suggest rival dog fighting rings in the Bay Area. Telling the undercover agent not to "let this stuff out in the bay," as he goes on to explain that "they [his] rivals…They going to try to breed to it; [he doesn't] sell nothing on the west, usually."
The raid was undertaken on June 17th, 2021, thanks to the attainment of a federal search warrant. The search resulted in the recovery and rescue of 27 live "pitbull-type" dogs. According to reports, around half of them had been secured to trees or cylindrical huts via short, heavy chains. A chihuahua was also found chained up, which authorities believe to have been used as a bait dog. A bait dog is used to train fighting dogs to attack without the risk of injury.
The pitbulls-type dogs had been chained up in such a way that they could see one another but couldn't reach each other. Authorities also located a female housed inside the residence inside an outbuilding, surrounded by nine puppies that she had recently given birth to.
As well as the discovery of so many dogs, the authorities discovered testosterone boosting supplements, "break sticks" which are used to pry a dog's mouth open when it is biting down, and hides that resemble animal skin. Additionally they found a contraption that is commonly referred to as "rape rack", and is used to immobalise female that display aggression for the purposes of forced breeding. Furthermore, they uncovered a register that seems to note the various "matches" that have taken place and how many of these fights each dog had been forced to partake in.