PetSide may earn a small commission from affiliate links in this article.
Learn more
Danielle Crull rescued a stray kitty she had found in a forest in Pennsylvania almost four years ago, not knowing the impact that cat could have on the lives of many children. Hundred of children have been inspired to wear their glasses and eyepatches with pride thanks to the adorable efforts of Truffles the cat.
Truffles, who has now become famous for her ability to wear fun and glamorous glasses during the working day, works with her cat mom, who is also an optician. With a wide range of glasses to chose from, ranging from sparkling purple to bright green – her personal favorites, she can inspire boys and girls alike.
Crull is the owner and operator of her own practice named A Child's Eye. The practice is located in Mechanicsburg, with a primary focus on the eye health of children ranging from infants to elementary school age. Many of the children that attend A Child's Eye have undergone extensive treatment for their eyesight, including multiple surgeries, and medications. Therefore they are often absolutely terrified by the thought of someone going near their eyes.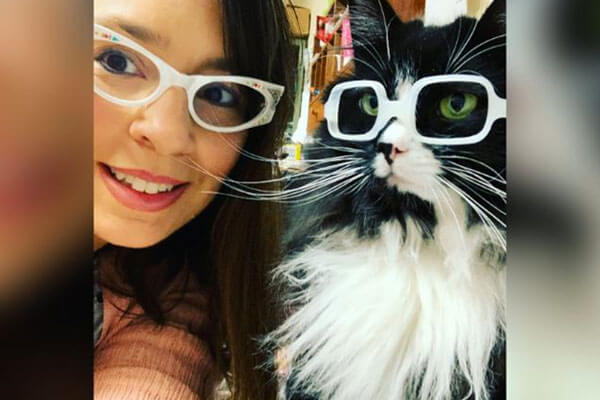 Truffles acts as a calming presence or even a fun source of entertainment for these children. Often breaking them free of their fear and allowing Crull to continue with her work without adding to the child's stress and anxiety.
Crull spoke with CNN about Truffles, and how she is "literally magical with little kids." According to Crull, gaining the trust of each child that enters the examination room and helping them to understand they don't need to fear her can take up to half an hour. Even after that amount of time, there is no guarantee that the child will be able to calm down. That is where Truffles enters. "Truffles will come strutting out from the back as if she knows exactly when I need her help."
Truffles will walk over to the child, hop up next to them and tilt her head up in order for Crull to place a pair of glasses onto her face. Crull explained that by doing the Truffles is able to change the mood of the room in an instant. A crying child will often smile and be able to accept their glasses more easily.
"The story that happens over and over is a little one is crying and then she comes out and I put the glasses on her, then they immediately stop crying and laugh then put their own glasses on," Crull recounted. This is something that has already happened countless times to date and Crull has said that it is always just as sweet whenever it happens.
Crull has explained that Truffles loves wearing her glasses. She will often fall asleep still wearing them, and even refuses to allow Crull to remove them at the end of the day. She will often select her favorite pair at the start of the day, out of the range of 20 she has to choose from, and will wear them for the entire day. They are super easy for Truffles to remove on her own, should she want to, but she mainly chooses to leave them on.
Special Customers and Fundraising
A great example of one of the children Truffles has been instrumental in comforting is the case of Joella Migliori. Joelle is 5 years old and was born with multiple genetic abnormalities. One of which is iris atrophy, which means she was born missing multiple layers of her iris, which impacted her vision.
By the time she was 6 months old, Joella had already undergone 15 surgeries to fix her eyesight. At 1 year old she visited Crull's office for a checkup and was lucky enough to meet Truffles for the first time. Truffles immediately became her best friend and strong support for Joelle.
Joella's mom, Janette Migliori, described it as being similarly heartwarming to the video of children being given hearing aids for the first time. Explaining that the first thing Joella saw upon being given her new glasses was Truffles, which "changed everything for her."
Joella has been visiting Truffles for every adjustment and checkup for four years now. Each time she has been met with Truffles wearing her latest glasses selection. Janette explained that Joella was never afraid to go for her checkups because she always knew she would see Truffles there. Where she does still have to attend what the family calls "ouchie appointments", which she will still dread, Truffles makes her standard checks and adjustments more bearable, making her trips to A Child's Eye much go much smoother.
Truffles' experience with Joella is one of hundreds. Her years of experience have culminated in the launching of a fundraiser for the Children's Miracle Network. A charity that helps to fund treatments for millions of children throughout the country. One of the hospitals that benefit from the Children's Miracle Network is Penn State Health Children's Hospital. The hospital in which Joella was born.
Joelle's mother describes A Child's Eye as being "like family at this point." describing how Crull has worked to raise money for the community despite not having to do so. She says that they are a very special company that doesn't just do their jobs but goes the extra mile to care for the community surrounding them as well, which means a lot to parents such as Janette.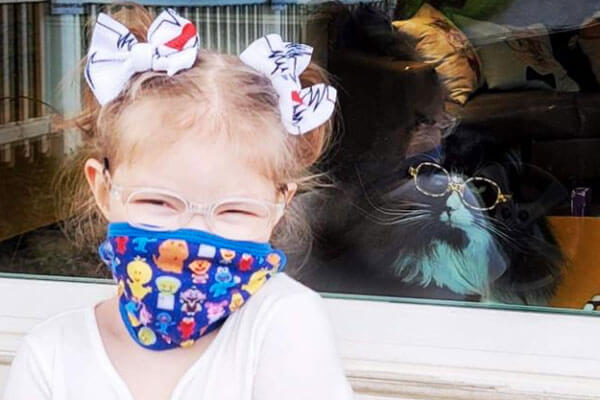 Awareness for Amblyopia
Amblyopia, which is better known as lazy eyes, is a disorder that develops in childhood caused by incorrectly stimulated nerve pathways between the eyes and brain. As a result, the brain has a tendency to favor one eye over the other. This is relatively easily corrected by the use of an eyepatch over the stronger eye in order to encourage the weaker eye to work harder – strengthening it in the process.
Part of the difficulty of Amblyopia is the stressful, confusing, and worrying nature of having to wear an eyepatch. It takes a lot of courage for a child to wear an eyepatch, which can be a major blow to their confidence. In order to help children feel more comfortable with their eyepatch Truffles will also wear a patch over one lens in solidarity with them.
Since Truffles has begun doing this, multiple parents of children with Amblyopia have felt the need to reach out to Crull via Instagram to express their sincerest gratitude for the gesture. There are even children, such as a young girl called Annie, who reach out to Truffles via the social media platform to regularly talk about how her eyepatch makes her feel.
Crull is extremely proud to have Truffles as part of her Opticians surgery and adored the way in which Truffles impacts various children's lives. "This makes a real impact in these kids' lives every day," explained Crull, expressing how it is something she is very passionate about.