PetSide may earn a small commission from affiliate links in this article.
Learn more
Teddy, an emotional support dog at the Surfside disaster front line, was in need of help after sustaining an injury whilst on duty. The canine emotional relief team currently working on the front lines of the Surfside collapse has been invaluable when it comes to supporting the mental health of the recovery crew. Each dog puts itself in danger to be there for the team as they work tirelessly to clear the rubble and recover those trapped beneath it.
When the news broke that Teddy had gotten injured at the site, the residents of Southside Florida started to look for a way to help him. The dog owner's father, Jeff Barrett, describes Teddy as having "a personality that just seems to draw your heart out."
Teddy, along with his fellow support dogs, has been essential to the emotional wellbeing of first responders at the Surfside disaster site. With such little hope for a good outcome, it can take its toll on those working to clear the rubble. However, research has shown that petting a dog can have a positive impact on one's mood, something all first responders at the site need.
Sophia Berrett, Teddy's owner, has spoken about the work Teddy does, saying that her canine friend has been a "bright spot in people's days", and that it "was a privilege" to get to be that for the people going through such a difficult time.
Teddy is a 6-year-old basset hound mix that received special crisis-response training prior to his three-week stint at Surfside. However, sadly, after working for three weeks to help the first responders, he ended up needing help. Whilst out on site he sustained an injury which resulted in his back legs ceasing to work.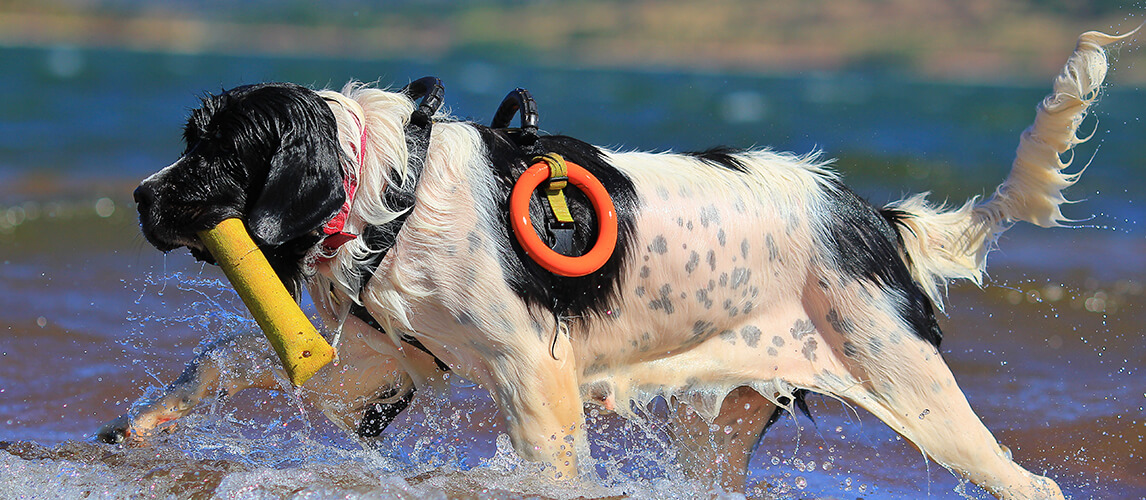 Teddy's home is in Philadelphia, along with his veterinarian, meaning he needed to return home for proper treatment. However, his vet advised that commercial flight work be too stressful for the injured pup and that a long card journey would be too risky, as the road surface will likely result in unnecessary strain.
After finding out the news of Teddy's injury and the complications in getting him home, the Titan Aviation Group stepped up to help. The group owner, Dirk Vander Sterre, explained that his own dog is a great source of comfort for him on a bad day. And that seeing Teddy injured after all of his great work at the disaster site inspired him to get involved. Therefore, Sterre's company offered to transport Teddy home via a journey in a Hawker 800 XP 8-seater aircraft.
The ship's pilot, Jim Rozman, stated that Teddy would be receiving "first-class service". He was being flown home in a private jet, with air conditioning and water to keep him comfortable throughout the journey.
After being helped onto the aircraft and guided through the cabin, Teddy was given a large couch all to himself to ensure he would have the most pleasant ride possible between Surfside and Philly.
The luxurious flight donated to Teddy would ordinarily cost $10,000, however, it was all worth it to bring this hard-working dog home, where he can be cared for properly. The plain has since landed in Philadephia, and Teddy has begun a course of treatment which includes acupuncture, chiropractic treatment, and laser treatment.
There are currently two veterinarians working on Teddy's recovery. It is believed he suffered a herniated disc in his back as well as two partially torn ligaments in the knees.Dr. Tonya Carswell of Progressive Choice Animal Care has said that the injured pup is "just not able to walk". Unfortunately, even with treatment, it cannot be confirmed whether he will gain full function back in his legs after experiencing such stress, weight, and heat as he had on the Surfside site. However, they hope the treatments can alleviate his discomfort, and make movement easier, if not get him back to normal.