PetSide may earn a small commission from affiliate links in this article.
Learn more
In 150 years we have gone from having 40 dog breeds that were known worldwide to 450. After the banning of bull-baiting in 1835, new competitive sports were created to include dogs. With that, new breeds were engineered to meet the required standards of these new sports. Additionally, breeds were developed to meet various other human needs, such as guarding, rodent catching, and companionship. French bulldogs were used for the latter. As a result, they were bred with their features being adjusted bit by bit to make them more "aesthetically pleasing" as opposed to functional.
The breeding of dogs with the focus being on their appearance instead of their health has been detrimental to multiple breeds over the years. One of the most severely affected is the French Bulldog. A cute as their squashed faces might be, it has a big negative impact on their breathing. An impact that can lead to a shortened life expectancy and even unexpected death.
Image credit: Fine Art America
Chantal van Kruining, a veterinary assistant from the Netherlands, has seen firsthand the problems that French Bulldogs can develop as a result of decades of selective breeding. The most common complication being Brachycephalic obstructive airway syndrome (BOAS). BOAS is caused by malformation of the skull, which results in the nostril opening becoming too narrow. Additionally, selective breeding has caused French Bulldogs to have narrow tracheas, long tongues, and long soft pallets. Which means they are quite literally capable of being suffocated by their own body.
The symptoms of Brachycephalic obstructive airway syndrome are excessive panting, grunting, snorting, momentary lapses in breathing, having to stick their tongue out to breathe more easily, difficulty with light exercise, and snoring. Should you notice these symptoms with your French Bulldog, you may find that they require surgery to correct the problem. Though it is impossible to fix the issue completely.
Chantal van Kruining has therefore decided to take action in changing the way people view the breed. Having fallen in love with French Bulldogs, Kruining got a few of her own. But was broken-hearted to witness the pain and discomfort her dogs were experiencing as a result of their selective breeding-caused malformations, due to being "designed" by humans as opposed to bred for their health. These malformations were once much less pronounced. However, they have become more and more warped with time, and as a result of irresponsible breeding practices.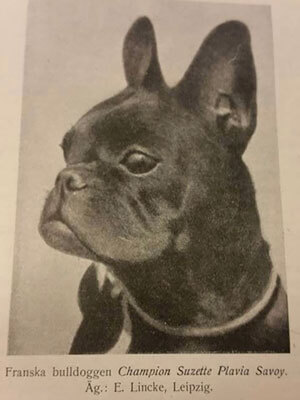 Image credit: BoredPanda
Kruining has now begun the process of breeding French Bulldogs to have longer muzzles, allowing them to breath more easily and taking them back to their more healthy ancestral roots with the ethos "breed for health. Not for show." She hopes to encourage breeders to look for certain traits in the dogs that they breed that can help to improve their breathing issues. Such as a wider trachea, more open nostrils, a tongue that fits easily inside their mouth (not to looking or thick).
Having jumped headlong into the breeding world, with the intention of improving the health and wellbeing of French Bulldogs, Kruining was disappointed to find that many breeders didn't seem to put much thought into how their breeding approach could be affected the dogs. In fact, she found that a large portion of breeders showed a level of disregard for the breed's health so long as it made money.
She has put a lot of effort into studying the ins and outs of the French Bulldog breed. This extends to understanding the genetics and common abnormalities that are seen in ill-bred Frenchies. Though Kruining still feels she has a long way to go, she also feels she is on the right path to changing the breed for the better.
Kruining's website, Hawbucks French Bulldogs, intends to be a transparent area in which they can showcase their research, ideas, and how they intend to move forward. Saying, "We strive for a French bulldog that is built a little more athletic." French Bulldogs are meant to be companion dogs, and with that, they should be capable of going out for walks and playing with their owners without having to suffer from severe breathing problems afterward. They should not need to be carried in order to enjoy the outdoors, nor should they be kept indoors for their entire lives simply because their breeders have let them down.
Kruining is particularly frustrated by the way breeders seem to hide information about their dogs' health. Or that many Frenchie lovers don't seem to realize that these health complications are not normal and should not be normalized. Therefore, she has been extremely precise in her testing and has openly published all of her findings on her website for all to see. Complete transparency is key, and so Kruining encourages people to ask her any questions they like about her work.