PetSide may earn a small commission from affiliate links in this article.
Learn more
Following a tragic incident in a texas boarding center, where 75 dogs died in a fire on Saturday, fire safety regulations are being called into question. The local community, as well as the boarding center owner, mourns the loss of so many beloved pets.
At around 11 pm on Saturday 18th September, a fire broke out at the Ponderosa Pet Resort in Georgetown. The city contains around 67,000 residents and sits just north of Austin. Tragically, the dogs caught in the blaze suffered severe smoke inhalation and dies shortly after the fire was extinguished.
Phillip Paris, the owner of Ponderosa Pet Resort, spoke with NBC affiliate KXAN of Austin about the incident, "I am emotionally overwhelmed by the accidental fire on Saturday night at our business," Paris explained. "Fifty-nine families are affected, and their best friends won't be coming home. As a dog owner, I feel their heartbreak intensely."
The first firefighters on the scene had arrived within 5 minutes of receiving the call and initially decided to try their best to save as many of the dogs as possible. To begin with, they began ventilating the building in an attempt to control the smoke. However, Georgetown Fire Chief John Sullivan explained to KVUE-TV that it was not possible to get inside the building and save the trapped dogs without human supervision.
Preliminary investigations have shown no indication of this being a criminal fire. However, investigations will continue until they can come up with a conclusive answer. Fire Chief Sullivan wholeheartedly empathizes with the families and owners affected by this disaster. "I've been doing this for 29 years and this is the first time we've lost so many pets," Sullivan told KVUE-TV. "For me, it's the term used. I hate it. Pets are more than pets. They are my best friends, and I wish I could properly convey my inner feelings."
According to officials the dogs trapped in the fire had not been burned but appeared to have succumbed to smoke inhalations.
"When I got the address, my heart fell and I knew exactly where we were going," Sullivan explained. According to him, many city workers along with members of the police force keep their dogs in pet centers whilst working. Authorities are currently working with the owner of Ponderosa Pet Resort to identify the bodies and return the lost dogs to their families.
According to Georgetown fire regulations, a building of this type does not require a sprinkler system. This has called fire regulations into question in regards to animal welfare. Fire Chief Sullivan has spoken on the matter, explaining that a full review of the regulations regarding businesses of this type will be undergone in the coming months. With the aim to improve the protective qualities of animal businesses in the future.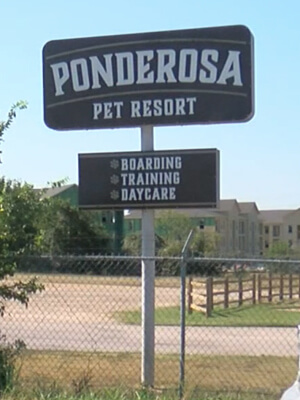 Ponderosa Pet Resort answers the question regarding overnight staffing in the FAQs section of their website, explaining that they feel a quiet and peaceful night is the best way for pets to get the rest they need. However, they have spoken regarding security in the wake of the fire, explaining that they will be installing a closed-circuit video surveillance system and a new security system in order to maximize security when the building is without staff.
Don and Pam Richard, who lose their two puppies Bunny and Clyde in the fire, spoke about the lack of staff and that they feel it is negligent to leave that number of pets without supervision. They also said they would not have left their puppies with Ponderosa Pet Resort had they known they would be unsupervised overnight.