PetSide may earn a small commission from affiliate links in this article.
Learn more
A few months ago, Cardiff Dog's Home sent out an appeal, asking for anyone who was able to give to the charity. The end goal of which was to raise £500k, so that the dog's home can refurbish their kennels and provide the best possible environment for their dogs.
So, when Hope O'Reilly saw the appeal, she found herself unable to shake the desire to do something to help. Despite being only seven years' old, she knew she needed to assist the shelter in hitting their goal. As a big dog lover, she worked on ways she could help raise money with her mum.
Hope's mum, Lisa Freeman said: "She saw the campaign and asked a lot of questions about it. I think it just struck a bit of a cord with her as she's a big dog lover. Knowing they might not have the best living conditions at the moment really got to her.
"She's gone on about it for a few months now so at the end of last month I said 'ok we'll do something at the end of September' and she said she'd like to do some running."
Despite only just starting Year 3 of her school life, she has decided to run 50,000km throughout the month of September – all in aid of Cardiff Dog's Home. Based in Grangetown, she currently owns a Beagle – named Bailey – who she adopted in March 2020.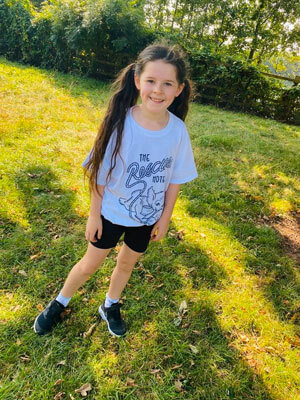 Hope told TeamDogs: "I'm doing it because I have a dog and I wanted to do it for the other dogs because I know how nice they are to people. They don't have a lot of things in the dog's home so I want to raise money for them."
As she goes on her runs, her mum Lisa accompanies her. These days, those around Grangetown, Cardiff Bay and the surrounding areas can see the pair running through the streets and raising awareness, online.
Lisa explained that they spent a few weeks running in August, so as to train up a little and decide on a sensible target that could be met for the pair. Their initial goal was to raise £200 – one which they have already surpassed, as the total currently sits at around £635 (at the time of writing).
However, according to Hope, that wasn't the initial target she had in mind! Lisa joked, "I asked her how much she wanted to raise and she said I want to raise one million pounds. I said, 'Let's keep it real!'"
During the weekdays, Hope finishes the school day at around 3 o'clock, before coming home to get changed and head out on her daily run. A testament to her dedication, she has been keeping this up all month long – something that is no mean feat, even for adults!
You can donate to the cause here. And, if you want to support the team of two in other ways, you'll be pleased to know that the pair will be in Grange gardens for Hope's final mile, along with all their friends and family.