PetSide may earn a small commission from affiliate links in this article.
Learn more
You're out on a walk with your canine companion and suddenly they burst out from the bushes smelling like rotten eggs. It's so bad, your eyes are watering. Then, you see it: A little black and white polecat running away after dousing your pup in a foul-smelling liquid. It's not a great situation to be in, but there are remedies to help wash the stretch of a skunk off of your dog.
How to Remove Skunk Smell from Dog Fur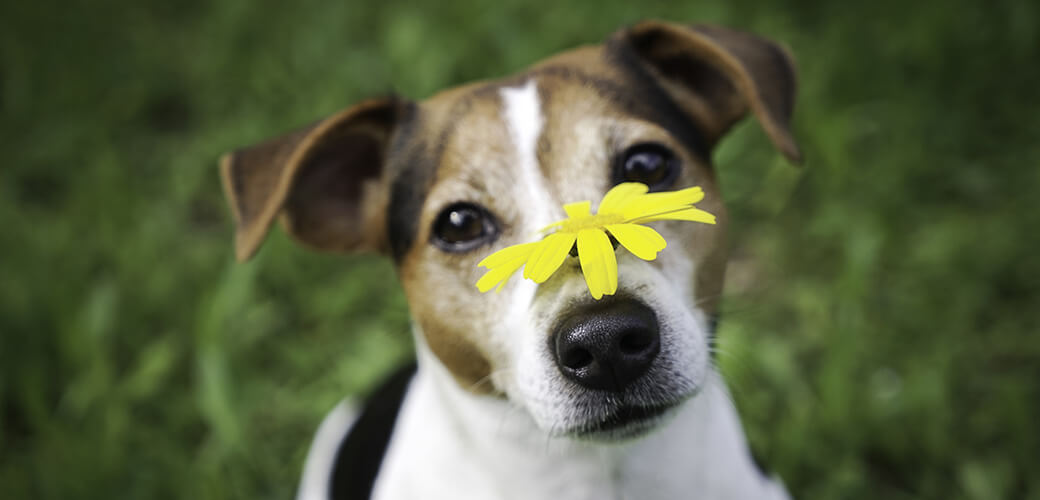 Has your dog met the business end of a skunk? If you're wondering how to get rid of the skunk smell, you're in the right place. Skunk spray carries a very powerful odor, which is offensive to all noses – human and dog, alike. Your pup isn't going to be happy about the situation, but a quick bath in normal water isn't going to help as much as you might think.
In fact, washing your dog in plain water is the worst thing you can do in this situation. Try our methods below and your dog will smell much better.
Method #1: The Tomato Juice Method
This is an old wives' tale come true because using tomato juice or tomato sauce to get rid of the skunk smell on dogs actually works. Depending on how heavily soiled your dog is, just using tomato juice to get the skunk smell off of your dog's skin might be enough. Otherwise, you could need to give them a second go-over with some pet shampoo.
Take an open can or bottle of your chosen tomato substance and rub it into your dog's coat. You'll want to wear rubber gloves while you bathe your dog because you don't want the smell to transfer to you too much (and you'll stop yourself from rubbing your eyes and causing your own issues).
Wash off your dog and give their fur a sniff test. If the tomato sauce method wasn't quite enough, grab your dog's pet shampoo and bathe them as normal. The doggy shampoo will also help reduce the tomato odor that's now on your dog.
Method #2: Dog Shampoo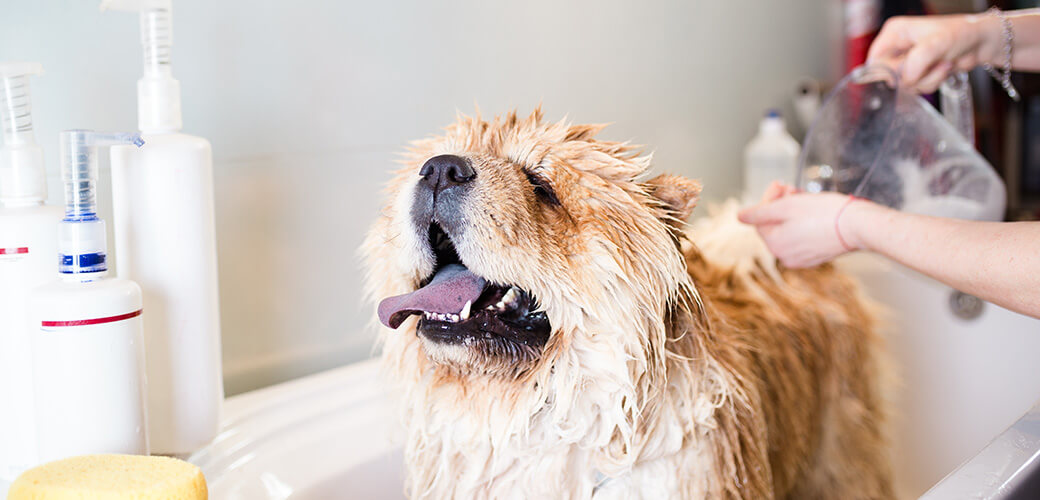 Getting the skunk smell out of your dog's fur doesn't have to be a wild race to find a product or home remedy that works. Some dog shampoos are strong enough to handle the stench without any assistance. Skunk odor may be strong, but it will meet its match against a medicated or high-quality dog shampoo.
Bathe your dog as normal with their regular dog shampoo and don't be afraid to go in for a second round. Remember that it's not just a smell you're washing off, it's the skunk oil, too.
Method #3: Hydrogen Peroxide Solution
This method will feel a bit like you're concocting a potion at first. Take these ingredients and mix them together:
A quarter cup of baking soda
1 to 2 teaspoons of liquid dishwashing soap or regular laundry detergent
A quarter cup of 3% Hydrogen peroxide
The mixture will foam when combined and should be used on your dog's fur immediately. Do not get this in your dog's eyes or mouth. Work the mixture into their coat, wait about five minutes, and rinse thoroughly.
Do not use a hydrogen peroxide solution stronger than 3%.
Method #4: Vinegar and Water
Vinegar is a common household remedy for a number of issues. From wine stains to a skunk's spray, vinegar can help. While wearing rubber gloves, take vinegar diluted with water and rinse your dog's coat in it. Use clean water to wash the solution off, and repeat again if necessary.
Be aware that vinegar is an acid so it might dry out your dog's fur. Use a conditioning dog shampoo afterward to avoid this problem.
What to Do if Your Dog's Eyes are Red
If your dog's eyes are red, irritated, or inflamed after being hit with a skunky smell, immediately flush your pup's eyes out with clean, freshwater. Be sure to rinse completely by washing our your dog's eyes a couple of times.
If your dog's eyes seem very swollen after being rinsed out, call your vet for advice and be ready to take your pup in.
What to Do After Bathing Your Dog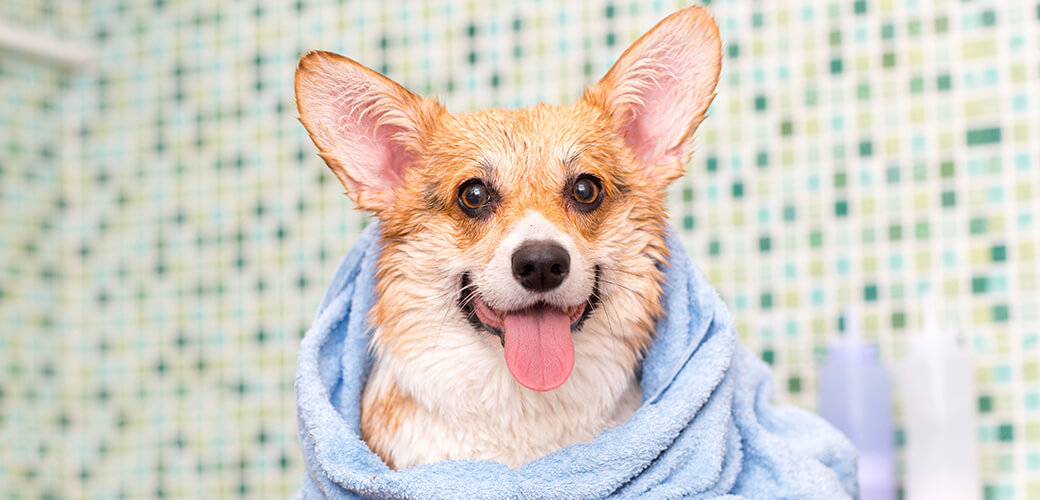 After using one of the four methods outlined above during your dog's bath time, give them a once-over with cool water and towel dry their fur.
Use any mixture immediately after creating it and don't store them if you don't use it all. The Hydrogen peroxide mixture, especially, might burst any container it's put into.
Keep an eye on your dog's eyes over the next 24 hours, just in case the spray wasn't completely rinsed from their eyes. Give your dog plenty of time to relax and enjoy a quiet evening together.
Dog Sprayed by Skunk? What Not to Do
Don't immediately use water to clean your dog. When water mixes with the chemicals in skunk spray, the smell becomes stronger.
Don't delay in taking your dog home.
Your first instinct might be to use a cloth to wipe your dog's face- don't.
Don't let your dog run around your house before being bathed.
Don't touch your own face or eyes until your dog is clean.
What is the Liquid Sprayed by a Skunk?
There are two anal glands on either side of a skunk's bottom. When threatened, they use these glands to release a powerful-smelling liquid that contains sulfurous chemicals called thiols.
Thiols bind to the proteins in your dog's skin, which is why the smell doesn't go away. Much like a bad body spray or perfume, it lingers. Skunks can spray this liquid up to 15 feet, which means that the likelihood of your dog getting hit in the face is high.
Your best bet to avoid this event is to not let your dog wander too far into areas covered by foliage.
Frequently Asked Questions:
Q: My dog got sprayed by a skunk, what do I do?
A: If your dog got sprayed with skunk secretions, immediately take them back to your house and follow one of the bathing methods outlined above. Your dog may have gotten the liquid in its eyes, and that needs to be washed out before it does any damage.
Q: Why do skunks spray other animals?
A: Skunks spray to warn off animals when they're feeling scared or anxious. They usually give some warning, in the form of stomping feet and hissing, before they spray anything. Dogs are often the target of skunks because canines are curious creatures and will go right up to small mammals like skunks to chase them.