PetSide may earn a small commission from affiliate links in this article.
Learn more
The Cavalier King Charles Spaniel is often thought of as a family member and one of the toy breeds that make great companions. But if you ignore the 'spaniel' reference in their name, you could be in for quite a shock. This lap dog retains many of the characteristics of their working dog ancestors so as well as a getting a family pet you could also end up with a bundle of energy!
Here we will try to answer all your questions about this charming breed and give you all the dog breed information you need before you invite one into your home.
Breed Overview
Dog Breed Group: Toy Group
Height: 12-13 inches
Weight: 13-18 pounds
Life Expectancy: 12 to 15 years

Short History of the Cavalier King Charles
The King Charles Spaniel dog is a relatively new breed that has been around for less than a hundred years. They are descended from the toy spaniels that were loyal companions to the European and United Kingdom royalty and nobles during the 16th to 18th century. You can find these toy spaniels in famous paintings by Van Dyck and Gainsborough. Look closely and you can see that these original toy spaniels had quite long noses as well as flat heads and high-set ears.
The old toy spaniel breeds were present at some significant historic events. It is thought that a toy spaniel accompanied Mary, Queen of Scots as she walked to the place that she would be executed by beheading! The most obvious connection with British royalty, however, is with their namesake King Charles I and also with King Charles II who also adored this little dog.
King Charles II ruled England between 1660 and 1685 and he always had a toy spaniel (or several) by his side. His love of this dog breed was so great that he passed a law stating that the toy spaniel breed should be allowed in all public places in the land – and that includes the Houses of Parliament. As there is no evidence that this law has ever been overturned, that may still be the case!
Sadly, after the death of their royal fan, the breed became less popular. Instead, the aristocracy developed a liking for the short-nosed breeds such as the Pugs. The original Charles Spaniel dog breed was crossed with these more popular dogs to give us the Cavalier King Charles Spaniel dog appearance that we know today with their more dome-shaped head and flatter nose.
They were not imported into the United States until the 1940s but the American Kennel Club did not officially recognize the breed until 1995.
Breed Facts
Cavalier King Charles Spaniels are a well-known and popular dog breed but here are some facts that you may not know about them.
The Cavalier King Charles Spaniel is not hypoallergenic: In fact, no dog is 100 percent hypoallergenic but those that shed less are less likely to trigger allergic reactions. Because Cavalier King Charles Spaniels shed quite a lot, they are definitely not classed as a hypoallergenic breed. If you love the breed but need to avoid shedding of hair and dander, you may prefer a Cavachon. This is a mix of the Cavalier King Charles Spaniel and the Bichon Frise. Another charming crossbreed is the Cavapoo which is a cross between a Poodle and a Cavalier King Charles Spaniel. They may have a curly or wavy coat and will shed very little thanks to their Poodle parent.
Some Cavaliers have a bird chasing problem: They may be quite far removed from their working dog heritage but this breed is still a spaniel at heart. They may show a huge interest in birds, rabbits and other small animals so bear this in mind when you are out on walks. It may also make them attempt to break out of your yard or garden so check that your fences are secure!
The Charles Spaniel dog breed cannot live outdoors: This breed has been a companion dog for many hundreds of years and is not robust enough to live outdoors. If you don't want them to have access to all of your home, use some dog gates and barriers to limit their movement. The good news is that they cope with high temperatures better than some other breeds with short noses but you should still take precautions in warmer weather.
Hollywood legend Lauren Bacall loved Cavalier King Charles Spaniels: Before her death in 2014, Lauren Bacall was a true dog lover. During the 1970s, she owned a Cavalier King Charles Spaniel called Blenheim. His portrait hung in her home long after he died.
Cavalier King Charles Spaniels have had many uses: In the past, people kept this breed of dog in their beds but this was not because they liked their company. The dogs were there to attract fleas and keep them away from their owners. This may have protected humans from the plague and other diseases that can be transmitted by biting insects.
How Big Does a Cavalier King Charles Grow?
You can expect this breed to grow to around 12 or 13 inches in height when measured to their shoulder so they are a small to medium breed. They usually weigh between 13 and 18 pounds but are prone to being overweight so this is something to keep an eye on.
The beauty of the breed and their cute appearance is one of their huge attractions. They have a friendly and playful expression on their face with large and level eyes. The very round eyes are a particular characteristic of their appearance.
They have a silky coat that varies in color; they can be black and tan, black and white, Blenheim or ruby. Their coat also has a special type of straight hair (feathering) that is long and silky and is found on their ears, on the back of the front legs, and on their thighs and chest. Feathering is also mentioned in the official breed standard.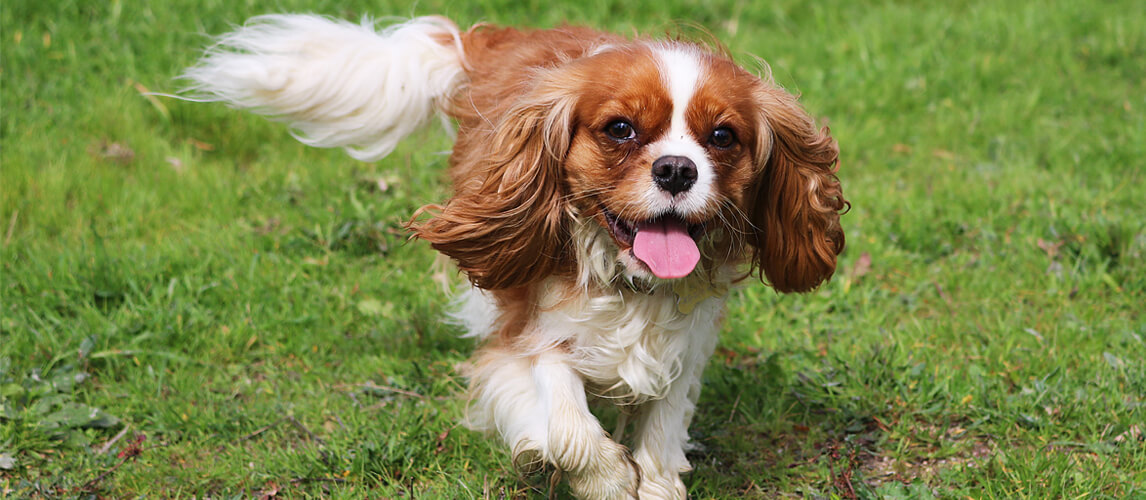 Temperament
The best way to describe the personalities of Cavalier King Charles Spaniels is devoted, although some people do find them a bit needy! These dogs will follow you around the house and take companionship to another level!
They have a calm and loving personality and get on with children of all ages making them excellent family pets. Most will even get on with the family cat and other pets if they are introduced in the right way. The Cavalier King Charles Spaniel breed is also very successful as a therapy dog. They are a dog that will happily live in an apartment as their exercise requirements are not too demanding but don't be fooled into thinking that they are a couch potato. Your four-legged friend will be up for accompanying you on a nice long walk when the mood takes you.
Cavalier King Charles Spaniels have a tendency to suffer from separation anxiety so they are not the best choice of dog if you spend long periods away from home every day. You would certainly not choose a King Charles Spaniel as guard dogs as they have such a lovely temperament. They would greet any intruder as a long lost friend!
Do Cavalier King Charles Bark a Lot?
The Cavalier King Charles Spaniel does have a voice that they will use when they have to. You can expect them to alert you when someone approaches your door. However, they are not one of the dog breeds that constantly bark so this is unlikely to be a problem. If your King Charles Spaniel does seem to be barking excessively it is probably because something is wrong. They may be suffering from separation anxiety and you can tackle this by leaving them with plenty of interactive dog toys and leaving the radio on when you are out.
How Do You Keep Cavalier King Charles Entertained?
Your Cavalier King Charles Spaniel will be a dog that loves simply curling up on your lap and being petted. However, they all have different personalities and you could end up with quite an energetic dog.
You could take part in dog sports and agility – they will love the attention that they get when you are training them. The King Charles Spaniel has medium energy levels and an average requirement for mental stimulation.
Interactive toys that make your King Charles Spaniel figure out how to get to a tasty treat are always a good option. These toys often come in different intelligence levels – the more intelligent dogs need a more challenging toy. You could also use a Kong or make your own toys using dog-safe bits and pieces.
Your Cavalier King Charles Spaniel will love interacting with you so make sure that you play lots of games with your dog. You could play fetch, tug-of-war or hide and seek games where your dog has to search for you or search for treats or toys that you have hidden. Because the Cavalier King Charles Spaniel breed gets on so well with children, you could get the whole family involved.
For when you are busy doing something and you need your Cavalier King Charles Spaniel to settle quietly, a safe chew or a Kong full or frozen yummy food is a great option.
Do Cavalier King Charles Like Water?
There is no easy answer to this question! It depends on the personality of your particular dog. They are a descendent of the spaniel and most spaniels adore water and are excellent swimmers – they needed to be to retrieve ducks and other birds during shoots. However, just because your Cavalier King Charles Spaniel can swim does not mean that they will enjoy it! Not all dogs like the water and some really hate it.
It is best if you search for a safe place to introduce your Cavalier King Charles Spaniel to water for the first time. Look for a level area that does not get too deep too quickly and that does not have a strong current. Allow your dog to investigate at their own pace and do not force them in. Most dogs will naturally start a doggy paddle once they are out of their depth. Stay close by them and use a life vest to keep them safe. If you are looking for more options, check out our guide on dog life jackets.
Cavaliers are one of the breeds that can suffer from ear infections. The lovely feathering on their ears can prevent air from circulating and this can lead to conditions where bacteria and fungi will thrive. Make sure that you dry their ears thoroughly after they have been in the water.
Do Cavalier King Charles Like to Cuddle?
The Cavalier King Charles Spaniel is known for their cuddly personality. They are one of the most affectionate breeds on the planet and they make a superb lap dog. This is why they make such adorable family pets. This little dog will love to climb onto your lap and snuggle there for hours. Cavaliers have a silky coat that feels lovely to touch so they spend a lot of time getting petted by humans! They drool very little so having them on your lap is not a messy experience!
The downside to this is that they may suffer from separation anxiety when you are not around so this is something that you will need to watch out for. You may need to employ a dog walker if you are often out all day.
Are Cavalier King Charles Easy to Potty Train?
Some toy breeds can be tricky to potty train. Having said that, there is plenty of information and advice online on how you can help your Cavalier King Charles Spaniel puppy learn where they can and cannot go potty.
Because it can take little dogs longer to get the hang of it, you will need to be very patient. Learn to read the signs that your little pet needs a poop or a pee. One sign is sniffing around in circles and another sign is standing by a door. Some dogs do better with crate training. Dogs will avoid going potty in their crate if they possibly can so they learn to hold it in for longer. You need to be very attentive and take your dog out every hour to begin with. Give them loads of praise and perhaps even a tasty treat to reward them. Never punish or shout at your Cavalier King Charles Spaniel as they are sensitives souls and will find it hard to get over it.
Care
Are Cavalier King Charles Spaniel Puppies Easy to Train?
You can start training your Cavalier King Charles Spaniel puppy as soon as you get them home. You can teach very young dogs their name and some simple commands. They are an intelligent breed and are very easy to train.
These lovely family pets are very eager to please their human companions and respond well to positive training methods. Never use harsh words or physical punishment as this does not work and can result in a nervous or aggressive dog. As with all breeds, your Cavalier dog will need to be socialized with lots of humans and dogs so that they learn how to behave appropriately in company. These dogs do very well at obedience, agility and rally sports.
How Much Exercise Does a Cavalier King Charles Spaniel Need?
Cavaliers have a medium exercise level requirement. These dogs have an average energy level and you should be able to wear them out with a vigorous ball game in the garden. They will always be up for adventures outside the home and will enjoy discovering new places. Watch out for twigs and dirt getting entangled in their beautiful coat. They may need a good groom after a long walk in the country.
Playing games such as fetch and hide and seek are always popular. Why not try them out with some dog sports? You may even win some prize money!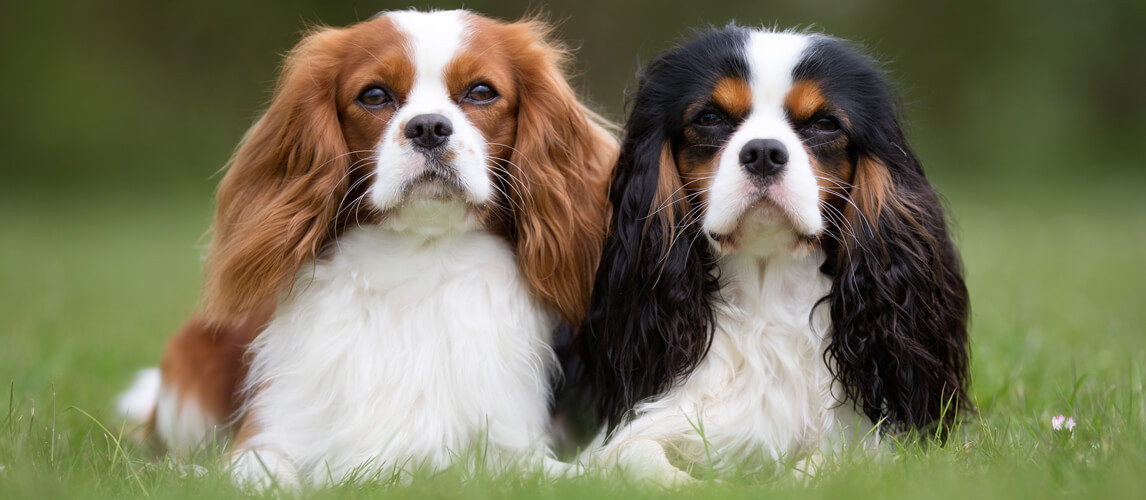 Feeding
What Food do They Eat?
Your puppy needs a balanced diet with plenty of protein and a range of micronutrients to support a growing and busy body. Search for a food that is designed specifically for young dogs. Most Cavaliers will thrive on a premium dog food that contains real meat as the source of protein and is not packed with cheap fillers. You may find that your Cavalier King Charles dog develops allergies and your vet will need to help you find an appropriate dog food. Some dogs are allergic to chicken and others to wheat and other grains.
Once your dog is an adult, you will need to switch to an adult dog food and switch again when they become a senior. When you swap foods, ease your pet gradually onto the new diet – do not make sudden changes as this can cause stomach upsets. Start by replacing a little of the old food with the new food and then gradually adjust the proportions until your pet is completely on the new food. A King Charles Spaniel will usually eat just about anything so you are unlikely to have a fussy eater on your hands!
Check out our review of the Best Dog Food For Cocker Spaniels.
How Much Should You Feed a Cavalier King Charles?
This is one of those breeds that will eat everything in sight if you give them a chance so always follow the feeding guide that is provided with the food that you have chosen. Take care to weigh it out carefully rather than guessing.
The amount of food will vary by the age of your pet and by their weight. You can ask your vet to weigh your dog regularly so that you have an accurate record of how much they weigh. The amount that you will need to feed your pup will increase until they are an adult and then it will drop down.
This is one of the breeds that has a tendency to put on too much weight so this is something to watch out for. Obesity is a serious health risk for Cavaliers and all breeds of dogs. Don't forget that training treats need to be added to their total calorie intake. So, if they are getting a lot of training treats, cut down on the food! It is never a good idea to feed your pet dog scraps from the table as this can lead to weight gain and you may end up accidentally feeding them something that is bad for them or even poisonous for dogs.
Grooming
Do Cavalier King Charles Shed a Lot?
The Cavalier is not one of the low shedding dogs and they have a tendency to shed quite a lot at certain times of the year. You can expect their coat to shed the most during the Spring and Fall when changing from a winter to a summer coat and back again. However, because most dogs are exposed to artificial light which produces an even level of light all year, you may find that they shed all year! A female dog is also likely to shed more after each estrus or after she has had a litter of pups and this is caused by hormonal changes.
How Do You Groom a Cavalier King Charles?
The Cavalier has a silky coat that needs very little grooming. This breed generally needs a weekly brush to remove dead hair and dirt and distribute oils to keep the coat shiny. It also helps you to care for your dog by checking for lumps and bumps that may need to be investigated.
Most dogs enjoy their grooming sessions but it is best to start when they are a puppy so that they can get used to it. Check their ears every week for signs of infection, parasites or allergies. Also, gently wipe their eyes with a soft cloth. This breed will need their nails trimmed once a month to keep them comfortable and safe.
Health
The Cavaliers are prone to quite a few health problems so it is important that you are aware of what can go wrong with this breed. Here is a list of the disease issues that you may be faced with and some advice on what you can do to avoid them.
Dental Disease
Dental disease is not just a problem for the Cavalier, it can affect all dogs. However, they are more likely to develop dental disease than many other breeds. It starts by tartar building up at the junction between the teeth and the gums. This produces an ideal environment for infection and can lead to the loss of teeth. Dental disease can also cause problems in other parts of the body including the joints, kidneys, liver and heart. It can sadly lead to a shortened life span.
You can help by getting a special dog toothbrush and some dog toothpaste and cleaning your pet's teeth everyday.
Obesity
This breed is also prone to obesity which is a lot more serious than simply looking a bit wide around the middle! It can make joint problems worse and even cause digestive and heart problems. The best approach is to carefully weigh out your dog's food and to use low-calorie treats. You could use games. a toy or just your attention as a reward instead of food. Also, make sure that your Cavalier gets loads of exercise.
Infections
Cavalier King Charles Spaniels are susceptible to a range of bacterial and viral infections but ear infections are probably the most common. Their lovely long ears can trap moisture and dirt creating ideal conditions for pathogens to grow. To prevent ear infections, make sure that you clean their ears regularly and check them for signs of infection.
Your dog could also get an infection in their eyes or in any other part of their body – especially if they have cuts or grazes. Make sure that you clean out wounds and keep an eye on them.
It is also important that you get your dog vaccinated to avoid the other common canine infections such as parvo and distemper. Your vet will be able to advise you about which vaccinations are suitable for your dog.
Parasites
Dogs can suffer from common parasites including fleas, ear mites, ticks and worms. Some parasites jump or crawl onto your dog's body but others enter their body in what they eat or drink, from contaminated earth or from insect bites.
As well as making your pet feel uncomfortable, they can cause serious health problems and even serious disease or death. Get advice from your vet about the most appropriate anti-parasitic treatments for your dog.
Genetic Disease
Sadly, this breed can suffer from a number genetic diseases. Here is a quick round-up of the main ones.
Heart disease: Most heart disease in Cavaliers is caused by a weakening of a heart valve. Medication can help if it is diagnosed early.
Eye problems: Problems with the eyes in this breed include cataracts, keratoconjunctivitis sicca or KCS (dry eye), and Progressive Retinal Atrophy (PRA). They all significantly affect a dog's quality of life.
Bone and joint problems: The patella (knee cap) can slip out of place and arthritis of the hips and elbows is common. This causes stiffness, pain and lameness. Intervertebral disc disease (IVDD) is also common. The soft pad between the small bones of the spine bulges and presses on the spinal cord. It causes pain and can lead to paralysis.
Epilepsy: Seizures in dogs can be reactive, secondary, or primary. The condition is often inherited and first starts between six months and three years of age. It can usually be controlled with medication.
How Long do Cavalier King Charles Live?
Your new puppy will reach adulthood at around the age of 12 to 15 months of age when their care needs will change slightly. At the age of one, they can have more exercise and they can be transferred onto adult food.
Most Cavaliers will have a life span of around 9 years although some lucky individuals have a life span of up to 15 years. Unfortunately, these dogs are susceptible to a large number of inherited health conditions that contribute to the relatively short life span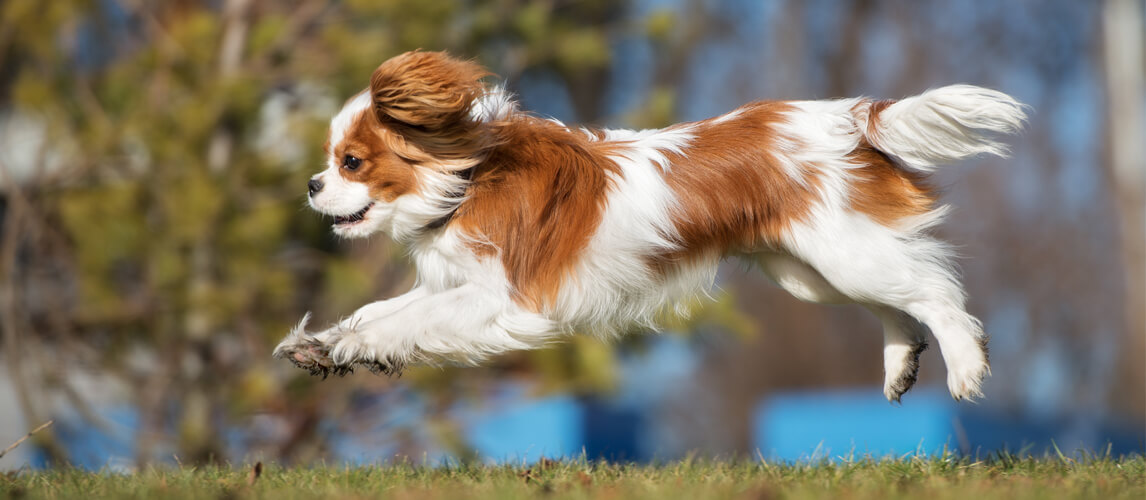 How to Find a Good Breeder
When you start your search for a puppy of any breed you have the choice of looking for professional breeders, hobby (or back-yard) breeders or rescue shelters. It is always recommended that you research very carefully before choosing any pets. Ask a lot of questions and don't feel bad about walking away if you are not happy with the answers.
Adopt a Dog From a Rescue Center or Shelter!
Cavaliers are not often put up for adoption as they are easy dogs to live with but family circumstances change and sometimes dogs need to be rehomed. The staff at the rescue group will monitor the dog carefully in case there is any sign that their temperament could cause problems for their new owners or any indication of disease that will require on-going issues. They will also give you plenty of advice on how to care for the dog. It is more likely that you will get an adult rescue dog but the shelter may not be aware of their exact age.
It is always a good idea to start your search for this breed in a rescue shelter. You will be helping to give a home to dogs that really deserve a break. It also helps to cut down on irresponsible breeders.
What is the Average Price for a Cavalier King Charles?
Buying a puppy is an expensive experience. Breeders can charge a lot of money for pups so new dog owners need to be careful that they search for reputable breeders who know what they are doing and who safeguard the welfare of the pups.
Try to get a personal recommendation and always visit breeders before making your choice. Ask to see the parents and any paperwork that is needed regarding genetic tests. Don't be afraid to ask breeders lots of questions. Professional breeders won't mind this at all. There is more guidance available from the King Charles Spaniel Club.
The amount of money that you pay may depend on the color of the pup and the area where you live. In general, Cavaliers pups cost at least $3,000 and some are as much as $5,000. Don't forget that you will also have to pay for food, toys and vets bills for the whole of your dog's life.
FAQs:
Q: Is a King Charles Spaniel a Good Family Dog?
Cavaliers make fantastic family dogs and will fit into any home. They are relatively easy to care for and will get on with all family members whatever their age. Cavaliers have all the characteristics needed for a loyal companion. They will tolerate children of all ages and live happily alongside your other pets and that includes the family cat!
They are generally a level headed and sensible dog that is very eager to please and do not have complex personalities. This makes them ideal dogs for first-time dog owners.
Q: What is a Cavalier Snort?
The Cavalier snort is a kind of reverse sneeze that you may hear your Cavalier King Charles Spaniel make from time to time. It's a like a gagging sound that happens over and over again and it can be distressing for new owners who do not know what it is.
It happens because of the shape of their face. The Cavalier King Charles Spaniel has an elongated roof of their mouth which is too long for the length of their skull so that the tip sticks out into the front of the airway. It can get sucked into the laryngeal opening and when your pet continues to try to breathe through their nose it is blocked. This causes a gagging or snorting sound. Most dogs can recover from this themselves. However, if the top of the mouth is very elongated, you may have to help your pet out.
You can do this by making your pet breathe through their mouth but you should talk to your vet about how to do this correctly first. In severe cases, the condition can cause your pet to collapse because the air supply is cut off for too long. Dogs with this condition may need surgery to remove excess tissue from the roof of the mouth. The surgery has a high success rate, especially in young dogs who find that they have more stamina and energy.
Q: What are 'Blenheim Spots' on Cavaliers?
When the King Charles Spaniel dog breed became less popular after the death of King Charles II, there was one place where the original King Charles Spaniel was still highly prized and that was at Blenheim Palace in the UK which was home to the Duke of Marlborough. A family line of the toy breed of spaniel was still bred here and they had a red and white color coat. These days, a King Charles Spaniel dog that has the distinctive red and white coat is called a Blenheim.