PetSide may earn a small commission from affiliate links in this article.
Learn more
In an endearing display of love and affection for their national dog breed, Turkmenistan has dedicated a day to it, alongside their national horse breed. The Alabai dog breed was celebrated with gusto on Sunday, enjoying their 6-meter high gilded statue erected in Ashgabat as a dedication to the breed, as well as creating an ode to the Alabai.
The Alabai dog breed, otherwise known as Central Asian Shepherd Dogs, are independent, strong, and loyal dogs, much loved throughout Turkmenistan, as well as being one of the most popular breeds in Russia.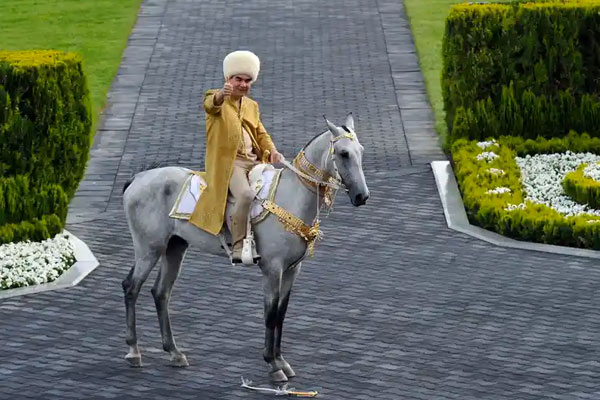 The breed has existed, originating in Asia, for over 5,000 years, which makes it one of the oldest known breeds of modern-day. Alabais are thought to be a close relative of the Tibetan Mastiff, however, their lineage is impossible to trace completely due to the lack of human intervention in the early years of their evolution. Therefore, their heritage can only be traced through environmental factors and influence.
They are used predominantly to protect livestock from wolves and other predators, owing to the fact that they are very large and extremely powerful. They have been nicknamed "Voldokov", which translated to "Wolf Crusher", telling you all you need to know about the immensity of their capabilities.
The day included a friendly competition with the aim to find the best of this incredible Shepherd dog. President Kurbanguly Berdymukhamedov, who has been in charge of Turkmenistan since 2007, personally gave out the prize to the winning contestant.
President Berdymukhamedov has a deep love for the Alabai breed, having written a 272-page book all about them, as well as gifting an Alabai puppy to President Vladamir Putin in 2017.
Turkmenistan is a sovereign country in Central Asia, containing 6 million citizens and consisting mostly of desert. Ashgabat is the capital city, as well as being the largest city in the country. It is in Ashgabat that the gilded statue of an Alabai was erected in the center of a busy roundabout.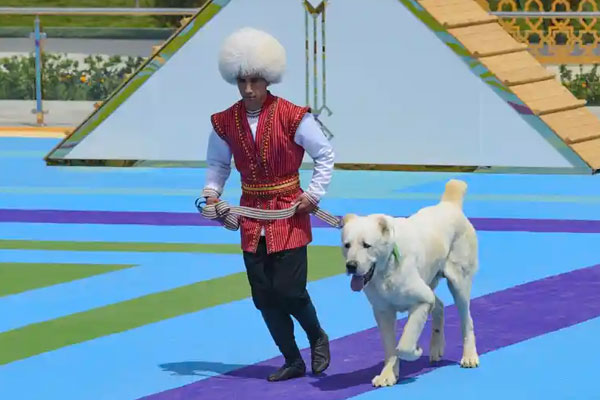 The Alabai is a source of great national pride for the people of Turkmenistan, along with their national horse, the Akhal-Teke. The government celebrated the Akhal-Teke alongside the Alabai on Sunday, with authorities arranging a race for pure breeds of the horse. Akhal-Tekes are known for their metallic sheen and slender, elegant stature, making them fast, agile horses.
Turkmenistan prides itself on these two magnificent breeds, which have been used for much of the country's history for herding, and continue to be used by traditional herders.