PetSide may earn a small commission from affiliate links in this article.
Learn more
Found cowering in the HOV lane on the 59 & Crosstimbers interstate in Houston, Texas, this stray 3-year-old Labrador mix proved how lucky he can be when he was rescued not once, but twice by good samaritans.
The Labrador mix, now affectionately called Crash, was spotted by Shelby Stevenson during a busy period of the day, hiding in the HOV lane, trying his best to find shelter in the shade of the concrete bollard.
Stevenson, who rescues animals in her spare time, and had not completely lost count of the number of dogs she has rescued over the years, couldn't leave Crash to fend for himself and decided to stop and help.
Speaking with KPRC2 News, Stevenson told reports "So, I got him to lay down, and I called probably 18 different places, trying to get someone to come out here and help me get this dog."
As Stevenson was trying to locate a shelter or rescue that could come out to the interstate and help her to move the terrified pooch, Kosandra Ramirez, another animal rescuer in her spare time, stopped to see if there was anything she could do to help.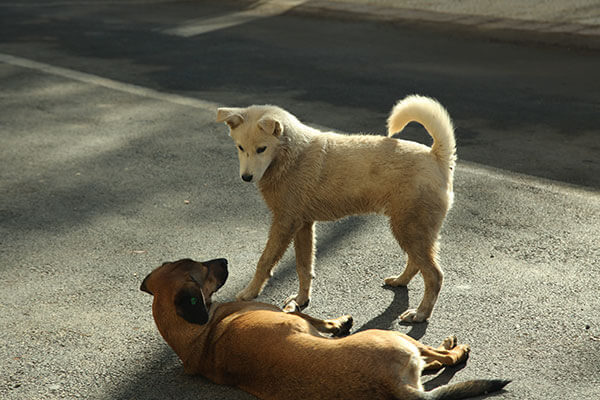 Stevenson and Ramirez were soon joined by a third person – a police officer who has spotted the two rescuers and dog in the middle of the road had stopped to help them to move the pup and clear the interstate.
Shortly after the police officer's arrival on the scene, however, the humans became the rescuees as a drunk driver collided with the officer's motorcycle at maximum speed, sending the bike into Ramirez's car and then spinning to a stop in the middle of the freeway.
"All of a sudden, I heard the sound of tires screeching and metal crunching," Stevenson described to KPRC2 News.
Ramirez was pulled to safety by Stevenson in the last second as the offending Sedan careered past them before grinding to a halt. The driver attempted to get away on foot but was later apprehended and booked for dangerous driving.
"It was a loud boom, turn, and cars coming. Shelby grabbed me out of the way," Ramirez had told KPRC2 reports.
Eventually, Animal Control arrived to collect Crash from the scene of the accident, giving him his unusual name, but Stevenson and Ramirez were horrified to hear that the young 3-year-old pup was going to be euthanized.
"I have to save this dog. He can't be put down after all of this," Stevenson had explained.
They were able to locate a foster family for young Crash, and he is reportedly doing very well in their care, and should hopefully be on the lookout for a forever home soon, once he has recovered from his experiences on the freeway.